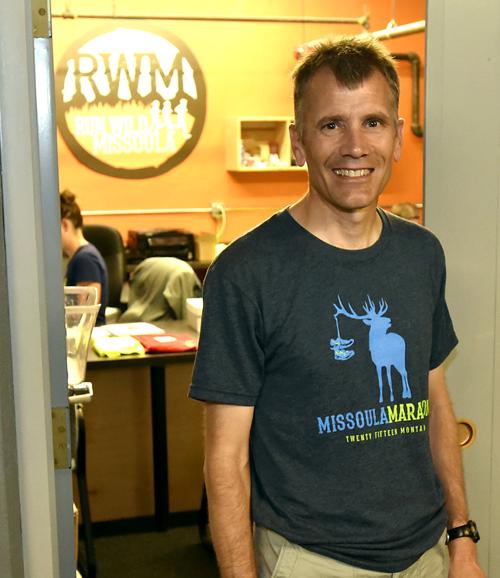 It's a Friday morning before the Missoula Marathon begins and Tony Banovich's office is full of decision makers. 
Two days before the biggest -- and most demanding -- event on Missoula's busy running calendar the marathon's race director is getting an update from one of the many people he is charge of coordinating. It's Banovich's first year in the role directing various race committees, an army of more than 700 volunteers and an event that brings in more than $1.5 million to the local economy.
Though it has been a grueling year of planning and organizing and long sleepless days, the former civil engineer contends it has been rewarding to help put together an event that draws thousands to Missoula and helps brings more and more runners to the numerous running trails that snake through the valley. 
Q: When does the planning for the next marathon begin for you?
A: We'll have a little bit of the end of next week and the week after be semi quiet, but then we start planning. We open registration on Oct. 1. In order to have that ready we have to start figuring out designs and images and logos and all kinds of things.
We also do a dozen other events; we have an event in late August, mid September, early October, so just because the marathon is over we are still rolling with stuff. There really is no quiet time.
Q: What are the other events?
A: In August, the Roots Festival, we have a run for the Roots Fesitval. We have Sweathouse half marathon in Victor in September. Diva Day in October and then we have a pumpkin run in October. We have a turkey trot in November and we'll do something around New Year's Day or New Year's Eve. We have stuff in February, March, April – every month of the year we have something; we're going all the time.
Q: Coordinating those committees and volunteers, is that your role?
A: My role is – we have a set of committees and they each have a responsibility whether its for volunteers, or finish line, or start line or medals or whatever. I just kind of make sure they're – I shouldn't even say make sure, I just kind of pull everybody together. They do the stuff, they're the experts; most of them have been here for years doing it so they have the system down and they take care of the stuff. Like any good organization you bring in good people and you just make sure they have what they need to get the job done, that's kind of what I try to do.
Q: This is the marathon's ninth year, next year has to be a crazy year for you.
A: Next year is going to be really big, but it will be great because I will get my feet under me this year. Now, with our planning for next year I can really focus on adding some things to the eent to make in bigger and better. This year was mostly not screwing it up. Anders Brooker he stepped away, but he really did a huge amount building this event to what it is. I just don't want to mess it up. I want to keep it as an excellent event and then next year put a little bit of my signature on it and bring in some new elements to make it even more spectacular.
Q: This is your first year as director, what attracted you to this job?
A: I've been in the sport a long time, 36 years (as a) competitor, fan, I've been a race director for small races, I've been a club administrator, I've been a little bit of everything. I spent almost 30 years as a civil engineer – that was my career, that was my education. I enjoyed what I did, but my passion has always been running. This opportunity came up to take over the club and the race director ass a combined position. There are nont may opportunities to work in the sport in Montana. When it came up, I was like, 'Well, I was like I have to take a stab at it.' It was a little bit nerve racking stepping away from a 30-year career that was familiar and I knew what I was doing to step into something new. But that's alright, it's been great. Everyday I'm learning, which is great for a person learning something new every day. I'm around great people. The running community here is incredible. To be able to be around these people every day is just a pleasure.
Q: You never wake up dreading going to work do you?
A: Not one day have I even thought that. This week, I'll be honest with you, the days are long, not much sleep, but man, I love getting in and getting into the middle of this. The flurry of activity that's going on around me -- you see here the Culligan man is leaving with all of our water, we've got our equipment people over there, we've got storage in that building; you see the flurry of activity. There is just excitement and energy in town for this, it's just a ball. It's easy to get up and come and put in 15, 16 hours because it's a good time.
Q: How has this event impacted the running community in Missoula?
A: They've kind of grown togethere. There was a club here called Missoula Road and Track Club, they had been around for a long time – decades. It was a relatively small club, did a couple things but not super vibrant. Then wehen the decision was made – a group of people said we should really have our own marathon. That was back in 2006, they planned it, got it put together, 2007 had it – it was small, a couple hundred people, but it was successful. People got energized and Run Wild Missoula incorporated what was Missoula Road and Track club and the energy started to build, Anders got involved, (Runner's Edge) had been open a couple years, there was a great relationship there and everything just grew together to where it was a couple of hundred people, we now have 1,700 members. We're a home-grown organization. I tell people from around the country that and it's staggering to them. … The success of the marathon and the success of the running community has kind of risen up at the same time.
Q: Runners World named this the best marathon in the country, how did that impact the marathon and its national prominence?
A: It was a big difference. We had been a few hundred and then it grew into several hundred and 2010 we got named best marathon and all of a sudden we're talking about thousands. 2009 to 2010 to 2011 really steepened up with the growth. We've kind of leveled off again a little bit and part of that is we've kind of reached a point right now for Missoula we fill up every hotel bed, we fill up every flight – I guarantee you every flight coming in and out for the next couple days is probably 80 percent marathoners. We've really kind of reached a capacity of what we can bring in right now. … That was not us doing anything, that was Runner's World putting a survey out and that came from the readers of Runner's World. They picked us.
Be the first to know
Get local news delivered to your inbox!