Riders and their horses clear the far side of the arena at the Cottonwood Equestrian Center in Silesia as a mounted shooter lopes his horse around to line up for his first balloon targets.  
Matt Lambert, a member of Big Sky Gunrunners, shoots at his 10 balloon targets before turning for home and the finish line. Brent Larson, the founder and president of Big Sky Gunrunners, rides around the arena with fellow members, replacing the targets for the next ride.
Larson started the club in 2012 with the goal to bring the sport to the Billings area. Now, each of the mounted shooting practices draws a few dozen regulars. These practices also double as new shooter clinics.
Shannon Keller and her horse Sully are newcomers to the sport of cowboy mounted shooting.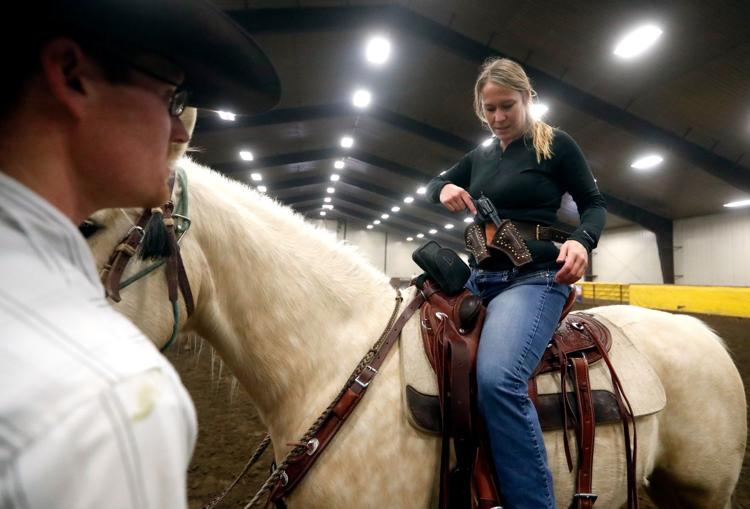 "Since this was my very first time, I didn't know if I would like it or not," Keller said.
While Keller has her concealed carry permit and is comfortable handling firearms, Sully had never been around gunfire. While attending the new shooter clinic for the first time in December, Sully performed well. Many horses require specific training to acclimate not only to the gunfire, but also the smell of the smoke and the sudden disappearance of the balloons. 
Keller, likewise, had found a passion for the sport.
"I'm definitely coming back, and I'm definitely hooked," Keller said.
According to the Cowboy Mounted Shooting Association, this is among the fastest growing equestrian sports in the country.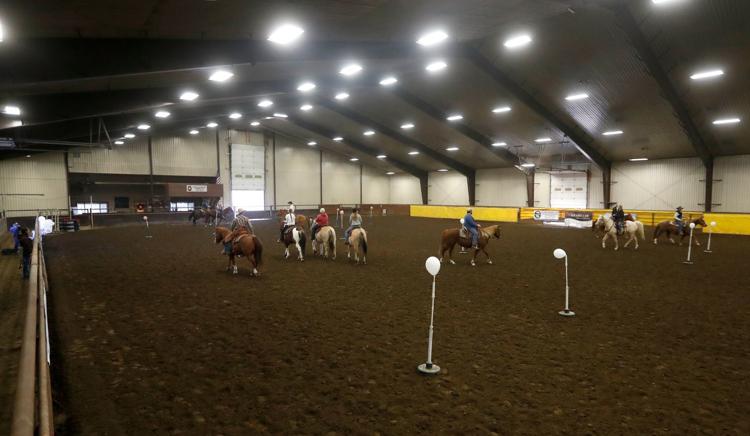 According to the CMSA website, three affiliate clubs are active in Montana: Montana's Make My Day Mounted Shooters in Florence, Treasure State CMSA in Columbus, and Yellowstone Outlaw Regulators in West Yellowstone.
Larson also serves as the vice president of Treasure State CMSA.  
Official competitions are held across the country with several in Montana. Much like the rodeo circuit, athletes earn points from each competition win during the season. Athletes that earn enough points qualify for the CMSA Wrangler World Championships each fall in Amarillo, Texas. 
Official competitions allow only fixed-sight, single-action revolvers of .45 Colt caliber that were designed prior to 1898. For competitions, the shooters use .45 caliber Long Colts, a brass cartridge loaded with black powder that carries for about 15 feet. The shooter uses two revolvers that hold five cartridges each.
While revolvers are most common, some competition patterns allow the shooter to swap a second revolver for a rifle.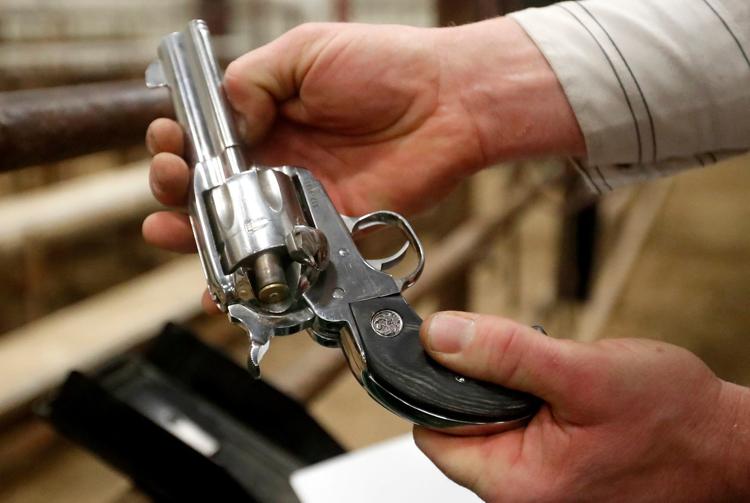 The CMSA recognizes more than 50 possible shooting patterns that consist of ten balloons. The rider shoots the first five white balloons before moving to the second set of contrasting balloons. Competitions can range from three to six patterns a day.
With a variety of divisions and classes, riders of all ages and experience levels are welcome to compete.
Big Sky Gunrunners has several upcoming clinics scheduled for 2019. Dates include Jan. 19, Feb. 16, March 23 and April 13. The clinics are held from noon to 4 p.m. at Cottonwood Equestrian Center at 11 CC Lane in Silesia.
Clinics are free to watch and $25 per rider. Ammunition is not included but available for purchase at the clinic. Shooters are welcome to use their own certified ammunition upon approval.
If you would like to learn more about Big Sky Gunrunners or sign up for a clinic, contact Brent Larson at smokingcolt45s@gmail.com or call 406-426-0700.