POLSON — Missoula product Sean Ramsbacher has had quite the productive two weeks.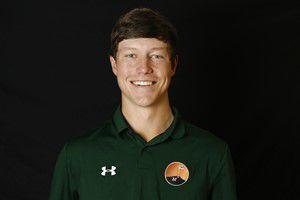 The Montana Tech junior golfer posted his second big win of the spring on Sunday at Polson Bay, securing top amateur honors in the Lake City Open in a playoff. Ramsbacher finished tied with Cameron Kahle of Whitefish and Nate Gage of Polson after 36 holes (142) but Ramsbacher emerged victorious on the second sudden-death hole.
"I made a 20-footer on the first playoff hole (No. 1) for birdie and Cameron matched it with a 10-footer for birdie," Ramsbacher said. " Then we went to hole (No.) 16 and I ended up getting a par and Cameron bogeyed. It was an awesome win for me. It's the first time I've won it and I've been playing in it for many years." 
Ramsbacher's win came on the heels of his big victory on April 22 when he earned medalist honors in the Frontier Conference Championship in Eagle, Idaho.
Roger Wallace won the professional division with a 5-under score of 139. The PGA director of golf at Polson Bay edged Logan Lindholm by three strokes.