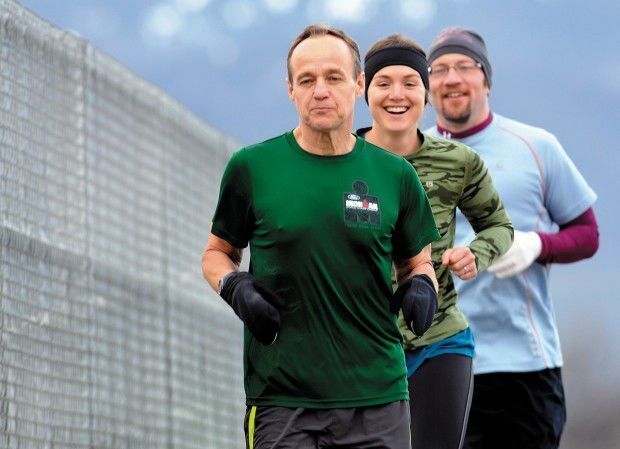 MISSOULA — While he may not be one of the world-class runners you'll find in and around Missoula, Dennis Bender has done plenty for those wanting to break into the sport.
Bender, who turns 68 on Saturday when he plans to run the Bear Lake Brawl Triathlon (a half Iron Man with a 1.2 mile swim, 56 mile bike ride and 13.1 mile run), has worked with runners of all levels at the Missoula YMCA for the past 16 years — from highly competitive marathoners and Spartan Racers, to first-timers who are looking at running a local 5K. It's something he has always wanted to do since graduating college with his undergraduate degree in psychology, it just took some time after to come full circle.
"Lo and behold, 30 something years later I am back where I want to be," Bender said.
Bender, who has been in Missoula for just about 40 years after growing up in in Sidney, spent time running Sun Mountain Sports' apparel shipping in town before his wife gifted him a membership to the Missoula YMCA to help him through a rough patch of poor health and stress 18 years ago. He didn't use that membership for nearly seven months but once he did, he eventually found the position he is in now. He said he was able to change his life.
"I knew if I didn't change now, then when?" he said.
He found a passion teaching and guiding others in the sport. He has a motto "You're never too late to unhook the stars," that he says those he coaches.
His background in psychology helps too. He noted he was relatively on his own when he started, and has aimed to be that person he didn't have whether that be for training or just a friendly face to lend a hand.
"My goal when I first got employed here was 'I'm not going to leave anybody out. We are gonna figure it out,'" he said. " … That is my biggest thing, having people do their first marathon, their first half, their first Iron Man. I had a lady two years ago tell me she is turning 40 and wants to do her first Iron Man. Put her on a two-year plan and she did it."
"That's what's fun," he added.
It's all about establishing goals and meeting them, he said. He did his first triathlon over a decade ago, then followed that up with the Missoula YMCA Riverbank 5K — his first goal when he started. He then did a half Iron Man and then got to a full Iron Man next and eventually ran the Boston Marathon.
He makes a point to run the local marathons, has done the Boston Marathon twice and has done 30 triathlons of a variety of distances from ultras to smaller runs. He did admit he is more a road racer, not much of a trail runner aside from training because "I have a low shuffle and I fall on my face," he said with full honesty.
"I can fall where other people just glide," he said. "I am a roadrunner."
Bender hopes to continue racing, but his workload of tough Spartan, ultra marathons and Iron Man races is likely going to dwindle. His health is fine, that isn't why. The soon-to-be 68 year old is as spry as ever. Rather, he has proved what he set out to prove.
He is content helping others prove what they want to prove.
"I'm toning it back after this year," he said. " … I have no reason to push. I still want to help people and do smaller races. I have nothing else to prove and I've been thinking about it this week about just enjoying it more."