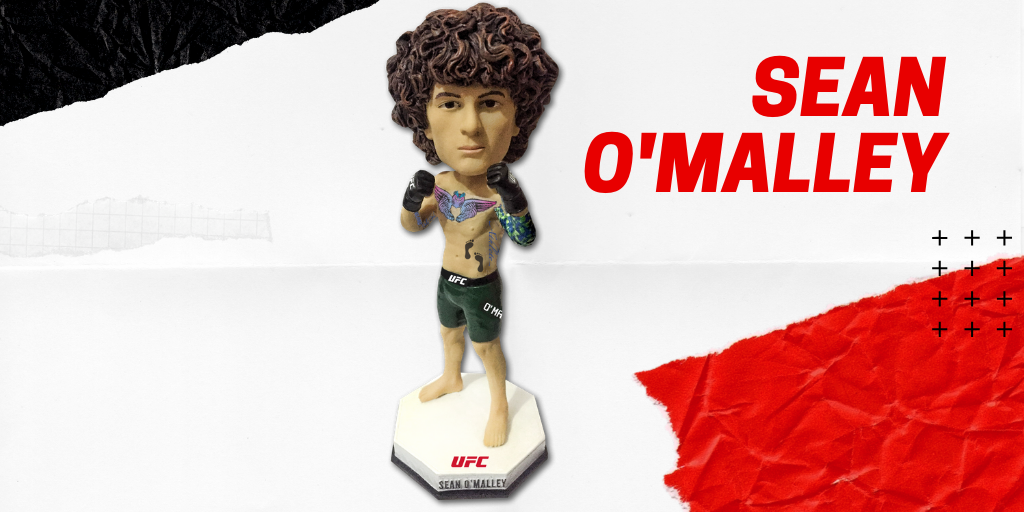 It's been two years since Helena's Sean O'Malley has been in a UFC cage, but that will change this weekend as he gets set for UFC 248 Saturday in Las Vegas.
Leading up to that, on Friday morning, the National Bobblehead Hall of Fame and Museum unveiled an officially licensed, limited edition bobblehead of  O'Malley, a Helena Capital graduate and mixed martial arts sensation, who competes in the Bantamweight division and will make his long-awaited return to the Octagon Saturday at T-Mobile Arena in Las Vegas.
Officially licensed by the UFC, the O'Malley bobblehead joins a series that includes Daniel Cormier, Jon Jones, Chuck Liddell, Conor McGregor, Khabib Nurmagomedov, Ronda Rousey and Georges St. Pierre.
On a base bearing his name and UFC logo, the bobblehead features a stone-faced O'Malley with his gloves raised and ready for battle.
The bobbleheads, which just arrived and ship now, are available through the National Bobblehead Hall of Fame and Museum's Online Store. 
Nicknamed "Sugar," the 25-year-old O'Malley will take an undefeated 10-0 record (2-0 UFC) into his UFC 248 matchup with Jose Alberto Quinonez. O'Malley's highly anticipated return in the pay-per-view event marks just over two years since he last competed.
The Montana native who trains in Arizona was forced to the sidelines while dealing with continued issues with the U.S. Anti-Doping Agency and Nevada Athletic Commission due to "pulsing" levels of residual ostarine in his system. He denied knowingly taking any performance-enhancing substance. O'Malley was initially matched up with Quinonez at UFC 229 in October 2018.
O'Malley will be making his first appearance in the Octagon since March 3, 2018, when he faced Andre Soukhamthath at UFC 222 in Las Vegas. O'Malley won by unanimous decision despite injuring his foot in the third round. The fight earned both participants a Fight of the Night bonus. In his 10 professional matches, O'Malley has won six by knockout, one by submission and three by decision.
"We're excited to be unveiling this bobblehead of Sean O'Malley, one of the rising stars of UFC," National Bobblehead Hall of Fame and Museum co-founder and CEO Phil Sklar said. "UFC fans have been anticipating his return to the Octagon and are eager to see what 'Sugar' has in store."
Chris is the sports editor and lead preps reporter for the Independent Record and 406mtsports.com. Follow him on Twitter @cmpetey406
Be the first to know
Get local news delivered to your inbox!