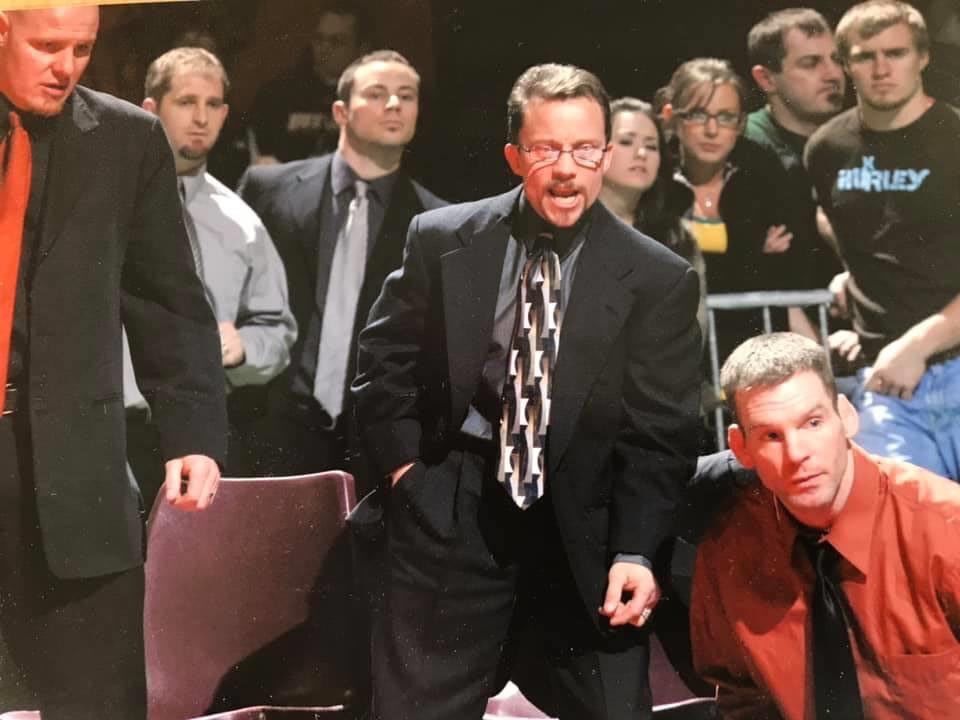 BILLINGS — The mayor of Montana wrestling will be honored Friday at the Kalispell Flathead gym.
Jeff Anderson, a longtime wrestling coach at the school, will be inducted into the Kalispell Public Schools Legends Wall of Fame and recognized before the Kalispell Glacier and Kalispell Flathead wrestling teams meet at approximately 6 p.m.
The girls from both schools will wrestle first at 4 p.m.
The physical home of the Legends Wall of Fame is at Legends Stadium in Kalispell.
Criteria for induction include: service to the community; excellence in leadership, academics and teaching; athletic achievements; and outstanding performances at Legends Stadium and the playing fields and courses of Kalispell.
"I am incredibly humbled by my selection," Anderson, a Kalispell native, told The Billings Gazette and 406mtsports.com. "There are a lot of great athletes that have come through our schools and to be even put into the conversation, let alone being inducted in to the Legends Hall of Fame is a pretty special thing."
Anderson, who retired from teaching and coaching in 2020, was Kalispell's head wrestling coach for seven years and later was an assistant for 11 seasons. Anderson also was the tennis coach at Flathead and coached youth wrestling.
Now that he's retired, Anderson said he's been enjoying his time at the ski hill.
"I just retired and I'm enjoying a little bit of retirement. Actually during the wrestling season I'm spending a lot of time skiing. I've kind of made a choice to stay out of the room a little bit this year because of the COVID thing. I don't want to bring it home to my wife (Karen). That has been really, really tough.
"Selfishly I don't want to bring something home that could affect my spouse. With that I've been enjoying skiing. It's been a great ski season. I've enjoyed that."
As a teacher at Flathead High, Anderson taught science and health enhancement and served as the health enhancement department chair. Anderson started his career as a teacher at Frenchtown High School, where he was also the wrestling coach and later taught at Great Falls High, where he was the assistant wrestling coach and head tennis coach.
Overall, Anderson was a teacher for 33 years and a coach for 34 years.
A 1982 Flathead graduate, Anderson was a cross country runner and wrestler in high school. He found great success on the mat, capping his career with an undefeated season and state championship after placing second as a junior. He was a Wrestling USA Magazine All-American in 1982 and would wrestle at Northwest College in Wyoming and also at Montana.
According to an article in Wrestling USA Magazine when he was honored in 2006 as assistant coach of the year, Anderson claimed the regional Olympic Trials in freestyle and Greco-Roman in 1984 and was first in Greco-Roman and runner-up in freestyle at the Junior Pan Am Games.
"I've been recognized at the state level, national level and international level, but it is always very, very special to be recognized at home. It's pretty cool," said the 56-year-old Anderson.
Anderson, a Montana graduate, is well-known in the wrestling community.
Retired Skyview coach Rich Malia said Anderson "was one of the most well-known guys in the wrestling world in the state of Montana. He was a fantastic science teacher at Flathead, but he is also such a great technician as far as teaching a move in wrestling. He is fantastic in that standpoint."
Malia said Anderson spent many hours helping develop young wrestlers from Montana that would compete on national teams. But, more important than his skills as a wrestling instructor were Anderson's traits as a human being.
"He coached a lot of really high-caliber kids," Malia said. "He is one of the nicest people you will ever meet. He had an intensity level as a coach that was awesome. He was such a gentleman and had such a great demeanor."
Many times Anderson has been honored as an assistant coach of the year, notably as the Wrestling USA Magazine Assistant Coach of the Year in 2006 and he was a 2019 National High School Association assistant coach of the year finalist.
"No matter what tournament you were at, anywhere in the country, with coach Jeff Anderson almost every coach knew him! I've never seen anyone in my life get picked up and bear hugged as much as him," said Flathead wrestling coach Jeff Thompson, who wrestled at Great Falls when Anderson was an assistant at the school. "Everyone just seemed to love and respect him. Coach Anderson was known as the mayor in wrestling!"