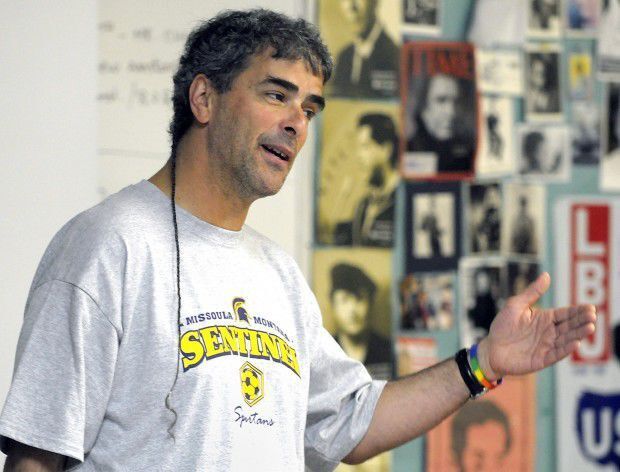 MISSOULA — There's probably not enough sentimentality there for a Hallmark movie, but it is worth noting that longtime Missoula Class AA soccer coach Gary Stein is hanging it up after this week.
Stein, whose Sentinel boys team will play in a state semifinal at Bozeman Tuesday at 4 p.m., has been around since the beginning of Montana high school soccer in 1991. He has coached at all three Missoula large schools, with a few years off in between when he did officiating.
Stein's impact on Missoula soccer is hard to measure. Just ask his longtime friend and former student, Hellgate boys soccer coach Jay Anderson, who got his start in Hellgate soccer back when Stein was head coach for the Knights and hired him as JV coach.
"He's a totally genuine guy," Anderson said. "He wears his emotion on his sleeve and cares very deeply about his players. He's a good guy and he wants to see all of his players and former students succeed."
Has Stein's situation added emotion to the Spartans' 2020 run to the semifinals? Not much so far, but there's still time for that.
"Will Thomas the other day kind of cajoled me a little bit," Stein joked about his senior goal keeper. "He tapped me on the back and said, 'Hey, last year, huh?' That's about it."
If you like your coach to be passionate, you'd love playing for Stein. He has enjoyed a lot of success as coach of the Sentinel boys, but perennial powers Bozeman and Hellgate always seem to be in the way, winning the last nine state titles between them.
It's the same old story this year, with the Hawks boasting a 14-1-1 record and the Knights, who will host Kalispell Glacier (11-3-2) in a Tuesday semifinal at 7 p.m. at Fort Missoula, yet to lose at 15-0-1. The only blemish on Hellgate's record is a 2-2 tie with Sentinel, giving the Spartans reason to believe they can play with anyone.
"Going to Bozeman, we want to make sure we're not overly happy about the victory on Friday," Stein said of a thrilling overtime win at Billings Senior. "I mean it was great. It was also our season in a microcosm. We went down, then we had to claw back and we did.
"It was good to see the boys focus and go out and take what they wanted. But it's not a matter of we're just happy to be here now. We want to compete and do well."
If recent history is any indication, the Spartans will give the Hawks a run for their money. The same Billings Senior team that lost to Sentinel Friday played Bozeman to a draw earlier this month.
Regardless of the outcome, Stein is proud of the progress his team has made.
"I just see them playing more and more for each other as opposed to taking on a greater load than they need to individually," he said. "Our back line has been pretty phenomenal. Our defensive quality has been pretty darn good."
The Hellgate boys are a good bet to reach their seventh straight state championship game. The defending champions have beaten Glacier twice this season, 4-1 and 3-1, with the latter verdict coming on Hellgate's home grass pitch at Rattlesnake fields 13 days ago.
Still, Anderson is taking nothing for granted.
"Glacier is a well-coached team and it's never easy to beat a team three times in a season," he said. "We're taking it seriously and preparing as if it's a team we've never played before.
"They're very organized in the back and they've got some threats offensively. The two times we've played Glacier it's been much tighter than the score indicated. Both times they've gotten up early and we had to fight back. We don't want to find ourselves in that predicament again."
In the girls State AA semifinals, Hellgate will play at Helena (Carroll College) Wednesday at 3:30 p.m. and Kalispell Glacier will play at Bozeman Tuesday at 1:30 p.m. The Hellgate-Helena game was moved back a day because of heavy snowfall in the Capital City.
The Knights (9-4-3) won at Helena, 3-1, back in September. But the Bengals have the better record at 13-3. Glacier (12-4) will have its hands full against a Bozeman team (11-2-3) that has not lost since mid-September.
Bill Speltz is Missoulian Sports Editor and has served as Sunday columnist the past 14 years. Do you have a story idea? Email Bill at bill.speltz@missoulian.com.
Get in the game with our Prep Sports Newsletter
Sent weekly directly to your inbox!