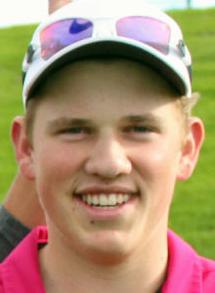 MISSOULA — Hamilton golfer Tristan Hanson knows a thing or two about the mental side of the game.
Following a summer which he said he felt great about, Hanson decided to tweak his swing a couple weeks into the season. It backfired, with a round where he finished with a 97 in a regular-season tournament at Columbia Falls serving as the low point.
Hanson, however, refused to let it get to him and despite some occasional splices and shanks, finished well at the Class A state tournament last fall. He took fourth in the tournament, tying with Lewistown's Caleb Myers.
He was just two strokes off the lead. A nine on a par five midway through the tournament was just about all that separated him from an individual title. Hamilton did take home team hardware, finishing in third, just seven strokes behind Billings Central and 11 behind Class A state champion Laurel.
"The entire season felt like a mental struggle to get back to what I had going over the summer," Hanson said. "Especially knowing that we had a chance at state ... it was just really difficult. Mentally I was just struggling to try and figure it out. In my head the entire time I was like, "i've got to get this figured out.'"
As the summer beckons, Hanson is out on the course and the driving range continuing to work on his game. Pursued by a variety of in-state schools including Montana Tech, Rocky Mountain College and Montana State-Billings, Hanson eventually settled on the Battlin' Bears.
He had dreams of playing Division-I golf, but when those opportunities did not present themselves staying within driving distance of home was important.
"I love being around my family so it was nice to be able to stay somewhat in the area," Hanson said. "Billings was just the best overall school for me. My current hopes are to pursue a career in the health field of some sort, so I'm going to go for a biology major ... they have one heck of a health science education over the year.
"The team too. They've done really well in the conference over the past few years, so kinda the best of both worlds."
During his four years at Hamilton, the Broncs never finished lower than fourth as a team at state and won the championship during the 2016-17 season, his freshman year.
Hamilton also placed well last year, finishing second as a team. Many of those clutch holes came down to Hanson's clubs.
And he might soon be doing the exact same thing in the Frontier Conference.
"I could see from the beginning that when push came to shove, he was gonna be there and that he could handle pressure," Hamilton head coach Owen Carver said. "I think that's the biggest thing with Tristan is how he developed over the years with pressure.
"In the back of my mind I knew I could always count on him when the chips were down."
Get in the game with our Prep Sports Newsletter
Sent weekly directly to your inbox!