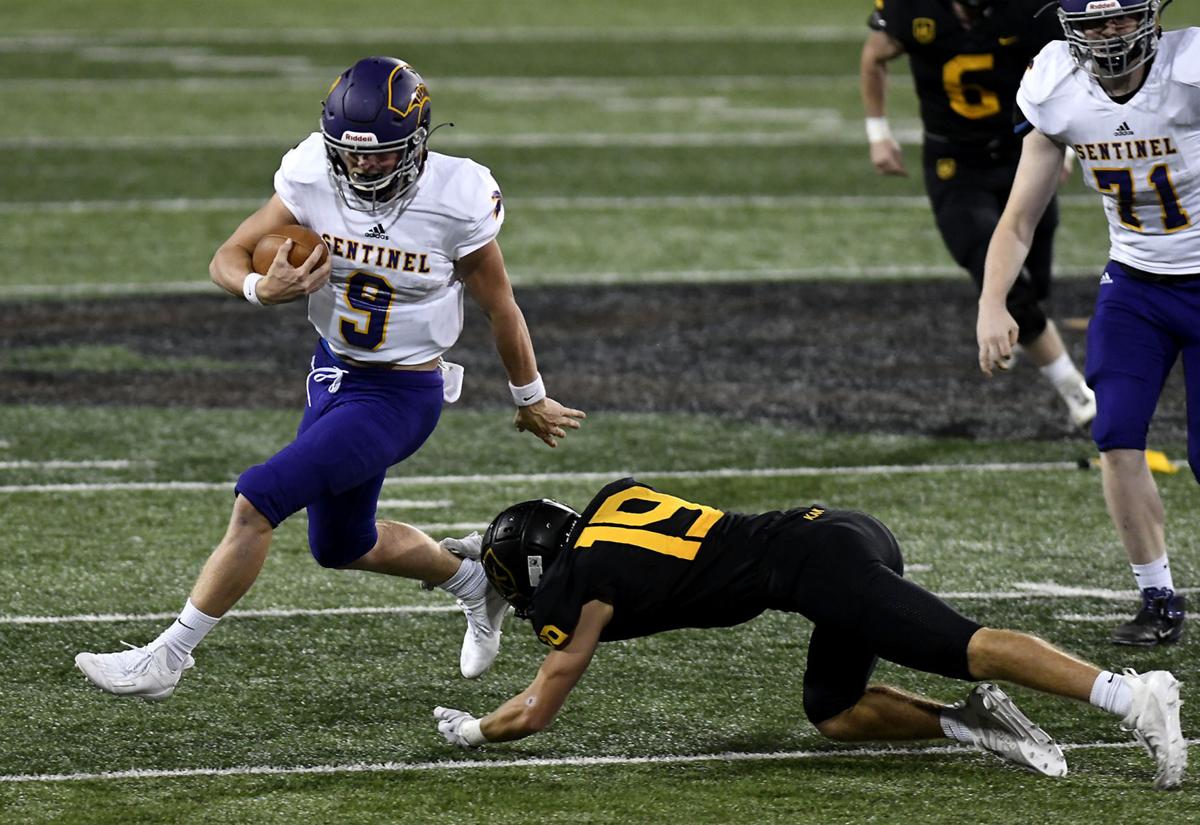 MISSOULA — Deep into the Class AA regular season, Missoula Sentinel has cemented itself as a state title contender.
On Friday night, the top-ranked team in the 406mtsports.com Class AA football rankings will have to prove it. No. 3 Helena High will visit the friendly confines of MCPS Stadium and bring an unblemished 5-0 record with it.
The Spartans are 5-0 too and one of the two teams will no longer be perfect when the final horn sounds.
"They're athletic, well coached and we're excited to take on a team of their caliber," Sentinel head coach Dane Oliver said on Thursday afternoon. "It should be a great Friday night atmosphere for a high school football team."
Sentinel has surrendered just two total touchdowns over the past four weeks and has outscored its opponents 252-33 this season. The Spartans have been able to manufacture offense at will and spread the ball around with a purpose.
They have been efficient as well. Sentinel quarterbacks Dayton Bay and Camden Sirmon have combined to complete nearly 76% of their passes and are averaging 14.2 yards per completion.
Balance has been key and the Spartans can hurt teams both on the ground and through the air — they're averaging 236.2 passing yards and 213.8 rushing yards per game. Nine players have five or more carries this year and Sirmon leads the way with 41 totes for 440 yards while running backs Donovan South (30 carries for 192 yards) and Soren Syvrud (41 carries for 308 yards) help keep defenses guessing.
The Spartans have scored 14 points or more in the first half of every game this year and has yet to play anything close to resembling a game that was in doubt after the first quarter.
Missoula Big Sky was able to limit them to 14 points in the first half of its 42-7 loss to Sentinel, but the Spartans scored two touchdowns in the first three minutes of the third quarter of that game to put it well out of reach.
Sentinel is coming off a 64-0 win over Missoula Hellgate last week. The winner of this game will likely be the No. 1 seed to come out of the Western AA.
"There are so many things that are going to come out of this game," Helena head coach Scott Evans told the Helena Independent Record this week. "There are great football players on both sides of the ball and you know if you win this game, you are coming out as the No. 1 seed and you can't ask for much better than that."
Helena does have some tools of its own. Kaden Huot, the Bengal signal caller, is among the very best prep quarterbacks in the state and he has offensive weapons of his own.
Along the defensive side, Helena has a group of linebackers that includes Zach Evans, one of the best at his position in the state.
"I think their entire front line and linebackers are a strength of theirs and so I think the game is going to be won in the trenches from both an offensive and defensive perspective," Oliver said. "Everybody is worried about skill kids and talks about them, but the big boys up front are where those games are win.
"We're excited for that challenge."
Big Sky and Hellgate are both on the road this week, with the Eagles traveling to Naranche Stadium for a matchup with Butte and Knights trying to keep their playoff hopes alive against Helena Capital.
The Eagles lost a tight 28-12 battle with the Bruins last week that put a damper on its playoff hopes. The top-six teams in the Western AA make the playoffs, meaning that the bottom two teams in the conference will be left out.
Hellgate and Big Sky are each 1-4, while Capital and Butte are 2-3. With Flathead still winless, it likely means either the Knights or Eagles will not advance to the postseason.
Hellgate's lone win this season is over Flathead, while Big Sky's was its season-opening victory against the Knights.
Elsewhere in big prep football games across western Montana, Frenchtown will travel up to Columbia Falls for a critical showdown between the two Western A squads.
Both the Broncs and the Wildcats are 5-2 and maintain the third and fourth spots in the Western A. Only four teams from the division will make the state playoffs, making the game all the more critical. 
Wyatt Hayes has been impressive for the Broncs at quarterback, throwing 11 touchdowns this season and just over 850 yards. Frenchtown also has a varied rushing attack and 12 different players have registered carries this season.
Tel Arthur and Peyton Hicks have shouldered the brunt of that load. Senior Brandon Finley has been Frenchtown's leading wideout with 24 catches for 412 yards and five receiving touchdowns.
Arthur is also a key part of the Broncs defense and leads the team in tackles with 76. Duncan Richardson has also been a big key, registering 71 total with a team-high 28 solo stops.
Hamilton heads to Libby while Butte Central takes the long bus ride to Polson. Corvallis and Florence will play in game matching up the Class A Blue Devils with the Class B Falcons for the first time in 24 years.
Arlee is at Seeley-Swan, while Conrad travels to Eureka. Plains is at Clark Fork while the Flint Creek Titans will play Darby. Troy is at Mission, while Thompson Falls and Charlo faced off on Thursday night due to a referee shortage.
Jordan Hansen covers a bunch of stuff for the Missoulian and 406 Sports. Shout at him on Twitter @jordyhansen or shoot him an email at Jordan.Hansen@406mtsports.com