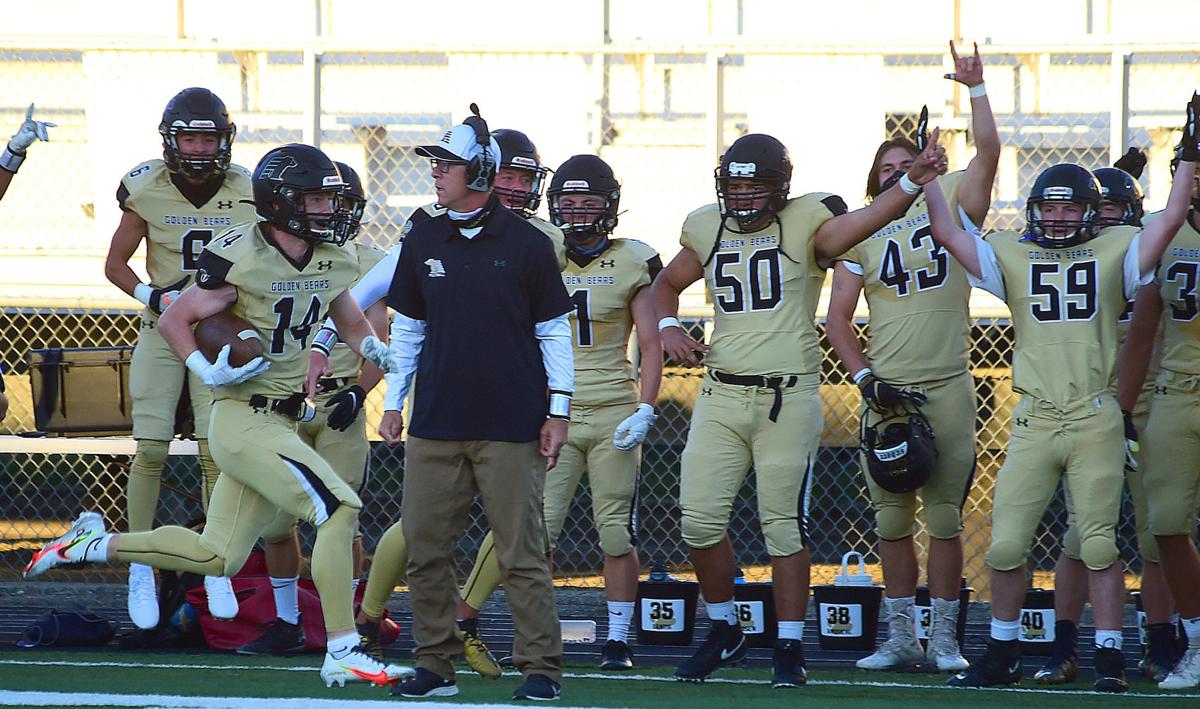 Editor's note: Will be updated as we receive results.
Football
• Senior quarterback Colter Janacaro racked up 347 yards of total offense and five touchdowns as Missoula Big Sky opened its season with a 48-20 win over Missoula Hellgate at Washington-Grizzly Stadium, matching the Eagles' win total from last year. Janacaro had 270 yards and four touchdowns on 27 carries on the ground and 77 yards and one touchdown on 6-of-14 passing. He helped the Eagles race to a 35-6 halftime lead by piling up 176 rushing yards and two touchdowns on 17 carries. Janacaro ran for touchdowns of 6, 1, 1 and 17 yards, and he closed the first-half scoring with a 34-yard touchdown pass over two defenders to junior wide receiver Tre Reed.
• No. 5 Billings West football team turned a 7-7 tie after one quarter into a 62-7 win over crosstown rival Billings Skyview in the Eastern AA teams' season opener. West junior Taco Dowler scored three times: an 86-yard on the opening kickoff, a 13-yard pass from fellow junior Isaiah Claunch and a 67-yard run. Claunch also threw touchdown passes to senior Neil Daily (10 yards) and junior Caden Dowler (35 yards). Junior Michael Deleon rushed for two scores.
• JT Allen had three 1-yard touchdown runs and tossed an 8-yard scoring strike as Kalispell Glacier broke away in the fourth quarter to whip Helena Capital 43-20. Glacier led 21-20 after three quarters before scoring the game's final three TDs. Carson DesRosier's 18-yard run in the third quarter had given Capital a 20-15 lead before Allen put the Wolfpack up a point heading into the final quarter. Allen then started the scoring in the fourth quarter with a 1-yard run and Glacier pulled away from there, scoring the game's final 29 points.
• Kaden Huot threw a 75-yard touchdown pass to Chase McGurran in the third quarter to give No. 3 Helena its first score and the lead for good, and Marcus Evans' 4-yard scoring run in the fourth quarter ultimately sealed it as the Bengals held off Butte 14-9. Blake Drakos' 11-yard pass to Banner Cetraro with seven minutes left brought Butte within 14-9 after a failed two-point conversion. Butte all-state kicker Casey Kautzman's 36-yard field goal in the second quarter was the only scoring in the first half. 
• Camden Sirmon ran for touchdowns from 5 and 75 yards out and also threw for two TDs as top-ranked Missoula Sentinel put up the game's first five scores and throttled Kalispell Flathead 59-19. Sirmon had a 34-yard scoring strike to Jace Klucewich and a 5-yarder to Haiden Crews. Soren Syvrud also contributed two TD runs for the Spartans, from 1 and 34 yards out. Charlie Hinchey and Nicolas Gustafson connected twice for scores for the Braves, from 9 and 4 yards. 
• Levi Torgerson scored on the opening kickoff and returned two interceptions for scores -- including a 105-yarder in the fourth quarter -- to lift Great Falls to a 48-14 victory over Bozeman Gallatin, spoiling the first game in Raptors' history. Torgerson's opening return covered 95 yards and he then returned an interception 50 yards for a 14-0 lead for the Bison. Quarterback Reed Harris then ran 84 yards for Great Falls for a 21-0 halftime lead. Ryan Schlepp then scored Gallatin's first TD in school history, catching an 8-yard pass from Braedon Mikkelson. Torgerson also caught a TD pass from Harris, a 41-yarder. 
• Raef Newbrough ran for two touchdowns and threw for another as Great Falls CMR bolted to a 20-0 halftime lead and held off Belgrade 27-0. Newbrough had a 10-yard scoring run in the second quarter and had a 6-yarder in the fourth quarter, and he threw a 2-yard score from Wyatt Hagen in the second quarter. AJ LaFurge's 10-yard run started the scoring for the Rustlers. 
• Jace Fitzgerald ran for three touchdowns and threw for two more as No. 4 Dillon improved to 3-0 with a 41-0 trouncing of Butte Central. Fitzgerald opened the scoring with back-to-back 1-yard runs in the second quarter as the Beavers shrugged off a scoreless first 10 minutes to lead 27-0 at intermission. He added a 7-yard scoring pass to Jonny Reiser and 80-yarder to Jon Kirkley, both in the third quarter. Eli Nourse rambled 50 yards with a fumble return and Fitzgerald closed the scoring with a 12-yard run. 
• Polson posted an 18-12 home win over Browning asquarterback Jarrett Wilson threw for 309 yards and three touchdowns. Keyen Nash had 39 rushing yards and Jonny Perez 142 receiving yards. Hunter Pittsley, Trent Dwelle and Perez each had five tackles for Polson.
• Brock Ping scored a 5-yard touchdown with 1:03 remaining, and Billings Central survived a Sidney missed 25-yard field goal attempt with 20 seconds left for a 21-18 victory. The Rams led 14-0 on a another Ping 5-yard run and a Marcus Wittman touchdown pass to Junior Brackenridge. Sidney took an 18-14 lead on three consecutive scores: a Riley Waters 1-yard run and Boston Peters-to-Jaxson Franklin touchdown passes of 47 and 80 yards. The Eagles, however, failed on all three conversion attempts, leaving the door open for Ping's game-winning score.
• Ty Schwaiger had scoring runs of 2 and 26 yards, and Trey Hunt returned an interception 50 yards for a score as Whitefish built a three-TD lead and held off Columbia Falls 21-7. Schwaiger's scores gave the Bulldogs a 14-0 lead in the third quarter. Taylor Bryan took a 30-yard pass from Mason Peters for the Wildcats' lone score. 
• Carson Hunter threw six touchdown passes — three to Jayden Venable — as defending state champion and top-ranked Miles City opened its season with a 55-13 trouncing of Glendive. Hunter's scoring tosses to Venable went for 38, 5 and 41 yards. Ben Glasscock caught one TD pass and Damien Leidholt hauled in the other. The Cowboys led 48-0 when Glendive finally got on the board when Brodie Eckert returned a kickoff for a touchdown.
• Logan Idler threw for two touchdowns to Ashton Potter and ran for a third as Glasgow built a commanding early lead and downed Baker 46-12. Idler tossed a 67-yard TD pass to Potter in the third quarter, ran from 22 yards out in the second and added another TD scored from 17 yards out to Potter. Baker scored on a 15-yard interception return by Garrett Lesh and a 72-yard kick return by Konner Flint. 
• Jay Jetmore ran for two touchdowns and caught a third -- a 99-yarder -- and Trey Allen tossed three TD passes as No. 8 Red Lodge rebounded from its first defeat week ago to whip Colstrip 34-6. Jetmore scored the game's first two TDs on the ground, from 7 and 1 yards out. The 99-yard hookup game with 7:57 remaining in the third quarter and gave the Rams a 28-6 lead. Allen also hit Rizon Berndt from a yard out and Corby Mann from 7. Colstrip's score came on a 12-yard pass from Shaye Wilkie to Jaren Knows His Gun.  
• Pat Duchien threw three touchdown passes, Johnny Chamberlane ran for two and Florence-Carlton overpowered Anaconda 48-6 after scoring 34 points in the first quarter. Duchien hit Luke Maki for scores from 38 and 34 yards, and Blake Shoupe from 33 yards out. Teagan Robins' 95-yard kick return was Anaconda's only score. 
• Corban Johnson scored four touchdowns — three on passes, the fourth on an interception return -- and second-ranked Manhattan coasted past Three Forks 47-0. Johnson's receptions were from 21, 19 and 29 yards, and his interception covered 17. 
• Andrew Rasmussen ran for 226 yards and a touchdown, and Mikkel Rider rushed for three TDs as Harlem improved to 2-0 by downing Wolf Point 34-21. Rasmussen had 28 carries and Rider, who had 23, added six tackles. Amari Stanley had 101 yards receiving for the Wildcats. 
• Paxton McQuillan returned two interceptions for touchdowns and Rye Brastrup rushed for three scores as Joliet rolled over Ennis 58-0 at home. McQuillan's pick-6s came in the first and third quarters and the returns covered 40 and 35 yards. Brastrup's rushing TDs went for 65, 34 and 4 yards. Wyatt Anderson also ran for a TD and caught a 68-yard scoring pass from Hayden Ward for the J-Hawks.
• Bryan Mask completed 33 of 49 passes for 465 yards and eight touchdowns and also ran for two scores as No. 9 Alberton-Superior took a wild 74-68 victory over St. Ignatius. Orion Plakke was the prime beneficiary of Mask's arm, catching 15 passes for 242 yards and four TDs. Jake Calloway added six catches for 158 yards and three scores. Mask, Plakke and Calloway also had interceptions. The Mountain Cats led by six points after one quarter and that was the margin after the second, third and fourth quarters. 
• James Lewis ran for a touchdown and threw for another to lead Cascade to a 27-6 victory over Choteau. The Badgers were leading 8-6 in the third quarter when Lewis broke free from 38 yards out. Jorgenson Teagan built on the lead with a 2-yard score in the fourth quarter, and Lewis' 27-yard pass to Kaden Shelton closed the scoring. Charlie Adams had a big day for Mission, running back kickoffs for touchdowns of 60 and 76 yards, and adding a 3-yard scoring run. Canyon Sargent rushed for two scores for the Bulldogs. 
• Hayden Axtman and William Ullery scored three touchdowns apiece as top-ranked Fort Benton cruised past Rocky Boy 72-6. Axtman had scoring runs of 1, 5 and 3 yards, and Ullery had a 15-yard run, brought back two interceptions for scores and threw a 31-yard TD pass to Andrew Ballantyne. Hayden Diekhans also scored twice for the Longhorns. Kellen Colliflower's 5-yard pass to Ben Crebs accouned for Rocky Boy's score. 
• Top-ranked Big Sandy returned three kickoffs for touchdowns, all by Cooper Taylor, in a 68-13 victory over visiting Box Elder. Taylor's returns covered 75, 72 and 66 yards. Big Sandy led 43-0 by halftime, with Taylor's returns coming in the second half. Parker Proulx rushed for 52 yards and two scores, and Wylee Snapp had two scoring receptions for 42 yards. Gabe Saddler rushed for 104 yards and one score for Box Elder.
• Aidan Jenkins ran for 170 yards and three touchdowns, and Dylan Flatt ran an interception back for a touchdown, recovered a fumble and racked up 21 tackles to power third-ranked Shields Valley to a 36-12 win over Bridger.
• The St. Regis/Mullan (Idaho) co-op improved to 3-0 by trouncing Arlee 76-36. The Tigers have outscored their three opponents 210-94. 
Volleyball
• Bella Bryan had 15 kills and Hayden Baumberger had 11 kills and seven blocks to help Billings Skyview defeat Bozeman Gallatin 23-25, 25-18, 17-25, 25-20, 15-11. The Falcons made coach Stormy Siemion victorious in her debut while handing the Raptors a loss in their first match in program history. Siemion took over for Vicki Carle, who retired after last season after 29 years at Skyview. Ryann Eddins had 14 kills and Makya Albrecht added 12 kills for Gallatin, which opened its high school this year. It was the first match of the season for both teams.
• Sydney Pierce supplied 13 kills and two blocks and Billings West opened its season with a 13-25, 25-11, 25-12, 25-13 triumph over visiting Bozeman. Teammate Kourtney Grossman chipped in with nine kills as the Golden Bears pounded down 35 overall. West's Addie Allen had five aces to go along with her 16 assists. Bozeman was paced by the four kills and six blocks of Jordan Radick.
• Polson posted a home sweep over Browning, 25-20, 25-20, 25-13. Maggie Todd had a big night for the Pirates with 15 kills and seven digs. Teammate Hallie Moss had 14 assists and four aces. 
• Kari Kittelmann's seven aces and Kenzie Tooke's eight kills helped spark host Ekalaka to a 25-12, 25-3, 25-14 sweep over Plevna. The winning Bulldogs also received 10 assists from Heidi LaBree.
• Olivia Isakson provided a triple-double of 14 kills, 11 blocks and 15 digs as Augusta rallied to beat visiting Valier 23-25, 15-25, 25-13, 25-20, 16-14. Isakson also had four aces. Teammate Rylee Shalz contributed 11 assists, eight digs and four aces. Valier received 14 kills from Erica Ramsey and 13 digs from Hannah Monroe.
• Zeason Schaffer had seven kills, nine assists, six digs and four aces to power Broadus to a 25-12, 26-24, 21-25, 25-13 victory over host Wibaux. Oliveah Schaffer added seven kills, Ciara McDowell had four aces and Lauryn Billing contributed 13 assists for Broadus. Reggie Nelson had four kills and five blocks for Wibaux, which also received 19 assists from Shantel Bertelsen and seven digs from Rylee Pederson.
• Kaitlyn McColly led with 11 kills, and Jaydyn Erickson contributed eight kills, four aces and a block to lift Saco-Whitewater-Hinsdale to a 25-6, 25-10, 25-19 sweep of Bainville. Zandora Longtree chipped in with seven aces, Jaycee Erickson added seven assists and Danika Soper provided 15 assists for the Mavericks. Brecklyn Pippenger topped Bainville with five kills and Kaitlyn Adkins added five assists.
• Kiersten VanKirk had seven kills, three blocks and six aces, and Eliana Kuperus contributed six kills and two blocks as defending state champion Manhattan Christian cruised past Twin Bridges 25-3, 25-3, 25-6. Taylor Devries had an all-round match with 21 assists, four digs and three aces, and Katelyn VanKirk chipped in with five kills and eight aces. 
• Kenzie Pitts and Kimberly Bear each pounded 13 kills, Bentley Bertolino provided 30 assists, Grace Payovich had five blocks and Emma DeVries was tops with eight digs for Roberts in its 25-18, 25-20, 23-25, 25-18 victory over Yellowstone Homeschool. 
• Donn Longan put down 16 kills and fired five aces, and Liv Wangerin added 15 kills and three aces to lift Plentywood to a 25-11, 25-8, 25-10 sweep over Westby-Grenora. Shayla Fawcett had eight digs and Emma Brensdal six aces for the Wildcats. Brynn Folvag was tops with seven kills and an ace, Elizabeth Field had seven assists and Emma Smart chipped in with 27 digs for the Thunder. 
• Trinity Edwards had 12 kills, Madeline Heggem stood tall with 10 blocks and Megan Bergum helped with 34 assists and three aces as Roy-Winifred took care of Denton-Geyser-Stanford 26-24, 25-23, 24-26, 26-24 in a nail-biter. Salena Kilgore had four aces, Maddie DeVries two blocks and Sydney Von Bergen 30 digs for D-G-S.
Soccer
• The Columbia Falls boys posted a 5-0 win over Bigfork. The Wildcats got two goals from Neils Getts and one apiece from Johnny Carl, Kai Golan and Adam Schrader.
Cross Country
• The Missoula Sentinel boys had a big afternoon at the Western AA Invitational in Kalispell. The Spartans finished first in a field of eight teams with 28 points, underscoring runner-up Missoula Hellgate by 13 points. Sentinel's Tanner Klumph took top honors individually with a time of 16:12.09. Miles Colescott of Hellgate took second in 16:32.14. On the girls side, Hellgate took top team honors but Helena's Kylie Hartnett was the top finisher in 18:46.88. Kensey May of Hellgate was second in 18:58.01 and Sage Brooks of Hellgate third in 19:04.02.  
Golf
• Marcus Kilman shot a 75 to take medalist honors and lead Whitefish to the boys team title in the Cabinet View Invitational at Libby. Luke Sova of Columbia Falls was second with an 84. Whitefish had a team total of 348, 18 ahead of Polson and 33 atop Columbia Falls. On the girls side, Ellie Thiel of Polson fired an 83 to win by six strokes and Ronan won the team title with 401, two better than Whitefish. Macao Jackson of Ronan was second at 89 and Kendell Reed led Whitefish with 91.
• Tyler Avery of Kalispell Glacier's 66 led the way and helped the Wolfpack to the boys team crown at the Helena Invitational at Bill Roberts Golf Course. Glacier toppled Kalispell Flathead by 13 strokes and Missoula Sentinel by 14. Ezra Epperly of Flathead and Logan Meyer of Helena tied for second at 68. For the girls, Marcella Mercer of Flathead was medalist at 69, seven strokes better than Lauren Williams of Helena. Glacier won the team title by three strokes over Helena Capital. 
• Billings Central's Nick Pasquarello and Laurel's Haylee Adams each won individual titles to lead their teams to victory at the Sidney Invitational. Pasquarello shot a 77 to win the boys competition, one stroke over Sidney's Matt Hansen. Adams' 83 edged teammate Hannah Adams by three strokes to win the girls competition. Central's boys shot 322 overall and Laurel's girls fired a 342.
Get in the game with our Prep Sports Newsletter
Sent weekly directly to your inbox!