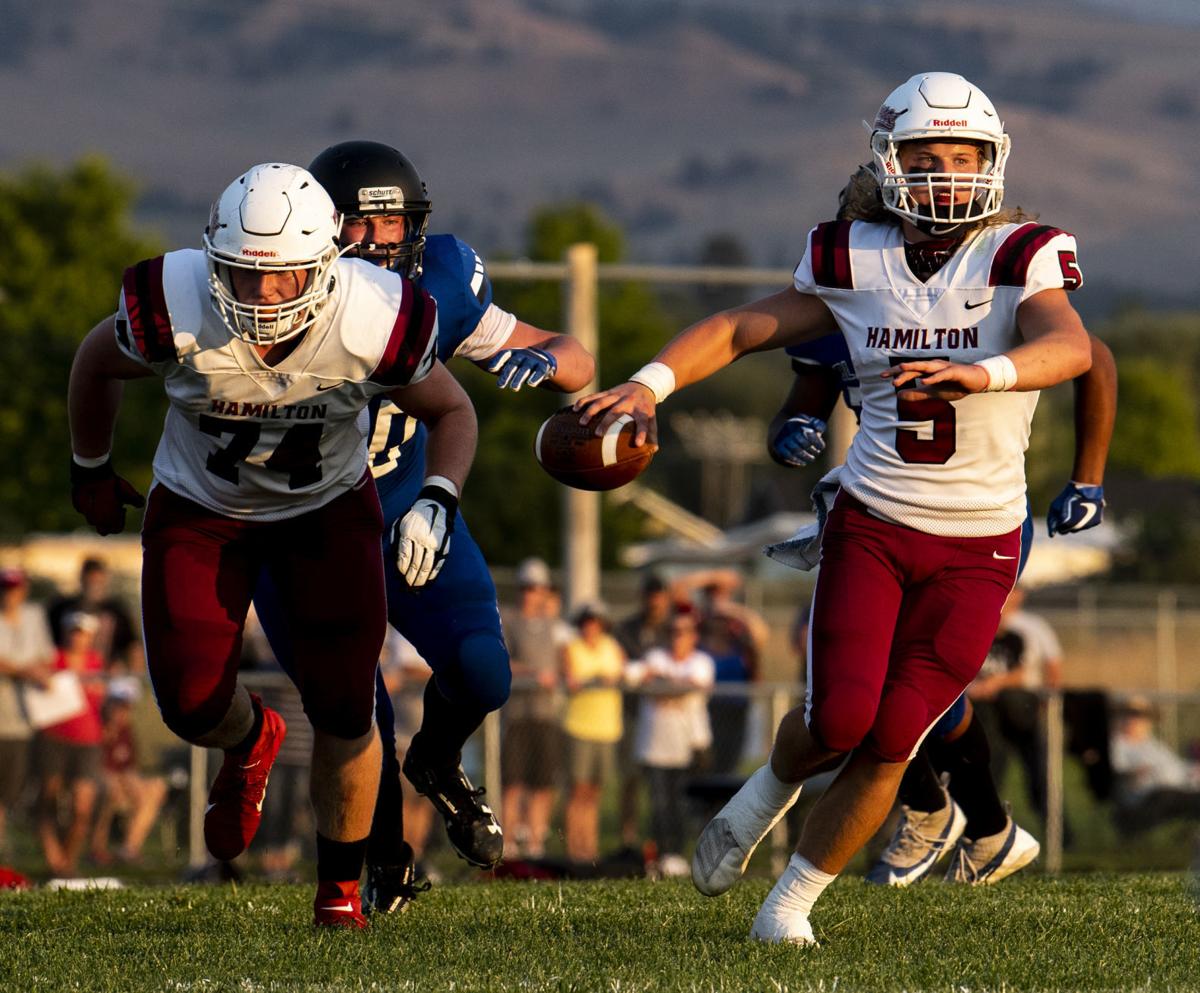 Editor's note: Will be updated as we receive results.
Football
• Tyson Rostad completed 11 of 16 passes for 147 yards and two touchdowns in his debut as second-ranked Hamilton, which won by forfeit a week ago, trounced Corvallis 53-6 in its first game on the field. Rostad also ran five times for 31 yards and one touchdown. Ben Rooney had two rushing touchdowns for Hamilton, Aidan Sisson had one score on the ground, and Ben Tack ran for one touchdown. Eli Taylor scored on a 35-yard punt return. Corvallis quarterback Bryce Mayn ran for a 1-yard score in the fourth quarter. 
• Mason Peters threw four touchdown passes — two apiece to Zane McCallum and Jordan Knapton — and Cody Schweikert ran for two scores as Columbia Falls coasted to a 55-0 rout of Ronan. Peters threw for 256 yards, including scoring tosses of 17 and 20 yards to McCallum and 9 and 22 to Knapton. Rowdy White had a 48-yard scoring run for the Wildcats. 
• Polson made a successful home debut, holding off Whitefish for a 14-7 win. Xavier Fisher caught two touchdown passes and a two-point conversion toss from quarterback Jarret Wilson, who finished 24 for 35. Whitefish scored on a 55-yard run in the third quarter. 
• Miguel Perez ran for two touchdowns and Daniel Faith added the third as top-ranked Fairfield rolled to a 22-0 win over No. 10 Missoula Loyola. The Eagles jumped in front in the first quarter on a 30-yard run by Perez, who made it 14-0 on a 5-yard scamper in the second quarter. Faith caught a 10-yard scoring pass from Guidry Giles in the third quarter. 
• Sophomore quarterback Miles Hoerauf and senior receiver Flint Smith connected for two touchdowns to lead Whitehall to an 18-6 season opening nonconference victory over Jefferson. Hoerauf also added an 11-yard rushing score in the fourth to make it a two-score game. QB Braden Morris led Jefferson's offense with 180 passing yards and the team's sole score on a keeper just short of the goal-line. The teams will meet again in Whitehall on Oct. 2 in a conference game. 
• Cormac Benn was a one-man wrecking crew for fourth-ranked Bigfork in a 59-7 win over visiting Cut Bank. Benn, who transferred from Missoula Loyola this summer, finished with 262 yards rushing on 21 carries with three offensive touchdowns. He also picked off a pass and ran it in for a score, helping the Vikings improve to 2-0.
• Jesse Lee ran for two touchdowns and gained 136 yards rushing on 26 carries as No. 6-ranked Glasgow won at home over Conrad 36-8 to improve to 2-0. Lee scored on short runs covering 5 and 2 yards. Loden Idler passed for 92 yards for the Scotties, who led 24-0 by halftime. Quarterback Caden Huntsinger had 124 yards passing for Conrad.
• Trey Hoveland threw three touchdown passes and ran for the fourth score to lead unranked Townsend to a 27-12 surprise over defending state champion and second-ranked Eureka. Hoveland threw a 12-yard pass to Tommy Stewart to open the scoring and then, after Eureka rallied for a 12-7 lead, found Braden Racht for a score to put the Bulldogs ahead for good. Hoveland hit Jesus Garcia from a yard out and then finished the scoring with a 5-yard run. Gunnar Smith scored from 2 yards away and Caleb Utter had a 4-yard rushing score for the Lions. 
• Caden Holgate's third touchdown pass of the game, to Trey Veltkamp in overtime, gave third-ranked Manhattan a 35-29 win over No. 8 Florence-Carlton. Florence, which missed a field goal to start OT, trailed 21-7 but rallied to lead 22-21 after three quarters on a 72-yard TD run by Blake Shoupe and then a 39-yard scoring strike from Pat Duchien to Shoupe. Manhattan went ahead 29-22 on a TD by Fred Livezey, but Florence scored the equalizer with just under two minutes remaining when Tristan Pyette ran 69 yards to make it 29-29. Duchien also scored a rushing TD for the Falcons. Corban Johnson had given the Tigers a two-TD lead with a scoring pass from Holgate 17 seconds before halftime. 
• Caden Meier tossed five touchdown passes, and Trey Johannes ran for two scores and caught two more to power No. 9 Columbus to a 62-40 victory over No. 5 Red Lodge. Meier tossed two touchdowns apiece to Johnannes and Colby Martinez and one to Kaeden Daniels. Columbus scored 56 first-half points, thanks in part to four Rams turnovers. Colby Martinez caught two TD passes for the Cougars. 
• Senior running back Andrew Rasmussen rushed for 308 yards and five touchdowns to lead Harlem over Poplar 42-28.
• Three Forks ended an 11-game losing streak dating to 2018 by toppling Deer Lodge 36-12 in the Wardens' final varsity game of the season. Deer Lodge will be playing junior varsity the rest of the way due to its limited number of upperclassmen.
• Roland Carrier had four carries for four touchdowns and 151 yards rushing in leading Simms to a 66-0 victory over Hays-Lodgepole. Carrier scored on runs of 14, 53, 61 and 23 yards. Simms was up 38-0 after one quarter and 44-0 at halftime. The Tigers outgained Thunderbirds 348-1 on offense. Hudson Roher also passed for three TDs, with Gaven Flanagan catching two of the scoring tosses.
• Kade Cutler provided a spark with a 65-yard kickoff return for a score and No. 2 Drummond-Philipsburg scored 58 unanswered points in a 58-8 thumping of St. Ignatius. Cutler, who had four TDs and had three two-point conversions, scored shortly thereafter on a 2-yard run and the rout was on. Kellen McClure's 25-yard pass to John Komotios opened the scoring for Mission. 
• Jace Thompson ran for two touchdowns and caught a third to lead top-ranked Fort Benton to a 43-0 romp over Cascade. Hayden Diekhans, Colter Ball and Hayden Axtman also ran for TDs for the Longhorns, who have outscored their first two opponents 91-0.
• Kaimen Evans scored three touchdowns, and Aiden McDaniel passed for three and ran for another as No. 8 Belt roared to a 28-point first-quarter lead and trounced Choteau 66-14 to improve to 2-0. Evans opened the scoring with a 36-yard scamper, caught a 45-yard pass from McDaniel and then closed his scoring day with a 5-yard run for a 30-0 lead still in the first quarter. McDaniel also completed two scoring strikes to Bridger Vogl and ran for a 57-yard TD. Choteau scored on a 74-yard kick return by Carter Morgan and a pass from Tony Daley to Jacob Beattie.
• No. 7 Thompson Falls pummeled defending state runner-up and third-ranked Alberton-Superior 42-0.
• Fifth-ranked Twin Bridges fell behind 21-18 halftime and trailed by 10 points after three quarters before rallying with three touchdowns in the fourth quarter for a 38-28 victory.
• Seeley-Swan shrugged off a slow start by outscoring Victor 40-0 in the second and third quarters en route to a 60-14 win over Victor. The Blackhawks trailed 14-12 after the first quarter but went on an 18-0 run in the second frame. 
• Grady Gonsioroski ran for four touchdowns and passed for another as No. 6 Richey-Lambert overpowered defending state champion and top-ranked Jordan 50-14, handing the Mustangs their third consecutive season-opening defeat. The Fusion led 14-7 at halftime but scored four third-quarter touchdowns. Dawson Murnion scored both TDs for Jordan, which fell to Richey-Lambert two years ago -- allowing 103 points -- before beating the Fusion in the playoffs en route to a runner-up finish to Wibaux. Last season, the Mustangs lost at Big Sandy in the opener and then defeated the Pioneers in the playoffs on the way to routing Wibaux for the state championship. 
• Broadview-Lavina pounded Custer-Hysham 64-0 to improve to 2-0. The Pirates have outscored their first two opponents 141-0.
• Stanley Jarvis ran for three touchdowns and caught a fourth as Sunburst cruised past Valier 36-13. Jarvis had scoring runs of 5 and 40 yards in the first quarter, caught a 40-yard score from Cade Hanson in the third and closed the scoring with a 60-yard jaunt also in the third. Valier's two scores were from Brody Connelly, who caught a 10-yard pass from Trever VandenBos in the first quarter and ran from 60 yards out in the third quarter to pull the Panthers within a point. The Refiners scored the game's final three TDs from there. 
Volleyball
• Ella Owen provided seven aces and 13 digs as visiting Ekalaka won at Terry 25-20, 25-10, 25-15. Codi Melton also chipped in seven kills for the winning Bulldogs.
• Jalyn Curtiss had nine kills and three aces to help Circle sweep Broadus 25-12, 28-26, 25-21. Sierra Nagle added 22 assists for the Wildcats.
• Teah Conradsen led with six kills, three blocks, three digs and an ace, Alexia Papka had five kills and two aces, and Brooke Reuter contributed five aces and three blocks as Savage swept Richey-Lambert 25-22, 25-22, 25-23. 
• Maddie DeVries came away with eight kills and two blocks as Denton-Geyser-Stanford defeated visiting Big Sandy 25-15, 23-25, 25-22, 25-19. Sydney Von Bergen's 25 digs and Salena Kilgore's five aces also helped highlight the win. Big Sandy's Amiya Griffith finished with 10 kills and 10 aces.
• Kiersten Van Kirk led with 13 kills and sister Katelyn Van Kirk added eight to lead defending state champion Manhattan Christian to a 25-10, 25-0, 25-4 sweep of West Yellowstone. Taylor DeVries served all 25 points for the Eagles in the second-set shutout, including seven aces. DeVries also had 28 assists.
Soccer
• Billings Central defeated Hamilton 5-0 with the help of two goals and an assist from Sam Dull. Rusty Hegar, Matheaus Pena and Jack Milroy also scored for Central, which picked up its first win of the season and improved to 1-1.
• Abby Derbyshire scored two goals and assisted on another to help Billings Central beat Hamilton 7-0. Solei Elletson, Molly Molvig and Evelyn Nelson also had a goal and an assist, and Kellan Wahl and Lauren Dull scored for the Rams, who improved to 2-0-0.
Cross Country
• The Corvallis girls and Hamilton boys showed their superior depth in capturing team titles in the Canal Bank Class A meet in Ronan. On the girls side, the 2019 State A runner-up Blue Devils tallied 36 as a team to underscore meet runner-up Polson by 17 points. Defending State A individual champion Brynnli Poulsen of Hamilton took top individual honors in 20:49 and Olivia Buoy of Corvallis was second in 21:32. On the boys side, Hamilton's point total of 28 was 52 better than runner-up Corvallis. Brant Heiner of Ronan won the race in 16:44.
• The Hardin boys notched a perfect team score of 15 at the Hardin Invitational. The top five finishers were all Bulldogs — Tegan Medicine Bull placed first (17 minutes, 21.03 seconds), followed by Jalen High Hawk (17:28.15), Bryson Rogers (17:28.36), Tayjon Joe (17:28.49) and Quiden Whiteman (17:31.33). The Laurel girls were nearly as dominant, placing four runners in the top five and finishing with a score of 20. Those four Locomotives: Grace Timm (19:43.44), Carly Cook (19:52.75), Andria Mourich (20:00.23) and Ruby Smith (21:14.92). Hardin's Madison Harmer placed fourth (20:12.93).
• Natalie Nicholas was first, Hayley Burns second and Molly Sherman third as the Bozeman girls swept the top three spots and cruised to the team championship at the Eastern AA Belgrade Invite at Gallatin County Regional Park. Nicholas finished in 19:29, 31 seconds ahead of both Burns and Sherman. Lucia McCormick was fifth for the Hawks (20:25), who scored 20 points to finish well ahead of runner-up Billings West (48). On the boys side, Stirling Marshall-Pryde ran away with the individual title and the Hawks had four of the top 10 runners in winning the team crown. Marshall-Pryde finished in 16:41, well ahead of Samuel Nash of Belgrade (17:15, Caleb Hornung of Billings West (17:18), Gavin Budge of Billings Skyview (17:23) and Gavin Groshelle of Great Falls (17:25). For the Hawks, Xander Danenhauer was sixth, Connor Neil seventh and Noah Cunningham-Baker ninth. As a team, Bozeman had 42 points to top Billings West (64) and Billings Skyview (84). 
• Defending state champion Eureka won a four-team boys meet at home as Isaac Reynolds took first in 17:06.96, the top time in Class B this fall thus far. Justin Morgan of Thompson Falls was 2nd in 17:08.27. Jacob Henson (17:32.68) and Mason Genovese (17:58.46) of Whitefish were third and fourth, and Gavin Bates of Eureka was fifth (18:04.78). The Lions had 25 points, five better than Whitefish. In the girls race, Whitefish's Paetra Cooke was the winner (22:18.71), Raiya McCutcheon third (23:46.74) and Charlotte Lehmann fifth (24:22.68) as the Bulldogs won the team meet with 21 points. Eureka's Maya Carvey was second (23:43.84) to lead the Lions to runnerup with 34. Ellie Baxter of Thompson Falls was fourth in 24:11.81.  
Golf
• Laurel's Carson Hackmann and Haylee Adams were the medalists at the Hardin Invitational. Hackman shot a 69, four strokes ahead of former teammate Nick Pasquarello, who transferred to Billings Central before this school year. Pasquarello's teammates Malachi Stewart and Connor Walsh carded a 74 and 76 to lead the Rams to the boys team title. Adams edged her twin Hannah by five strokes, and the Locomotives cruised to first place among girls teams. Hardin, Lockwood and Miles City also competed.
• Sami Yates of Bozeman was the girls winner and Jordan Verge of Bozeman Gallatin was the boys winner, and each led their teams to titles in the Belgrade Invitational at Cottonwood Hills Golf Club. Yates shot a 76, two strokes ahead of teammate Cooper Knarr. Bozeman had a team score of 332, 25 better than Butte. Verge was two shots better than his brother Justus Verge as the Raptors pulled away from the field. 
Get in the game with our Prep Sports Newsletter
Sent weekly directly to your inbox!