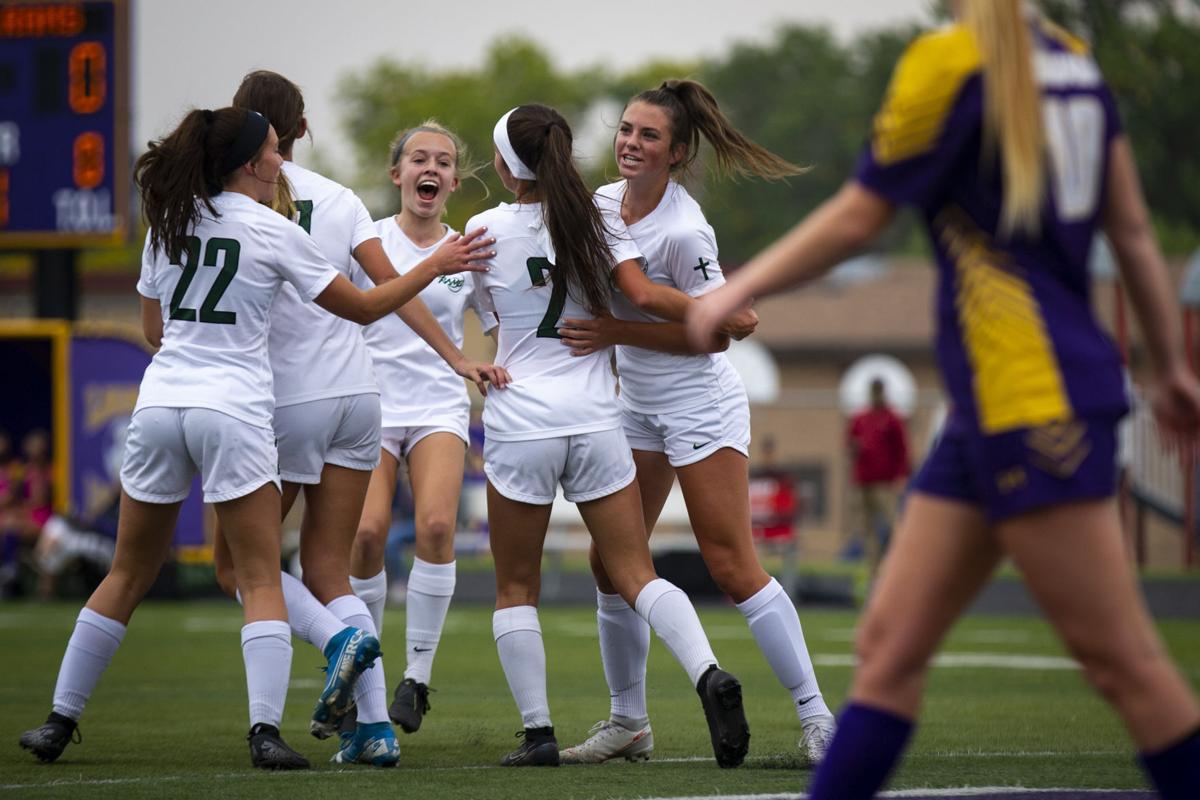 Editor's note: Will be updated as we receive results.
Football
• Bryce Mikkelson's 8-yard touchdown run in the third quarter and the extra point gave Bozeman Gallatin a one-point lead and the Raptors fended off Belgrade the rest of the way to win 20-19, their first triumph in the school's brief history. Mikkelson also had a 1-yard scoring run in the first half to give Gallatin a one-point lead at the break. Belgrade quarterback Austin Spangler tossed two scoring passes to Cedric Miller Jr., from 14 and 26 yards out. 
• Charley Crawford had two touchdown receptions and Noah Coulson returned an interception for a touchdown to help Arlee down Victor 34-12. After Victor's Robert Crosbie tied the game at 6-6 with a TD, the Pirates got the ball back but Coulson's pick-6 gave the Warriors the lead. A sack and fumble in the end zone tied the game at 12 with less than 30 seconds left in the first half for the Pirates, but Arlee quickly scored to take a 20-12 lead at halftime. 
• Preston Metesh ran for three touchdowns, Kade Cutler ran for a score and passed for another, and Andrew Tallon tossed two more TD passes as No. 2 Drummond-Philipsburg overwhelmed Alberton-Superior 64-12. Cooper Bradshaw caught two TD passes from Cutler, who was 7-for-11 for 146 yards and also ran for 113 yards. Tallon completed three passes for 50 yards. Metesh also led with seven tackles for the Titans, who led 44-0 at halftime. 
• Michael Leach rushed for 99 yards and scored four touchdowns as Simms won at home over Chester-Joplin-Inverness 52-14. Leach's scoring runs covered 15, 48, 6 and 4 yards and came in the first half. Simms was up 34-0 at halftime. Teammate Stephen Links passed for 131 yards and two TDs. Leach tallied the game's first four touchdowns. Simms amassed 320 yards on offense.
• Mason Dethman rushed for 112 yards and three touchdowns, and also threw for two TDs as No. 8 Froid-Lake steamrolled defending state champion Jordan 76-6 after scoring 38 points in the first quarter. Isaac Johnson threw a 31-yard TD pass only his only throw of the game and also had seven extra points. Dethman tossed a TD pass of 43 yards to Ashtyn Hobbs, who also caught a 31-yarder from Johnson. Brett Stentoft and Connor Huft also scored touchdowns for the Red Hawks. 
Volleyball
• Kaitlin Grossman had 10 kills and six digs, Sydney Pierce added nine kills, and Taylor Graham contributed 20 assists, four kills, three aces and four digs to power Billings West to a 25-11, 25-22, 25-11 sweep of Belgrade. Addie Allen did her part with 14 assists, six aces and five digs for the Golden Bears. 
• Paige Bartsch racked up 10 kills, three aces and two blocks, sister Dani Bartsch added nine kills and Audrey Hofer provided 22 assists as Helena Capital swept Missoula Big Sky 25-13, 25-18, 25-19. Kennedy Pocha added 11 digs and three aces for the Bruins. 
• MacKenzie Tutty had 10 kills, Kennadie McMahan added nine and Butte took down Kalispell Flathead 25-23, 25-23, 19-25, 25-23. Olive Quinn had 20 assists for the Bulldogs. Savannah Sterck led with 11 kills, six blocks and 15 digs, Mayson Moore chipped in with 22 digs and five aces, and Kylie Munsinger helped with 24 assists for Flathead. 
• Emma Anderson and Kynzie Mohl each had 12 kills, and Kaylee Fritz provided 33 assists and two blocks to lift Kalispell Glacier over Butte 25-18, 31-29, 25-18. Morgan Hernandez had 29 digs for the Wolfpack. Hannah Morin Ferguson and MacKenzie Tutty each had nine kills for Butte, and Tutty added 12 digs. Brook McGrath had five aces for the Bulldogs. 
• Elizabeth Heuiser finished with 27 kills, six blocks and nine digs as undefeated Helena rallied from a 9-6 in the fifth set to take down Missoula Sentinel 26-24, 21-25, 25-18, 22-25, 15-12 in a marathon. Heuiser's sister, Lauren Heuiser, had 16 kills and Katelyn Onespot-Danforth added 27 assists, two aces and three blocks for the Bengals. Quincy Frohlich led the Spartans with 20 kills and Paige Sawyer added 20 assists and two aces. 
• Anna Broquist had 11 kills and Tennisen Hiller contributed 29 assists as Great Falls CMR stayed perfect on the season with a 25-14, 25-19, 25-22 sweep of Bozeman. Jordan Radick topped the Hawks with eight kills. 
• Lauren Lindseth topped Great Falls CMR with 23 kills and 15 digs to lead the Rustlers over Bozeman Gallatin 25-9, 25-18, 25-16. Ryann Edding had seven kills for Gallatin. 
• Polson took down Ronan in four sets 20-25, 25-17, 25-20, 25-18 as Olivia Clairmont had 12 kills and Kylie Lindquist had 20 digs. Polson's Madeline McCrea had a big game with 3.5 blocks and two aces.
• Josie Hasler had 13 kills and 14 digs, and Macee Murphy added 22 assists and 10 digs to help three-time defending state champion Huntley Project sweep Class A Billings Central 25-15, 25-17, 25-19. Kirra Ban and Nova Ahenakew both had 11 digs, and Murphy added seven kills to her stat line. Isabelle Erickson led Billings Central, last year's Class A runner-up, with seven kills, and Maria Stewart had 21 assists and Grace Zeier 17 digs. 
• Kyler Bake punched down seven kills and had 11 assists, Natalie Kolste chipped in with 10 assists and Olivia Copenhaver fashioned six digs in Fairfield's 25-10, 25-14, 26-24 sweep of Shelby. 
• Becca Payne led the way with 11 kills, Trinity Wilson provided nine kills and three aces, and Emily Bird had 29 assists and 10 digs to propel Townsend to a sweep of Red Lodge 25-22, 25-17, 25-17. Alleigh Burdick added 29 digs for the Bulldogs. For the Rams, Liddia Fontaine had 13 kills and six digs, Audrey Fontaine 19 assists and five digs, and Kitrie Frank five kills, a block and two digs. 
• Amy Castro and Meghan Eiselein each had six kills, and Blythe Sealey was all over the court with 17 assists, 14 digs, five kills and two aces as Roundup toppled Forsyth 25-20, 25-13, 25-19. Eiselein also provided 11 digs. Lindsey Hein led Forsyth with seven kills and a block, Mariska Fulton had six kills and Jaeleigh Hlad contributed 13 assists and two aces. 
• Skyler Wright pounded 16 kills and added 15 digs, Merrin Schwend helped with 36 assists and 19 digs, and ChelSea DuBeauhad a strong night with eight kills, nine digs two assists and a block as Joliet kept rolling with a rugged 24-26, 25-20, 25-20, 18-25, 15-13 marathon victory over Colstrip. The Fillies were up to the task with Addie Casterline racking up 15 kills, five blocks and seven digs, and Abby Baer helping with 10 kills, 30 assists, three aces and two blocks. Ashtynn Egan also had a big night for Colstrip with eight kills, three blocks and 24 digs, and Baily Egan did her part with seven kills, 10 assists, 32 digs and four aces. 
• Natalie Clevenger had eight kills, five blocks and three digs, and Brooke Twite had five aces for Missoula Loyola in a 25-15, 25-14, 25-16 win over Troy. Jaylee Leighty had three kills and three digs, Elaine Folkerts added six assists and five digs, and Kiersten McCully provided six digs and two kills for Troy. 
• Thompson Falls topped Eureka in three sets, 25-22, 25-17, 25-22 as Scarlette Schwindt had three aces and 13 kills. Rhanna Hawkins had a monster game for Eureka, tallying 13 kills and six blocks. 
• Zeason Schaffer led with four kills, and Ciara McDowell had four assists and three kills as Broadus swept Plevna 25-8, 25-8, 25-7. Mia Mader and Lauryn Billing each had six aces, and Lucinda Cain added two blocks. 
• Jeena Alborano had eight kills and a block, Laura Meyer chipped in with four kills, seven aces and digs, and Briana Robins did her part with eight assists and eight aces in Sunburst's 25-11, 25-8, 25-21. Megan Huot had nine digs, five aces and four assists for the Refiners.  
• Hannah Monroe led with 11 digs, six aces and block, and teammate Erica Ramsey also chipped in four aces and seven kills for Valier in a 25-14, 25-17, 15-25, 25-19 win over Belt. Sabrina Wing had an all-around game for the Huskies with three aces, nine kills, seven digs and a block.
• Lindsay Lawrence pounded 10 kills, Lacey Lawrence served up 20 assists, and Ryan Rachel and Kailah Hafla each provided three aces to lead Jordan over Terry 25-15, 25-16, 25-14. Olivia Chaska had five aces and six digs for the Terriers. 
• Savannah Reesma and Lily Winn each scored six kills, and Reemsa added seven assists, three aces and two blocks to send Hot Springs over Darby 25-15, 25-14, 25-13. Lizzy Fisher added 15 assists and two blocks, and Katelyn Christensen had four blocks for the Savage Heat. Darby received four kills and four digs from Amber Anderson, three kills and two blocks from Brinya Child and five assists, two kills and an ace from Keyia Goodwin. 
• Draya Wacker supplied 14 kills and nine aces as visiting Melstone scored a sweep at Broadview-Lavina 25-19, 25-13, 25-15. Teammate Finn Riksman contributed eight aces and six kills. Broadview-Lavina received five kills from Berlin Sanguins, and Adi Tuszynski notched eight digs and three aces.
• Victor downed Lincoln in a wild five-set match 25-18, 20-25, 23-25, 25-7, 15-10. Jaylin Lewenight had six aces, seven kills and three blocks for the Lynx, and Jenna Templeton added eight assists.
Soccer
• Beckett Arthur scored a hat trick and had an assist, and Reggie Duce added two goals as Missoula Hellgate overwhelmed Kalispell Flathead 10-2. Lars Thorne-Thomsen provided three assists and Marcus Anderson added two for the Knights. 
• Missoula Sentinel improved to 4-1 with a 5-0 win over Helena Capital as five Spartans scored. Ben McKee started the rout with an 18th-minute unassisted goal. Jayce Gerstle added on a goal and an assist.
• Clara Tallent's second-half goal was the only score as Missoula Hellgate blanked Kalispell Flathead 1-0 in a makeup contest. Tallent was assisted by Lucia Baker on a set piece in the second half. Senior goalie Sophia Pierce preserved a 0-0 tie in the first half when she saved a penalty kick, a second opportunity and a third chance in the same sequence.
• Laurel keeper Noah Berg stopped Sam Dull's penalty kick in the second half, and Berg batted another shot over the cross bar with three minutes left to help Laurel salvage a 0-0 draw with Billings Central.
• Corvallis downed Hamilton 4-0 behind three goals from Chris Gonzalez. The hat trick was assisted by Luke Sangser and Gavin Hadberg. Ian Wilson also scored for the Blue Devils.
• Mya Maack scored off an assist from Maeson Cotter in the second half to give Laurel a 1-1 tie with Billings Central. The Rams took a 1-0 lead in the first half on a goal by Abby Darbyshire assisted by Molly Molvig. 
Cross Country
• Glasgow swept the Scottie Invitational as Iris McKean triumphed in the girls race in 19:45.34, aiding in the Scotties' winning score of 36. Glendive placed second in the team standings with 40 points and Sidney took third with 79 points. Richey-Lambert's Samuel Smith won the boys race in 15:54.63, but Glasgow won the team title with 37, helped by Carl Zabrocki's third-place finish (17:25.51). Richey-Lambert was second in the team standings with 50 points and Wolf Point placed third with 58.
• In Polson, Columbia Falls swept the Fairgounds meet, scoring 39 points in the boys race and 16 in the girls. In the boys event, Whitefish was second with 50, followed by Ronan (52) and Polson (87). Polson scored 50 to finish second in the girls event. Ronan's Brant Heiner was the winner in the boys event, and Columbia Falls runner Lara Erickson took the girls title.