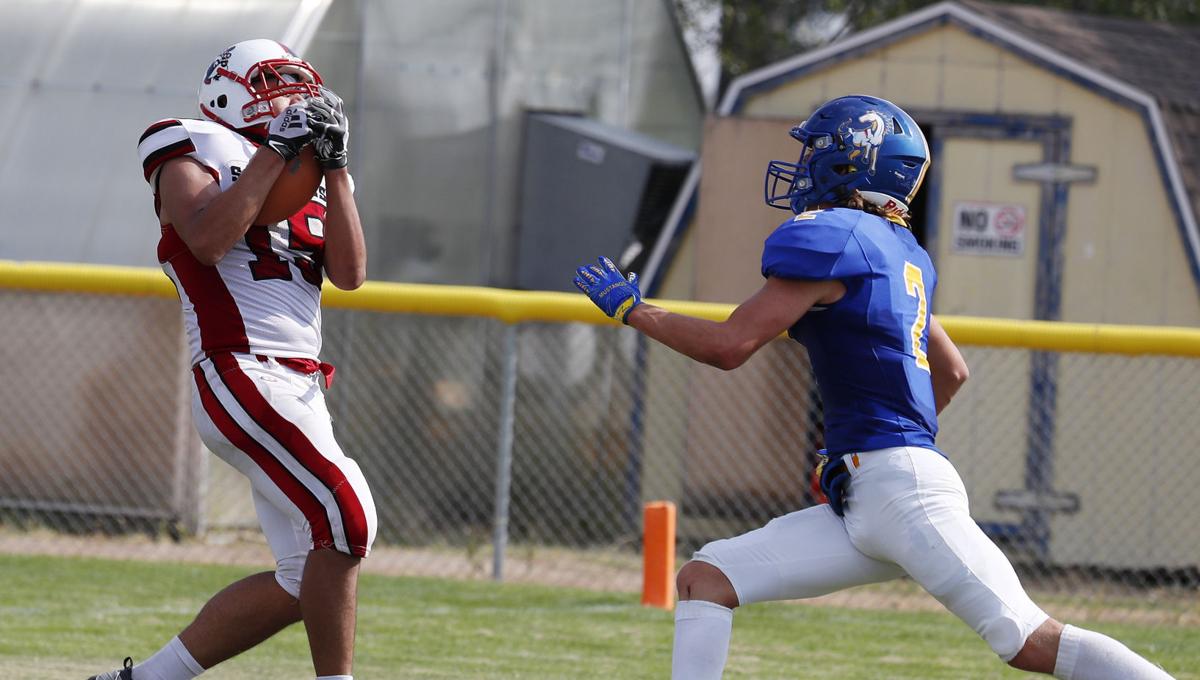 Editor's note: Will be updated as we receive results.
Football
• Senior quarterback Logan Idler accounted for four of his team's five touchdown passes as Glasgow rolled to a 36-0 win over Shepherd in the season opener for both teams. Idler had two passing TDs and two on the ground. A 22-yard rushing TD from freshman Tatum Hansen in the fourth quarter capped the scoring.
• Hayden Ward threw two touchdown passes and ran for another and Joliet raced past Shelby in the second half for a 46-26 victory. The J-Hawks outscored Shelby 34-14 after halftime, as Rye Brastrup scored on a 7-yard run and also returned an interception for a touchdown. Shelby's Rhett Reynolds caught two touchdown passes from Taylor Parsons.
• Quarterback Bryan Mask threw for three touchdown passes and rushed for another as defending state runnerup Alberton-Superior ran off seven consecutive scores and throttled Victor 56-12. Robert Crosbie intercepted an early Mask pass and weaved 52 yards for a touchdown for the Pirates. Orion Plakke ran for a touchdown and caught a scoring pass for the Mountain Cats. 
• Stephen Links threw for 137 yards and four touchdowns on just four completions in Simms' 42-13 victory over Lone Peak. Carter McDowell had 99 receiving yards and caught three TDs. Caden Smerker also caught a 38-yard touchdown from Links.
• Ian Moline ran for four touchdowns and Bryson Bahnmiller threw for four more as Geraldine-Highwood Rivals gave Centerville a rude introduction to 6-Man with a 60-27 trouncing. Eathan Upchurch tossed four touchdown passes for Centerville, which has dropped down from 8-Man. Two of the TD tosses were to Cade Hutchins. 
Volleyball
• Ellie Lee's nine kills and Christine Funk's 26 assists led Choteau to a sweep of Three Forks, 25-10, 25-11, 25-16. Soren Cummings had 12 digs for Choteau. Addi Pestel and Aubree Waldbillig each had eight digs for Three Forks.
• Liddia Fontaine and Brookelyn Allen had nine kills apiece, Audrey Fontaine had 23 assists and three aces, and Macelyn Lauritzen added 11 digs to propel Red Lodge to a 25-17, 25-14, 25-20 sweep over Melstone. Zoe Avent added five aces for the Rams. For Melstone, Draya Wacker led with 14 kills, Koye Rindal added 14 assists and four digs, and Teigan Schiffer had seven digs.
• Jaidyn Larson led with 10 kills, Mackenzie Little provided five aces, Kolbi Wood added 12 digs and Jayden Hendrickson was tops with 12 assists to carry Florence-Carlton to a 25-14, 25-15, 25-18 victory over Bigfork. 
• Kyler Bake had 12 kills, 12 assists and eight blocks, and Madison Rosenbaum and Cheyenne Maddox added 14 digs apiece as Fairfield outlasted Thompson Falls 23-25, 25-20, 20-25, 26-24, 15-10. Natalie Kolste pitched in with three aces for the Eagles. 
Thompson Falls split a pair of matches, earning a three-set win over Great Falls Central (25-14, 25-18, 25-13) and dropping a five-set thriller against Fairfield (23-25, 25-20, 20-25, 26-24, 15-10). Jody Detlaff led the Blue Hawks with 11 kills in the win over Central, Scarlette Schwindt added eight kills and eight digs, and Elli Pardee filled up the stats sheet with five kills, 13 assists, eight digs and one block. Schwindt collected 17 kills, 13 digs and three blocks in the loss to Fairfield, Detlaff added 12 kills, and six blocks, and Pardee had three aces.
• Addie Casterline and Abby Bear each had 10 kills for Colstrip in a 27-25, 25-20, 25-19 sweep of Shepherd. Addie Pontius had 22 digs, and Bear added 21 assists. Shepherd was led by Aubrey Allison's nine kills and 15 digs. Tenley Murdock registered 20 assists.
• Liv Wangerin led with 23 kills and 12 aces, Donn Longan added 16 kills and three aces, and Ashtyn Curtiss pitched in with 38 assists and nine digs to lift Plentywood to a 25-20, 25-14, 25-8 romp over Saco-Whitewater Hinsdale. Shayla Fawcett added eight digs for the Wildcats. 
• Jeena Alborano had 10 kills and 10 aces, Briana Robins provided 16 digs and Tara Robins added two blocks to help Sunburst sweep Dutton-Brady 25-18, 25-7, 25-10. Nadely Chapman-Roberts topped Dutton-Brady with four kills, MacKaela Pulver added 10 digs, Leslie Ostberg had three aces and Chloe Sealey had four assists.
• Delaney Kellam's six kills and Jayden Miller's four aces helped highlight Chinook's 25-16, 25-14, 25-12 victory over visiting Centerville. Hailey Bell also chipped in with five digs.
• Zeason Schaffer provided 10 kills as visiting Broadus won at Ekalaka, 25-18, 26-24, 25-22. Teammate Oliveah Schaffer came through with six kills, four aces and 13 digs for the Hawks. Kenzie Tooke led Ekalaka with four kills and Kari Kittelman chalked up 15 digs.
• Kimberly Bear had 11 kills and three blocks, Bentley Bertolino chipped in with 27 assists and seven aces, and Emma DeVries added 10 digs as Roberts swept past Fromberg 25-6, 25-12, 25-15. 
• Culbertson swept visiting Bainville 25-15, 25-21, 25-16 behind the three kills and eight digs of Mckinsey Justice. Cody Larsen also provided three aces and eight digs. Bainville received six kills from Brecklyn Pippenger and three aces from Kaitlyn Adkins.
• Josie Thomas  led with eight kills, eight digs and four aces, Chase Cunningham added 15 assists and Veronika Macy had seven digs and three kills to carry Gardiner over Townsend 25-18, 25-23, 25-19. Trinity Wilson had eight kills and three aces, and Emily Bird provided 21 assists and 12 digs for the Bulldogs. 
• Philipsburg rolled to a 25-18, 25-16, 25-16 win over Sheridan. Lucia Lee led the Prospectors with six kills, Asha Comings had seven of the team's 23 aces, and Rachel Ward had 11 assists.
• Charlo earned a 25-18, 25-16, 25-17 road win over St. Ignatius. Sydney Brander led the Bulldgos with nine kills.
• Visiting Reed Point-Rapelje outlasted Broadview-Lavina 25-27, 25-18, 19-25, 25-19, 15-4, with Justice Bilharz and Kylee Bryant supplying six aces apiece. The Renegades also benefited from Ciara Fagone's 20 digs. Hailey Fiske wound up with 12 kills for Broadview-Lavina. Teammate Adi Tuszynski compiled eight aces and six digs.
Soccer
• Trey Draayer connected on two free kicks, both from about 25 yards out, to help Billings Senior defeat Great Falls 3-0. Seth D'Ambrosia got the Broncs on the board in the fifth minute on an assist from keeper Biel Cantor, and three minutes later Draayer drilled the first of his two set-piece goals. 
• Missoula Hellgate rallied from a 1-0 halftime deficit to score a 4-1 victory over Kalispell Glacier as Reggie Duce scored two goals and carded one assist. Beckett Arthur added a goal and an assist, Cameron McNelis scored a goal, and Lars Thorne-Thomsen had one helper. Goalie Aidan Anderson made 12 saves.
• Sage Anderson and Carter Bullins scored two goals apiece as Kalispell Flathead jumped to a quick four-goal lead and held on for a 4-0 blanking of Butte. 
• Christian Aitchison's goal in the 79th minute snapped a tie and lifted Belgrade past Great Falls CMR 3-2 for the Panthers' first-ever Class AA victory. Belgrade fell behind 1-0, took the lead on goals by Sam Waller and Trevor Gordon in the first half, and saw the Rustlers tie it on a free kick by Trey Mans early in the second half. The Panthers snapped a 15-match losing streak dating to the 2018 Class A playoffs. 
• Jacob Demmons scored first for Helena and then Jace Classen scored the equalizer in the 66th minute to lift Helena Capital to a 1-1 draw in a crosstown showdown with the Bengals. The Bruins managed to keep the game tied despite playing the final 14 minutes a player down due to a red card. 
• Kendal Tucker scored the tiebreaking goal late in the game, and Abby Thompson added another on a long direct kick to lift Billings Senior to a 4-2 win over Great Falls. Eliza Bentler scored two first-half goals as Senior took a 2-1 lead to the break, and after Avrie Costley equalized for the Bison Tucker and Thompson answered for the Broncs. Macie McElhenney also scored for Great Falls.
• Kalispell Glacier scored twice in the first half and then thwarted Missoula Hellgate's comeback attempt in the second for a 2-1 win. Hellgate's Josie Brown scored on a rebound off a set piece, assisted by Carmen Anderson. Goalie Sophia Pierce made 10 saves for Hellgate.
• Belgrade's Mackenzie Turner made nine saves and Great Falls CMR's Robin Blair made six as the teams played to a scoreless tie. In all, Belgrade had 18 shots and CMR 12.
• All-stater Rachel Plaster opened the scoring early in the second half, Elsa Grebenc scored two ensuing goals and Logan Todorovich closed the scoring to lead Helena past Helena Capital 4-0. It is the Bengals' third consecutive shutout over the Bruins.
• Kylee McCoskery and Charlize Davis gave Billings Skyview a halftime lead and the Falcons went on to a 3-1 win over Bozeman. Ana Schell scored in the 54th minute to try and rally the Hawks, but Julia Mader scored a goal for the Falcons in extra time to seal the victory. Isabel Schauber, Sydney Robbins and Ashton Kelsey had assists for the Falcons.
• Mayson Palen and Tyler DiMaggio scored goals as Frenchtown defeated Billings Central 2-1. Palen opened the scoring before Camden Capser equalized for Central. DiMaggio put the Broncs up 2-1 and both sides survived a flurry of opportunities in the closing minutes as Frenchtown completed a weekend sweep by beating the Rams and Laurel on Friday night.
• Kellan Wahl scored in the game's first minute and Solei Elletson scored five goals to help the Billings Central start their season with an 11-0 win over Frenchtown. Elletson had four of her goals before the 20-minute mark. Wahl finished with two goals, as did Addy Derbyshire. Lauren Dull and Gabby Stock both had two assists.
Cross Country
• Samuel Smith of Richey-Lambert raced to a 17:53.89 clocking to win the Sidney Invitational meet. Lewistown, with Ben Archer (18:21.93) and Jalen Robinson (18:23.95) placing second and third, won the team competition with 54 points. Miles City took second with 79 points and Laurel was third with 85. On the girls side, Laurel placed five in the top 10, including individual champion Grace Timm, to win the team crown. Timm won with a time of 20:57.44, while teammate Andria Mourich took second in 21:33.66. Miles City fished second in the team competition with 53 points. Lewistown was third with 71.
• Defending Class AA state champion Kylie Hartnett was the winner in 20:14, Odessa Zentz was second (21:13.9) and Rylie Shoenield third (21:13.9) as Helena swept the first three girls spots in the Queen City dual meet. Helena Capital took the top five spots in the boys race, led by Henry Ballinger in 18:16. Brody Romano was second in 18:27 and in third was Tyler Jost (18:53). Carlin Onstad was fourth (19:18) and Jacob Curry finished fifth (19:29). The top finisher for Helena was Ethan Nelson, sixth in 19:29. For the girls, Capital's Emma Compton was fourth in 21:52 and Emma Roher-Fitzhugh fifth in 21:52). 
Get in the game with our Prep Sports Newsletter
Sent weekly directly to your inbox!