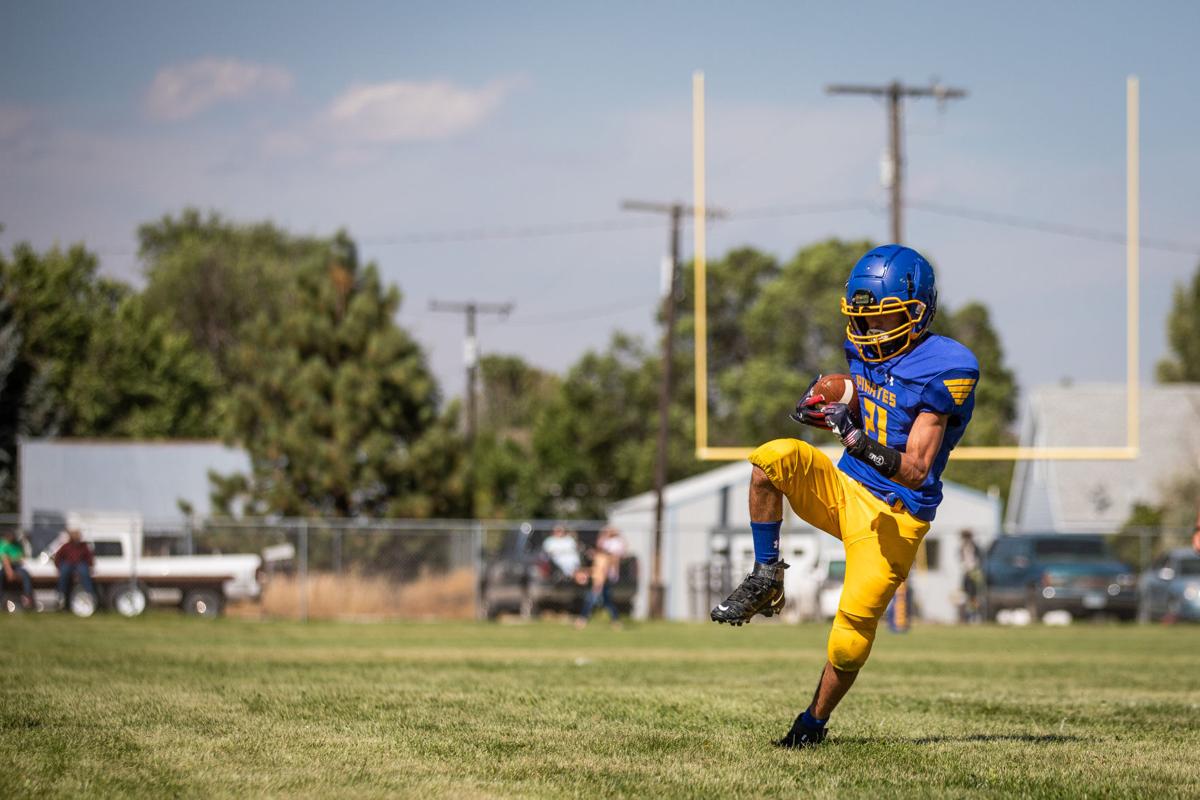 MISSOULA — The Victor Pirates are back in the win column, snapping a 16-game losing streak nearly two years to the day after their last victory on the football field.
The Pirates ended that skid by winning an offensive shootout against Troy, 70-52, in a battle of teams looking for their first victory heading into Saturday's game in Victor. It's their first win since a 44-34 victory against Plains on Oct. 6, 2018.
"It's surreal, because you go a full season not winning last year," Victor coach Darren Gossett said. "We're still young. We've had flashes where we could drive the ball. We've been close. We finally finished a complete game and played offense like we should, and that's huge. I just hope we can have it snowball and keep going and wreck some seasons for a couple other teams."
The Pirates' victory is the second win at most for any player on the team. Their lone senior transferred from Oregon last year, and six of their seven juniors had played in previous years, while the other junior transferred from Colorado this year.
The juniors are now 3-31 since the start of the 2018 season, their freshman year. They started 2-5 in 2018, finished that season 0-2, went 0-9 in 2019 and started 0-5 this year.
It was that contingent of juniors who carried the load against Troy. Junior fullback Robert Crosbie ran the ball 17 times for 274 yards and five touchdowns of 10, 40, 6, 74 and 5 yards. He also had a 30-yard interception return for a touchdown.
Junior quarterback Carson Varner tallied 11 carries for 64 yards and three touchdowns of 33, 12 and 3 yards. He completed 4 of 6 passes for 54 yards and one touchdown, a 24-yard scoring strike to junior tight end Canyon Parks, who had two receptions for 34 yards and one score.
"I'm just very proud of this group," Gossett said. "The one thing they've done since last year is they've never given up. They've tried to punch the other team in the mouth to the last play. Last year, we were a second-half team, and this year we're a first-half team, and we finally put a whole game together. They never gave up and believed in what we're trying to do."
The victory is the first for Gossett, who's in his second year coaching Victor, and it was special given who it came against. Gossett, who was born in Libby and moved to Troy before heading to Oregon in 1988 when he was 13 years old, knew Troy coach Luke Haggerty's parents when he was younger and got to know Haggerty over the years.
Gossett and Haggerty are now in the same position of trying to build winning programs. Troy has gone 1-23 since Haggerty took over in 2018, is on an 11-game losing streak and is 0-6 this year
The Trojans' last win came Sept. 20, 2019, when they beat Victor, 42-18. That was their first win, excluding wins by forfeit, since Oct. 19, 2015, against Thompson Falls when both teams were in Class B.
Saturday, Troy nearly rallied in the second half, outscoring Victor 32-18 after being down 52-20 at the half. Trevor Grant ran for three touchdowns, Dylan Peterson had three receiving scores and Paxton Fisher caught one touchdown.
"It's a very special win because it comes against the team where I grew up, and I still know the people there, know the head coach very good," Gossett said. "After he beat us last year, I really wanted to get him this year."
Gossett is hoping the win will carry over to a strong close the rest of the season and into next year, when he'll have a large group of experienced seniors. He has 17 players on the team this year and is projecting a bump to 22 next year with just one senior graduating this year. He'll also be returning four sophomores and one freshman who are starting this season.
Gossett has only been coaching 8-Man football for two years, but he's come to enjoy the strategy required and may have found his home in Victor.
"I love coaching 8-man," Gossett said. "My goal is to stay here and build the program."
Frank Gogola covers Griz football and prep sports for the Missoulian. Follow him on Twitter @FrankGogola or email him at frank.gogola@missoulian.com.
Get in the game with our Prep Sports Newsletter
Sent weekly directly to your inbox!