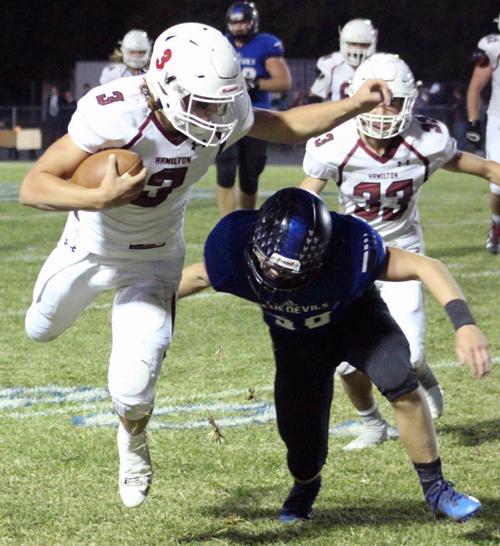 Carson Rostad's cool demeanor may very well be what helped the two-time all-state quarterback find so much success on the gridiron for the Hamilton football team.
It also helped him stay level headed when coach Bryce Carver told him the news Thursday that Rostad had been named Montana's Gatorade Player of the Year.
"When I got the email this morning and I told him, he was kind of just like 'Yep, OK,'" coach Carver said, chuckling. "...He's just really, really humble and I don't think awards and accolades are his end-all be-all in life and I think that's what makes him really special.
"Not only as an athlete but as a young man, he's a team-first guy, very unselfish. I'm sure he's excited, but he's not letting it swarm him and take over his life."
While Rostad's initial reaction may not have shown it, the state's Gatorade Player of the Year is a big deal.
The award, handed out annually for 34 years now, tries to recognize the nation's best prep student-athletes for their performance on the field, in the classroom and in the community.
You have free articles remaining.
In leading his Broncs to their second straight state championship game, Rostad threw for a Class A best 2,794 yards and 43 touchdowns against just six interceptions. He also ran for 694 yards and 10 more scores, and Rostad added a pair of interceptions as a safety on defense.
It all added up to his second straight all-state award, second straight Offensive MVP award and third all-conference selection in three seasons.
"He's very deserving of it, and very good at what he does in the state of Montana, and he's kind of proven he's one of the best football players in the state," Carver said. "To have the off-the-field stuff with the 4.0 and his community service and the things he does, it's really good for him to be recognized."
Oh yeah, there's that too.
Rostad has maintained a 4.0 GPA and has volunteered locally on behalf of special needs students in his school and youth sports camps, according to the Gatorade POY press release. 
"It's a lot of work, but having good coaches and friends that motivate you helps a lot," Rostad said on the phone before heading to basketball practice Thursday evening. "Sports will come to an end eventually, but you need an education for the rest of your life."
Rostad is the first football player to take home Gatorade Player of the Year honors outside of Class AA since 2007 (Casey McMillan, Billings Central), and the Bronc QB is the first underclassman to win since 2014 (Andrew Grinde, Great Falls CMR). Rostad is the school's first-ever Gatorade Player of the Year in football. Fellow Bronc Taylor Goligoski won the state award twice in girls' basketball.
"His work ethic and ability to care for being the best and striving to be a leader, and he's able to do it along with basketball and his offseason stuff. It's crazy, he does a great job and he's really earned that award," Carver said.
A previous version of this story said Carson Rostad was the only Gatorade Player of the Year award winner at Hamilton. Taylor Goligoski won the award twice in girls' basketball. The story has been updated accordingly.