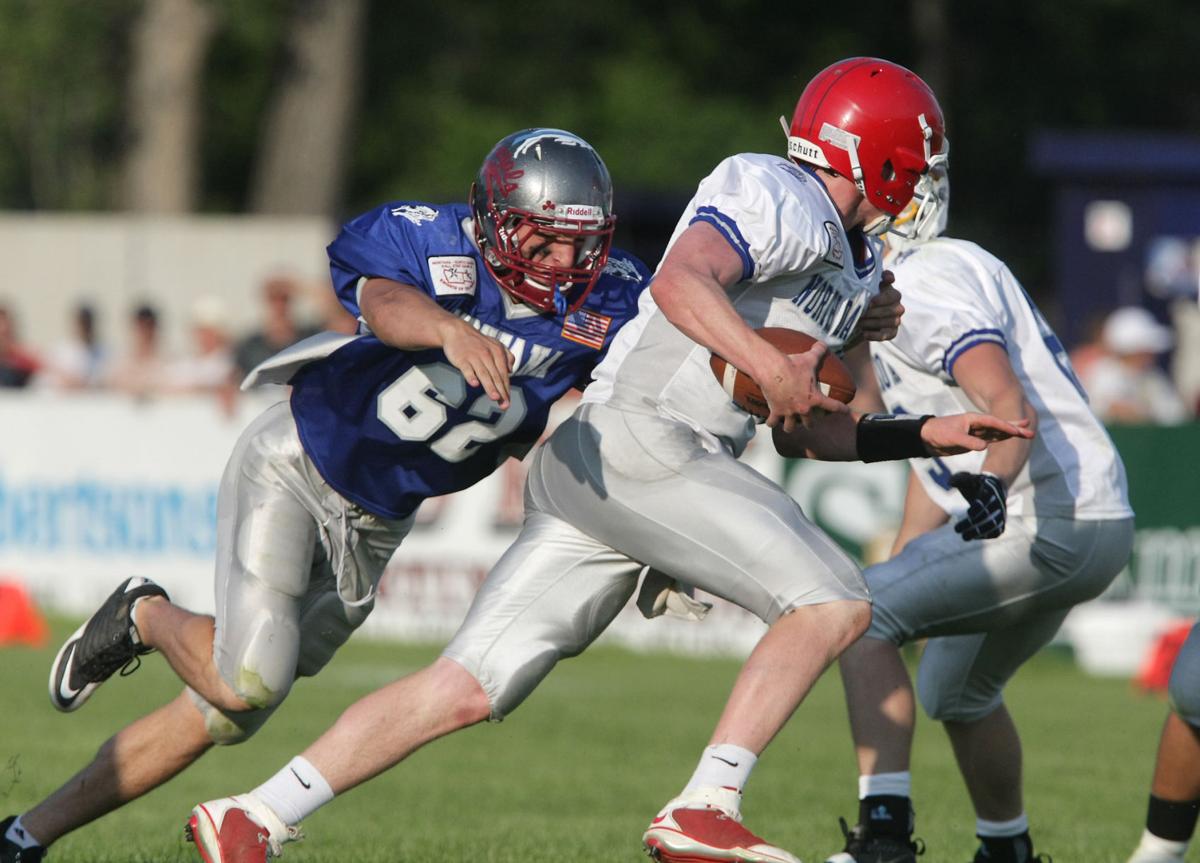 BILLINGS — On June 18, 1994, Brian Brown of Columbus lunged over the goal line on a 4-yard run at Connors Stadium in Miles City to score the first touchdown in a new high school all-star football game between neighboring states Montana and North Dakota.
With that, the Knights of Columbus Badlands Bowl was born.
If these were conventional times, the 27th version of the game would kick off Friday night at Fisher Field in Dickinson, North Dakota, for a much-deserved farewell.
But nothing is conventional anymore, and the annual series, which was officially dissolved in February after a near three-decade run, was unable to receive the sendoff it rightly deserved.
Coronavirus did to the Badlands Bowl a year early what organizers had settled on doing anyway. But the swan song, as part of a larger nationwide pattern, was canceled.
In truth, it was probably time for the game to be put to bed.
Though North Dakota won the first game 28-19, Montana's all-stars dominated the series and the competitive balance of the game had been called into question. The Treasure State team won 20 of the 26 games, and had prevailed by an average margin of 42 points in the final four years, including victories of 63-0 in 2017 and 55-7 in 2018.
In the end, North Dakota couldn't match up.
Longtime Montana team organizer and committee member Kelly Reid, when talking to 406mtsports.com earlier this year, said there wasn't one major reason for ending the game, but several little ones that added up. And the blowouts weren't as big of a concern as you might think.
Shrinking committees and sponsorships complicated things, as well as the inclinations of college coaches to limit recruits' participation in summer all-star competition — and there is certainly no shortage of those in Montana.
With that, the organizers' desire to make the Badlands Bowl a first-class event for the players and a game with an exclusive selection process reserved for the absolute best prospects across the state became more difficult.
From the outside looking in, players in recent years seemed to value playing the East-West Shrine Game instead.
"We just decided there were things that weren't happening the way we wanted them," said Reid, who founded the game with his brother, Rick.
Despite its lopsided nature, the series was a showcase for talent, whether it was clear at the time or not.
When Bismarck Century's Carson Wentz lined up at quarterback for the North Dakota team in Miles City in 2011, who knew he'd go on to become the No. 2 overall pick in the NFL Draft five years later?
Wentz threw for 230 yards with a touchdown and an interception in his Badlands Bowl outing, and was named his team's offensive MVP. But that was only a glimpse of what was to come.
He later quarterbacked North Dakota State to two FCS national championships and is now the starter for the Philadelphia Eagles.
As for Columbus' Brown, he later walked on at the University of Wyoming to become a standout linebacker and a leader of the Cowboys' defense.
As we bid adieu to the Badlands Bowl, this is hardly a proper goodbye. But it will have suffice.
Following is a look back at some of the top performances from Montana's all-stars in a series that provided many memories for players, fans and organizers:
Running Lane
In 2018, Huntley Project's Lane Sumner couldn't be stopped.
Sumner, who now plays at Montana State, rushed 31 times for 184 yards — both Badlands Bowl records — in Montana's 55-7 victory in Dickinson. The Montana team reeled off 35 third-quarter points, thanks to Sumner and Kalispell Glacier's Drew Turner, now with the Montana Grizzlies, combining for 261 yard and five touchdowns by game's end.
"Our O-line and those two running backs just took over the game," said Billings Senior's Mark Sulser, coach of the Montana all-stars that year. "Once we made our adjustments and got things rolling … that was a lot of fun."
Wagner's air raid
Before going on to win an NAIA national title at Carroll College, Gary Wagner was a gunslinger in Havre.
Wagner and teammate Marc Mariani played key roles in the Blue Ponies winning the Class A state title in 2004. Wagner had a record-setting day in the 2005 Badlands Bowl in Dickinson with 342 yards on 26-of-39 passing, and connected with Mariani, who went on to star at Montana and play in the NFL, on a 23-yard TD pass.
A separate mention belongs to Billings West's Andrew Selle, whose 256-yard, three-touchdown day was the spark in a 42-23 victory in 2006.
"We came out here and just executed today. We played well," said Selle, later helped take the Montana Grizzlies to the 2009 FCS championship game. "There's a lot of pride. It feels good to get this win."
The brightest star
Matt Miller was pretty good, huh?
The Helena Capital standout put on a pass-catching show with 12 catches for 206 yards and two touchdowns in the 2010 game in Dickinson. North Dakota, though, won the game 41-38 on the strength of seven defensive takeaways.
For Miller, it was a precursor to a sensational career at Boise State. He later spent time on the coaching staff at Montana State before returning to BSU as receivers coach and pass-game coordinator for the 2020 season.
Raising Cain
Nobody proved to be a better Badlands Bowl ball hawk than Kalispell Glacier's Cain Boschee in 2015.
Boschee set a series record with three interceptions during the game that year at Connors Stadium in Miles City, which helped the Montana to a 40-25 victory. The Treasure Staters intercepted six passes in all.
"All the stuff I've learned over the years at Glacier and all the stuff I learned this week put me in position to go get the ball," said Boschee, who later went on to play college football in North Dakota at Dickinson State. "I was expecting them to run the ball a lot more than we saw, but it was fun when they got to pass a little bit."
Get in the game with our Prep Sports Newsletter
Sent weekly directly to your inbox!