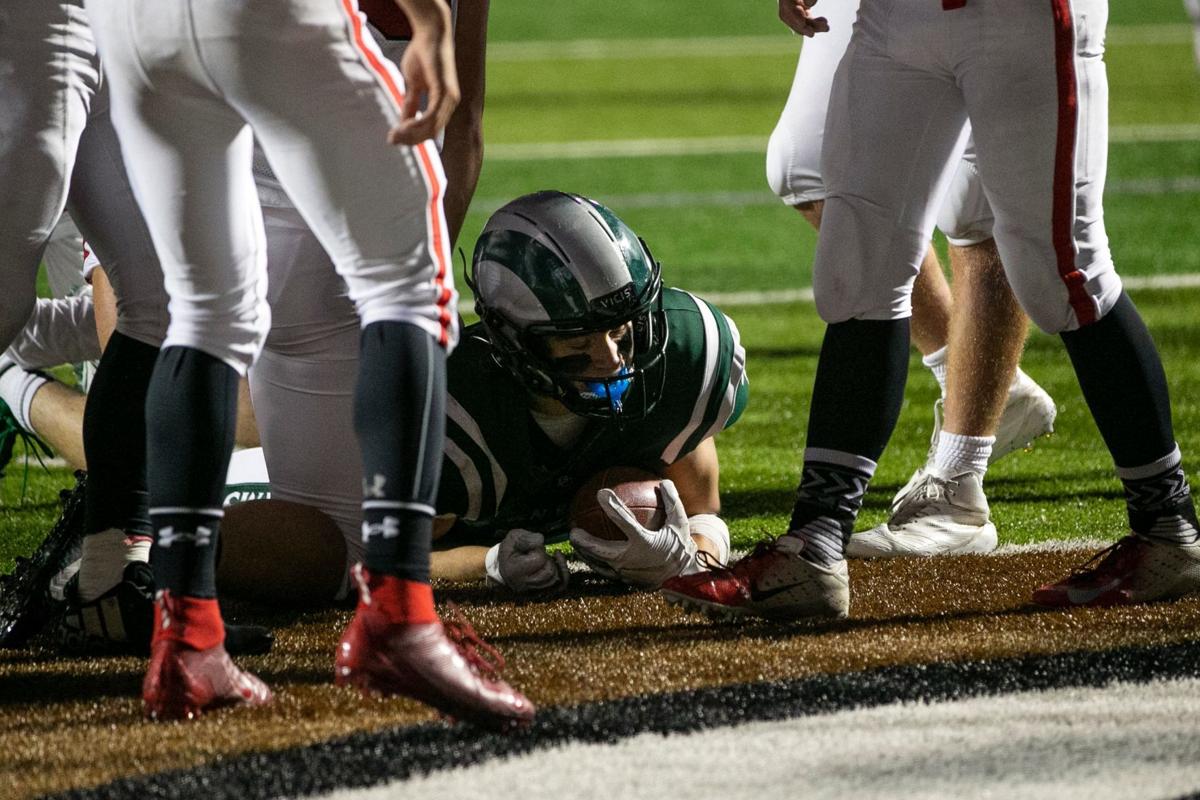 Football
• Senior quarterback Tommy Mellott accounted for five touchdowns as No. 2 Butte moved to 4-0 for the first time since 2006 with a 55-28 win over Kalispell Glacier. Throwing three touchdowns in the first quarter — a 50-yarder to Quinn Sullivan, a 70 yarder to Ryan Neil and a 33-yard pass to Peyton Hettick — the Bulldogs were rolling early. Mellott then added a 14-yard touchdown run early in the second quarter.
• Taco Dowler caught a touchdown pass and returned another for a score, and Demarcus Carr made his return to the field after missing two games with an injury with a touchdown and 126 rushing yards as top-ranked Billings West defeated Great Falls CMR 38-7. Josh Erbacher threw two touchdown passes and Hayes Rohloff scored on a short run to keep the Golden Bears unbeaten at 4-0. Logan Richard scored on a 10-yard run to tie the score at 7-7 late in the second quarter for CMR, but West reeled off 31 unanswered points. 
• Zac Crews and Dayton Bay each threw two TD passes — Crews' of 6 yards to Soren Syvrud and 48 to Charlie Kirgen, Bay's of 25 to TJ Rausch and 2 to Jaxon Lee -- and No. 4 Missoula Sentinel bolted to a 28-0 halftime lead and held on to top No. 3 Helena Capital 28-14 on the road. Noah Braden's scoring runs of 60 and 5 yards in the second half accounted for Capital's points.
• Rollie Worster made his college choice for basketball, then hours later scored three touchdowns to lead Missoula Hellgate to a 29-18 victory over Kalispell Flathead and a 3-0 start. A former Montana commit who instead opted for Utah State, Worster scored from 10, 19 and 4 yards out as the Knights built a 29-6 lead in the fourth quarter. Worster finished 8 for 17 passing for 153 yards. Chance Sheldon-Allen scored two of Flathead's TDs, the first after recovering a fumble by his own teammate and running the remainder of 56 yards and then a traditional rush from 5 yards out.
• On a fourth-and-2 play, quarterback Justus Peterson found running back Peter Gibson for a 3-yard touchdown pass in the final minute to rally Dillon past top-ranked Hamilton 26-25. Carson Rostad had 306 total yards and 150 rushing for the Broncs, including three TDs. 
• Thomas McGree ran for three touchdowns and threw for the other three in leading Butte Central to a 38-7 thumping of Corvallis. Two of the TD passes came first, 55 yards to Guido Ossello and then another to Matt Simkins. With the Maroons leading 13-6 at halftime, McGree ran for a 57-yard score to pad the lead before closing with his final two rushing TDs. In between, Luke Heaphy caught a 10-yarder.
• Jace Klucewich ran for two TDs, caught another and ran 35 yards to paydirt with an interception as No. 3 Frenchtown romped to a 49-point halftime lead and trounced Stevensville 49-13. Klucewich caught a 26-yard pass from Cade Baker to open the scoring and his pick-6 made it 14-0 for the Broncs (4-0). Ben Larson ran for a TD and caught an 11-yard pass for another to close the first-half scoring. Sahkaia Wehr ran for a 20-yard score and kicked the extra point to get Stevi on the board in the fourth quarter.
• Second-ranked Billings Central rolled to a 43-0 homecoming victory over Glendive as the Rams' Derek Damjanovich scored two rushing touchdowns (8 and 75 yards). Fellow juniors Vince Dichos (38 yards) and Junior Brackenridge (13) each ran for a score. Junior quarterback Marcus Wittman completed a 22-yard touchdown pass to senior Charlie Parkan, and sophomore Max Studer scored the final TD on a 3-yard run.
• No. 3 Manhattan earned its first-ever victory over No. 4 Missoula Loyola at Rollin field by starting strong offensively and making two defensive stands for a 26-14 triumph. Garrit Weeda rushed for the Tigers' first two scores and Manhattan led 26-0 on a 59-yard run by Lane Veltkamp before the Rams mounted a comeback. Nick Mitzel threw two TD passes for Loyola to make it 26-14, and Manhattan stopped two drives deep in its territory late in the game. 
• Second-ranked Eureka (4-0) steamrolled to a 63-6 win over Anaconda. Chet McCully scored three touchdowns and finished with 107 rushing yards on 12 carries.
• Townsend's Tommy Stewart broke a first-half stalemate with a short touchdown run in the second quarter that turned out to be the deciding score as the Bulldogs dropped Whitehall 6-0.
• Finnegan Davis rushed for two touchdowns, including a 67-yard gallop, in leading No. 5 Red Lodge to a 41-6 conquest over Baker. The Rams (4-0) also received rushing TDs from Braden Tomlin (49 yards), Jay Jetmore (22) and Rizon Berndt (4 and 1). Baker's lone TD came on a 24-yard pass from Teight Madler to Riley O'Donnell.
• Alex Boland passed for 138 yards and three touchdowns as No. 8 Glasgow (3-0) blanked Cut Bank, 46-0. Boland's scoring strikes, including 1- and 29-yard passes to Tel Aune. Teammate Loden Idler scored TDs on a 75-yard kickoff return and a 9-yard run. Glasgow was up 32-0 by halftime.
• Kordel Ellis returned two interceptions for touchdowns as No. 6 Huntley Project (3-1) defeated Colstrip 41-2. The two pick-sixes by Ellis covered 30 and 25 yards. The Red Devils received a pair of rushing touchdowns from Rylan DeVries, who also tossed scoring passes to Jake Fox and Hunter Dare in the second half.
• Florence scored four first-quarter touchdowns, powering the No. 9 team to a long-sought 31-0 conference win against Bigfork. The Falcons needed just four plays to lead 19-0 and be on their way to their first win over the Vikings in four years. Quarterback Kolby Kohlman opened the scoring with a rushing touchdown and then hit Levi Posey on an 87-yard scoring strike. Kohlman then tacked on a 53-yard run followed by a 63-yard TD pass to Blake Shoupe. 
• Undefeated and ranked No. 1, Fairview and quarterback Alex Schriver came up big in a 78-6 victory over Plentywood. Schriver passed for two scores, ran for one and also returned a punt 30 yards for another TD for the 4-0 Warriors. Cody Asbeck had a 15-yard scoring scamper and a 51-yard kickoff return for Fairview. Steve Rice came up with a 65-yard kickoff return. The Warriors scored 40 points in the first quarter and owned a 56-0 lead by halftime.
• Cade Cutler scored six touchdowns and No. 5 Drummond-Philipsburg (Flint Creek) regrouped from a slow start to drub No. 8 Seeley-Swan 62-20. Cutler's 12-yard run in the second quarter brought Drummond-Philipsburg within 14-12 and was the first of six consecutive TDs scored by the team -- and the first of four straight by Cutler. He also had 11- and 3-yard runs and a 43-yard pass from Preston Melesh, who ran for three scores himself. Owen Mercado had two of Seeley-Swans's three scores, both on passes.
• Trey Green scored six touchdowns and Bryan Mask threw for five -- one to Green -- to lead No. 3 Alberton-Superior (Clark Fork) to its 60-22 thumping of Twin Bridges. The Mountain Cats led 52-14 at halftime and Green tacked on his final score in the third quarter. Mask's other four TDs were split between Kyler Francis and Jake Callaway.
• Carson McGuinness threw a 2-yard touchdown pass to Bridger Cavill with 32 seconds remaining to rally unranked Centerville a 32-25 win over No. 2 Shelby. The Coyotes had scored the go-ahead TD with 1:37 remaining on a 22-yard run by Tanner Parsons, who also tossed two touchdown passes. McGuinness threw two TDs and ran for two more.
• Kaimen Evans ran for two TDs and passed for another to power Belt over Cascade 56-6. Evans had runs of 30 and 16 yards and tossed a 22-yard strike to Hunter Vogl. The Badgers' only score came on a 78-yard kick return.
• No. 9 West Yellowstone came up with 16 third-quarter points and made them count in a 16-12 triumph over Joliet. Mac Hauck tossed a 49-yard touchdown pass to Kyle Watt and Miguel Salinas had a 4-yard scoring run for the Wolverines (4-0). Joliet jumped ahead 12-0 in the first half on a 50-yard run by Rye Brastrup and a 5-yard pass play between Hayden Ward and Caleb Bailey. 
• Gavin Regalado ran for four touchdowns from 2, 1, 5 and 2 yards out to guide Plains over Arlee 46-20. 
• Kade Strutz rushed for 182 yards and four touchdowns in Big Sandy's 51-6 win over White Sulphur Springs. Strutz had scoring runs of 21, 4, 22 and 28 yards.  The Pioneers led 38-0 at halftime. Brock Proulx and Ryan Roth also ran for Big Sandy scores. 
• Third-ranked Hot Springs rolled to a 45-18 win at Valier as Brandon Kundsen had 200 yards rushing and Lincoln Slonaker had three touchdowns. 
Volleyball
• Allie Olsen had 22 kills and Great Falls CMR defeated Billings Senior 20-25, 25-11, 25-15, 25-22 in Eastern AA action. The Rustlers had 32 kills overall. Olsen also had four blocks and Lauren Lindseth had 17 digs. Bailey King led Senior with eight kills and five blocks.
• Polson won a marathon match at Ronan, 25-18, 16-25, 26-24, 15-25, 15-12. Misty Tenas racked up 13 kills and four blocks for the Pirates.
• Liv Wangerin had 10 kills, 10 aces and three blocks to lead Plentywood past Saco-Whitewater-Hinsdale 25-15, 25-11, 25-10. Megan Marriage contributed five digs and four aces for the Wildcats.
• Jaycie Lowery racked up a double-double of 15 digs and 10 assists as Fromberg won at Plenty Coups, 25-21, 25-20, 25-15. Teammate Hunter Holstein chipped in with six kills and two blocks. Catherine Monroy of Plenty Coups notched 10 assists, nine digs and four aces.
• Charlo swept to a victory at Valley Christian, 25-17, 26-16, 25-11. Liev Smith and Kira McPhail each had six kills for the Vikings. Carlee Fryberger had six aces and 11 digs. Ellie Hover had six kills and seven digs for the Eagles.
• Ceara Miske had six kills, Layne Schieffer 17 assists and Kirsten Johnson five aces to lead Wibaux to a 25-21, 25-20, 25-11 win over rival Ekalaka. Ella Owen's two aces, six kills and 17 digs led Ekalaka. 
• Kennedy Davies had nine kills and Shelbey Klein finished with six as Ennis dumped Twin Bridges 25-18, 25-10, 25-16. Klein also had two blocks and a team-high six aces. Riley Robinson added three blocks and 15 assists. Karlie Hedges and Olivia Lohrenz combined for four of Ennis' seven digs.
• Jaydyn Traub had six kills, 16 digs, 5.5 blocks and six aces, Abi Krantz also had six kills, and Zeason Schaffer added 12 assists to lead Broadus over Jordan 25-25, 19-25, 25-17, 27-25, 16-14. Sophie Kreider had 12 digs and 10 blocks, and Lacey Lawrence chipped in 10 assists and six aces for Jordan.
Soccer
• Simon Magg scored equalizers twice -- once in the first half and again in the second-- to rally Columbia Falls to a 2-2 tie with Billings Central. Camden Capser scored Central's first goal and Jan Mollemeier gave the Rams a 2-1 lead in the second half. 
• Second-half goals by Aspen Petersen and Isabel Schauber carried visiting Billings Skyview to a 2-0 victory over Great Falls. Julie Mader and Olivia Kittelmann provided the assists for the reigning state champion Falcons. The Skyview goals came in the 69th and 79th minutes. Great Falls had a penalty kick in the 75th minute, but Lainey Bosch blocked it.
• Zoe Althoff had all three of Billings Central's goals in a 3-1 victory over Columbia Falls. Josie Windauer scored for C-Falls in a match that was tied 1-1 at halftime. 
Golf
• The Bozeman boys and girls narrowly earned team titles at the Laurel Invitational. The Bozeman boys finished with a 16-over 304, three strokes better than second-place Laurel. On the girls side, the Hawks posted a 50-over 338. Billings West was second at 355 and had the girls individual medalist, Carrie Carpenter (5-over 77). Bozeman's Cora Rosanova carded an 82 for second place. Laurel's Carson Hackmann finished atop the boys individual standings with an even-par 72, one stroke ahead of Bozeman's Jordan Verge.  
Cross Country
• Kalispell Glacier's  Simon Hill won the boys race and Helena's Kylie Hartnett won the girls race at the Great Falls Invitational. Missoula Sentinel was the boys team champion and Helena won the girls title. Sam Fulbright of Lewistown was second in the boys race and Owen Smith of Billings Senior third. Senior's Elena Vandersloot placed second in the girls race and Hamilton's Brynnli Poulsen third.