THOMPSON FALLS — If the Thompson Falls offensive line is hungry after a smashmouth 40-8 win over Drummond-Philipsburg in the 8-Man state final Saturday, all it needs to do is hit up Blue Hawk senior standout Ryan Bucher.
"I'm going to have to get them boys some steak or something," said Bucher, who scored three rushing touchdowns in the win.
While it remains to be seen who picks up the check following the celebration, the Blue Hawks left no doubt as to who the best 8-Man team in the state is this season. Thompson Falls turned a close game at the half into a blowout with 26 unanswered points, winning its first state football title in nearly 50 years.
The Blue Hawks won back-to-back in 1974 and 1975 and they hadn't been back to the title game since. Bucher — as well as the beefy Blue Hawk offensive line and a punishing defense — finally put that drought to rest.
"I don't think it's quite set in yet. This has been fun," Thompson Falls coach Jared Koskela said. "Hard work pays off and I'm glad to bring it back to the community.
"I played football here. I couldn't bring them back a championship as a player. I'm glad I could do it as a coach."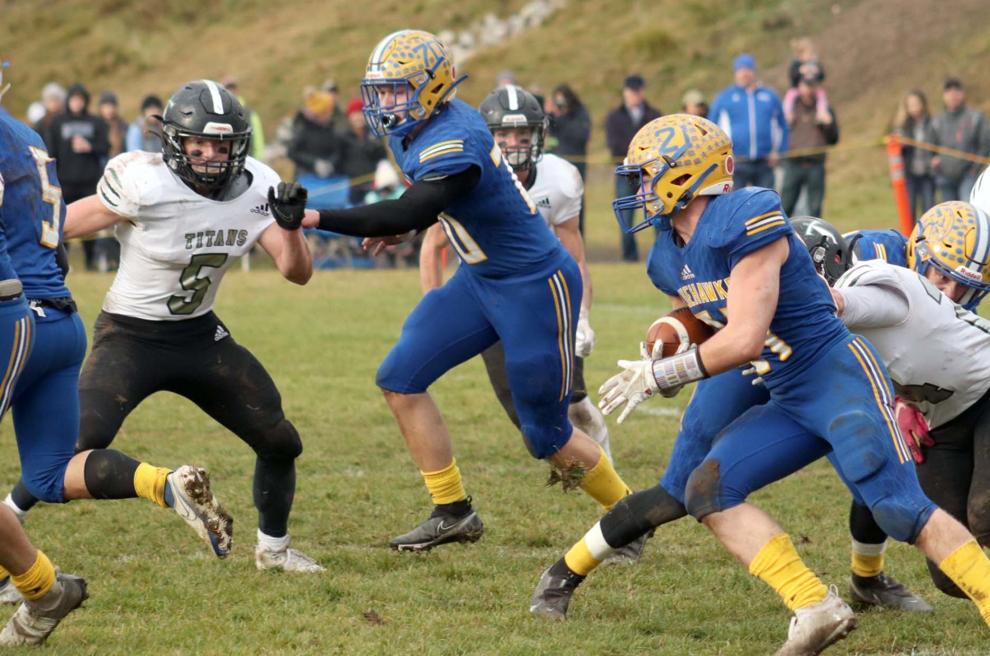 Thompson Falls finished the season 13-0, while Flint Creek finished 10-1. The two Western 8-Man schools did not play during the regular season.
Flint Creek has been a powerhouse in the 8-Man ranks, winning state titles last season as well as victories in the 2017 and 2018 games.
The Blue Hawks, meanwhile, have been on the come up. Thompson Falls went winless during the 2018-19 season but has lost just three games combined over the past three years, with two of those losses coming in the playoffs.
"We're the underdogs, we've always been the underdogs," Koskela said. "And that's fine."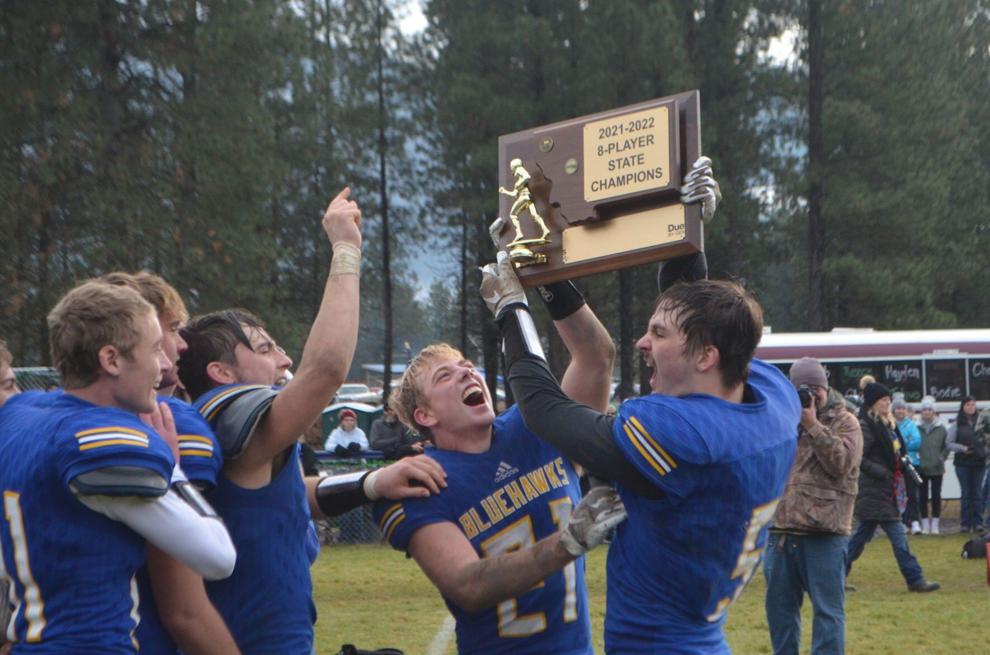 Against the Titans, the Blue Hawks looked like the favorite from their first offensive possession.
Bucher scooted into the end zone from 15 yards out early in the first quarter to get the first points of the day. Running back Trae Thilmony set up the score with a long run on the play prior.
"The first one really set the tone for us," Bucher said. "After that, it was all gas and no breaks."
Following a back-and-forth defensive struggle through the rest of the first period, Bucher again broke through with 3:58 left in the second quarter, weaving his way for a score that gave Thompson Falls a 14-0 lead.
The Blue Hawks followed that up with a stop, but then fumbled, setting Flint Creek up with excellent field position. Chase Goldade took advantage and scored on a 5-yard touchdown run with 25 seconds left in the first half. Thompson Falls led 14-8 at the break, but the Titans finally had something to show for a tremendous first-half showing on defense.
"The kids came out great, played hard," first-year Flint Creek coach Jason Ostler said. "Really, they played great on defense all day. "I couldn't get anything going on offense and we started to get wore out and we couldn't get anything rolling."
Thompson Falls pounced in the second half and the momentum began to snowball. Bucher added his third touchdown, a 53-yard rush shortly after Elijah Ratliff punched it in from a yard out to begin the second-half scoring. Ratliff also had an incredible one-handed interception to cap off a tremendous day.
The Thompson Falls defense was special throughout the game, constantly shutting down drives and making plays at critical junctures.
"We always know our defensive stuff, (Coach Koskela) is a great defensive guy … we had a big game plan coming into this week and we worked all week," Thilmony said. "It's what we expected."
Hayden Hanks got in on the scoring with a two-yard rush early in the fourth quarter, while Nathan Schraeder picked up a fumble and returned it 14 yards to put the Blue Hawks up 40-8.
Thompson Falls was able to ground out most of the remainder of the clock, putting the finishing touches on a special season.
"I've been saying all the time defense will win you a championship, so if we can get at least one or two scores, I knew we were going to stop them because we had a good plan," Koskela said. "I trusted that plan and so did the boys."
In the 6-Man championship, Froid-Medicine Lake blanked Power-Dutton-Brady, 43-0.
Jordan Hansen covers news and local government for the Missoulian. Shout at him on Twitter @jordyhansen or send him an email at Jordan.Hansen@Missoulian.com