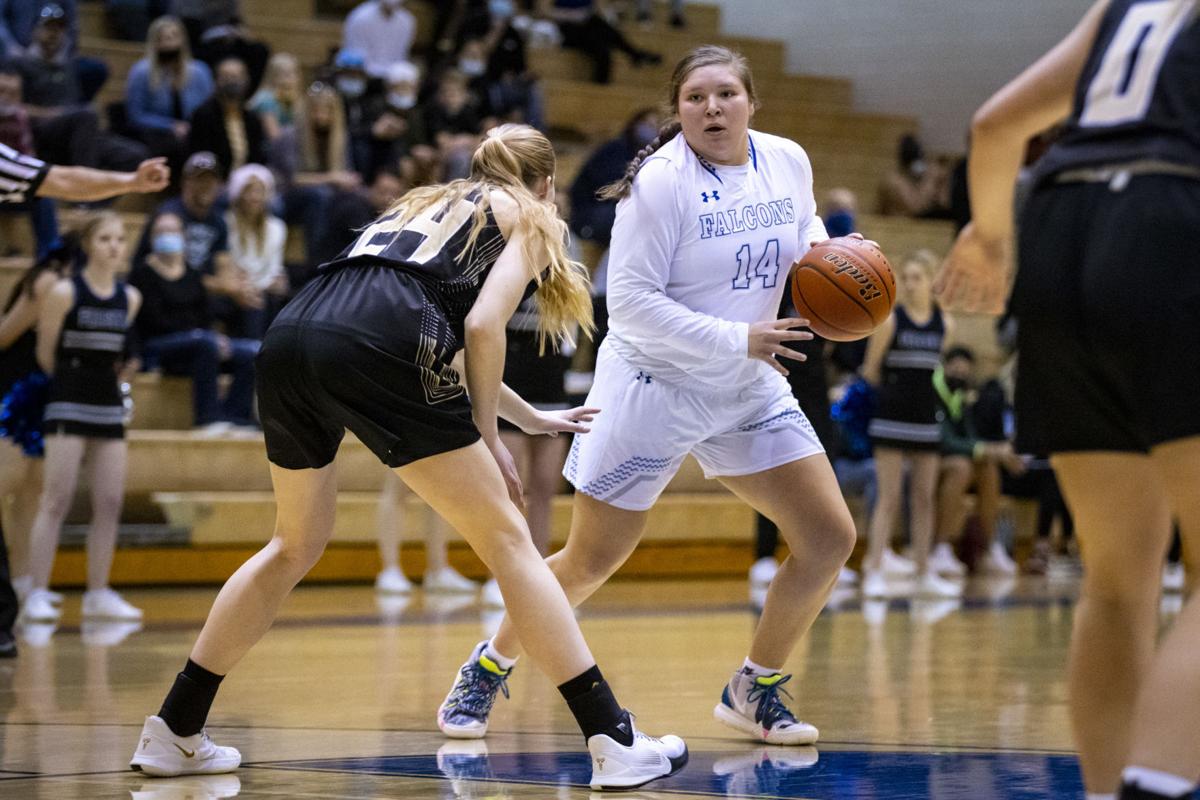 Editor's note: Full Court Press will be updated as we receive results. 
Boys Basketball
• Montana State commit Alex Germer went off with 37 points — more than half his team's total — and top-ranked Missoula Sentinel fended off Helena Capital 67-59. Tony Frohlich-Fair added 11 for the Spartans, who led by 10 points entering the fourth quarter. Tyler Tenney scored 19, Hayden Opitz 15 and Brayden Koch 11 for the Bruins. 
• Jake Olson poured in 25 ponits, Cael Stenson added 12 and Butte held off Kalispell Flathead 77-74 after a high-scoring fourth quarter. Mikey O'Dell added 11 for the Bulldogs, who scored 28 points in the final eight minutes and needed almost every one because the Braves scored 34. Joston Cripe scored 23, Hunter Hickey 17, Gabe Adams 15 and Ethan VandenBosch 14 for Flathead. 
• Josh Wade paced second-ranked Missoula Hellgate with 13 points and Cayvey LaRance was next with 11 in an easy 59-29 win over Kalispell Glacier. The Knights led 21-4 after one quarter. The Wolfpack received seven points from Will Salonen.
• Connor Curnow led with 19 points and Cole Truman provided 11 as No. 4 Dillon stayed perfect by rolling past Hamilton 50-24. Eli Taylor scored eight points for the Broncs.
• Devin Shelton scored 14 points, Brandon Finley had 13 and Carson Shepard added 11 as Frenchtown pulled away in the fourth quarter to hand No. 5 Ronan its first defeat of the season, 56-40. Wyatt Hayes scored nine points for the Broncs, who had a four-point lead entering the final eight minutes. Elijah Tonasket had 11 points and Girma Detweiler nine for the Chiefs. 
• Tanner Jessop had the hot hand with 27 points to offset a 31-point night from Butte Central's Dougie Peoples to help Corvallis nip the Maroons 60-58. Cole Trexler added 12 for the Blue Devils. Kyle Holter had 10 for Butte Central. 
• Colter Bales scored 12 points and Wylee Schnetter added 11 as No. 5 Laurel completed a weekend sweep of the top two teams in the 406mtsports.com Class A rankings with a 52-43 road win over No. 2 Hardin. Laurel took a 15-8 lead after the first quarter and led after every quarter stop following. The Locomotives (4-1) scored 13 of their 15 fourth-quarter points from the foul line, though they hit just 16 of 40 for the game from the charity stripe. Jalen High Hawk scored 13 to lead Hardin, which lost to Lewistown earlier this week. On Friday, Laurel knocked off No. 1 Billings Central 46-40 at First Interstate Arena at MetraPark. Laurel's only loss is to Sheridan, Wyoming.
• Blayne DeRoche scored 18 points, Joseph Bullshoe added 15 and Jesse Carlson contributed 12 as Browning slipped past Columbia Falls 64-60. Jace Hill led all scorers with 28 points, Allec Knapton added 14 and Alihn Anderson 11 for the Wildcats. 
• Jarrett Wilson led with 16 points and Xavier Fisher backed him with 11 as Polson remained unbeaten with a 58-46 toppling of Libby. The Pirates led 19-10 after one quarter. Caden Williams scored 17, Jay Beagle 13 and Cy Stevenson 11 for the Loggers. 
• Journey Emerson pumped in 21 points and Davin Medicinebull backed him with 18 in Lame Deer's 68-33 conquest of Baker. The Morning Stars bolted to a 22-5 lead after one quarter and led 61-22 after three. Bryant O'Conner and Garret Lesh scored eight points each for Baker.
• Gavin Vandenacre led three players in double figures with 22 points and Townsend pulled away in the second half for a 62-54 win over arch-rival Jefferson. Trey Hoveland added 16 points and Ryan Racht 12 for the Bulldogs. Joe Visser led the Panthers with 18 points, followed by Trent McMaster with 15 points. 
• Danny Dunn scored 15 points, Gavin Bates chipped in with 12 and Joey Kindel provided 10 as Eureka cruised past Troy 68-27. The Lions led 30-8 after one quarter. Michael Foote led the Trojans with 14 points. 
• Logan Leck scored 24 points and No. 2 Shelby held off a ferocious rally by No. 7 Malta in the fourth quarter for a 44-40 win in a clash of Hi-Line heavyweights. Rhett Reynolds scored 11 for the Coyotes, who used a 14-0 third quarter to build a 35-18 lead. Pierce Mortenson scored 11 for the Mustangs, who outscored Shelby 24-9 over the final eight minutes. 
• Noah Bouchard scored 16 points and teammate Jake Fox came away with a double-double of 12 points and 10 rebounds as No. 5-ranked Huntley Project won at Shepherd 46-45 in overtime. Fox also blocked five shots and Bouchard gathered eight rebounds. The game was tied at 38 after regulation play. The visiting Red Devils led 25-14 at intermission. Shepherd received 17 points from Colton Zubach, 12 from Jaxen DeHaven and 10 from Malachi Warneke.
• Jace Lemmel's 17 points led three players in double figures and Roundup rolled past Forsyth 62-39 on the strength of a 21-9 second quarter. Kaide Griffith had 13 points and Michael McHenry 12. 
• Corby Mann led balanced Red Lodge with 12 points, Jay Jetmore added 11 and Trey Allen had 10 as the Rams rallied for a 46-42 win over Columbus. Red Lodge trailed 34-32 entering the fourth quarter. Colby Martinez led all scorers with 21 points for the Cougars. 
• Daniel Faith, Cooper Christensen and Kaelob Flores each scored 10 points and No. 6 Fairfield scorched its way to a 61-14 halftime lead en route to downing Choteau 78-30. Tony Daley scored eight points for the Bulldogs. 
• Hayden Hoagland poured in 29 points and Brendan Wagner backed him with 16 to propel Whitehall past Missoula Loyola 68-51. The Trojans led by six at halftime but blew it open with a 21-9 third quarter. Raef Konzen scored 19 and Will Burns 12 for the Rams.
• Carson Callison scored 17 points and Alberton-Superior scored all 11 overtime points to hold off Plains 55-44. Aaron Waddle contributed 15 points and Bryan Mask 12 for the Mountain Cats. Parker Flock did his part for the Horsemen, scoring 17 as well. Alberton-Superior trailed by five points after three quarters. 
• A balanced scoring output, led by Matthew Kaiser's 21 points, led Twin Bridges over Lone Peak 67-55. Charlie Kruer added 16 points for the Falcons. Jackson Lang had 27 points and set the Lone Peak record for single-game 3-pointers with seven.
• Billy Boone had 23 points and 12 rebounds, and Riley Reimer added 21 points as No. 10 Valley Christian survived its biggest challenge of the season by holding off Darby 72-64. Eyan Becker had 19 points on five 3-pointers for the Eagles (7-0). Cullen Duggan scored 28 points and Preston Smith 24 for Darby, which shot 62% from the field.
• Seth Amunrud had 24 points, five steals and four rebounds, and No. 2 Manhattan Christian burst to a 26-2 first-quarter lead and thumped Gardiner 76-33. William Kimm added 12 points, and Logan Leep and Caidin Hill chipped in with 11 apiece. 
• Beau Simonson scored 14 points as a balanced Saco-Whitewater-Hinsdale won at Frazer 55-20. The Mavericks quickly raced ahead 21-5 in posting the win. Trey Johnson scored 12 points overall, with Logan Idler (11) and Jesse Lee (10) following close behind. John Hotomanie led Frazer with 10.
• Brian Ward led with 19 points, Andrew Tallon added 18 and Philipsburg routed Seeley-Swan 64-38 after sprinting to a 22-point halftime lead. Kade Cutler provided 12 for the Prospectors. Sawyer Shelmerdine scored 13 and Ben Haley 10 for the Blackhawks. 
• A night after scoring 28 points, Chinook's Ethan Bell poured in 26 to lead the Sugarbeeters to an 80-30 victory over Turner. Bell scored 16 points in the first quarter. Teammate Reese Elliott added 22 points. Shane Kimmel had 14 and Austin Welsh had 13 for Turner.
• Kody Strutz gave Big Sandy a spark with 11 points, 11 rebounds and two assists as the Pioneers roared from behind in the fourth quarter for a 52-45 win over North Star. Brayden Cline helped with nine points and seven rebounds. Jayden Sargent had 12 points and 12 rebounds for the Knights, who also received 12 points from Gavin Spicher and Rhett Wolery. Big Sandy outscored North Star 25-10 over the final eight minutes.
• Garrett Johnson and Colten Miske each scored 12 points for Wibaux in a 54-52 nail-biter loss to cross-border rival Beach, North Dakota. The Longhorns led by a point entering the fourth quarter. 
• Roy-Winifred held Winnett-Grass Range scoreless in the second quarter on its way to a 46-34 victory. Justin Stulc scored a game-high 19 points and Blake Donsbach added 15 for the Outlaws. Derrik Zimmerman led W-GR with 16 points and Brady Bantz had 12.
• Blake Kammerzell was on fire with 25 points, Kealy Haaland helped with 20 and Chester-Joplin-Inverness used a big second half to outrun Hays-Lodgeple 66-50. The Hawks trailed by a point at intermission but outpaced the Thunderbirds by eight in the third quarter and nine in the final eight minutes. Estavan Granados had 17 points and Tyshawn Shambo 15 for Hays-Lodgepole.
• Charlo posted a 49-44 win over Arlee as Keaton Piedalue scored 17 points. Ben Harlow scored 11 points for Arlee.
• Phillippe Landwehr scored 20 points and Giammo Ferrarese added 17 as Terry stayed unbeaten and made its pitch for a top-10 ranking with a 61-42 romp over Jordan. Relying on three exchange students, the Terriers are 6-0.
• Aiden Fishell scored 15 points, Reagan Machart added 10 and top-ranked Scobey coasted past Class B Wolf Point 74-29. Jayce Tande added nine for the Spartans.
• Joe Alvarez led five players in double figures with 18 points and Harlowton-Ryegate raced past Fromberg 84-40. Colter Woldstad had 16 points, Ryan Fenley 13, Angus Glennie 11 and Jason Todhunter 10 for the Engineers. Brody Dobson scored 13 for the Falcons. 
• Jace Thompson scored 11 points, Billy Ullery added 10 and balanced Fort Benton took care of Box Elder 62-36. Devin Bird and Cody Evans had nine points, and Nick Marias and Hayden Diekhans eight apiece for the seventh-ranked Longhorns. Tyrus Lamere led all scorers with 21 points for the Bears. 
• Ace Becker scored 25 points and Kain Vincent helped with 11 to lead Denton-Geyser-Stanford to its 66-52 win over Centerville. A 22-10 third quarter was the difference for the Bearcats. Kale Annis scored 13 points, and Ethan Upchurch and Keegan Klasner added 11 apiece for the Miners. 
• Kaden Skogas led with 14 points, Paul Hardy added 13 and Hunter Sharbono contributed 12 as No. 9 Fairview cruised past Culbertson 66-34. The Warriors led 20-6 after one quarter and were up 21 by halftime. Colin Avance scored 16 points to lead the Cowboys.
• Sloan McPherson was a one-man show, scoring nearly half his team's point with 24 points in Savage's 52-50 overtime win over Brockton. McPherson had help from Sterling Thiel's 14 points for the Warriors, who trailed by four points entering the fourth quarter. 
• Cameron Falcon scored 20 points to lead five players in double figures as Heart Butte downed Class B Conrad 72-60. Jordan Calf Looking was next with 15 points, Joe Murray had 11, and Dillon Kipp and Thomas Young Running Crane provided 10 apiece.
• Colt Miller and Mason Dethman each had 13 points and Froid-Lake put 10 players in the scorebook in a 65-32 romp over Bainville. The Red Hawks led 24-4 after one quarter and were up 27 by halftime. Judge Strickland, Chuck Butikofer and Braden Romo all had seven points for the Bulldogs. 
• Baylor Pospisil paced Bridger with 17 points and Jace Weimer added nine in a 58-37 triumph over Reed Point-Rapelje. Nine players scored for the Scouts. Chance Keating had 16 points and Trent Ott 10 for the Renegades.
• Bryce Grebe led with 23 points and Tyler Kombol pitched in with 21 as No. 8 Melstone cruised past Lockwood 70-32. The Broncs led 26-5 after one quarter and 46-13 at halftime. 
• Brody Hill scored 17 points and Jeriko Smith-Roach provided 17 in Noxon's 70-46 loss to St. Regis. A 24-5 second quarter put the game away for the Tigers. No statistics were available for St. Regis. 
• Grady Gonsioroski led with 13 points and Caleb Senner added 10 for Richey-Lambert in a 45-44 loss to Westby-Grenora. The Fusion trailed by six entering the fourth quarter before rallying. No statistics were available for the Thunder.
• Ian Swanson had a big night with 24 points and Brand Ostler pitched in with 12 to lead Ennis past Sheridan 64-42. Will Inman added 10 for the Mustangs, who were sparked by a 20-7 third quarter. Kaden Batzler scored 10 and Hartson Van Houton 10 for the Panthers. 
• Caleb Gackle scored 16 points, Arley Idland added 15 and Beau Beery chipped in with 13 as Circle took a back-and-forth 55-52 overtime win over Plentywood. Neither team led by more than two points after the first four quarters. Reese Wirtz and Caydon Trupe had 17 apiece for Plentywood, which also received 10 points from Keiran Hernandez. 
Girls Basketball
• Kourtney Grossman's steal and layup with about 40 seconds left gave Billings West the lead and the No. 3 Golden Bears went on to beat Billings Skyview 47-44. Layla Baumann led the Bears with 15 points and Grossman added eight. Skyview's Brooke Berry had 17 points to lead all scorers. Cami Harris scored 11 points and Breanna Williams added 10 for the Falcons. Skyview didn't score over the game's final 4:35.
• Top-ranked Missoula Hellgate escaped with a 50-49 win at Kalispell Glacier after trailing 46-34 after a basket by the Wolfpack's Ellie Keller with 6:00 left. Perry Paffhausen's 3-pointer started a 14-0 Hellgate surge, capped by three straight 3-pointers from Addy Heaphy. The last, on a kick-out pass from Bailee Sayler, put the Knights ahead 48-46 with 3:07 left. Glacier retook the lead, 49-48, on an old-fashioned three-point play by Kenzie Williams with 20.4 left. Then Sayler was fouled in the high post and sank two free throws with 11.2 seconds left. Glacier's final possession ended in a baseline miss from Emma Anderson. Heaphy led Hellgate with 14 points, 12 on 3-pointers.
• Dani Bartsch scored 15 points and Paige Bartsch added eight as No. 2 Helena Capital ground out a 38-23 win over No. 5 Missoula Sentinel. Capital led 2-0 after one quarter and 14-8 at halftime. Brooke Stayner topped the Spartans with 11 points. 
• Solei Elletson scored a game-high 16 points (four 3-pointers) in No. 1 Billings Central's 59-28 Eastern A home win over Glendive. Isabelle Erickson and Mya Hansen added 13 and 12 points for the Rams (6-0). Jillian Litwiller led Glendive (3-2) with 10 points. 
• Five Hardin players scored nine points or more as the No. 2 Bulldogs defeated No. 5 Laurel 60-52. The Bulldogs led 32-19 at halftime and then went on for their third win of the week to improve to 4-0. Kamber Good Luck led the way with 12 points, while Aiyana Big Man had 11 and Neveah Alden added 10.
• Ashley Carroll led Shepherd's balanced scoring with 11 points and Kiara Dennison chipped in with 10 in the Fillies' 56-21 romp over Huntley Project. Shepherd trailed 10-9 after one quarter but outscored the Red Devils by double digits in each of the final three frames. Aubrey Allison had nine points for the Fillies, who had nine scorers. Macy Rose's eight points led Huntley Project. 
• Tia Stahl scored 11 points to help Roundup surprise No. 6 Forsyth 33-32. The Panthers led by five after one quarter and three entering the final eight minutes. Montana State signee Lindsey Hein scored 14 for the Dogies, who also received 10 points from Makenna Chandler. 
• Megan Baxter poured in 20 points to lead four players in double figures and No. 10 Thompson Falls pounded Wallace, Idaho, 75-35. Ellie Baxter was next with 16 points, and Faith Frields and Jody Detlaff added 10 apiece for the Blue Hawks. 
• Sawyer Wiggs pumped in 21 points, Payton West added 13 and Columbus rode a dominant middle two quarters to a 55-38 win over Red Lodge. The Cougars only led by a point after one quarter but outscored the Rams by nine over the next eight minutes and 10 in the third quarter. Brooklyn Wyllie had 12 for the Cougars. Alice Fouts and Brayli Reimer led the Rams with 11 apiece. 
• Rachel Van Blaricom scored a game-high 22 points and Jefferson won at home 56-40 over Townsend. Jefferson's Cia Stuber chipped in with 17 for the victors. Jefferson was up 16-1 after the first quarter and 30-13 at halftime. Von Blaricom knocked down four 3-pointers and shot 10 of 12 from the foul line. Kadyn Braaten collected 12 points for Townsend. 
• Bigfork took charge of a see-saw game with Florence in the fourth quarter, surging to a 56-48 win. The Vals were led by Emma Berreth with 26 points and Scout Nadeau with 14. The Falcons got 10 points from Kelsen Zahn.
• No. 4 Missoula Loyola took a 56-40 home win over No. 9 Whitehall as Linnea Schaefer led a balanced attack with 14 points. She was followed by Lani Walker with 13 and Kelsey Esh nine. Brynna Wolfe had 10 points and Jada Clarkson nine for the Trojans.
• Emily Adkins erupted for 31 points and Bridger started fast en route to a 61-34 triumph over Reed Point-Rapelje. The Scouts led by 12 points after one quarter and built on the margin from there. Hope Buessing added 10 points for Bridger. Lily Herzog led the Renegades with 18 points. 
• Makayla Harper scored 13 points in Park City's 52-41 loss to Plenty Coups. No statistics were available for the Warriors. 
• Dasani Nesbit compiled 16 points and Sydney Dethman pitched in with 12 to propel Froid-Lake past Bainville 47-32. The Redhawks led 14-4 after one quarter and built the lead up to 25 entering the fourth quarter. Elsie Wilson had seven points for Bainville.
• Augusta defeated Power 42-34 as Payton Levine led with 17 points and Olivia Isakson, who signed with the Montana State-Northern volleyball program earlier in the week, chipped in 11 to surpass 1,000 points for her career. Amara Bodkins led Power with 13 points.
• Kiersten Van Kirk led four players in double figures with 18 points and eight rebounds to lead unbeaten Manhattan Christian to a 66-26 romp over Gardiner. Eliana Kuperus continued to dominate with 14 points and nine rebounds for the Eagles, who also received 10 points each from Ava Bellach and Hope Kenney. Josie Thomas had nine points and Ellie Reinertson eight for the Bruins.
• Kenzie Pitts pumped in 20 points to fuel the Roberts Rockets' 44-31 triumph over Absarokee. Roberts led by seven after one quarter. Emma Devries and Hailey Croft added eight points each for Roberts. Lexi Feddes scored 10 for the Huskies. 
• Liv Wangerin racked up 19 points and Ashtyn Curtiss backed her with 12 as Plentywood toppled Circle 48-36. In a battle of Wildcats, Plentywood led by five at halftime and six entering the fourth quarter. 
• Elizabeth Field scored 21 points and Sayler Stewart popped in 13 to fuel Westby-Grenora past Richey-Lambert 53-41. The Thunder led by five at halftime and upped the gap to 13 by intermission. Jaylyn Klempel and ShaeLyn Williams each had 13 points for the Fusion.
• Emmie Collins had the hot hand with 26 points and Trista Finney backed her with 19 as West Yellowstone thumped White Sulphur Springs 53-35. The Wolverines won it by outscoring the Hornets by 14 points in the middle two quarters. Kenzie Hereim scored 13 and Kendra Manger 12 for White Sulphur Springs. 
• Shyan Krass led four players in double figures with 17 points and No. 4 Turner fended off a challenge from Chinook for a 59-52 win. Brooke Reed had 15, Dakota Krass 11 and Emma Billmayer 10 for the Tornadoes. Hallie Neibauer paced the Sugarbeeters with 20 points and Bree Swanson added 10.
• No. 10 Charlo pummeled Arlee 60-16 as Hayleigh Smith scored 15 points and Katelyn Young added 11. Raven Parson had five points for the Scarlets.
• Brooke Reuter led the way with 18 points and Savage had little trouble with Brockton 51-19. The Warriors led by 12 at halftime but pulled away with a 20-5 run in the third quarter. Teah Conradsen added nine points for Savage.
• Abby Pierce had a big game with 21 points and Brenna Murnion backed her with 14 in Jordan's 58-17 romp over Terry. Hatty Eaton's four points topped the Terriers. 
• Sariah Maughan's 24 points led the way for Seeley-Swan in a 62-49 win over Philipsburg. The Blackhawks used a 21-13 third quarter to take control. Emily Maughan backed her sister with 18 points. Reece Pitcher scored 15, Asha Comings 13 and Rachel Ward 10 for the Prospectors.
• Four players scored in double figures as visiting and No. 6-ranked Saco-Whitewater-Hinsdale beat Frazer 69-23. Kora LaBrie topped the list with 15 points, followed by Teagan Erickson (14), Kia Wasson (13) and Jaycee Erickson (11). S-W-H piled up 37 points in the opening quarter. Justine Smoker accounted for six points for Frazer. 
• Melony Fetter scored 24 points as Dodson built a big lead and held off a fourth-quarter Lustre Christian rally for a 54-53 win. The Coyotes, who also got 14 points from Serena Jackson, led 43-31 entering the final eight minutes. Alexa Reddig paced Lustre with 22 points and Aubri Holzrichter added 15.
• Avery Burgess led with 22 points and Noxon triumphed over St. Regis 55-45. Baylee Pruitt had 20 points for the Tigers. 
• Jade Wendland had 18 points, 12 steals and dished seven assists for North Star in a 70-14 romp over Big Sandy. Shayla Borlaug chipped in with 21 points and seven rebounds. Eighth-grader Jaihven Bauman led the way for the Pioneers with six points and two steals.
• Valley Christian posted a 46-41 win over Darby as Maggie Harvey led the Eagles with 24 points. 
• Megan Granbois scored 14 points to lift Culbertson past Fairview 37-17. Megan Asbeck led the Warriors with eight points. 
• Aspen Giese led with 15 points and No. 2 Fort Benton had enough balance to hold off Box Elder and Kayla Momberg 51-48. Momberg had 24 points and the Bears took a six-point lead after halftime before seeing the game tied after three quarters. Maci Molinario had nine points, and Abby Clark and Ashlee Wang eight apiece for the Longhorns. Angela Gopher added 11 points for Box Elder. 
• Rylee Smith scored 15 points, and Abby Begger and Zayda Grove each provided 12 as Wibaux fell to rival Beach, North Dakota, 50-46. 
• Isabelle Heggem had 11 points and top-ranked Roy-Winifred held Winnett-Grass Range scoreless in the first half on the way to a 58-6 win. Hannah Ewen, Madeline Heggem and Megan Bergum each scored eight points for the Outlaws, who led 40-0 at intermission. Bailey Seaholm scored five of Winnett-Grass Range's six points. 
• One night after scoring 30 points, Gracee Lekvold was at it again, leading Scobey with 21 in a 45-34 win over Class B Wolf Point. The Spartans trailed by three points after one quarter and led by four entering the final eight minutes. 
• Siera Guffey scored 13 points to lead Fromberg in a 42-22 loss to Harlowton-Ryegate. No statistics were available for the Engineers. 
• Sydney Von Bergen led with 22 points and Adie Woodhall backed her with 17 as Denton-Geyser-Stanford handled Centerville 43-34.
• Darby Haskins paced Alberton-Superior with 19 points, Cassie Green added 16 and the Mountain Cats had their way with Plains 57-29. Alberton-Superior led 19-5 after one quarter. Kimberly Curry had seven points to lead Plains.
• In their first game back from a stoppage due to COVID-19, Ennis won a 34-14 defensive struggle with Sheridan. Tanner Inman led Ennis with 11 points, Marlyssa Ledgerwood added eight and Jenna Snider chipped in with seven. Faith Larsen had five points for Sheridan.
20-Point Club
37: Alex Germer, Missoula Sentinel
31: Emily Adkins, Bridger
31: Dougie Peoples, Butte Central
28: Kolden Hoversland, Lustre Christian
28: Jace Hill, Columbia Falls
28: Colton Young, Absarokee
27: Tanner Jessop, Corvallis
27: Jackson Lang, Lone Peak
26: Emmie Collins, West Yellowstone
26: Emma Berreth, Bigfork
25: Blake Kammerzell, Chester-Joplin-Inverness
25: Ace Becker, Denton-Geyser-Stanford
24: Sariah Maughan, Seeley-Swan
24: Seth Amunrud, Manhattan Christian
24: Melony Fetter, Dodson
24: Maggie Harvey, Valley Christian
24: Kayla Momberg, Box Elder
24: Sloan McPherson, Savage
23: Joston Cripe, Kalispell Flathead
23: Billy Boone, Valley Christian
23: Kayla Momberg, Box Elder
23: Bryce Grebe, Melstone
22: Gavin Vandenacre, Townsend
22: Rachel Van Blaricom, Jefferson
22: Alexa Reddig, Lustre Christian
22: Reese Elliott, Chinook
22: Sydney Von Bergen, Denton-Geyser-Stanford
21: Journey Emerson, Lame Deer
21: Elizabeth Field, Westby-Grenora
21: Sawyer Wiggs, Columbus
21: Matthew Kaiser, Twin Bridges
21: Riley Reimer, Valley Christian 
21: Shayla Borlaug, North Star
21: Colby Martinez, Columbus
21: Gracee Lekvold, Scobey
21: Tyrus Lamere, Box Elder
21: Tyler Kombol, Melstone
20: Kenzie Pitts, Roberts
20: Megan Baxter, Thompson Falls
20: Hallie Neibauer, Chinook
20: Baylee Pruitt, St. Regis 
20: Kealy Haaland, Chester-Joplin-Inverness
20: Cameron Falcon, Heart Butte