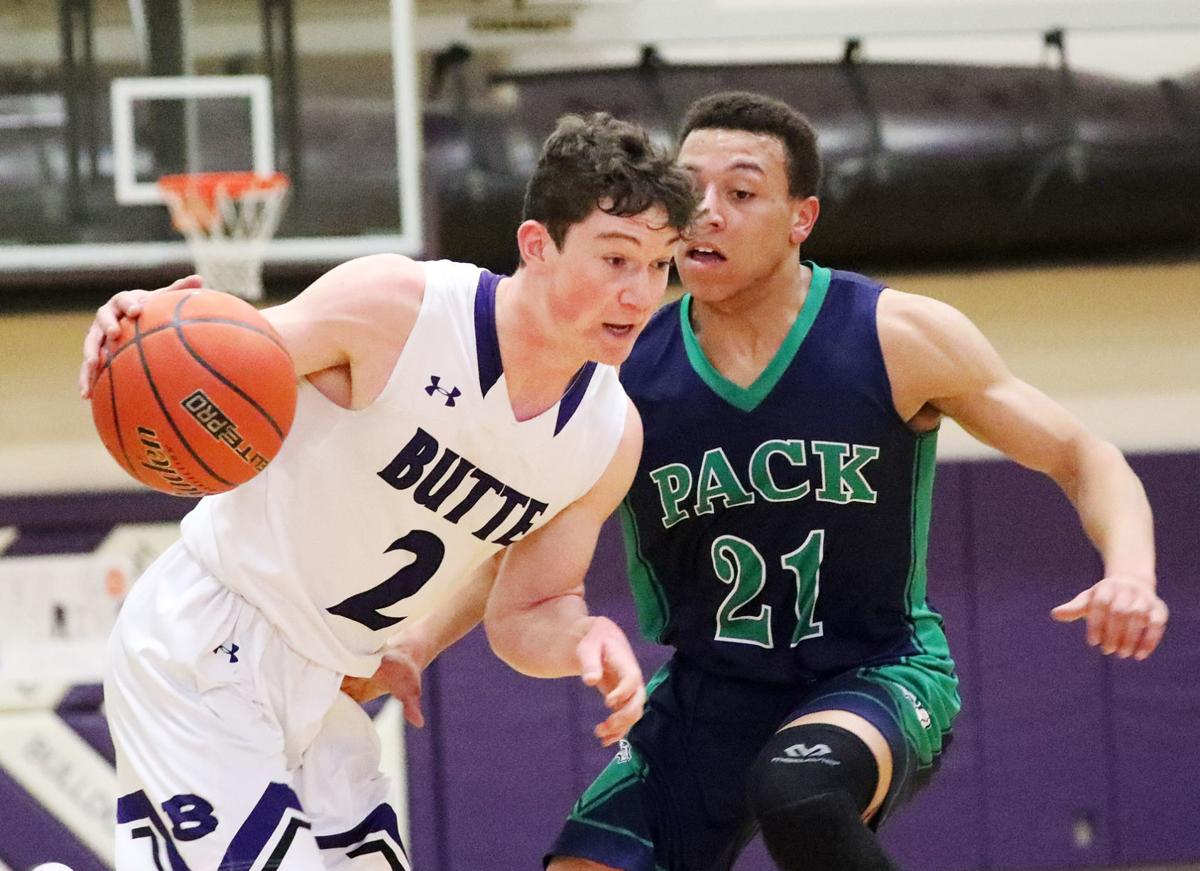 Editor's note: Full Court Press will be continually updated through the night as results arrive.
Boys Basketball
Class AA
• Tommy Mellott scored 11 points and Butte held Kalispell Glacier to 12 second-half points in downing the Wolfpack 56-34 on senior night. Blake Drakos and Ryan Burt added nine apiece for the Bulldogs. Weston Price scored 10 points to lead Glacier. 
• Fourth-ranked Missoula Sentinel knocked off third-ranked Helena Capital 64-54.Juniors Tony Frohlich-Fair and Alex Germer each scored 22 points for the Spartans, who took over sole possession of second in the Western AA.  The Spartans led by two at halftime and outscored the Bruins in the third frame 20-14. 
• Dexter Tedesco's 3-pointer in the final minute of overtime was the difference as Helena slipped past Missoula Big Sky 58-55. Tedesco finished with 15 points, five rebounds and four steals. Hayden Ferguson added 14 points for the Bengals. 
Class A
• Emmet Renner had a career night with 31 points and Laurel held off Miles City 73-59. Nick Pasquarello added 12 points and Dalton Boehler 11 for the Locomotives, who led by 17 points at halftime. Logan Muri and Jack Cline topped the Cowboys with 14 points apiece.
• Brendon Johnson led the way with 22 points and Sage McMinn helped with 14 to lead Livingston to a 66-52 triumph over Class B Big Timber. The Rangers led by eight points at halftime and upped the margin to 25 entering the final eight minutes. Cody Stone had 14 points and Dawson Laverell added 13 for the Sheepherders. 
• Havre shared the wealth in its 81-59 romp over Class B Fairfield with Jake Huston scoring 18 points, Kellen Detrick 17, and Mason Rismon and Josh Warp nabbing 16 each. The Blue Ponies trailed by two points at halftime but outscored the Eagles 26-8 over the next eight minutes. Keeley Bake scored 19 points to lead Fairfield. 
• Cade Baker scored 16 points, Devin Shelton added 10 and No. 3 Frenchtown shrugged off a slow start to rally past Class B No. 10 Florence 68-48. The Broncs trailed 21-14 after one quarter but knotted the score at 28-all by halftime. Frenchtown then outscored the Falcons 23-12 in the third quarter and piled on in the fourth. Beau Neal scored 16 points and J.P Briney 14 for Florence. 
• Braden Harrington pumped in 18 points and Luke Heaphy was right behind with 17 as Butte Central improved to 17-2 with a 65-48 trouncing of Corvallis. Trevor Neuman added 12 for the Maroons. For Corvallis, Jaymark Liedle scored 19 points, and Caleb Warnken and Cole Trexler had 12 apiece, but they accounted for all but five of the Blue Devils' points. 
Class B
• Brad Cichosz went off for a state-record 68 points as Harlem overwhelmed Poplar 101-53. Cichosz had 44 points at halftime. Coupled with the 31 points he scored Friday against Box Elder, he scored 99 points on the final weekend of the regular season. According to the MHSA archives, the mark is an all-class record, breaking the record of 65 co-owned by Shane Lorash of Conrad and Wally Doney of Pine Hills, both set in 1988. In the process, Cichosz made 13 3-point shots, one shy of the state record set last month by Sam Leep of Manhattan Christian and equaling the previous MHSA archive mark of 13 by Matt Luedtke of Ronan in 2000; Luedtke is now the coach at Butte. Cichosz scored all 27 of Harlem's second-quarter points and 22 of the team's 26 in the third quarter. He entered the final eight minutes with 66 points. 
• Led by Gavin Vandenacre's 12 points, Townsend slipped past Jefferson 50-48. Bulldog teammate Tyler Christensen contributed 11 points. Jefferson was led by Jaxson Yanzick's 14 points. Avery Stiles and Josiah Williams added 11 apiece for the Panthers. Jefferson led 39-27 entering the fourth quarter. 
• St. Ignatius steamrolled to a 71-44 home win over Troy as Jedi Christy scored 24 points and Zoran LaFrombois added 18. Terren Winebark tallied 19 points for the Trojans.
• Logan Leck led three players in double figures with 17 points and Shelby slipped past Malta 41-25. The Coyotes led 8-1 after one quarter and 19-8 at halftime. Rhett Reynolds scored 12 points and Tanner Parsons had 10 more for Shelby. Tanner Smith's 11 points led Malta.
• Damon Gros Ventre scored 19 points, Malachai Little Nest had 16 and Lodge Grass pulled away in the fourth quarter for an 84-70 win over arch-rival Lame Deer. The Indians led by seven points entering the final eight minutes. Rocco McMakin scored 21 points, Kayden Little Sun added 20 and Journey Emerson chipped in with 16 for the Morning Stars. 
• Micaiah Hauser erupted for 42 points and Owen Long backed him with 16 as No. 4 Three Forks rallied past No. 9 Columbus 75-67. The Wolves trailed by four points after one quarter but used a 16-9 seconds quarter to take the lead. They outscored the Cougars by six in the final quarter. Trey Stampfel nearly kept up with Hauser by scoring 36 points for Columbus, and Ricky Preece added 14. 
Class C
• Daynon Bear, Chase Keating and Ty Herzog teamed to score 43 points as Reed Point-Rapelje prevailed at home 54-35 over Harlowton-Ryegate. Bear topped the scoring column with 16 points, followed closely by Keating 14 and Herzog 13. The Renegades jumped ahead 14-3 in the first quarter and never trailed. Sivad Davis led Harlowton with 11 points.
• Derek Bowker led Bainville with 21 points and the Bulldogs fended off a fourth-quarter rally to tip Culbertson 56-53. Jesse Strickland scored 13 points and Braedon Romo added 11 for Bainville. Eli Williams' 15 points topped the Cowboys.
• Alex Schriver topped three players in double figures with 14 points and Fairview coasted past Brockton 76-24 in a battle of Warriors. Josh Herron scored 12 points and Cody Asbeck 11 for Fairview, which outscored Brockton 37-5 over the middle two quarters. 
• Nelson Smith had the hot hand with 30 points and Darby rolled past Alberton-Superior 59-37. Preston Smith added 10 points for the Tigers. Aaron Weddle led the MountainCats with 11 points. 
• Zarec Jones scored 18 points, Corbin Lone Bear added 16 and Dodson knocked off Lustre Christian 63-46 in the battle for second place in the district. Shaun Ball had 10 points for the Coyotes. For the Lions, Terry Allmer had 13 points, Elijah Lenihan 11 and Kyle Pederson 10.
• Dylan McConnell led with 16 points and Colin Shorty chipped in with 14 to lift Northern Cheyenne over Wibaux 62-59. Colten Miske pumped in 31 points and Garrett Johnson added 16 for the Longhorns. 
• Quinlan Ream scored 19 points, Brayden Rodriguez added 17 and Dakota Wood provided 10 as Seeley-Swan waltzed past Victor 57-40. Carson Varner led the Pirates with 17 points, and Brandon Bowen scored 10.
• Plains finished a 10-0 14-C season with a 72-41 win over Two Eagle River as Kade Pardee racked up 38 points and 17 rebounds. Sheadyn Croft scored 18 points for the Eagles (0-16).
• Lincoln upset Noxon behind Brodi Henderson's 27 points. Ryan Greenwood added 13 points and Nathan Brown 11 for the Lynx. Rylan Weltz had 19 for Noxon, followed by Michael Antonich with 13.
• Frankie Starz scored 33 points and Lone Peak prevailed at home 64-25 over Sheridan. Lone Peak led 21-11 after one quarter and padded its cushion 39-14 by halftime. Austin Samuels contributed 10 points for the Bighorns. Jason Chisholm scored eight points for Sheridan.
• Parker Donaldson poured in 27 points and Kein Carpenter was hot as well with 21 to lead Denton-Geyser-Stanford past Centerville 69-52. The Miners were led by Carson McGinness with 20 points.
• Josiah Amunrud led with 20 points and Sam Leep contributed 19 as top-ranked Manhattan Christian closed its regular season with a 17-1 record by downing Class B Whitehall 73-45. 
• Blayne Hubing scored 21 points, Hayden Lockie added 16 and Circle fended off Westby-Grenora 55-49 in overtime. 
Girls Basketball  
Class AA
• Bailee Sayler led with 17 points and Addy Heaphy added 11 to lead second-ranked Missoula Hellgate past Kalispell Flathead 47-27. The Knights led 13-2 after one quarter and were never seriously threatened. Jenna Johnson's nine points topped the Bravettes. 
• Top-ranked Helena Capital scored seven unanswered points in the fourth quarter to win at third-ranked Missoula Sentinel 44-39. Paige Bartsch and Montana Lady Griz recruit Dani Bartsch each scored 14 points to lead the Bruins. Lexi Deden scored a game-high 19 points for the Spartans. P
Class A
• Mya Hansen pumped in 29 points and Isabelle Erickson chipped in with 14 as No. 2 Billings Central overpowered Glendive 57-42. The Rams led by only three points at halftime but used a 22-13 third quarter to pull away. 
• Isabel Evans scored a team-high 12 points and Brooke Powell added 11 as Corvallis topped Butte Central 53-39 on the Maroons' senior day. Central, which finished without a Southwest A win, was led by 12 points from Emma Keeley and 11 from Delaney Hasquet. 
• Kyndall Keller poured in 29 points to lead No. 3 Havre past Class BFairfield 56-31. Fairfield was led by Madison Rosebaum's 11 points.
• Libby registered a 40-29 win over Polson as the Loggers got 16 points from Elise Erickson. The Pirates had 12 from Jazlyn Dalbey.
• Bailey Johnson scored 12 points, Brielle Aklestad added 11 and Shelby built a six-point first-quarter lead and held Malta at arm's length the rest of the way en route to a 39-34 win. Maddie Williamson and Allie Kunze had eight points apiece for the M-ettes.
• Brenna Rouane scored 16 points and No. 7 Columbus put a finish on a 13-5 regular season by outlasting Three Forks 29-24. The Cougars fell behind by three points at halftime, took a one-point lead after three quarters and held the Wolves to three points in the final eight minutes. Keaton Lynn and Breanna Bloch scored six points each for Three Forks. 
• St. Ignatius picked up a 64-24 home win over Troy as Courtney Mitchell had 13 points. Olivia Garland scored 11 and Azia Umphrey had 10. Talise Becquart and Montana Rice each scored eight points for Troy. 
• Top-ranked Missoula Loyola completed an undefeated regular season (18-0) with a 62-21 home win over Deer Lodge. Natalie Clevenger tallied 18 points and Syd Koppang 14 for the Breakers. Rachel Nicholson scored 13 points for the Wardens.
• Shantell Pretty On Top led with 24 points and Jordan Jefferson popped in 20 to lead Lodge Grass over Lame Deer 72-60. The Indians, who entered the fourth quarter with a four-point lead, also received 11 points from Diamond Amyott. MiShayne Bearchum scored 18 points, Iesha Eaglefeathers had 13 and Madison Doney added 12 for the Morning Stars. 
• No. 2 Big Timber finished its regular season at 18-0 by defeating Class A Livingston 63-51. Bailey Finn scored 23 points, Alyssa Boshart added 12 and Hailee Brandon 11 for the Sheepherders. Livingston's top scorers were Sylvie Schoenen with 11, and Kodie Vondra and Taylor Young with 10 apiece. 
• Jenna Rust poured in 28 points to lead three players in double figures and No. 8 Westby-Grenora finished its regular season 17-1 by routing Circle 57-34. Elizabeth Field scored 12 points and Samantha Ledahl contributed 11 for the Thunder, who led 19-0 after one quarter. Ryann Moline topped the Wildcats wtih 15 points, and Sierra Nagle added 10. Westby-Grenora's onlly loss is 45-42 to No. 9 Scobey.
• Fallin Sun Rhodes had 17 points and Culbertson raced to a 13-point first-quarter lead in downing Bainville 52-29. The Bulldogs trimmed the deficit to five by halftime but the Cowgirls used a 19-8 third quarter to pull away. Makena Hauge scored 16 points and Faith Bowland added 10 for Culbertson. Bainville received 13 points from Kiylee Kellis. 
• Avery Burgess scored 17 points and Noxon outscored Lincoln by five points in the fourth quarter to notch a 43-37 victory. Chelsea Vohs added 11 for the Red Devils. Sage Kamps scored 11 points to lead the Lynx.
• Emily Johnson scored 11 points, Megan Asbeck added 10 and Fairview put 11 players in the scoring column in a 64-22 romp over Brockton. The Warriors led 13-3 after one quarter and by 22 at halftime. 
• Tiffany Cliff scored 14 points as Dodson fended off Lustre Christian 34-29. Amber Reddig led the Lions with 11 points. 
• Tatum Hull had nearly two-thirds of Chester-Joplin-Inverness' points with 30 and the Hawks toppled Big Sandy 47-23. 
• McKenzie Clark scored 17 points and top-ranked Fort Benton closed out a perfect regular season (18-0) with a 70-19 throttling of Chinook. Megan Clark added 12 points, and Cassie Nack and Aspen Giese pitched in with 11 apiece for the Longhorns. 
•  Kortney Nelson scored 21 points – 13 in the first quarter – as No. 9 Scobey defeated Class B Wolf Point 59-31. Scobey nailed 12 3-pointers, including four from Nelson and three each from Elli Linder and Gracee Lekvold, and also made 13 of 16 from the foul line. Lekvold finished with 16 points and Linder had 11.
• Alberton-Superior earned a 53-22 win over Darby to lock up the No. 2 seed in the 13-C district tournament. Sorren Reese scored 17 points to pace Clark Fork. Amber Anderson's nine points led the Tigers. 
• Kia Wasson led the way with 15 points and Kaitlyn McColly punched in 14 to lead Saco-Whitewater-Hinsdale over Frazer 59-19. The Bearcubs received five points each from Justine Smoker and Kaylandra St. Marks.
• Madison Bakken topped four players in double figures with 21 points and Wibaux had little trouble with Northern Cheyenne 76-35. Ciera Miske and Layni Schieffer scored 13 points each, and Marni Schieffer chipped in with 10 for the Longhorns. 
• Lexi Feddes and Kaiya Holmquist each scored 12 points and Absarokee outlasted Broadview-Lavina 41-27. The teams were separated by one point in the first quarter and played evenly in the second half, but a 16-3 second quarter made the difference for the Huskies. Hailey Fiske scored 13 points and Callie Beckett had 10 for the Pirates.
• Laynie Sattoriva was tops with 17 points, Shayla Borlaug had 13 and Rainee Watson 12 to lift North Star past Turner 60-48. For the Tornadoes, Shyann Krass led all scorers with 25 points and Sarah Billmayer pitched in with 11.
20-Point Club
42: Micaiah Hauser, Three Forks
36: Troy Stampfel, Columbus
35: Drew Ouradnik, Billings Christian
33: Frankie Starz, Lone Peak
30: Tatum Hull, Chester-Joplin-Inverness
29: Mya Hansen, Billings Central
29: Kyndall Keller, Havre
28: Jenna Rust, Westby-Grenora
27: Parker Donaldson, Denton-Geyser-Stanford
26: Jackson Widhalm, Power
24: Jedy Christy, St. Ignatius
24: Shantell Pretty On Top, Lodge Grass
24: Peyton Levin, Augusta
22: Justin Stulc, Roy-Winifred 
22: Alex Germer, Missoula Sentinel
22: Tony Frohlich-Fair, Missoula Sentinel
21: Derek Bowker, Bainville
21: Blayne Hubing, Circle
21: Kortney Nelson, Scobey
21: Madison Bakken, Wibaux
21: Rocco McMakin, Lame Deer
21: Kein Carpenter, Denton-Geyser-Stanford
21: Blayne Hubing, Circle
20: Jordan Jefferson, Lodge Grass
20: Kayden Little Sun, Lame Deer 
20: Spencer Lehrenz, Power
20: Carson McGinness, Centerville
20: Kenzie Pitts, Roberts
20: Shelbie Jackson, Cascade
20: Josiah Amunrud, Manhattan Christian
Get in the game with our Prep Sports Newsletter
Sent weekly directly to your inbox!