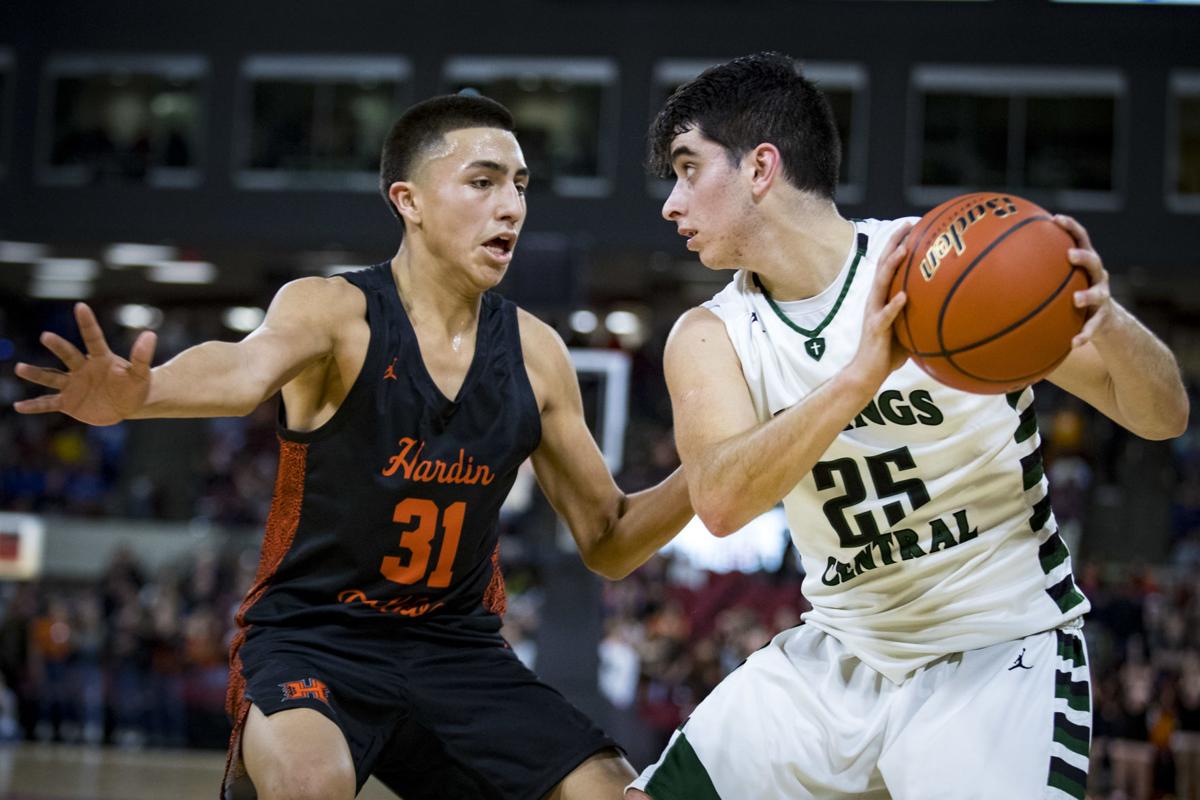 Guide to the Class A boys basketball tournament
On the surface, Hardin looks like an unstoppable force. The Bulldogs, who have been ranked No. 1 in the 406mtsports.com Class A rankings all season, are not merely undefeated, their record is 3 1/2 games clear of the next-best team at the state tournament. But other teams have shown signs that they can compete this weekend at First Interstate Arena at MetraPark.
Here's a quick look at the tournament:
2020 field: Billings Central (13-8), Browning (16-4), Butte Central (18-4), Frenchtown (18-4), Hardin (21-0), Laurel (13-10), Livingston (16-6), Polson (13-9)
Storyline: Billings Central ended a run of three straight runner-up finishes (and four in five years) at state last March with a 62-44 win over Hardin, which beat Central 47-43 for the 2017-18 title. Seven of the Rams' top eight rotation players last season were seniors, and the other (German foreign-exchange student Niki Krause) did not return for his senior season this winter. Central has taken a step back from last year's 22-2 campaign, but it has played as well as any non-Hardin team since the start of 2020. The No. 5-ranked Rams nearly beat the Bulldogs on Jan. 24, losing 97-95 in double overtime at Metra. Hardin has won three other games by single digits: 74-67 in the season opener against Hamilton on Dec. 6, 61-60 against Livingston on a Famous Lefthand buzzer-beater on Dec. 21 and 71-62 at Laurel on Jan. 31. The Bulldogs handled the Locomotives 87-43 on Jan. 4, and they beat Livingston 70-60 on Jan. 25 and 67-33 two weeks ago at the Eastern A Divisional, one day before they beat Central 69-56 for the divisional title. No team took control of the Western A. No. 2 Butte Central went 1-2 against No. 4 Frenchtown and 2-1 against No. 3 Hamilton, which lost to the Maroons in a loser-out, winner-to-state Western A divisional game on Feb. 29. Butte Central, which will face Billings Central in the first round of state Thursday, also fell at Livingston 55-46 on Feb. 18. Frenchtown beat Butte Central in the divisional semifinals but lost to Browning in the title game.
Fun fact: From 2011-19, at least one of Billings Central, Hardin and Dillon reached the State A boys title game. Dillon's championship opponent was Columbia Falls in 2011, 2012 and 2014, Laurel in 2015 and Central in 2016 and 2017. Central faced Stevensville in the 2013 title game and Hardin the previous two seasons.
Get in the game with our Prep Sports Newsletter
Sent weekly directly to your inbox!