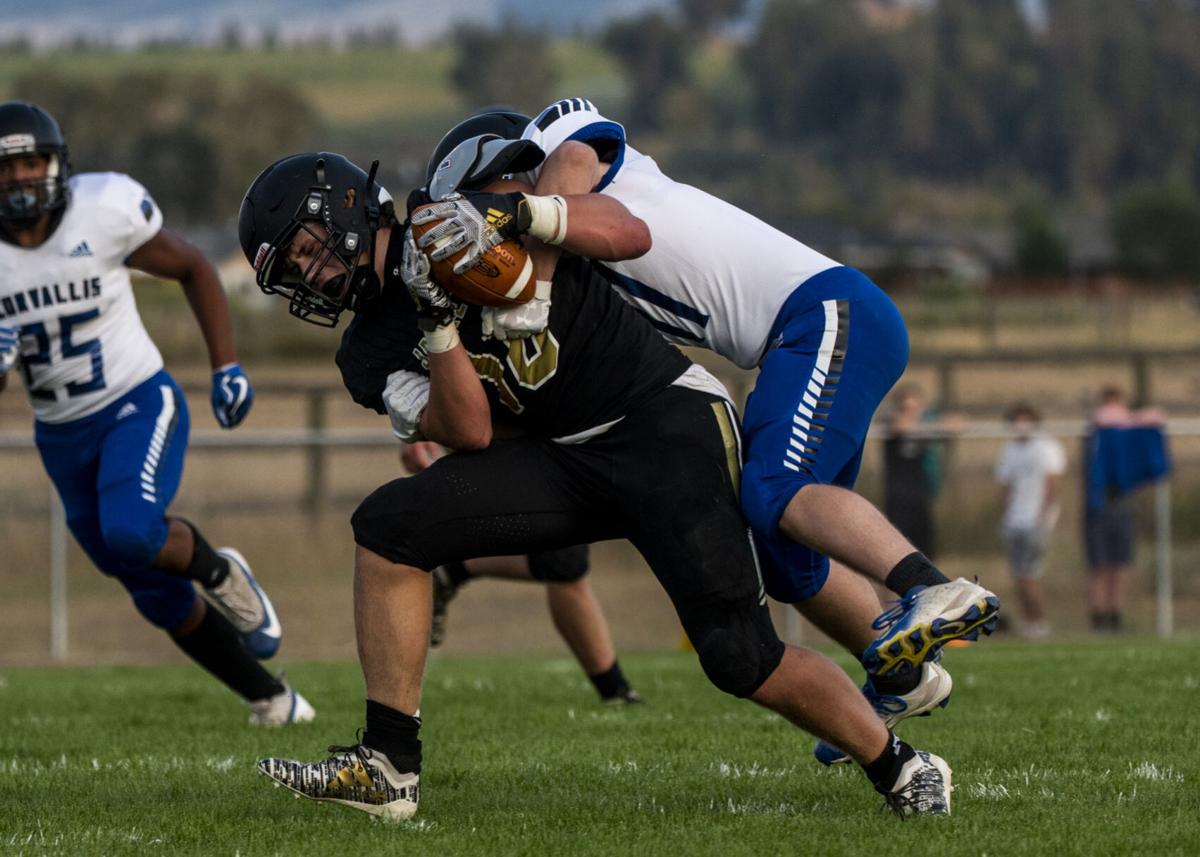 High school sports are back.
And what a start for Bitterroot Valley high school athletes.
The Florence football team enjoyed an impressive home debut Friday, whipping Cut Bank, 42-0. Falcons coach Pat Duchiene credited his defense and his defensive coordinator, coach Adam Goodnight.
"Any time you hold a team to zero points, you've got to thank the defense and hope the offense shows up," Duchiene said.
With three passing touchdowns from Pat Duchiene — or "Junior" — and two rushing, Florence was close to unstoppable.
"It was pretty spread out," coach Duchiene said. "There were five separate kids who totaled six touchdowns."
Facing Manhattan Friday, Duchiene says there's some things they still need to clean up.
"Fundamentals, mostly," the coach said. "Little things like footwork when it comes to route-running."
Duchiene mentioned Manhattan is returning a lot of its team from its state championship last year and it will be a good gauge to see where his team is at right now. Game time is 7 p.m. Friday in Florence.
The Victor football team fell 56-12 to third-ranked Clark Fork (Alberton-Superior) on Saturday in Victor.
"We're a young team," coach Darren Gossett said.
Right before halftime, Victor's starting quarterback, Carson Varner, went down with a bruised clavicle. After the half, the Pirates started with a recovered onside kick but their freshman QB couldn't quite get into the groove.
"There was a lot of botched snaps, and our line created massive holes," Gossett remarked.
He credits the loss with nerves and inconsistent play. The Pirates head up to Seeley Lake Friday and Gossett hopes even with a young QB, they can get back into the swing of things.
"If we execute the game plan, they couldn't stop us".
Butte Central forfeited to Hamilton before last Friday's game, with the Maroons claiming they weren't healthy enough to play. The highly-touted Broncs will battle Corvallis on Friday.
On Monday in Missoula, there was a four-team Class A golf tournament on the University of Montana course.
Macee Greenwood of Corvallis continued her winning ways with an impressive medalist score of 73. Whitefish won the girls competition with a score of 400, followed by Corvallis at 414, Polson 437 and Frenchtown 444.
On the boys' side, Whitefish dominated with a 308 team score. Leading the pack for the Bulldogs was Cameron Kahle, who finished with a 69 overall. For Corvallis, Luke Schlimgen and Mason Anderson both shot 79, coming in 4th and 5th place. But it wasn't enough to get the team title, with the Blue Devils scoring 376.
The Hamilton Broncs beat Dillon 3-2 in volleyball and Florence beat Bigfork, 3-0. Clark Fork had to cancel its match with Darby due to eligibility numbers.
Corvallis crushed it in soccer, with both the women and men beating Libby 6-1 and 6-0.
Get in the game with our Prep Sports Newsletter
Sent weekly directly to your inbox!