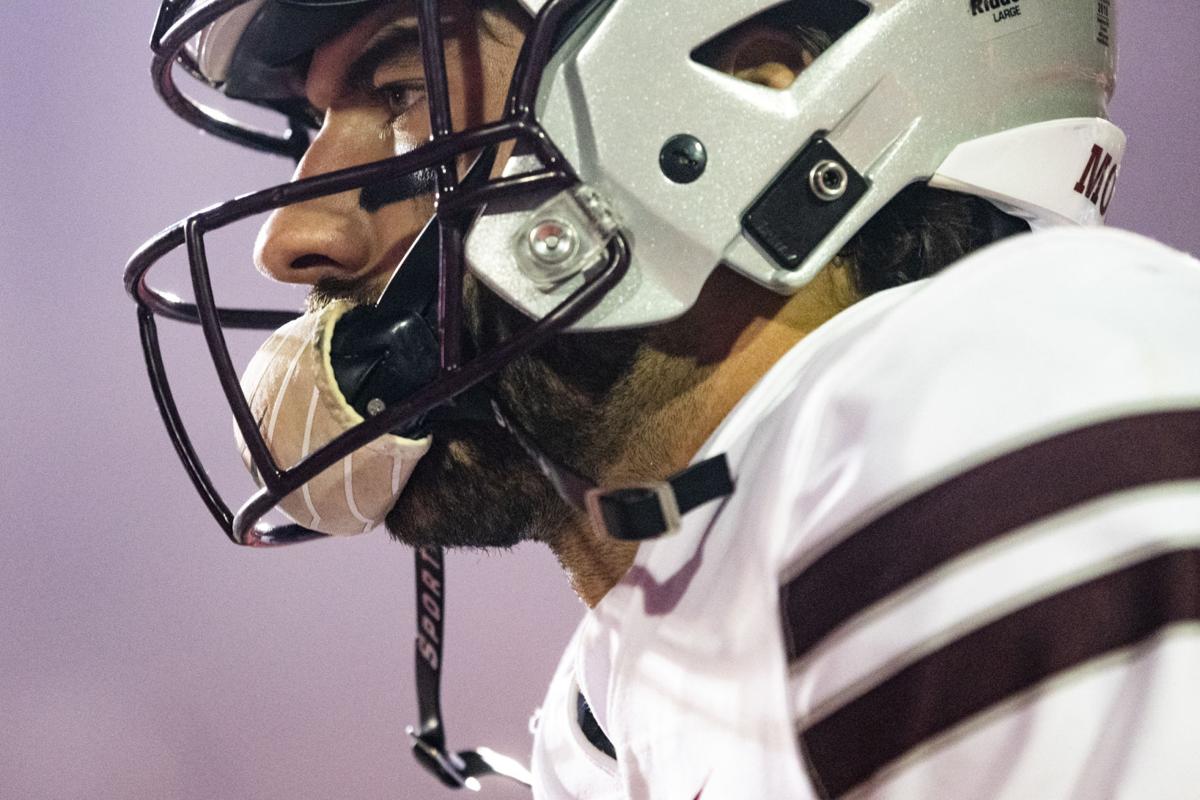 CHENEY, Wash. — Cam Humphrey was showing shades of the fourth-quarter touchdown drive he led in the season-opening upset of Washington as he guided the Grizzlies late Saturday night.
The Montana quarterback completed passes of 14 yards and 16 yards as the Griz looked like they might pull off a final-drive comeback win over Eastern Washington at Roos Field. He then ran for 13 yards down to the EWU 34-yard line. It would be his last play.
Humphrey had been keen to slide throughout the game or run out of bounds to avoid contact, but it seemed like he was now trying to pick up as many yards as he could with the game on the line and time running out. He took a punishing hit from linebacker Jack Sendelbach and appeared to injure his right leg as the players fell to the ground in the final minute.
Humphrey was down on the field for a few minutes and was helped off as he tried to avoid putting any pressure on his right leg. He didn't return, and head coach Bobby Hauck didn't have an update on him after the Griz dropped to 3-1 with a 34-28 loss to the Eagles.
"I do not. Nor will I most likely," said Hauck, who rarely discusses injuries.
If Humphrey is out for an extended period, the Griz might have lost more than just the game. It would be another blow to an offense that's already down to its third-string running back as All-American running back Marcus Knight and his backup, Nick Ostmo, are still out. Earlier in the game, wide receiver and punt returner Gabe Sulser took a big hit on a jet sweep in the first half and didn't come back in the game.
On the other side of the ball, defensive end DeAri Todd went down and exited the game. He had started in place of Joe Babros, who got injured early in the win over Cal Poly. The Griz were also missing Gavin Robertson, who was reportedly sick that game.
The depth that Hauck touted about his team before the season might be tested more than ever in the coming weeks, starting with Dixie State on Saturday in Missoula.
UM's offense had already been inconsistent this season, and how it would play against EWU's porous defense was perhaps the most interesting subplot entering the game. The Griz were averaging 31.3 points, while Eastern Washington had been allowing 31 points. Their offense put up just 21 points and didn't score any after the opening drive of the second half.
Humphrey was limited to 150 passing yards and two touchdowns as he completed 14 of 26 passes while getting sacked three times and intercepted twice, both in the fourth quarter, including once in the end zone. He had helped the Griz build a 21-10 lead through three quarters, including a 13-play touchdown drive, tied for their longest such drive of the season.
However, Humphrey's two picks led to 10 points for EWU. The Eagles' two turnovers led to only three points for the Griz. That seven-point difference helped flip the outcome of the game.
"Everybody's going to want to talk about their offense, but I thought their defense played really an inspired game tonight," Hauck said.
He later added: "In my opinion that's the best they've played on defense."
The Griz did pound out 187 rushing yards on 39 carries. True freshman running back Xavier Harris, who returned from an injury last week, rushed for a career-high 124 yards on 18 runs and scored once. He averaged 6.9 yards per rush with a long of 44 but was given just two carries in the fourth quarter.
Eastern Washington's goal was to win on first down to keep Montana's offense behind the sticks on second and third downs. UM ended up converting just 5 of 15 third downs and was 1 of 1 on fourth downs. EWU's ability to get off the field on defense allowed the Eagles to win the time of possession at 31:08 and run 87 offensive plays compared to just 69 for Montana.
EWU coach Aaron Best described his defense's play as "flat-out awesome."
"Everybody wants to know what the Achilles' heel of every team is. We don't have one," he said. "We just don't play perfect all the time. We play together. We always believe in each other. And we're not going to be perfect in every single scenario even though the world wants us to be perfect in every single scenario. We played well enough to win tonight."
Special plays
Just when it looked like Montana was out of the game, Malik Flowers ripped off a 99-yard kickoff return touchdown to pull the Griz within 31-28.
It was Flowers' second game in a row with a score on special teams and the fifth kickoff return touchdown of his career. That puts him atop the UM record book and one behind the Big Sky and FCS records of six held by Weber State senior Rashid Shaheed.
Flowers finished with 217 return yards on six kickoffs. Brian Buschini continued his strong punting, booting six for an average of 46.8 yards as EWU accrued just nine return yards. His kickoffs were returned just twice for 28 total yards.
"Our coverage teams were great again," Hauck said. "Our return game was good. We had good field position off the kickoff return. We did not make a play in the punt return game, but I'm not sure there was a bunch of opportunity there either."
EWU had its own special teams success in the form of kicker Jackson Cleaver. He was thrust into kicking field goals after starter Seth Harrison had been just 4 of 9 through the first four games.
Cleaver slotted home field goals from 32 yards in the second quarter and from 30 yards with 1:21 to play. His six points there were the difference in the game, and he also made both of his extra point attempts.
"One of the biggest stars of the game," Best said of the left-footed Cleaver.
Record books
Montana senior wide receiver Sammy Akem caught his third touchdown of the season, giving him 25 in his career. He's tied for fifth in school history and is only four behind record holder Marc Mariani, who had 29 from 2006-09.
Montana junior safety Robby Hauck led the Griz with 13 tackles, giving him 276 in his career. That moves him into 19th place as he leaped over Dave DeCoite, Sam Martin, Adam Boomer, J.P. Kanangata'a, Mike McGowan and Josh Buss.
Frank Gogola covers Griz football and prep sports for the Missoulian. Follow him on Twitter @FrankGogola or email him at frank.gogola@missoulian.com.