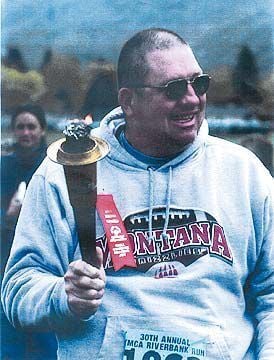 MISSOULA — Too often we look upon the stars as the ones that fuel athletics.
The best players. The best teams. The strongest.
They're the coolest, right? Middle school, high school, college, pro ... always the coolest.
We shower them with recognition and praise. Then, as we get older, we realize it's all very temporary. Stars come and go — I bet you couldn't even name the MVP of the Montana football team four years ago — but the heartbeat of sports lives on in the die-hard fans.
Ten days ago, Ray Nose died at the age of 70. You probably didn't hear about it. A small blurb on the obituary page was Ray's recognition.
He deserved a bigger splash.
Born developmentally disabled, Nose lived for local high school and Montana Grizzly sports. He was a fixture at games and even enjoyed city league athletics for close to half a century, always toting a notebook to record scores and statistics, never reluctant to help out as a volunteer member of a chain gang or ball boy at football games.
So beloved was Ray that he blew the competition away back in 2004 when the Missoulian sports department named him Fan of the Year. When you're able to do that in a town of 63,000 (back then), it says something.
Yet the label "fan" didn't do the man justice.
Ray transcended sports, reminding us all of the joy of this life when we allow the sun to shine through. Whether he was watching or competing (Special Olympian, bowler, swimmer, etc.) or just being around athletics as a janitor at the Missoula Family YMCA, Ray had a way of making your day.
"We live and are caught up in this crazy time and place where we as a community and a country are so divided and angry," Gary Schild wrote of his friend, Ray Nose, in a recent Facebook post. "I'm not sure what it takes, or how we get there, but take a minute this morning to be thankful for the times that a guy like Mr. Ray Nose, with all his 'perceived' disabilities, could bring 5,000 people to their feet, wildly swinging a towel over his head for the love of his Missoula team.
"We need more of that ... and I'll leave it at that."
I never knew Ray Nose. Didn't land in Montana soon enough or encounter him in the later years when he spread his enthusiasm for sports up and down the halls of the Village Care Health Center. I wish I had met him.
"He was such a happy person his entire life," noted longtime friend and fellow sports enthusiast Daurine Spritzer. "He was great at making the best out of any situation that came at him.
"For those of you who knew him, he really was a very special person. For those of you who never had the pleasure of spending time with him, sorry about that — but I do know that you would have really liked talking with him."
Maybe the best that can be said about Ray Nose is his story compels us to be better human beings. Or at least try.
We're talking about a guy that rode his bicycle everywhere and never bothered to lock it up. And as you might imagine, he lost more than one bicycle.
Maybe he just chose to believe the best about his fellow man. Never thought  too much about the worst.
Goodness, this place could use a few more kind-hearted souls like Ray Nose.
Bill Speltz is Missoulian Sports Editor and has served as Sunday columnist the past 14 years. Do you have a story idea? Email Bill at bill.speltz@missoulian.com.
Be the first to know
Get local news delivered to your inbox!