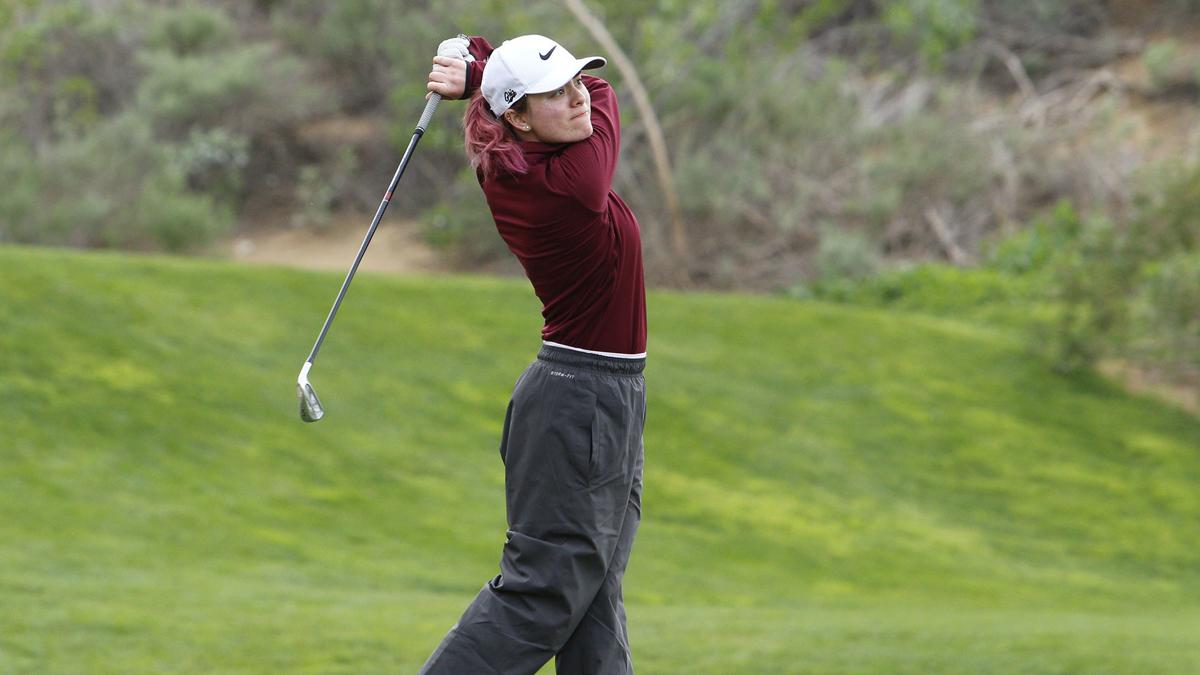 Editor's note: With spring sports canceled, the University of Montana's sports information department is checking in on some of its idled athletes to ask, "Where you at, how you doing?" 
Today's installment features Allison Sobol, a golfer from Eureka, California.
Q: Where you at, how you doing?
AS: I'm back in Eureka, California, right now. We've been quarantined, so I've been indoors, but I'm doing all right. We had a county lockdown. You can only leave your house if it's essential, like going to the pharmacy. They want to make sure everyone stays home and stays healthy. I just want to be back on the golf course, but with all this stuff going on, you've got to stay healthy and stay home. I'm hoping after these two weeks of quarantine things get better.
Q: Southern California has turned into a hot spot but that probably feels like another world to you, since you're closer to Oregon than even the Bay Area. What's the mood like in Eureka?
AS: It depends on the person if they are worried. But it feels like most people are thinking about everybody else more than themselves, like we need to do this for the health of our community. There have only been two cases in our county, but we need to stay home and not go out and put anybody else at risk.
Q: Where do you fall on the fear spectrum?
AS: I'm not as scared, but I don't want to put anyone else in danger. I just want to do my part to keep people healthy.
Q: What's been the impact on your family? 
AS: My brother is a sophomore in high school and they went to online classes, so he's doing the same thing as me. My mom is still at her job at the school. They had to stay open to deal with parents and the school's work. They are handing out packets for the kids, but her work hours have been cut short. They only want them to be there for a certain amount of time. My dad has his own flying business. He had a couple trips down to Disneyland scheduled and Disneyland shut down, so he's using this as a time to take a break and work on other things and use it as a time to improve what he can while he's taking a break. 
Q: What do your days look like now? 
AS: I get up at 7 or 8 and try to get in a workout. I try to get in an ab workout and some cardio since all the gyms are closed. Then I'll check my emails and do some schoolwork, as much as I need to do. After that, maybe see what I can do with some makeshift golf. Chip out in the backyard if I can. Then spend some time with the family.
Q: It wasn't even two weeks ago that you were packing up to go to St. George for the team's first tournament of the spring season. The Wednesday night before your first round, the NBA suspended all its games. Then on Thursday, while you were on the course and competing, everything started changing in a hurry. What was that day like? 
AS: Wednesday was just a foreshadowing. Two teams didn't even show up to play on Thursday. By the end of the day, teams were deciding what they needed to do. 
Q: The Thursday-Friday tournament was canceled after one day. Did it feel like you could have played the final 18 on Friday? 
AS: It felt like we could have played on Friday, but with the way things were going, it was a shock but it also felt kind of inevitable. 
Q: Are golf courses open in your area? 
AS: One of my courses, the one owned by the city, is shut down. They wanted to close it down because of everything. Not sure if the private ones are still going or not. With this (rainy) weather, nobody is going to want to go out and the fact everyone is on lockdown. 
Q: What are your plans going forward this semester? 
AS: That's been the question lately. I still have all my stuff in my dorm. I came back only thinking I was going to be here for spring break, then my flights back to Montana got canceled. So we'll play it by ear. We'll see how it goes after this lockdown. It's been crazy. It's hard to think about. It's a lot. 
Q: What are your hopes and fears these days? 
AS: I'm hoping it's not going to go past what it should and that they're going to get it under control fairly quickly. My fear is that it goes on for a lot longer than anyone expects, into summer and into next (school) year. I don't think that's going to happen, but that's just me hoping.
Be the first to know
Get local news delivered to your inbox!