MISSOULA — Emma Stockholm enjoys playing against Sacramento State.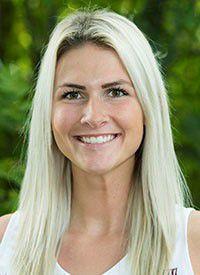 After stinging the Hornets for 21 points and eight rebounds in a December road win, the Montana Lady Griz forward was back at it again Saturday. Stockholm piled up 17 points and 14 rebounds in a convincing senior day win, 90-45, in front of 3,112 fans at Dahlberg Arena.
"I couldn't have asked to end it on a better note," she said, alluding to the fact she was playing her final college basketball game in Missoula along with fellow seniors McKenzie Johnston and Taylor Goligoski.
"Everyone played so great today. Seeing all of our happy faces makes me so happy, just so grateful."
The sturdy, 6-foot-2 Stockholm is a match-up nightmare for the undersized and injury-depleted Hornets. Sac State lost starting post Kennedy Nicholas to an injury earlier this season and on Saturday lost point guard and scoring leader Camariah King to a hand injury in the first half.
"Them having little guards, it's a lot easier to post," Stockholm said. "I feel for them. We've been there with injuries. But it's good for us just to get that win." 
Montana owned Sac State in the paint in improving to 11-7 in Big Sky Conference play, 16-11 overall. The Lady Griz enjoyed a 57-29 edge in rebounds and a 36-12 advantage in points in the paint.
Stockholm wasn't the only player to shine for a Lady Griz team that now has an inside track for a Big Sky Conference tourney bye, sitting alone in fifth place. Madi Schoening scored 17 points, Johnston added 14 points and six assists and Gabi Harrington came off the bench to tally 13 points in 17 minutes of action.
"That's one of those things you absolutely relish, just everybody playing well in their last day in Dahlberg here," Montana coach Shannon Schweyen said.
"(Sac State) is a little depleted right now. We've been there. I sympathize with what they're going through. It's tough when you get down to eight, nine kids and then King hurts her hand. They haven't been pressing and using an uptempo style like they like to be using."
Sac State, which has lost five games in a row, came out in a zone defense that slowed Montana for about 2 minutes until Taylor Goligoski hit a 3-pointer. That kick-started a 20-5 run by the hosts, spearheaded by Schoening with seven points and Stockholm with seven rebounds and four points.
The Hornets showed signs of life midway through the second quarter, using a 6-0 run to shave their deficit to 27-18. Montana responded with an 11-3 run to close out the half, using Goligoski's 3-pointer to make the score 38-21 at intermission.
"We were pushing the ball up the court and finding open, good shots," Harrington said. "Shannon (Schweyen) always talks about how you need to take a good shot, not an early shot. We passed the ball around well."
Montana shot 47.8 percent from the floor (32 for 67) and hit the 90-point mark for the first time since Jan. 9. Sac State shot a dismal 17.3 percent from the field (9 for 52) and failed to make a 3-point shot (0 for 17).
Now comes the most exciting part of the season for the Lady Griz. They'll go in as the favorite in road tests at Northern Colorado Wednesday and Southern Utah Friday. If they win both, they'll earn a No. 4 seed at the very least for the Big Sky tourney that starts a week from Monday in Boise, Idaho.
"We want to be playing our best basketball in March, so happy for the way we played today," Schweyen said. "Two big ones (this) week on the road and those would be great ones to get heading into Boise."
Bill Speltz is Missoulian Sports Editor and has served as Sunday columnist the past 14 years. Do you have a story idea? Email Bill at bill.speltz@missoulian.com.
Be the first to know
Get local news delivered to your inbox!