The first thing you notice about Nicole Stroot is she smiles frequently.
"I get people saying that a lot," she offered with a chuckle. "I don't know, I just love being here. It's fun to compete for Montana any day."
The Superior native doesn't just compete for the Grizzly women's track and field team. She wins -- and quite regularly, thank you.
On Saturday the heptathlete celebrated the start of her final outdoor season with a win in the 100-meter hurdles in the four-team Al Manuel Northwest Dual at Dornblaser Field. She was particularly happy with her time of 14.57.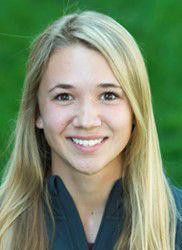 But it's not just individual success that has Stroot smiling a lot this spring. Her team has the depth and talent to win a breakthrough Big Sky Conference championship and that electricity is something special.
"Out of my four years this is the most excitement that our team has felt," she confided. "Even this first meet we're just so excited to compete as a team.
"Everyone is cheering for each other. You're not just competing for yourself anymore. It's a whole team aspect, which is very fun. I think we have a really good chance and we're adding a few events that weren't in indoor season that we're really strong in."
A biology major who plans to attend veterinarian school, Stroot has come a long way from her days on Montana's Class B-C high school level. A co-favorite to win the Big Sky heptathlon along with teammate Erica McLeod of Butte -- McLeod took first and Stroot second in the Big Sky indoor pentathlon in February -- you could even say Nicole has surprised herself.
"It's a big change going from a small pond to this," she said. "I've definitely pushed myself past where I ever thought I could go.
"The coaches have been really helpful with that process. They will push you as far as you think you can go, then it's up to you if you want to keep going that distance or if you want to back away and be scared of it."
Junior distance runner Emily Cheroske of Bigfork also enjoyed a big Saturday with a dominating performance in the 800. Included on the list of competitors she blew away with her time of 2:10.48 was Montana State's Christie Schiel, who won the 800 in the Big Sky indoor championships.
"I was nervous because we've come off a few weeks of really hard training so I was thinking I'd probably be at like 2:13 or 2:12," said Cheroske, who also ran a leg on the winning 4x400 relay team. "I'm pretty excited with the 2:10. Last indoor seemed like the first good indoor season I've had, so I just want to carry that momentum."
Cheroske calls the team dynamic for the Montana women "amazing."
You have free articles remaining.
"I feel like the throwers and the sprinters and everybody cheers for each other and it's really nice," she said. "I'll just walk around campus and everyone is very friendly."
Using a dual format, Montana beat Montana State (124.5-77.5), Idaho (147-46) and Eastern Washington (149-50). The Grizzlies had a dozen first-place finishes.
Missoula product Hana Feilzer set a school record in the hammer with a mark of 205 feet, 11 inches on Friday. Darby Henthorn of Missoula won the javelin at 148-1 and Samantha Hodgson the shot put at 44-10.25.
"I've been throwing between 200 and 210 in practices consistently the last couple of weeks," Feilzer said. "I just wanted to get one out there to show I can do it, because practices mean nothing until you do it in a meet."
Kayla Holmes won the discus at 161-1, Samantha Evans the triple jump at 40-4 and Samantha Evans the long jump at 19-2.5. Alanna Vann won the 100 in 12.36 and Jessica Bailey the 3,000 steeplechase in 10:51.59. Montana's 400 and 1,600 women's relay teams also took top honors. 
"This was a great first meet," Montana coach Brian Schweyen said. "I love the fact that Montana State comes over, that Idaho comes over, that Eastern Washington comes over. It really helps all of us have a high-level, high-performance meet.
"I think if you talk to the other schools, they probably had as many great performances as we did. It bodes well for all of us. It's a great opportunity to start the season this way."
On the men's side, Missoula Big Sky grad Alex Mustard sent notice he's a sprinter to watch this spring with wins in the 100 and 200 for Montana. His times were 10.72 and 21.82.
"I'm never completely satisfied," said Mustard, who also ran a leg on the winning 4x100 team, "but I think I'm heading in a good direction for sure."
Missoula Sentinel product Sterling Reneau picked up from where he left off last month in winning the Big Sky 400 indoor title for the Grizzlies. He cruised past the competition in a gold-medal time of 47.28 Saturday.
"There's always something I can improve on, something I can get better with, but it's a great season opener for me," said Reneau, who also ran legs on the winning 4x100 and 4x400 relay teams. "I'm getting more confident in my body. I've got good training partners and I'm getting pushed every day."
Daniel Jones had the only other individual win for the Grizzlies. He took the javelin with a throw of 197-10.
Montana State swept the men's team competition. The Bobcats beat the Grizzlies (117-79) along with Idaho (137-51) and Eastern Washington (145-42. Montana picked up dual wins over the Eagles (129-55) and the Vandals (111.5-64.5).