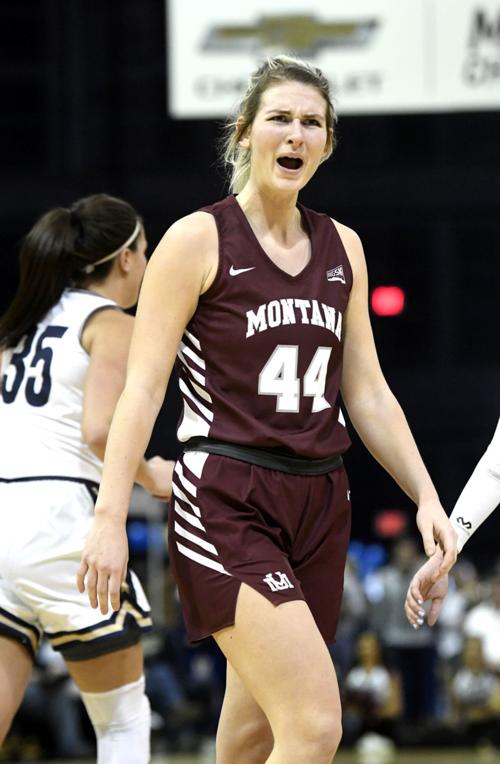 MISSOULA — Emma Stockholm has a knack for piling up points on the road.
That's good news for a Montana women's basketball team that won't be playing any more home games.
Stockholm has averaged about 15 points in the last five Lady Griz forays away from Dahlberg Arena. The senior forward will try to keep it going when her team finishes its Big Sky Conference schedule with important games at Northern Colorado Wednesday and Southern Utah Friday.
"I think the biggest thing about Emma is her confidence," teammate Gabi Harrington said. "When she's making shots, we build off of that."
Montana (16-11) has snapped a string of three straight losing seasons this winter, in large part because of the leadership of seniors Stockholm, McKenzie Johnston and Taylor Goligoski. Stockholm has been a go-to shooter in recent games along with leading the Lady Griz in rebounds with 160 and ranking third in steals with 25.
Perhaps just as important, Stockholm understands the importance of being a team player. You hear it every time she talks to the media.
"My teammates are finding me down low," she said of her recent road success. "I'm posting hard and I give all the credit to them. They're the ones finding me for open looks, pushing the ball, getting me open."
Stockholm's success is due in large part to her hard work in the offseason. It did not go unnoticed by Montana coach Shannon Schweyen.
"She lived here this past summer and was in the weight room and in the gym all the time, wanting to have the best year possible," Schweyen said. "I really admire that about her, her work ethic.
"And she's been very fortunate to not have any injuries. I mean, of all the kids on our team, I think she is one that literally has not missed a day for anything. Anymore, that's rare to go through four years like that — other than her concussion in the (Big Sky Conference) tournament last year." 
The goal for Stockholm and her teammates is to make a magical run in the league tourney, which starts Monday in Boise, Idaho. The first step toward getting there is to earn a first-round bye this week with success at Northern Colorado and Southern Utah.
With a pair of wins, the Lady Griz will earn a bye and play their tourney opener against Northern Arizona, a team they've already beaten twice, in a quarterfinal duel next Tuesday.
"Our team is going on the road with so much momentum after two great home wins," Stockholm said of victories over NAU and Sac State last week. "We know it's going to be really tough, being on the road for almost a week and a half plus more. But I'm really excited to see what we're going to do."
Beating Northern Colorado in Greeley is easier said than done. The Bears (12-15) haven't had a banner year but they topped Montana in Missoula back in early January, 67-58. Stockholm had a big night for the Lady Griz with 22 points and eight rebounds, but UNC had five players in double figures scoring and forced 16 UM turnovers.
"They have good quickness," Schweyen said. "We're going to be in for a dogfight there."
Montana will need to keep an eye on Northern Colorado 6-foot-2 freshman forward Alisha Davis. She is the reigning Big Sky Player of the Week, averaging 19 points and nine rebounds this past weekend in road games at Idaho and Eastern Washington.
Against Idaho, she recorded her fifth double-double, scoring 19 points on 8-for-11 shooting and pulling down 10 rebounds in a 70-65 loss. In Saturday win over Eastern Washington, Davis scored 19 points on 8-for-16 shooting and adding eight rebounds.
The true freshman leads the Big Sky with a 52.8 shooting percentage in conference games. She ranks ninth in scoring with 13.1 points per game.
Stockholm is no stranger to double-doubles herself. She has two this season and has come close on five other occasions, falling one or two points or rebounds short.
"She has always had a scorer's mentality," Schweyen noted. "But she's become, at times, just an absolute force in there this year."
Notes: Schweyen has never beaten Northern Colorado as a head coach. The Bears boast a six-game win streak against UM that dates back to January of 2017 ... The Bears snapped a three-game skid with Saturday's 67-61 win at Eastern Washington. Sophomore swing player Micayla Isenbart matched her career-high with 24 points, hitting six 3-point shots ... The Bears have three seniors playing in their final homestand, including Abby Kain, Ali Meyer and Bridget Hintz ... The Bears are offering tickets to Wednesday's game for $2.
Bill Speltz is Missoulian Sports Editor and has served as Sunday columnist the past 14 years. Do you have a story idea? Email Bill at bill.speltz@missoulian.com.
Be the first to know
Get local news delivered to your inbox!