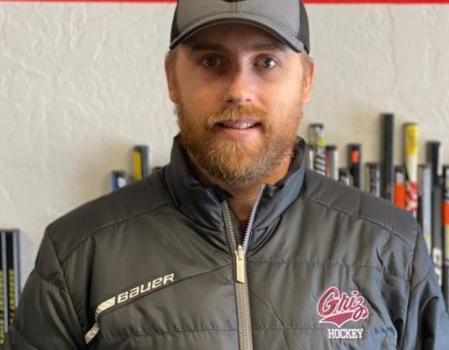 MISSOULA — Turning around the 10-year trend of declining enrollment at the University of Montana is a weighty issue.
A lot of folks have ideas. Some are more complicated and expensive than others.
Tucker Sargent has one that won't cost the university a dime. So before all you naysayers who like to blame Grizzly athletics for the ills of the institution start spewing venom, read on a little further:
Sargent, the coach and mastermind behind Montana's highly successful club lacrosse program, has teamed with pals Doug Coffin and Ryan Geiges to start a top-level men's club ice hockey program. The Grizzlies have had a club program for many years but for the past decade it has been a student-organized "intramural" type program.
Starting in October, the team will play a 24-game slate as an American Collegiate Hockey Association (ACHA) member. The program will be steered by Sargent and his committee, and the coaches will be paid — assuming enough money is raised.
The real winner is the University of Montana.
"I look at this as nothing but a benefit to the university," Sargent told the Missoulian and 406mtsports. "They have zero financial commitment to it.
"We're bringing in kids that otherwise wouldn't come here. It will boost enrollment, and it's just more additional marketing for UM. Now you're out in front of a whole other crowd of people that are going to potentially want to come to your school. We'll recruit in Montana and out of Montana."
An avid adult league player, Sargent is modeling the ice hockey program after his lacrosse program. The first order of business is to attract capable recruits because the Grizzlies are going to need them when they go up against the likes of Montana State and Gonzaga.
"We've already had 20 people fill out the online form saying they're interested," Sargent said. "We've heard from kids that played for the (Junior A) Jr. Bruins. There's probably six kids on campus that are good enough to jump aboard right away.
"When we look at what UM is and Missoula as a destination for kids out of state, there's a lot of people that want to come here. It's a pretty good hockey town, and having the Griz brand associated with it is only going to make it stronger. Kids are going to want to come here to play, and once they see the crowd, they're going to want to come and play even more."
The ACHA is an interesting and diverse league. Montana will be up against some programs that are fully funded and others that are more rag tag.
For an example of how much impact the program could make, look no farther than Bozeman. 
"Montana State went to nationals several years ago and made it to the finals, and it's the same model we're using," said Sargent, a UM grad. "They had about 75 kids try out last year.
"Hockey and lacrosse are different than other club sports because the leagues they're in are hyper competitive. You'll play against some schools where it is a varsity sport."
Sargent has put some of his own money into the project, and the goal is to have a $120,000 budget at some point. For the first season, most of the money will come from player fees.
Why does Sargent spend so much of his time on a team that he won't even be playing for or coaching? Let's just say he's a Missoula man who loves a project and, unlike many, he's not afraid to roll up his sleeves and dig in.
"It's love of the sport," he offered. "I like a spectacle, and I think this has an opportunity to be something that's really cool that benefits the university, Missoula and hockey."
It's easy to cheer for someone like Sargent. Someone that invests so heavily in his city and his alma mater.
Taking on such a big endeavor amid a pandemic makes it even more challenging. But something tells me this is going to go over like a hat trick.
Editor's note: to learn more about the Griz hockey program, or to help the program by purchasing a jersey or other items, log on to grizhockey.com.
Bill Speltz is Missoulian Sports Editor and has served as Sunday columnist the past 15 years. Do you have a story idea? Email Bill at bill.speltz@missoulian.com.