BOZEMAN — The Montana State football team's 13-7 win at then-No. 19 Weber State on Friday night was dampened a bit by MSU's lackluster offensive performance.
On Tuesday, MSU offensive coordinator Taylor Housewright sat down with 406mtsports.com to explain why the now-No. 8 Bobcats (6-1, 4-0 Big Sky) struggled to move the ball. He also talked about the lessons he learned from Friday's game, his relationship with head coach Brent Vigen, quarterback Matthew McKay and more.
NOTE: This interview has been edited for clarity and brevity.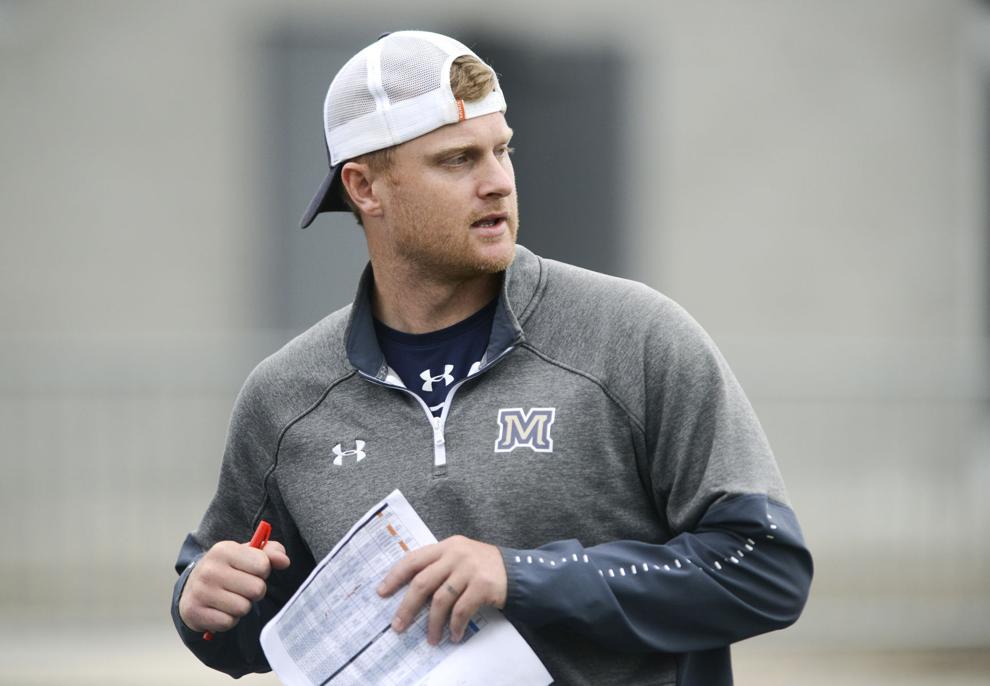 406: How would you sum up the game and the offensive performance against Weber State?
TH: It was gritty, obviously. That's a great defense, great team, well coached, very good personnel on defense. I don't think we had our best night, myself included, but what our kids did do is they didn't force anything. … Our guys played hard for four quarters. That's all you can ask for. They stuck together. They didn't turn it over. It wasn't what we wanted. We probably weren't as aggressive as we needed to be, but they just kept plugging away, and they trusted us and just kept going. You would've thought we scored 80 points at the end of the game with how excited they were, which is awesome. That just shows our kids, all they care about is winning.
406: You mentioned being aggressive. One of the few times late in the game that you were was McKay's pass over the middle that was nearly picked off. Did that give you some pause or hesitation, like, "Let's just continue to run and be conservative"?
TH: I trust Matt wholeheartedly. He's had a hell of a year. I trust Matt. It's playing the position of quarterback. You're going to have times where you don't make the right decision or force a throw or whatever, but I fully trust him and his decisions while he's out there, and that's what you have to have. ... Now, you can go in different directions in the game, depending on how the game's flowing, but I wouldn't say I lost trust in him.
406: What specific issues did WSU pose on defense?
TH: They fly around, they're a good tackling team, they mix it up up front, their linebackers hit it hard, their DBs are well-coached from a technique standpoint, playing man, playing zone. They go man on the first play two times in a row, and the third play they go Cover 3. I thought they did a great job.
I need to stop watching our defense because when you see Troy Anderson flying around making plays early in the game, it makes me a little more conservative because I know they're not going to score, so I've got to stop watching him play. It's kind of fun, though. Him and Ty Okada flying around. (Daniel) Hardy, what did he have, four sacks? I'm excited for them.
They're the four-time (Big Sky) champs for a reason. You've got to have great defense in this league to win it all. Now, we should've played better, without a doubt, and that starts with me, but we will. We'll play better.
406: I know that was kind of tongue in cheek about your team's defense, but how much did that affect you? Like, "Hey, we don't need to force it. They're not going to score on us."
TH: I just need to worry about calling plays and try not to turn it over. I think you get in games like that and keeping the clock running is a good thing. That's old school football. That's don't screw it up on offense and play great defense. I didn't help our kids out sometimes with some of the calls, but it was a little bit of where the game was going. You get backed up a little bit, the last thing you want to do is be too aggressive to where you screw your kids. They're just trying to do what you coach. But (MSU's defensive performance) definitely had a part in the fourth quarter in some manner.
I have so much trust in our field goal kicker and our punter. They are awesome. I tell our field goal kicker (Blake Glessner) every week, "As soon as we get in the red zone I know we've got three points," because he's playing really, really well, which is nice to have. It's a comfort deal. You're going to have to score touchdowns, but knowing we don't have to go for it, we don't have to force it, because our defense is playing well and we can get three points.
406: Vigen mentioned that WSU's defense causes problems for offenses trying to run laterally, and that McKay had some reads where he should've tucked it and run to the outside. Can you expand on that? And were there other factors that led to so many runs up the middle?
TH: A lot of our offense is RPOs and triple option and things like that, so in this system, you put a lot on the quarterback. There aren't a lot of plays off mentally for the quarterback, so when you do that, you have some great games, and then you have some games when you're playing a really, really good team where they're going to get you, and they got us at times. We learned from it. I'm glad that we did that because we wouldn't know where we stand on some of those things.
Yeah, the ball should've gone on the edge a little more, but when it did there was something else that happened. It's just one guy of the 11 kind of screwing up every once in a while, where we're just not in sync.
406: What was different on your touchdown drive than the other drives?
TH: Mixing it up, them mis-fitting some things. Obviously a great defense adjusts, and they adjusted a little bit, and we should've helped our guys out. I think when you mix it up, it helps the things that you're really trying to be good at, and I didn't do enough of that. But it won't happen again.
406: Vigen said he wished the offense would've thrown more against WSU. What would you have done differently? What kind of passing plays would you have called in that game?
TH: Chuck it deep. Chicks dig the long ball. No, some big plays we've had, really you think about it, (happen) when you do what you do well, and what we've done well is get 86 (Lance McCutcheon) the ball in different manners. Him or Willie (Patterson) or Jaden (Smith) or the tight ends downfield, we've got to continue to try to do that. You've got to stretch it horizontally, and you've got to stretch it vertically. I think that's what a good offense does. When you're playing a good defense, you can't stay one-dimensional. Maybe we were trying to get some other things going, but they weren't working or we weren't doing exactly what we wanted, which is on me. Obviously, you want to try to make them threatened downfield so it opens things up underneath.
406: Vigen said he suggested passing late in the game. How much does he suggest during games? Is that common or rare?
TH: He does a good job. Obviously, he's got a ton of experience. Sometimes I tell him to tell me more. I think he's cautious of stepping on toes or doing those things, but he's the head coach and he knows my loyalty and support of him, and I love his background, obviously, and respect it. When he feels strong about something, he tells me, and I know he's probably right. Just like when your wife screams at you about something, it's like, "OK, it's time to clean this part of the house up. She's serious now."
How much (does Vigen give suggestions)? A couple of times a game. But it's a collaboration, with our assistants and him, and it's definitely a pretty awesome deal what he does. I probably wouldn't be able to do what he does. I'd probably tell me exactly what to run all the time.
406: A collaboration or a marriage, you could say.
TH: It's definitely a marriage. He wants to kill me sometimes, so definitely a marriage. But it's all in, we just want to win.
406: Obviously I and others are asking a lot of questions about the offensive struggles. Do you try to remind yourselves or us on the outside that, "Hey, we got a huge win over a ranked team on the road"?
TH: Oh yeah. Winning's everything. If I listened to — no offense — you guys or fans, I wouldn't be in this position. I'm not a guy that lacks confidence, by any means. I've been around good offenses, I've been around bad offenses. We've got the start of a making of a good offense, we've just got to keep getting better. When you play a good defense like that, you don't have those second attempts at certain things. You've got to be right the first time. It's just a matter of being more intentful with the details and doing a better job of putting a plan together that fits our kids.
406: Going forward, how do you think your approach will change? Any game plan or strategy things that will change in the future games?
TH: Get your best players the ball, and then if they completely take them away, have the other guys ready to rock and roll. It's that simple. Do what you do well versus what they do poorly. I think as a coordinator, you can out-think yourself. It's a simple game. Be simple. Put your best players versus their bad players and give them the ball and see what they can do. They can make you look pretty good. Mix it up so they don't know what's coming. Protect your quarterback and allow him to see things and not be surprised by things. You prepare for their top looks and you react to everything else. Continuing to coach every single play in practice so guys understand how important the details are. … As soon as they start paying attention to the details just as much as a coach does — because this is what I love; I'm a nerd about it — then you really start to grow. They understand why I'm calling things, how it's supposed to be run versus the look that they're getting. And our guys are doing a great job of that and we're growing together every week.
I think this was good. It usually takes me about 48 hours to get over a not-so-great offensive performance. But we talked to the guys yesterday and just sitting there thinking about it, there's a positive to every negative. My point being, we don't know that positive outside of, hey, we won the game, we beat a very good football team, we did it as a team. But sometimes you can look over things when you win. (Our players) understand we've got to keep getting better and not get complacent and keep working.