BOZEMAN — Everyone involved with the Montana State football team felt a range of (mostly negative) emotions at halftime of their home game against Idaho on Nov. 13. Few had more to process than Rush Reimer.
On the final play of the first half, MSU quarterback Matthew McKay dropped back for a Hail Mary and was quickly sacked. He fell right into right tackle TJ Session, who spent minutes on the field in pain. Reimer, Session's backup, first felt sympathy for his ailing teammate. Then he remembered that he would be the one replacing Session, so he got into preparation mode.
"Thank God we had halftime because I was pretty stiff," Reimer said Monday.
Reimer played the entire second half of that game — a 20-13 win — and was MSU's first-string right tackle a week later in the 120th Brawl of the Wild — a 29-10 loss. The redshirt freshman was far from perfect in those six quarters, but he and his coaches have seen improvement.
The leg injury Session suffered will continue to keep him out, per MSU head coach Brent Vigen, so Reimer will start again on Saturday, when the eighth-seeded Bobcats (9-2) host UT Martin (10-2) in the second round of the FCS playoffs. A good performance from Reimer could provide a boost to MSU's struggling offense.
"I've got a lot of confidence in Rush," MSU offensive line coach Brian Armstrong said Monday. "Physically, he's got a little ways to go, but mentally he's catching up and gaining ground every day. I'm excited about him."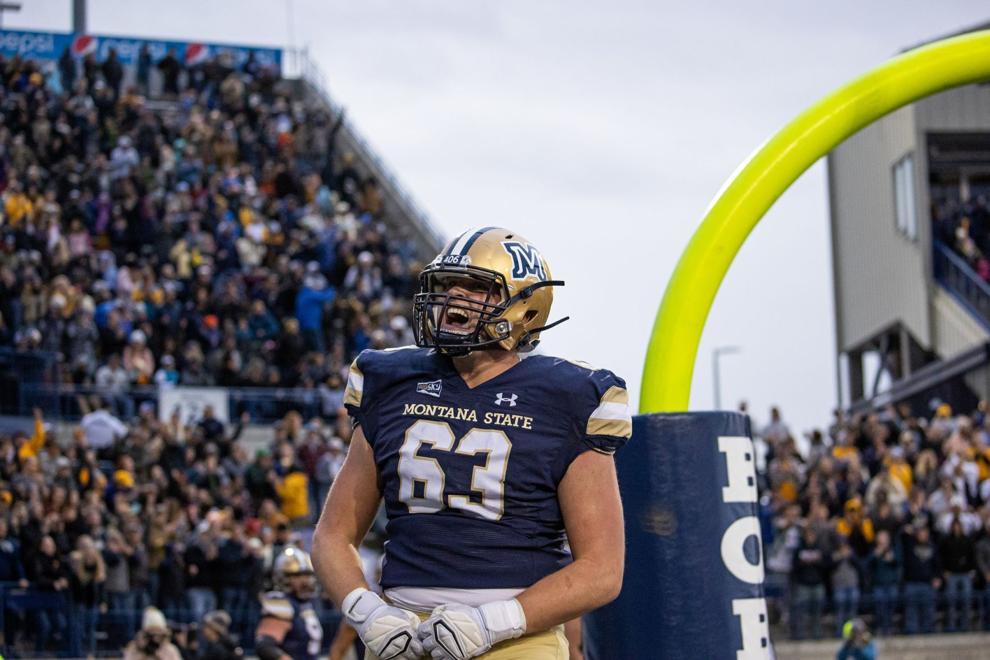 Reimer signed with MSU in 2019 following an excellent career at Camas (Washington) High. He was a two-time all-conference selection and earned first-team all state honors as a senior. Camas went 14-0 and won the 4A state title that season.
Reimer was a three-star recruit, according to 247 Sports, and received offers from four Big Sky schools: MSU, Eastern Washington, Idaho and Northern Colorado. He redshirted last year.
MSU entered this season with two 300-pound holes at tackle; first-team all-Big Sky honoree and second-team All-American Mitch Brott graduated after the 2019 season, and fellow starting tackle Connor Wood transferred to Missouri.
The Cats ultimately moved redshirt senior Lewis Kidd from guard to left tackle, and Session earned the first-string right tackle job (Session is a redshirt freshman who graduated from high school in 2019). The 6-foot-5, 300-pound Reimer began this season as the backup to Kidd, who went on to have an all-Big Sky first-team season.
Reimer rarely saw the field in a game beyond special teams, but he gained invaluable experience during practice. He occasionally blocked Big Sky honorable mention defensive end Amandre Williams, and he avoided all-conference first-team nose tackle Chase Benson. But he often had to go up against one of the other best D-linemen in the Big Sky: first-team end Daniel Hardy.
"Having one of the best defenses in the league is nice," Reimer said. "If you can beat dudes like Daniel, then you can go against anyone."
Starting right guard Taylor Tuiasosopo has been listed as Session's backup throughout the season. When Session went down, it would've made sense to move Tuiasosopo to RT and put the well-regarded Cole Sain (or another player) at RG. But the Cats have stuck with Tuiasosopo, a redshirt senior and all-Big Sky second-teamer, at RG and Reimer at RT for six quarters and counting.
"Taylor's strength is really playing inside," Armstrong said. "I trusted Rush to get the job done and thought we could keep Taylor where he was comfortable and where he could excel."
If Reimer had to describe his season in one word, it would be "developmental," he said. Armstrong and Vigen described it similarly.
"To say that he exactly filled TJ's shoes, I would say that's not necessarily the case," Vigen said. "But he's played six quarters now, and he's played better within that and I think he's practiced better."
It's hard to come up with a more intimidating place to make your first college start than Washington-Grizzly Stadium in the Brawl of the Wild. That's what Reimer was dealt, and he admitted some nerves before the game. He committed multiple false starts, which he partially attributed to the deafening sound created by the 26,856 fans in attendance.
"It was my first time being in that game, first time seeing the game, and it was wild for sure," Reimer said. "It's a whole different experience. I've never played a game anything like that."
Beyond the penalties, Reimer thought he played OK against the Griz, but he acknowledged that both he and the rest of MSU's O-line had ample room for improvement. This Saturday would be an opportune time for a bounce back.
Kidd and Tuiasosopo will be gone next year, so Reimer's playoff performance will not only affect MSU's 2021 results. It will show his coaches if he can step into a full-time starting role next fall.
"I think he's got the jitter part out of the way, and so he can just go play football and focus on being a good football player," Armstrong said. "I do think he's going to be a really, really good player here before it's said and done."