BOZEMAN — Scanning the field, dissecting the defense in front of him, Matthew McKay discerned another approach was needed.
The Montana State quarterback turned to his running back, Isaiah Ifanse, and checked into a play adjustment. McKay's comfort in MSU's scheme was evident. It resulted in Ifanse punching in a touchdown run.
Plays like this, small details the North Carolina State transfer has prioritized since his arrival, are the results of meticulous preparation. They are also giving the Bobcats exactly what they need.
When MSU's rushing attack was impeded, McKay ensured the No. 10-ranked Bobcats marched on. With him as the leader, MSU (5-1, 3-0 Big Sky) secured a 45-7 homecoming win over Cal Poly (1-5, 0-3) on Saturday at Bobcat Stadium.
"Our quarterback needs to be accurate in the throw game, to get the ball down the field and then be a threat in the run game, and Matt certainly has all those things," Bobcats coach Brent Vigen said. "He needs to be able to make good decisions, and those decisions can be made in a lot of forms. Sometimes it's just checking runs, sometimes it's reading and then on third downs being able to do things from a protection perspective and decision-making perspective.
"We're past the midway point now, six games in, and we definitely have seen growth and we need for him to play well for us to accomplish the things we need to."
McKay's stat line wasn't monstrous. He completed 14 of 18 passes for two touchdowns with no interceptions, resulting in a 190.5 passer rating. He also rushed eight times for 25 yards.
That doesn't do his performance justice.
In the first quarter, facing third and 9 on Cal Poly's 27-yard line, the Bobcats were in a scoreless tie and needed some offensive life.
McKay eluded pressure. He scampered forward. He faked a pass to draw a defender away. He bounced and spun away from a tackle, the roar of the crowd crescendoing with every step.
He was finally taken down nine yards from the end zone, and the Bobcats had a first down. And on the next snap, McKay pretended to hand it off, again misleading an off-balance Cal Poly defense, and tossed a pass to Treyton Pickering in the flat that led to an easy touchdown.
When the Bobcats were stagnant, McKay prevented them from staying that way for long.
McKay's become more comfortable with MSU offensive coordinator and quarterbacks coach Taylor Housewright's game plans. The coaching staff has often lauded McKay for his film study, but gaining experience would be crucial in his development.
As he's interpreted defensive schemes correctly and rarely makes ill-advised throws, his preparation has clearly benefited him.
"It's starting to translate," he said. "We're still not perfect in some areas. I still feel like we can get better in some areas, so I'm just excited to go back to the film and learn and get coached up."
In the second quarter, McKay darted a pair of short passes to Derryk Snell, the second going 12 yards for a first down, while rolling out. He made routine throws look like just that — simple, as they should be.
The Bobcats haven't always had this type of dependability through the passing game, and they've won in spite of it. With McKay behind center, the Bobcats haven't needed to worry about punting because they can't complete 2-yard quick slants.
With just one interception on the season, McKay's lack of turnovers has been the most vital aspect to his game. Going into the day, he was fifth in the FCS in passing efficiency.
"It's another game where there's some lessons learned as well and again a game where we didn't turn the ball over," Vigen said. "We've got to continue to play that way, and it starts with Matt and his ability to protect the football."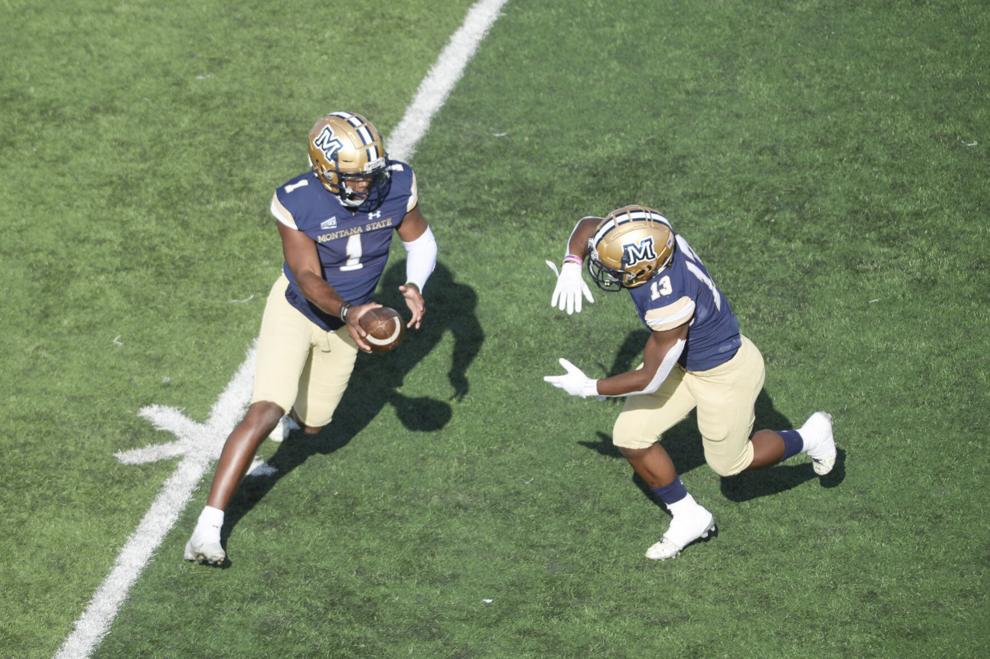 Late in the second quarter, the Bobcats seeking a five-possession lead, McKay received a third-down snap needing seven yards to sustain the drive. Again, he evaded potential tacklers and zipped the ball to Willie Patterson in the middle of the field for a first down.
This was a prelude to McKay's shuffle pass to Ifanse, a 12-yard touchdown. After a first quarter in which the Bobcats accumulated fewer yards than Cal Poly, MSU possessed a 35-point advantage going into intermission.
The Bobcats were 9 of 15 on third downs in the game, and this was in large part because of McKay. But he's not satisfied.
"I think we could've converted on a couple more today," he said, "so just keeping that consistency factor is something we're continuing to work on."
When asked what the next step in McKay's progression is, Vigen pondered for a moment. Considering how he's playing, the answer isn't clear.
McKay also hasn't been tested much, as the Bobcats have blown out four of their last five opponents. And McKay also shined when the Bobcats came back to defeat Portland State and when they narrowly lost at Wyoming.
"There's going to come a point in time where we're going to be in a slugfest," Vigen said, "and we've got to offensively be able to come out and make plays."
The Bobcats have exponentially lofty expectations for McKay. He enjoys that. He relishes in that.
And as MSU next travels to Weber State, its first ranked FCS opponent of the season, McKay will need to live up to that.