BOZEMAN — At his introductory press conference as Montana State football's new head coach, Brent Vigen pointed to both his coaching experience and MSU's history as precursors for future success.
That included the Bobcats' three national championships, with the last one coming in 1984, as well as a trip to the FCS semifinals in 2019 under previous head coach Jeff Choate. Vigen stressed this team was "right on the doorstep" of getting back to the national championship stage once again. He planned to bring them there soon.
"If your goal ends with winning a conference championship, making the playoffs — that's not enough," Vigen said on Feb. 16, 2021. "If you can't see it, you certainly can't go after it."
About 11 months later, MSU returned to the FCS national championship game for the first time since that 1984 team defeated Louisiana Tech for the title. This time, though, the Bobcats fell to perennial powerhouse North Dakota State 38-10.
Still, the focal point of the "Year of the Bobcats" made plenty of noise both in and out of Bozeman. In Vigen's first season at the helm, MSU went 12-3, secured a first-round bye and paved a way to the national title game behind a fourth-string quarterback, All-Big Sky skill position players and one of the best defenses in the country.
"I mean, obviously to have the run that we did was incredible," MSU nickelback Ty Okada said. "I really appreciated what coach Vigen has implemented in this program and it's been great to learn from him. It was phenomenal."
Coaches across the conference took notice as well.
"I think coach Vigen did a great job," Eastern Washington head coach Aaron Best said. "He inherited a very good roster, a very talented roster throughout coach Choate's career, and he did more than maybe what was expected. That's to be applauded."
Portland State was the first Big Sky opponent to face Vigen's MSU team. The Bobcats won 30-17 on the road, with 21 of MSU's points coming in the second half. Head coach Bruce Barnum remembered scouting MSU in the film room beforehand, looking for anybody that could break open the game on the Bobcats' defense.
Immediately, Barnum said, No. 44 — defensive end Daniel Hardy — stood out as someone to account for.
"He's one guy I said, 'I'm not going to lose this game because of you,'" Barnum said. "I know they had other good guys. (Linebacker Troy Andersen) had been there forever. That guy from the front, I said, 'You're an issue. I've got to take care of you.'"
Hardy finished with seven total tackles, including 1 1/2 sacks and 3 1/2 tackles for loss, but wasn't the reason the Vikings lost the game, Barnum said. Instead, he pointed to the turnover margin and All-American running back Isaiah Ifanse.
More specifically, he remembers then-freshman cornerback Simeon Woodard's interception in the second quarter and Ifanse rushing for 217 yards. Barnum said he was initially upset about how MSU "out-toughed" his team, but then rooted for the Bobcats' success later in the season. He added that he even spoke with Vigen before the title game.
"I wanted the Big Sky to win," Barnum said. "I want the Big Sky to win so we keep getting five (teams into the playoffs), maybe six."
Weber State provided a similar road test just two games later, with MSU coming out on top 13-7 on Oct. 15. WSU head coach Jay Hill said the turnover margin was the difference maker, with the Wildcats fumbling three times, losing two of them.
Hill added that a slugfest like that is indicative of the competition level of the Big Sky, which he said is a conference that's good "top to bottom." Looking at Vigen and MSU, Hill said it's massive for a Big Sky coach to make a run to the national title game — in his first year or deep into his tenure.
"I've been here now eight seasons, won four Big Sky championships and we've never done that," Hill said. "That's still the bar, and to do it in your first year was a huge accomplishment."
Two other Big Sky coaches with successful FCS playoff runs under their belts are Best and Montana head coach Bobby Hauck. Notably, Best was an assistant on EWU's 2010 title-winning team and head coach when the Eagles made the 2018 title game, while Hauck has taken the Grizzlies to three title games (2004, 2008, 2009).
Best, who's been at EWU as a player or coach for 26 years, repeatedly used the word "different" when describing the current level of competition within the Big Sky.
"And a lot of the credit goes to these coaches and these players to make their teams year in and year out better, which if individually you're better, collectively we're better," Best said.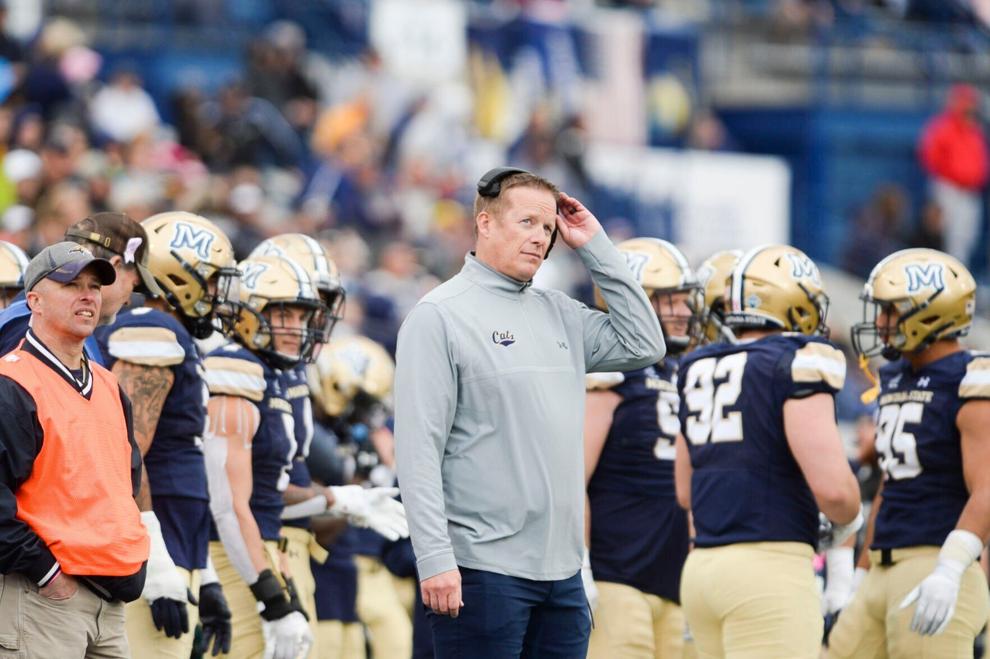 Vigen added to that in his first season, Best said, especially in last season's matchup between EWU and MSU, where the Bobcats came away with a 23-20 victory in November in Cheney, Washington. Best joked about Vigen's first impressions — "He's a lot more laid back on the sidelines than I am" — but emphasized how the Bobcats executed throughout the regular season and playoffs by running the ball and utilizing then-freshman quarterback Tommy Mellott.
"You got a guy that didn't start a game in the regular season and ended up taking that team to the national championship game," Best said. "That's awesome."
The praise extended to the "salty defense" MSU played last season.
"Their defense was extraordinarily good last year with a lot of guys that are going to make a lot of plays," Best said. "So we're excited to not see a few of those guys this year when they come to Cheney."
Meanwhile, Hauck was the lone Big Sky coach to get a win over Vigen in his first season. The Grizzlies defeated the Bobcats 29-10 in the regular season finale — UM's first win in the Brawl of the Wild series since 2015.
Hauck asked to be reminded of the score at the Big Sky Football Kickoff — "we had some games that were closer than that one (last season)" — but quickly shifted to praising Vigen, who "does things right."
"Certainly we're glad to get away from him in that game and get the best of them," Hauck said. "But coach Vigen does a great job. And to top it off, he's a good man."
There is a similar sentiment shared within the Bobcats' program. MSU offensive coordinator Taylor Housewright said he's been especially impressed by Vigen's work/life balance during the season.
"It's football — you've got to win or you don't have a job in some aspect. But we sign up for it," Housewright said. "But to see him be such a good family man on top of that, with all those things, was pretty unique. As a young guy who doesn't have kids and a family, that's pretty awesome to see."
Housewright added that he was also surprised by how much input Vigen took from his assistant coaches.
"Sometimes I think he's listening to me like, 'Why are you listening to me? You have way more experience than I do.' But he does," Housewright said. "He takes everybody's angle and makes the most logical decision."
Thanks to that approach, this past offseason was one of major growth for the Bobcats. Mellott said he has a better grasp of the offensive playbook in year two of Vigen's system. There was a greater attention to making both the offensive and defensive lines stronger after facing NDSU in the national title game. Vigen said some of the "unseen benefits" from a deep playoff run also included getting younger players more involved in the weight room in December and January.
Vigen — the quickest head coach to 14 wins in MSU history — and the 2022 Bobcats still have championship aspirations and are off to a 2-1 start this season. He said at the Big Sky Football Kickoff that MSU should expect everyone's "best shot" this season and be able to return the favor.
To do so, it'll start with the consistent approach — and high expectations — Vigen has brought to the job since day one.
"He's motivated and he wants to keep winning," Housewright said. "It's just one day at a time. He does the same thing every day."
Braden Shaw can be reached at bshaw@chronicle.com or 406-582-2690. Follow him on Twitter @ByBradenShaw