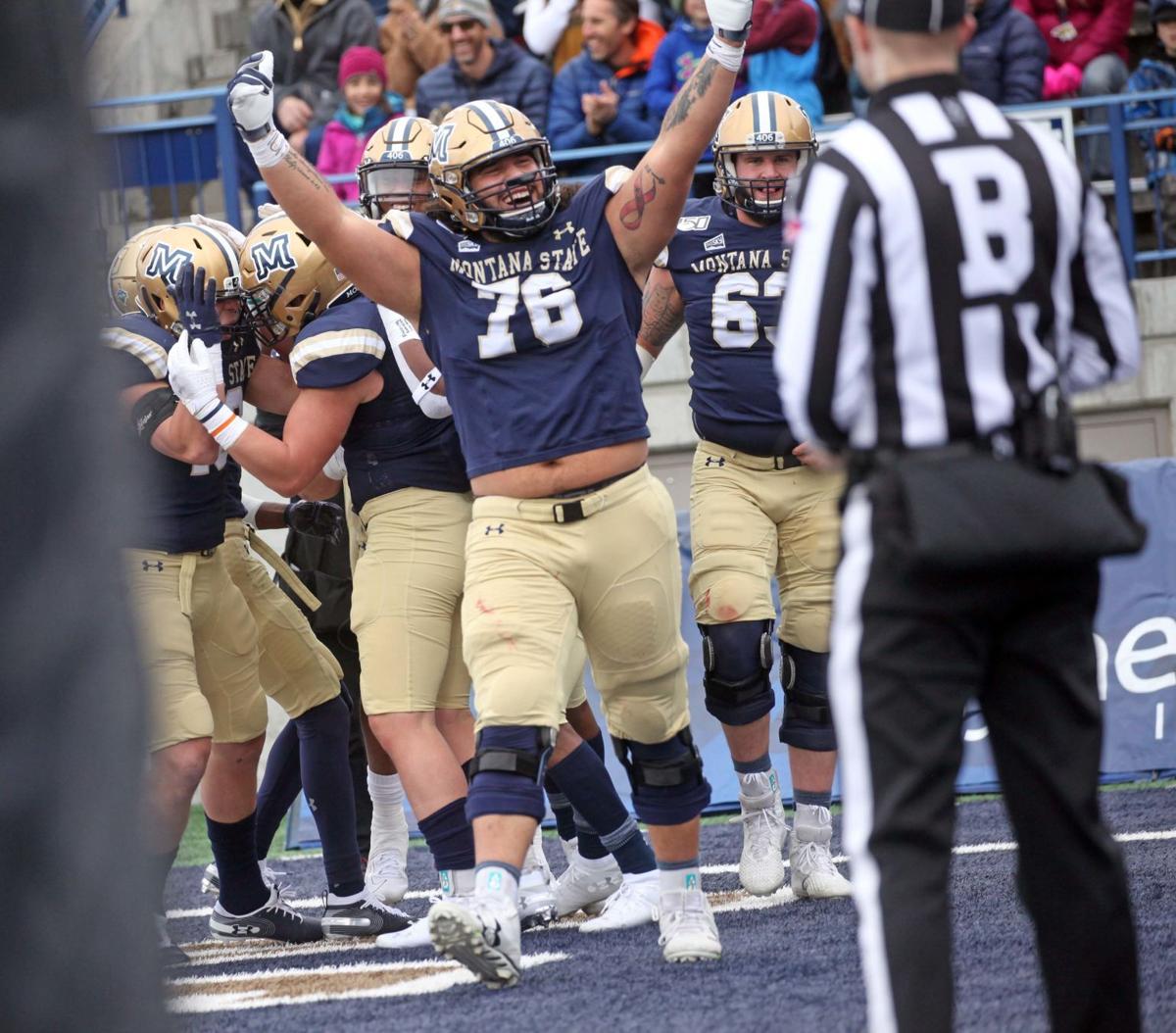 BILLINGS — During the Big Sky Conference's virtual media days, Montana State coach Jeff Choate and offensive lineman Lewis Kidd discussed the Bobcats' propensity for subduing opponents with a relentless rushing attack.
That offensive DNA isn't lost on pundits and observers of the league, who on Friday tabbed Kidd and fellow MSU guard Taylor Tuiasosopo for selection to the Big Sky's 2020 preseason all-conference football team.
Kidd was one of just three unanimous selections, joining Weber State offensive lineman Ty Whitworth and Portland State defensive back Anthony Adams.
Though the coronavirus pandemic continues to threaten the fall season, the Big Sky released its 33-man all-conference team to spotlight the accomplishments of its players.
In recent years, the Bobcats have more often than not had to manufacture explosive plays in the running game without a consistent downfield passing game. But it's hardly mattered, as MSU, led by its offensive line, has been among the top rushing teams in the Big Sky during Choate's tenure as coach.
Six separate Montana State players rushed for 100 yards in at least one game in 2019.
"We've had a really interesting go of things here," Choate said during a pre-recorded interview that aired on PlutoTV on Thursday. "But one of the things I think we've done a really good job of as a staff is finding a way to get our playmakers their touches. If we can do that through the air, great, but generally for us it's been getting creative in the run game."
It starts up front, and Kidd and Tuiasosopo are the anchors of MSU's line.
Kidd, a 6-foot-6, 312-pound right guard from Minneapolis, Minnesota, started all 15 games for MSU last season, helping the Bobcats lead the Big Sky with 258.1 rushing yards per game while using an array of sets and formations.
He was a second-team All-Big Sky pick in 2019 as MSU won 11 games and made a run to the semifinal round of the FCS playoffs.
"We take a lot of pride in that. Everyone knows we like to run the ball," Kidd said during Friday's PlutoTV broadcast. "As an offensive lineman that's just an awesome thing to do. It's a lot of fun. When you get your run game going it just kind of opens up the rest of your offense. I think it's been a vital role in our success."
Of Kidd, Choate said: "Lewis is a great-big kid who's got a ton of physical tools. He's got all the measurables. Very bright. Was elected as a team captain. He's stepped really seamlessly into the role that Mitch Brott had for us a year ago as kind of the alpha in the room."
Tuiasosopo, a 6-4, 316-pound left guard from Lancaster, California, started 12 games and took home third-team All-Big Sky honors at the end of last season.
Montana State also allowed the fewest quarterback sacks in the league in 2019 (14).
On Thursday, the Bobcats were ranked No. 3 in both preseason polls selected by Big Sky coaches and media.
Eastern Washington senior quarterback Eric Barriere was named the league's preseason offensive MVP. Montana linebacker Jace Lewis, a senior from Townsend, was picked as its defensive MVP.
Lewis was credited with 131 tackles and 4 1/2 sacks last season while playing alongside 2019 Buck Buchanan Award winner Dante Olson.
Barriere threw for 3,712 yards with 31 touchdowns and just four interceptions last year.
Montana put six players on the preseason team: Lewis, receivers Samori Toure and Samuel Akem, offensive lineman Conlan Beaver, defensive back Robby Hauck and kickoff returner Malik Flowers.
Weber State, ranked No. 1 by both the coaches and media, have eight players on the preseason team, the most in the league. Aside from Whitworth, the other Wildcats to make the list are running back Josh Davis, fullback Clay Moss, offensive lineman Ben Bos, defensive linemen Jared Scheiss and George Tarlas, defensive back Eddie Heckard and punt returner Rashid Shaheed.
Other members of the offense include running back Elijah Dotson, receiver Pierre Williams, tight end Marshel Martin and all-purpose player B.J. Perkinson, all from Sacramento State.
Eastern Washington offensive lineman Tristen Taylor and Northern Arizona placekicker Luis Aguilar were also included.
On defense, Sac State's Josiah Erickson and UC Davis' Bryce Rodgers rounded out the all-conference defensive line. Two Idaho linebackers are included: Christian Elliss and Tre Walker. UC Davis' Nick Eaton is also among the linebacker group.
Sac State's Daron Bland and UC Davis' Devon King are help make up the defensive backs. NAU punter D.J. Arnson and Portland State specialist Emmanuel Daigbe were also selected.
The all-conference team was voted on by select media members as well as at-large representatives.
The 2020 Big Sky football season remains in flux due to COVID-19, but a decision on a plan forward is expected by the end of this month.
Be the first to know
Get local news delivered to your inbox!