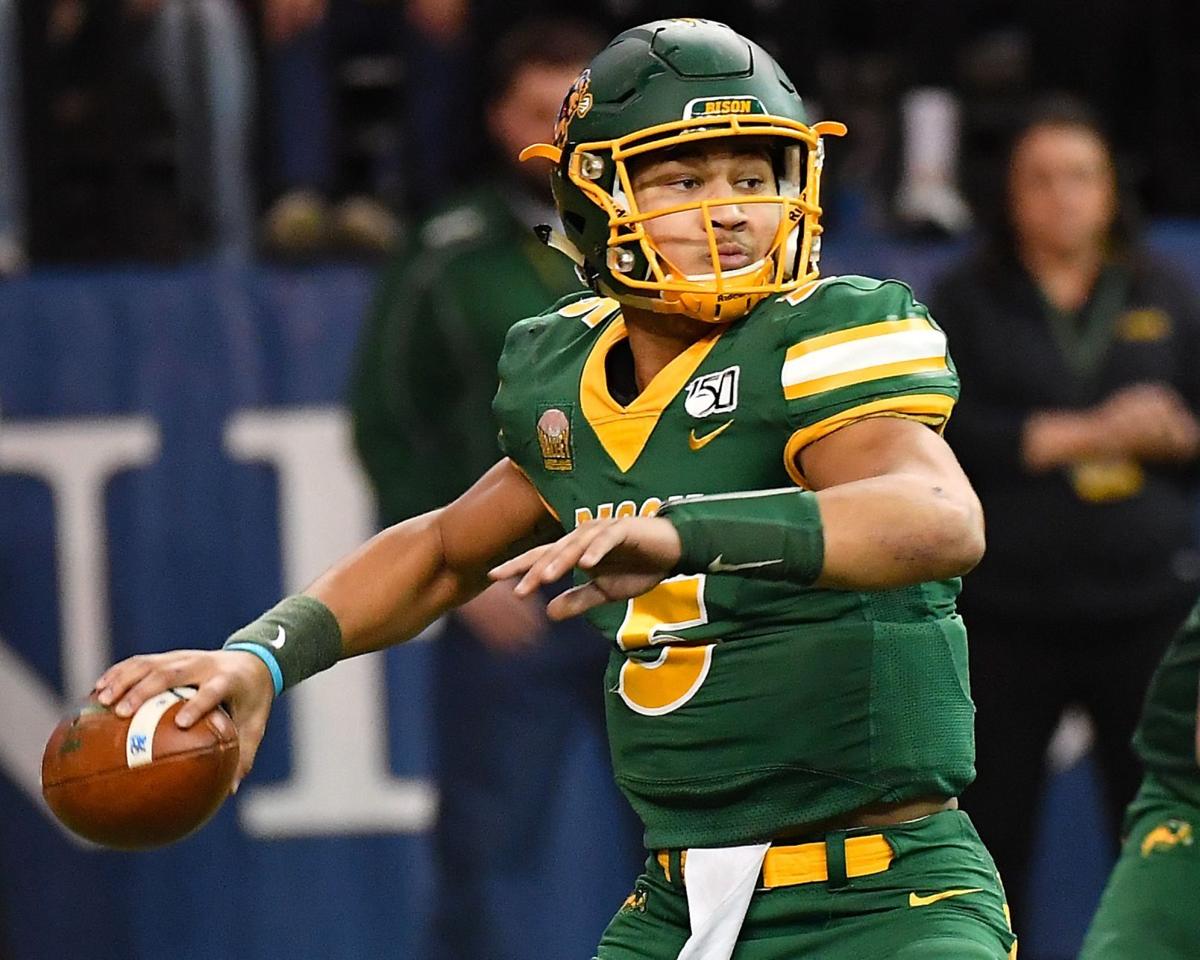 MISSOULA — North Dakota State quarterback Trey Lance declared for the NFL Draft on Tuesday, an announcement that was widely expected and could make the FCS playoffs this spring more open for other teams around the country, including Montana and Montana State, if a spring season is played.
Lance is a 6-foot-4, 228-pound dual-threat quarterback who is projected to be a first-round pick this spring. He became the first freshman to win the Walter Payton Award as the best offensive player in the FCS and led North Dakota State on an undefeated run to the 2019 FCS national championship in his redshirt freshman season.
With him, the Bison were positioned to be a heavy favorite to repeat again this year or in 2021 if he returned, being selected as a unanimous No. 1 ranking in the 2020 Stats Perform FCS Top 25 preseason poll.
"I wanted nothing more than to battle with my brothers this fall and bring home another national championship to North Dakota State, but I'm thankful for the one opportunity that we had as a team in 2020," Lance wrote on Twitter, thanking his current and former coaches, teammates, fans, family and faith.
He concluded: "After an amazing experience here at North Dakota State University, it is time for me to begin my next chapter. I am extremely excited to announce that I will be taking the next step in chasing my dreams and will be declaring for the 2021 NFL Draft."
Even without Lance, NDSU might still be the preseason pick to win the national title in the spring if the championship is indeed played May 15. But his departure, as well as linebacker Jabril Cox previously leaving for LSU, leads to a more intriguing possibility for a spring champion other than NDSU, which has won eight of the past nine national crowns under three head coaches.
NDSU's projected starting quarterback to replace Lance is 2019 backup Zeb Noland, a 6-foot-2, 217-pound senior from Watkinsville, Georgia. He transferred to NDSU in the spring of 2019 after three seasons at Iowa State, where he played in nine games, completing 106 of 176 passes for 1,255 yards and six touchdowns.
Montana and Montana State haven't been able to topple the Bison since the Griz shocked No. 1 NDSU in the 2015 opener, the first game under then-Griz coach Bob Stitt. The Griz lost a postseason rematch that year against the Bison, who have gone 71-4 since losing 38-35 in Missoula Aug. 29, 2015.
Montana State, tabbed sixth in the preseason poll, played NDSU in the 2018 quarterfinals and 2019 semifinals, losing the former 52-10 and the latter 42-14, showing there was still a big gap between the two programs.
Montana, picked seventh in the preseason poll, hasn't played the Bison since Bobby Hauck returned as the Grizzlies' head coach ahead of the 2018 season. Hauck made known his intention of wanting to play NDSU in the playoffs when the Griz returned to the postseason last year for the first time since 2015.
#GrizFB | Montana coach Bobby Hauck was asked about not being on the same side of the bracket as No. 1 North Dakota State. He said, "I'd rather we were in it." He was later asked to follow up: pic.twitter.com/M2kJbaK2Zg

— Frank Gogola (@FrankGogola) November 24, 2019
Lance, who turns 21 in May, closes his college career with a 17-0 record, throwing for 30 touchdowns and one interception while running for 18 scores. His streak of 307 passes without being picked off came to a close Saturday in a 39-28 win over Central Arkansas in NDSU's lone fall game, a showcase for Lance, who will prepare for the NFL Draft instead of playing in the spring.
He's considered to be among the top tier of quarterbacks in the 2021 draft along with Clemson's Trevor Lawrence and Ohio State's Justin Fields. The 2021 draft is scheduled for April 29-May 1 in Cleveland.
Frank Gogola covers Griz football and prep sports for the Missoulian. Follow him on Twitter @FrankGogola or email him at frank.gogola@missoulian.com.
Be the first to know
Get local news delivered to your inbox!