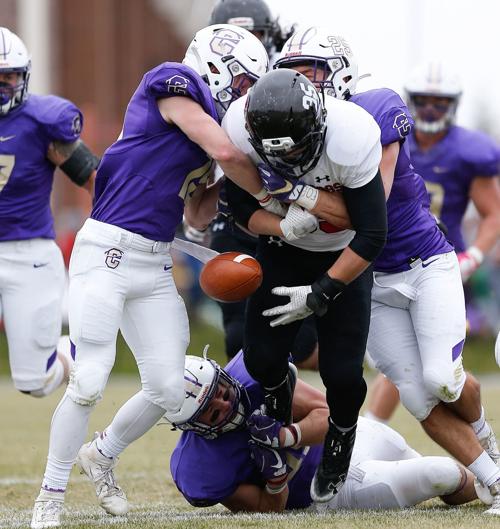 Around the Big Sky ...
• At Greeley, Colo., Troy Andersen threw for a touchdown and ran for another, Callahan O'Reilly had a 73-yard touchdown run and No. 12 Montana State pounded Northern Colorado 45-14. O'Reilly's burst up the middle early in the third quarter, his only carry of the game, to put an exclamation mark on the Bobcats' running game, which piled up 452 yards. Three quarterbacks combined to go 14 of 21 for 113 yards for Montana State (7-3, 4-2). Northern Colorado (2-7, 2-3) tied the game at 7 on a 10-yard interception return by Brooks Talkington late in the first quarter but the Bobcats scored the next 42 points.
• At Missoula, senior quarterback Dalton Sneed came off the bench and threw for 241 yards and a touchdown to push No. 6 Montana past Idaho 42-17. Sophomore Marcus Knight added three short touchdown runs as Montana *9-2, 5-1) once again rallied. Sneed, out since an ankle injury suffered at Sacramento State on Oct. 19, relieved starter Cam Humphrey in the second quarter with Idaho ahead 10-0. He led two touchdown drives in both the second and third quarters as the Grizzlies took command.
• At Flagstaff, Ariz., Pierre Williams recovered an onside kick that led to his to his game-winning touchdown reception with 23 seconds left -- the second score in the final 1:38 -- and No. 8 Sacramento State beat Northern Arizona 38-34. Jake Dunniway threw a 30-yard touchdown pass to Isaiah Gable before Devon Medeiros booted an onside kick over NAU's front line of defenders that Williams was able to snare at the Hornets 49-yard line. Five plays later Dunniway found Williams alone on the left side and he dove onto the pylon. The Lumberjacks (4-6, 2-4 Big Sky) used a 73-yard pass play from Case Cookus to Stacy Chukwumezie, a 54-yard field goal by Luis Aguilar and Joe Logan's 63-yard run in the final quarter to take a 34-24 lead. 
• At Ogden, Utah, Jake Constantine scored on a 12-yard keeper with 2:49 left, Trey Tuttle kicked a 32-yarder with 31 seconds left, and No. 3 Weber State rallied to beat North Dakota 30-27 for its seventh straight win. Constantine's 12-yard TD run tied it at 27, capping an eight-play, 75-yard drive for the Wildcats (8-2, 6-0 Big Sky). The Fighting Hawks' Brock Boltmann fumbled the ensuing kickoff return, and Weber State's Aaron Sessions recovered at the North Dakota 7. An unsportsmanlike conduct penalty pushed the Wildcats back to the 22. The Fighting Hawks (5-4) scored 13 straight points to lead 27-20 on Brady Leach's 34-yard field goal with 7:01 left in the game.
• At Pocatello, Idaho, Eric Barriere threw three touchdown passes and Eastern Washington came alive in the third quarter with a pair of 80-yard touchdowns to roll to a 48-5 win over Idaho State. After a sluggish first half when the Eagles had to settle for three field goals and a touchdown on a fake field goal in four trips into the red zone, they flipped the script by staying out of the red zone. Antoine Custer started the rout for the Eagles (5-5, 4-2), with an 89-yard touchdown run, the longest of his career, on the second snap of the second half.
• At Portland, Ore., Jake Maier threw four touchdown passes, Ulonzo Gilliam Jr. had a career-best 242 yards rushing and two TDs, and UC Davis beat Portland State 45-28. Maier was 27-of-38 passing for 383 yards with one interception and Gilliam had a career-high 29 carries. Freshman Lance Babb II had 10 receptions for 168 yards and three touchdowns -- all season highs -- and Khris Vaughn added five catches for 121 yards and a score for UC Davis (5-5, 3-3).
Around the Frontier ...
• At Helena, Devan Bridgewater was 12-for-20 passing for 224 yards and three touchdowns, including a 63-yarder to Shane Snipes, as Carroll College secured its first winning season in five years with a 30-19 upset of No. 17 Montana Tech. Bridgewater also connected with Matthew Burgess and Sam Stratton as the Saints scored 14 fourth-quarter points to rally past the Orediggers. Jet Campbell threw for 293 yards and a TD for Montana Tech. 
• At Caldwell, Idaho, Nick Calzaretta rushed for 82 yards and two touchdowns, Justin Hellyer ran for 97 yards and another score, and the College of Idaho scored 31 unanswered points to rally past Montana Western 38-27 and remain unbeaten (9-0). Montana Western led 20-7 on a 24-yard field goal with 3:11 to play in the first half, but the Yotes answered with a field goal of their own and poured it on with 21 third-quarter points. Hellyer's 69-yard run with 2:14 to play put CofI up 38-20. Jon Jund was 21-for-34 passing for 306 yards and a TD for the Bulldogs. 
• At Billings, Victor Dias had a 1-yard run with 8:10 to play to put Eastern Oregon ahead and Jaiden Machura's 36-yard field goal less than three minutes later sealed the Mounties' 27-17 win over Rocky Mountain College in the season finale for both teams. Lucas Overton's 22-yard pass from Kamden Brown with 1:34 to play in the third quarter had given the Battlin' Bears a 17-16 lead. It was Brown's second TD pass of the day. 
• At Havre, Montana State-Northern provided its sternest test of the season with a second-half rally but it wasn't enough as Southern Oregon came away with a 27-19 win to close the regular season. The Lights trailed 27-7 in the third quarter before scoring twice, first on a 70-yard pass from Brenden Medina to Jake Horner and then on a 1-yard run by Cameron Taylor, with still 9:27 to go. 
How AP Top 25 fared
1. LSU (9-0) beat No. 3 Alabama, 46-41
2. Alabama (8-1) lost to No. 2 LSU, 46-41
3. Ohio State (9-0) beat Maryland, 73-14
4. Clemson (10-0) b eatNorth Carolina State, 55-10 
5. Penn State (8-1) lost to No. 17 Minnesota, 36-31
6. Georgia (7-2) beat Missouri, 27-0
9. Oklahoma (9-1) beat Iowa State, 42-41
10. Florida (7-2) beat Vanderbilt, 56-0
11. Baylor (9-0) beat TCU, 29-23 (3OT)
13. Minnesota (8-0) beat East Carolina, 46-43
15. Notre Dame (7-2) beat Duke, 38-7
16. Wisconsin (6-2) beat No. 18 Iowa, 24-22 
17. Cincinnati (8-1) beat UConn, 48-3
18. Iowa (6-3) lost to No. 16 Wisconsin, 24-22 
20. Kansas State (7-3) lost to Texas, 27-24
21. Boise State (6-1) vs. Wyoming, late
22. Wake Forest (7-2) lost to Virginia Tech, 36-17
23. SMU (8-1) beat East Carolina, 59-51
24. San Diego State (7-1), idle
How STATS FCS Top 25 fared
1. North Dakota State (10-0) beat Western Illinois, 57-21
2. James Madison (8-1), idle
3. Weber State (8-2) beat No. 22 North Dakota, 30-27
4. South Dakota State (7-3) lost to No. 11 Illinois State, 27-18
5. Northern Iowa (7-3) beat Indiana State, 17-9
6. Montana (8-2) beat Idaho, 42-17
7. Central Arkansas (7-3) lost to SE Louisiana, 34-0
8. Sacramento State (7-3) beat Northern Arizona, 38-34
9. Furman (7-3) beat VMI, 60-21
10. Princeton (8-1) lost to No. 13 Dartmouth, 27-10
11. Illinois State (7-3) beat No. 4 South Dakota State, 28-17
12. Montana State (7-3) beat Northern Colorado, 45-14
13. Dartmouth (8-0) beat No. 10 Princeton, 27-10
14. North Carolina A&T (6-3) lost to Morgan State, 22-16
15. Kennesaw State (8-2) beat Campbell, 38-35
16. Florida A&M (8-1), idle
17. SE Missouri State (7-3) beat Eastern Kentucky, 38-31
18. Villanova (7-3) beat Richmond, 35-28
19. Monmouth (8-2) beat North Alabama, 49-38
20. Central Connecticut State (8-1) beat St. Francis (Pa.), 38-31 (OT)
21. Towson (6-4) beat Stony Brook, 31-14
22. North Dakota (5-3) lost to No. 3 Weber State, 30-27
23. New Hampshire (5-3), idle 
24. Wofford (6-3) beat Mercer, 41-7
25. Nicholls (6-4) beat Houston Baptist, 48-27