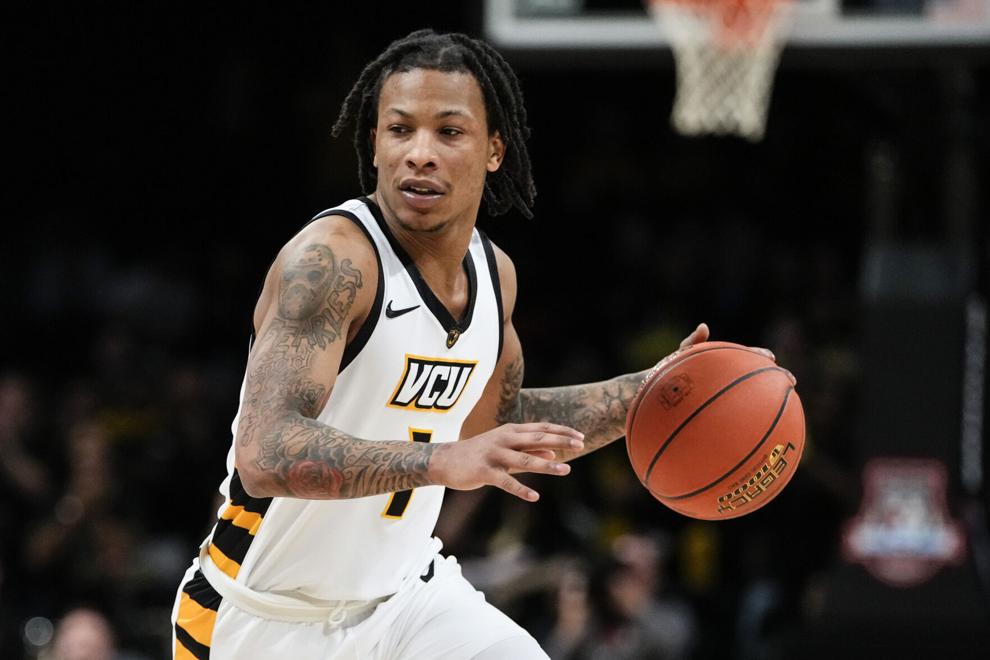 The second half of the 64-team NCAA Tournament field will tip off their first-round games Friday, as March Madness continues across the country.
FrontPageBets takes a look at three best-bet games to watch on this St. Patrick's Day.
(All odds courtesy of DraftKings and are subject to change)
No. 5 Saint Mary's vs. No. 12 VCU; West Region
When: 2 p.m., Friday; Albany, N.Y.
Spread: Saint Mary's -4 (-110) vs. VCU +4 (-110)
Money line: Saint Mary's -190; VCU +160
Tale of the tape: Saint Mary's (26-7) was the co-West Coast Conference regular-season champion, sharing the title with Gonzaga before losing to the Zags in the tournament championship game. The Gales are one of the nation's top defensive teams, allowing just 60.1 points per game (5th in Division I), sporting one of the top defensive players in the country, Logan Johnson, who was named the WCC Defensive Player of the Year. Johnson also averages 14.7 points per game. Saint Mary's has won 17 of its past 20 games. … VCU (27-7) is making its 13th NCAA Tournament appearance in the last 19 years after winning the Atlantic 10 tournament championship. The Rams, who haven't won a tournament game since 2016, enter as winners of nine in a row, with their last three wins coming by 12 or more points. Junior guard Ace Baldwin, the A-10 Player of the Year, leads VCU with 12.7 points and 5.9 assists per game. This is just the second time these two programs have faced each other, with Saint Mary's winning 86-77 in the 2017 NCAA Tournament in Salt Lake City, Utah.
No. 6 Creighton vs. No. 11 N.C. State; South Region
When: 4 p.m., Friday; Denver, Colo.
Spread: Creighton -5.5 (-110); N.C. State +5.5 (-110)
Money line: Creighton -225; N.C. State +190
Tale of the tape: Creighton (21-12) is making its third consecutive NCAA Tournament appearance after finishing third in the Big East. Twelve of the Bluejays' last 15 wins have come by double digits. Creighton is led by two-time Big East Defensive Player of the Year center Ryan Kalkbrenner, who is averaging 15.4 points per game and holds the best field-goal percentage in the nation at 71.4%. … N.C. State (23-10) is back in the Big Dance for the first time in four years after finishing sixth in the ACC. The Wolfpack are averaging 78.9 points per game and is led by star guards Terquavion Smith and Jarkel Joiner, who are averaging 17.5 and 17.1 points per game, respectively.
The pick: N.C. State, 80-77
No. 8 Memphis vs. No. 9 Florida Atlantic; East Region
When: 9:20 p.m., Friday; Columbus, Ohio
Spread: Memphis -2 (-110); Florida Atlantic +2 (-110)
Money line: Memphis -135; Florida Atlantic +115
Tale of the tape: Memphis (26-8) is in the NCAAs for the second consecutive year under head coach Penny Hardaway, winning the American Athletic Conference tournament championship game by beating No. 1 Houston, 75-65. The Tigers are 26th in the nation in scoring, averaging 79.9 points per game. Senior guard Kendric Davis, who is 10th in the nation in scoring at 21.8 points per game, leads Memphis along with 17.9 point per game from fifth-year senior forward DeAndre Williams. … Florida Atlantic (31-3), winners of the Conference USA championship, is making just its second NCAA Tournament appearance in school history. The Owls have one of the best records of any team in the Big Dance. A pair of sophomore guards lead FAU with Johnell Davis averaging 13.5 points per game and Alijah Martin chipping in 13.2. Martin scored 30 points and grabbed 11 rebounds in the C-USA title game to win tournament MVP.
---
Mike Szvetitz is the General Manager and Content Director for FrontPageBets.com. Szvetitz is a 23-year veteran reporter and editor, including serving 17 years as a sports editor in Florida, Alabama and Virginia, covering everything from preps to pros. His "View From The Lazy Boy" column won multiple state and national awards. He can be reached at mszvetitz@timesdispatch.com.