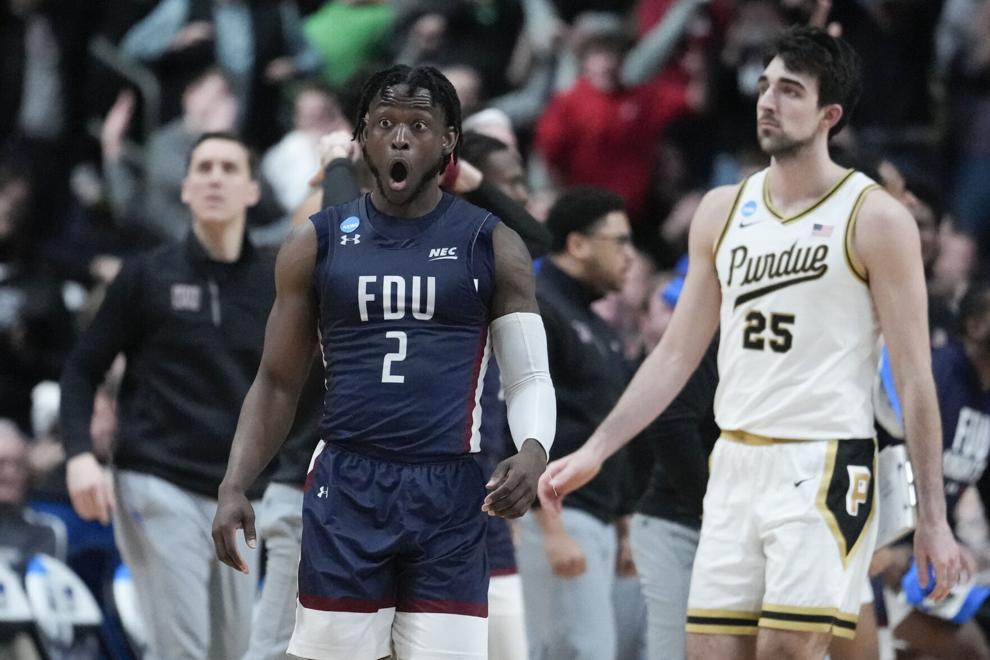 The start of the 2023 NCAA Tournament has been as wild as we've ever seen.
If you thought Thursday's first round was crazy, Friday said, "hold my beer."
Five years ago, UMBC was the first team to knock off a top seed when it dropped Virginia in the opening round of the 2018 tournament, making history.
This year's upset, however, was even more incredible and should go down in history as the most improbable, because Fairleigh Dickinson didn't even win its conference tournament.
The Knights lost to Merrimack in the Northeastern Conference tournament title game. But Merrimack is ineligible to participate in postseason play as it is still completing its four-year transition from Division II to Division I. So, FDU got the automatic conference qualifying bid.
And the rest was history … but not so fast.
Another reason why the Knights run was so historic is that before they beat Purdue – which boasts the top player in the country, 7-foot-4 Zach Edey – they had to win a First Four game in Dayton on Tuesday night against Texas Southern.
Before FDU's shocker, 16 seeds were 1-150 against No. 1 seeds. 
What else is in store for us as the NCAA Tournament's second round tips off Sunday afternoon? FrontPageBets takes a look at three games to keep an eye on.
(All odds courtesy of DraftKings and are subject to change)
No. 6 Kentucky vs. No. 3 Kansas State; East Region
When: 2:40 p.m., Sunday; Greensboro, N.C.
Spread: Kentucky -1.5 (-110); Kansas State +1.5(-110)
Money line: Kentucky -120; Kansas State +100
Road to the 2nd Round: Kentucky (22-11) showed why it could be one of the most dangerous teams in the NCAA Tournament, beating Providence, 61-53, on Friday night in the first round. Guard Antonio Reeves scored a game-high 22 points, while forward Oscar Tshiebwe added 8 points and an eye-popping 25 rebounds, including 11 on the offensive glass. Tshiebwe also added three steals and two blocks to his scorecard. The All-American forward leads Kentucky with 16.5 points and 13.1 rebounds per game. … Kansas State (24-9) shot the ball extremely well in its 77-65 win over 14th-seeded Montana State on Friday night, making 58.2% of its shots from the field. Guard Markquis Nowell lit up the stat sheet, scoring 17 points, while dishing out a career-high 14 assists. Nowell also added six rebounds and three steals. Keyontae Johnson scored 18 points for the Wildcats.
The pick: Kentucky, 73-71
No. 7 Michigan State vs. No. 2 Marquette; East Region
When: 5:15 p.m., Sunday; Columbus, Ohio
Spread: Marquette -3 (-110); Michigan State +3 (-110)
Money line: Marquette -145; Michigan State +125
Road to the 2nd Round: Marquette (29-6) won its 10th consecutive game and first of the NCAA Tournament, beating 15th-seeded Vermont, 78-61, on Friday night. Kam Jones led the way for the hot-shooting Golden Eagles, scoring 19 points – 18 of which came in the second half. Marquette shot 51.8% for the night, including 50% from behind the 3-point line (10 of 20). It was the Golden Eagles' first win in the Big Dance in 10 years. … Michigan State (20-12) advanced to the second round by beating 10th-seeded USC, 72-62, on Friday. Joey Hauser led the way for MSU with 17 points and 8 rebounds. This is the 25th consecutive year the Spartans have made it to the NCAA Tournament under head coach Tom Izzo, who has won 54 of his 77 games in the Big Dance, including making eight Final Fours. Michigan State's path to go that far this year got a little easier with No. 1 Purdue losing Friday night. First, Sparty has to get through Marquette.
The pick: Marquette, 66-63
No. 16 Fairleigh Dickinson vs. No. 9 Florida Atlantic; East Region
When: 7:45 p.m., Sunday; Columbus, Ohio
Spread: Florida Atlantic -12.5 (-110); FDU +12.5 (-110)
Money line: Florida Atlantic -700; FDU +510
Road to the 2nd Round: Raise your hand if you had this matchup on your bracket. Florida Atlantic (32-3) won its first-ever NCAA Tournament game Friday night, beating No. 8 Memphis, 66-65 on a basket by Nick Boyd with 2.5 seconds left. Giancarlo Rosado led the way for the Owls with 15 points, going 6-for-6 from the field. Three other FAU players scored double figures, while Boyd chipped in with 8 points. … Fairleigh Dickinson (21-15) won its first Round of 64 NCAA Tournament game by upsetting No. 1 Purdue, 63-58, on Friday night. The Knights did it with a swarming defense that kept the Boilermakers and consensus player of the year Edey scoreless for more than 5½ minutes in the second half. Guard Sean Moore led FDU with a career-high 19 points, while Demetre Roberts added 12.
The pick: Florida Atlantic, 75-60
---
Mike Szvetitz is the General Manager and Content Director for FrontPageBets.com. Szvetitz is a 23-year veteran reporter and editor, including serving 17 years as a sports editor in Florida, Alabama and Virginia, covering everything from preps to pros. His "View From The Lazy Boy" column won multiple state and national awards. He can be reached at mszvetitz@timesdispatch.com.