BILLINGS — Thatcher Szalay wears his "Grizzly Warrior Spirit" necklace with pride, but he doesn't get many chances to show it off. Saturday's fourth annual Montana Football Hall of Fame induction ceremony and banquet gave him a good excuse to don the "Spirit."
Szalay was one of 11 people inducted into the 2019 MTFHOF class. Though many of their backgrounds are diverse, the inductees and their families and friends relished the chance to celebrate the various good ol' days of Montana football.
"It's still sinking in," Szalay said a couple hours before the banquet. "To be 40 years old and be inducted into this legacy of gentlemen, it's a dream come true."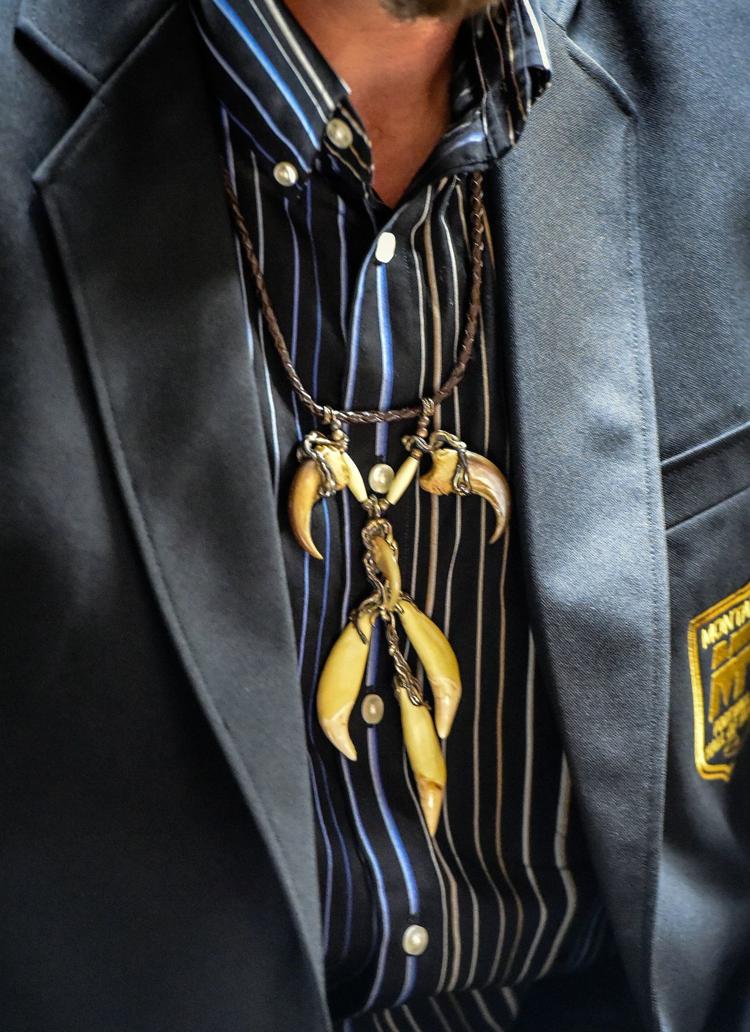 Szalay was coy about the contents of his necklace. A pair of curved claws grace the top part, a smaller one sits in the middle and three more claws (Or maybe teeth? Horns?) hang from the bottom.
Szalay's parents made the "Spirit" for him while he played on the offensive line for the Montana Grizzlies in the late 1990s and early 2000s (he was part of the 2001 NCAA Division I-AA national championship team). A bear, mountain lion and hippo contributed to the makeup of the claws/horns, Szalay said.
"Some of them were harvested. Obviously not the hippo," he said. "They're bear claws. We'll just leave it at that."
Szalay wore the necklace every game day when he attended Montana and played in the NFL for the Cincinnati Bengals, Baltimore Ravens and Seattle Seahawks. More than a decade removed from the game, he was honored for his standout career. Not quite a game day, but close enough, he figured.
The banquet contained at least one element of a football game. After 2016 MTFHOF inductee Tuff Harris (a Colstrip and Montana graduate) said grace, Kristi Ostlund sang the national anthem. Short videos were projected before each candidate was introduced, while the living candidates and family members of the deceased gave speeches.
The two legacy players were the late Milt Popovich (a Butte native who played for the Griz and Chicago Cardinals) and Ralph Scott (a Hardin native who went on to the University of Wisconsin and the Chicago Bears).
Ken Staniger (a Missoula-based player agent) and Sonny Lubick (a Butte native who coached at Montana State and Colorado State) were inducted in the support categories.
After Szalay, six former players were inducted: lineman Jon Borchardt, quarterback Paul Champlin, lineman Barry Darrow, lineman Scott Gragg, defensive back Mike McLeod and lineman Bob McCullough.
Darrow and Gragg (a Great Falls CMR grad) both attended Montana, while Borchardt and McLeod (a Bozeman native) attended MSU. McCullough went to Helena High and the University of Colorado. All five played in the NFL.
"To be recognized in a state outside of where I grew up speaks to the community that kind of adopted me here in Montana," said Gragg, an Oregon native.
Champlin is from Pittsburgh and attended Eastern Montana College, now Montana State Billings. He was one of the first black quarterbacks taken in the NFL draft when the San Francisco 49ers selected him in 1969.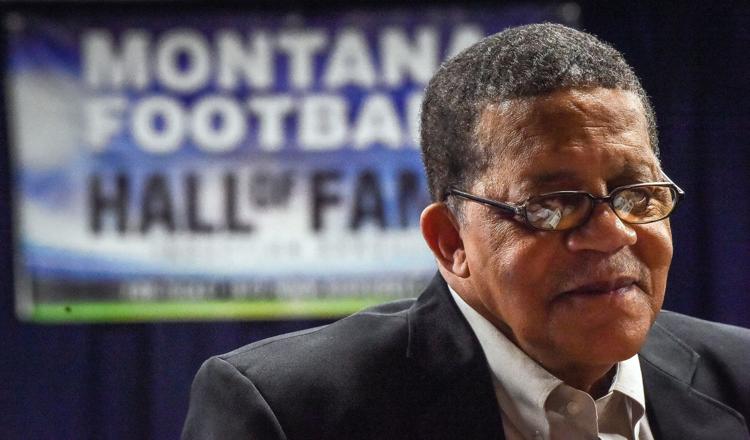 Champlin, Gragg and Borchardt (Minnesota) were the three inductees who aren't from Montana, and Champlin might have experienced the most culture shock. But he quickly adjusted, and he still has ties to the area. His son currently lives in Billings, and Champlin visits every year. Saturday's ceremony provided another opportunity to come back.
"For what I wanted, it was an ideal city," Champlin said. "I wanted something that was slow where I could concentrate and get where I wanted. My aim was to get an education and get at least an opportunity to play professional football, and I was able to do both of those."