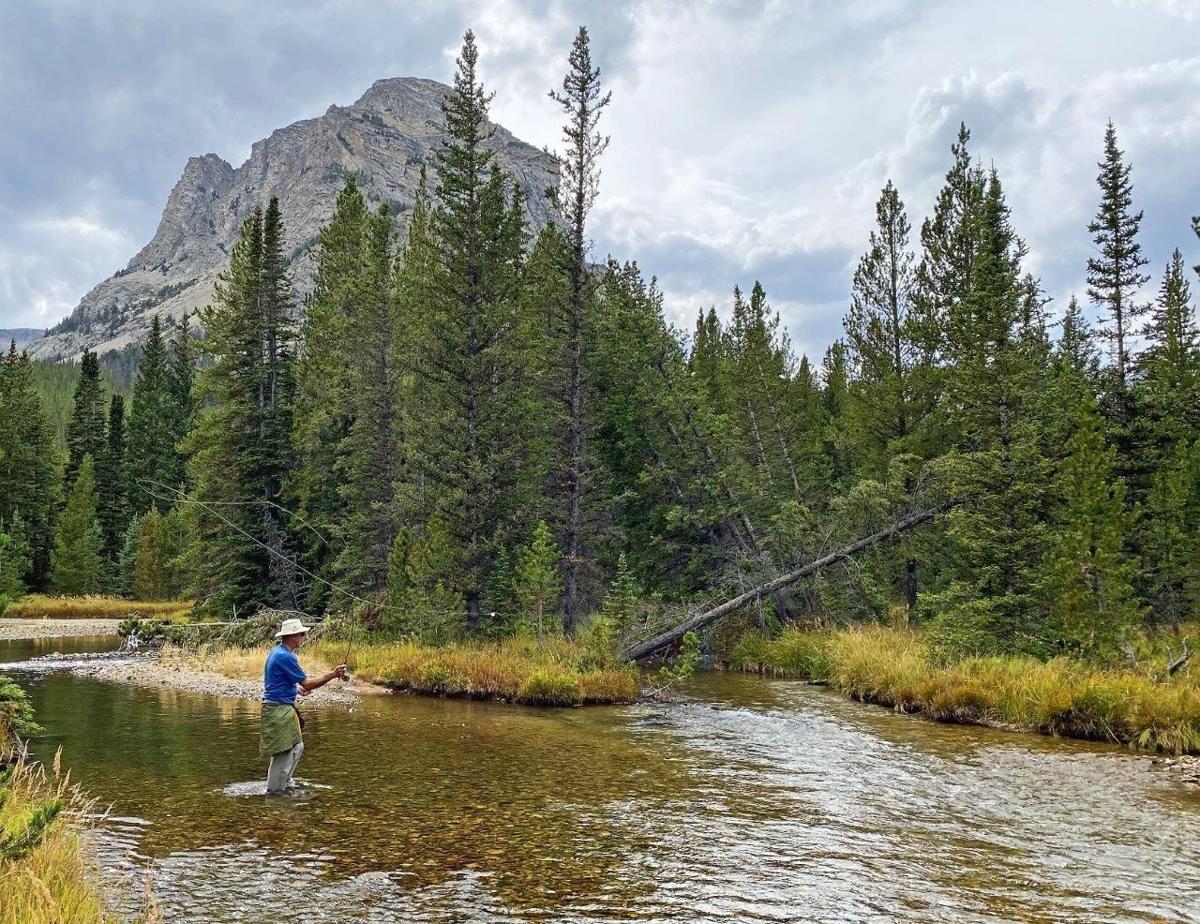 BILLINGS — Anglers who enjoy watching their fly float and experience the rush of seeing and feeling a trout take a Hopper still have the opportunity to do so as autumn approaches.
While that window is starting to close, other opportunities are emerging.
The Stillwater River is fishing well on nymphs and trout are chasing streamers on many rivers.
Bank anglers are again starting to catch trout at many reservoirs. If you've been busy and haven't been out this season, or you put your PowerBait and marshmallows away in the garage early in the spring, make sure to check to see if those baits are still good. A quick trip to the store beats sitting on the bank with hard or crumbling marshmallows or paste bait.
Here's The Gazette's weekly report:
Top picks
Hauser Reservoir — Rainbow fishing has been great. Trolling brown or yellow crankbaits or cowbells and Wedding Ring combos from Lakeside to the dam is producing good numbers and shore anglers are having success at the Causeway, Black Sandy, Riverside and York Bridge while using floating jigs with night crawlers, Woolly Buggers, PowerBait and Mepps. Walleye and perch action has slowed down, but a few are still being picked up in and around the Causeway Arm while pitching jigs/vertical jigging or trolling crawler harnesses near points or weed beds. — FWP, Helena.
Holter Reservoir — Trolling cowbells with spinner rigs or steamers between Black Beach and Split Rock is producing some nice trout. Walleye fishing has been slow, but good numbers of perch are being found while jigging from Log Gulch to Juniper Bay. Brown, chartreuse and white have been popular colors. — FWP, Helena.
Rock Creek (East) — Continues to fish well and the Hopper fishing on the upper stretches has really turned on. Don't be afraid to twitch your Hopper to get more strikes.  Drop a small beadhead nymph like a PT, Prince or Perdigon off the back to cover top water and sub-surface opportunities. Small streamers in the morning are getting chased and should only get better as the month progresses. Dries: Amy's Ant-purple, Crystal Stimulator-yellow (12), Dave's Callibaetis (14), Sparkle Dun (20), Purple Craze (14), Pink Pookie (8). Nymphs: Tungsten Copper John-chartreuse (14), Tungsten Jig Hare's Ear (16), JuJu Midge (18), MT Prince X-Mas (14), Trina's Bubble Back Emerger BWO (18), Holo-Point Perdigon (14). Streamers: Thin Mints, Grinches, Slump Buster Rust (6), Coffey's Sparkle Minnow Light-olive (6). — East Rosebud Fly Shop, Red Lodge.
Stillwater River — A nice option right now and is producing some very good action on nymphs. The pressure has really dropped off and the water temperatures are looking good. The river is low and best wade fished in most locations. Although smaller dries will still take trout, the nymphing bite has been very productive lately. Dries: Purple Haze (14), Dave's Parachute BWO (16), Blonde Wulffs (16). Nymphs: Lucent PT-purple (16), BH Holo Batman (14), Blooms Zirdle-purple (8), Half Back (8). Streamers: Coffey's Sparkle Minnow-smoke/purple (4), Craven's Dirty Hippie-rainbow (6), The Grinch (6), Thin Mint (8). — East Rosebud Fly Shop, Columbus.
Yellowstone River, Big Timber — Fishing fairly well. Fish are still looking for grasshoppers and stoneflies. Fish a Hopper with a Prince Nymph dropper, or a shallow nymph rig with a Rubberlegs and a smaller Pheasant Tail or Prince Nymph. Look for rusty and trico spinners early. — Sweetcast Angler, Big Timber.
Montana
Ackley Lake — Fishing is starting to pick up. More rainbows are starting to be caught, as well as a few tiger muskies. — Sport Center, Lewistown.
Beaverhead River — It's been a crazy, hot and tumultuous summer but it looks like fall weather might be here to stay. Sowbugs, Worms, streamers and other possibilities exist. — Frontier Anglers, Dillon.
Bighorn Lake, Ok-A-Beh — Smallmouth anglers could try a slower presentation with a Wacky Rig or a tube jig and throw paddle tail swimbaits. Watermelon red flake or green pumpkin patterns would work for Wacky Rigs or tube jigs. White is a good color for paddle tail swimbaits. One can also try crankbaits. The fish may be moving a little deeper to try and find slightly cooler water. — Scheels, Billings.
Bighorn River — Overall, the river has been fishing well, although there are some moments of "off and on" fishing. We're definitely seeing a transition period moving into early fall. The river is still pretty busy overall. Black caddis are still out in pretty good numbers, but looks like the PMDs are on the decline overnight. The good news is we're starting to see some of the big tan caddis mixed in and a few tricos. There are not as many fish looking up as past weeks, but you can still find plenty of targets. We're sure hoping for a little bump of tricos to finish out the summer. Underneath the water, the nymph bite has been good overall. The morning hours till 11 or so are generally the slowest part of the day, so don't rush out too early. Poodle Sniffers, Frenchies, PTs, Split Case PMD, MacGruber PMD and Hare's Ears are your best bets. — Bighorn Angler, Fort Smith. 
Bitterroot River — We are finally seeing more bug activity. Try Tricos from 10 a.m. to 2-3 p.m., depending on how cold the nights are getting. We are starting to see a few hecubas and BWOs on cloudy days. Terrestrials in the afternoons are another good dry fly option. Tricos are the most technical dry fly fishing we do during the year. You'll need to be ready to fish light tippets, small flies and have perfect drifts to fool the big fish. Try size 18-22 CDC Trico Duns, Tucker's Twiggy's, Gould's Drowned Spinners, Organza Spinners and Hi-Viz Spinners tied off the back of an 18-20 Para-Wulff or P-Haze. A few Hecubas have been seen, so have a size 10-12 Brindle Chute, Beefcake Hecuba, Lazer Hecuba or P-Haze. In the afternoons after the trico hatch, throw a pink, tan or purple Hopper with a 14-16 Jig Beadhead dropper like a Spanish Bullet, Perdigon, Prince or PT. — Grizzly Hackle Fly Shop, Missoula.
Blackfoot River — Still fishing great and has probably the most consistent Hopper fishing around right now. Not much for hatches besides a few tricos in certain spots. On cloudy days you might find a BWO or two hatching, but for now it's all about terrestrials and droppers. Hoppers (10-12) with a deep dropper is the go-to setup. For droppers use San Juans, Jig Princes, Jig PTs, Perdigons and Red Copper Johns. — Grizzly Hackle Fly Shop, Missoula.
Blanchard Lake — The crappie bite has been on fire. Small white plastics under a slip bobber rig has been producing some big numbers. Bass and pike are still being caught using top-water presentations in the lily pads. — Snappy's, Kalispell.
Boulder River — Fishing well above and below the Natural Bridge. Fish small terrestrial and attractor patterns with a Copper John (18) in the forest. Fish Hopper-dropper combinations below the Natural Bridge. — Sweetcast Angler, Big Timber.
Canyon Ferry Reservoir — Walleye and rainbow trout are being caught around Confederate while using bottom bouncers with lime green or white spinner blades and a worm in 10-15 feet of water. Walleyes and perch are being picked up outside Broadwater Bay in 10-15 feet of water with bottom bouncers with green, purple or white spinner blades. The area around the ponds is getting too shallow to fish effectively. Shore fishing was slow throughout the reservoir. As reservoir elevations continue to drop, ramps will become unusable. For the latest ramp information go to the BOR website at: https://www.usbr.gov/gp/boat/index.html. — FWP, Helena.
Clark Fork River, Missoula — Fishing well despite not seeing a ton of bugs out. That should change as we transition to, fingers crossed, more cloudy fall weather. Right now there are some tricos out in select spots and the Hopper-dropper fishing has been good on most days. Use Tricos (18-22) for the sippers in the back eddies and swirls. Drop a small Drowned Spinner off the back and let it marinate in those spots for some really big fish. Switch to Hopper-dropper fishing in the afternoons with some fairly big Hoppers (10), either in pink, peach or tan. Drop a Stonefly Nymph off the back or a Jig Nymph and fish the likely spots. Small streamers in the early morning as the sun is coming up is a great option if you want to see some bigger fish. — Grizzly Hackle Fly Shop, Missoula.
Cooney Reservoir — The water temperatures were in the low 60s last week. Water clarity is poor at around 8 feet. Trout fishing has been consistent using worms with a marshmallow or PowerBait. Some did well trolling cowbells with a red Wedding Ring. The walleye and perch bite has slowed down quite a bit. The few walleyes that came to the docks were from folks trolling Rapalas out in the middle of the reservoir. — Cooney State Park.
Deadman's Basin — The bite has picked up a little bit for shore anglers. Try sinking worms and PowerBait. The lower Musselshell continues to fish well for catfish. — Cozy Corner Bar, Lavina.
Flathead Lake (North) — Fall Mac Days starts Friday. Anglers are out pre-fishing. The best lake trout fishing has been at 250 feet. Typically at the beginning of the tourney anglers fish deep and jig for fish. After approximately a month, anglers then switch to shallow depths and do a lot of trolling and spinning. — Zimmer Bait and Tackle, Pablo.
Flathead Lake (South) — We've been hearing about Rocky Point, which is a major spawning area for the lake trout. Before the lake trout spawn, they stage to spawn. Jig at depths of 60 to 150 feet. — Zimmer Bait and Tackle, Pablo.
Flathead River, above the lake — The Spotted Bear River runs into the South Fork of the Flathead above Hungry Horse Reservoir. This time of year anglers traditionally start to catch good numbers of mountain whitefish. Be prepared for changing weather conditions. — Zimmer Bait and Tackle, Pablo.
Flathead River, below Kerr Dam — Smallmouth fishing continues to be good. Trout fishing is improving as the water cools. Anglers are catching some pike as well. Water temps have been running at approximately 54 degrees. As the water temps get below 50 degrees smallmouth action slows and the fish become very difficult to catch. Trout will continue to bite and the mountain whitefish will begin to get after it under these conditions. — Zimmer Bait and Tackle, Pablo.
Fort Peck Reservoir, Big Dry Arm — Fishing pressure has been light. One could try pulling crayfish crankbaits at depths of 12 feet near rock outcroppings. One could also bottom bounce worms. Red is a good color. — Rock Creek Marina.
Fort Peck Reservoir, dam area — Fishing has been slow. A few lake trout are biting. Target 120 to 135 feet. A few pike and some smallmouth have been reeled in. For pike, fish over weed beds or around weeds. For smallmouth, target rock piles in 25 to 30 feet of water. A few chinook salmon have been boated. The salmon are in 70 to 80 feet on the cannon ball over 115 to 135 feet in water depth. — Lakeridge Lodging & Bait Shop.
Fort Peck Reservoir, Fourchette Bay — Fishing is slow. Most anglers are fishing deep with crankbaits. — Hardware Hank, Malta.
Fort Peck Reservoir, Hell Creek — Anglers are starting to catch northerns in the morning pitching spoons up shallow. Overall, fishing is fair to medium. Pike and bass anglers are doing well. Walleye action is still slow. — Hell Creek Marina.
Fresno Reservoir — Water levels are coming up and anglers are able to launch boats. Traditionally fishing improves this time of the year. — Stromberg Sinclair, Havre.
Gallatin River — Full nymph rigs in the morning, with dry-dropper afternoons and evenings are a great call. Caddis, Rusty Spinners, Spruce Moths and terrestrials are all a great option for dries. For nymphs a Mega Prince or Pat's Rubberlegs paired with a small beadhead attractor is a go to. Streamers are also working well on cloudy days, or early in the mornings. With clearer water, tan Sculpins of various patterns are a favorite. — Montana Troutfitters, Bozeman.
Georgetown Lake — Balanced Leeches have been productive. Think terrestrials, too, like Hoppers, Ants and Beetles. Small baitfish patterns in olive will be productive the rest of the season. The water temperatures at midday are 60 degrees and the water is clear. — Flint Creek Outdoors, Philipsburg.
Hebgen Lake — Fishing pressure has been light. Water levels remain low. One could try fly fishing with Callibaetis Nymphs and Woolly Buggers. For spin anglers try Kastmasters. One could also troll from a small fishing boat with spoons like a Dardevle. A Jim's Strike' spoon would also work. The marina is closed for the season until next spring. — Kirkwood Resort & Marina.
Kootenai River — The river is in great shape. Hatches are midges, caddis, PMD and nocturnal stoneflies. Patterns to fish are Zebra Midge, Parachute Adams, Yellow Haze, Parachute PMD, Rosenbauer's Rabbit Foot Emerger, KPPT, Water Walker, Purple Haze, purple Chubby, red Chubby, Bugmeister, X-Caddis, Caddis Pupa, Bloom's Caddis, tan Sparkle Dun, purple Chubby, BH Prince, soft SJ Worm, BH Pheasant Tail, BH rubber-legged Stonefly, big streamers in white, pink and olive, Circus Peanut and black Conehead Buggers. — Linehan Outfitting, Troy.
Lake Koocanusa — The water temperatures are cooling down and rainbow fishing is picking up with some 3 to 7 pounders being caught between 80 to 100 feet. Run a black, blue, purple or silver plug. A little bit of red or pink is a good color to mix in. The salmon are getting ready to spawn and schooling around the creeks. The kokanee that are biting are running 30 feet down. — Koocanusa Resort and Marina, Libby.
Lake Mary Ronan — The kokanee are in spawning mode, and as a result the fish aren't as tasty pan fried but they do taste good if smoked. Try bright, small red spoons and spinners. Target depths of 25 feet. — Zimmer Bait and Tackle, Pablo.
Madison River, Lower — If you are heading out this way, Hopper-droppers are the go to. Pink or yellow Morrish Hoppers or Water Walkers with a small flashy beadhead nymph, or a small tan Turkey Crayfish are the best options. Also, play around with where you are putting your flies as we have seen trout caught in all types of water. — Montana Troutfitters, Bozeman.
Madison River, Upper — Fishing well. The streamer bite has been awesome in the mornings. After the morning streamer bite has subsided, the Hopper-dropper rig has been the best bet. For droppers, anything small and flashy will get the job done: Green Machines, $3 Dips, Purple Deaths, Goblins, Copper John, Prince Nymphs, Perdigons, Worms, Shop Vacs, black and brown Rubberlegs, and your favorite Caddis Pupa are all good bets. Ants have also been in abundance, so fish are keying into those dropped off of a Hopper. There has been a lot of big brown trout caught very early in the morning on big streamers. Streamer color has been variable, but typically black and olive are great colors on cloudier and rainy days and yellow and white are our favorites for sunny days. — Montana Troutfitters, Bozeman.
Martinsdale Reservoir — The reservoir is super low, but anglers have started to catch a few fish. Bair and Sutherlin are also low, but anglers have caught a few trout at both. — Mint Bar, Martinsdale.
Missouri River, below Holter — Streamers are really starting to come on. Anglers are also using terrestrials. Perdigons are the nymph of choice. — Montana Fly Goods, Helena.
Nelson Reservoir — Anglers are catching fish, even though the water is very murky and cloudy. There is a lot of algae on top. The water resembles pea soup. Water levels are coming up slowly. Anglers are catching plenty of 12- to 14-inch walleyes, but nothing bigger. Anglers are trying everything from crawler harnesses to deep divers. — Hardware Hank, Malta.
Noxon Rapids Reservoir — The water temperature was 67 degrees on Monday. Fish are in their late summer patterns and slowly transitioning to fall. Try soft plastics on deep lay downs, weed beds and boat docks. The best fish are being caught on deep points and drop offs. Look for quality bass in 8 to 20 feet of water in deep weed beds. Pike have been caught on spoons and large crankbaits. Walleyes are being caught on bottom bouncing rigs in 12 to 20 feet on the main lake. Perch and bluegills are also biting on the main lake on night crawlers. Try fishing the lake's many bridges for a variety of species. Trout are biting at the mouth of the feeder creeks on inline spinners. Panther Martins have been the go-to for trout. — Lakeside Motel and Resort.
Pablo Reservoir — Anglers continue to catch pike and largemouth bass. — Zimmer Bait and Tackle, Pablo.
Rock Creek (West) — Continues to fish well and the Hopper fishing on the upper stretches has really turned on. Don't be afraid to splat and twitch your Hopper to get more strikes. Drop a small beadhead nymph like a PT, Prince or Perdigon off the back if trout aren't coming up for the Hopper. Small streamers in the morning are getting chased, and this should only get better as the month progresses. — Grizzly Hackle Fly Shop, Missoula.
Spring Creek — Continues to fish well with flies as well as spinners. — Sport Center, Lewistown.
Swan Lake — Action is starting to improve as the water cools. Lake trout fishing should be great in about a month when the fish are spawning. — Zimmer Bait and Tackle, Pablo.
Tongue River Reservoir — Anglers have done well fishing for smallmouth and largemouth bass. A few walleyes and northerns were caught. Some of the points to the south are producing bass, along with the point by Pee Wee North. A couple catfish have been caught. Water levels are low, so exercise caution when boating. There are also stage 2 fire restrictions. The water temperatures were about 66 degrees at the dock. — Tongue River Reservoir State Park.
Yellowstone River, Huntley — There weren't many changes. Flows are still low. Walleyes and bass are biting spoons, jigs and crankbaits. For catfish, use minnows and cut bait. — Huntley Bait and Tackle.
Yellowstone River, Livingston —  If you find yourself out this way throw on a pink, yellow or tan Hopper of any variety and a small soft-hackle dropper. Or you can go a little bigger with a Rubberlegs, Zirdle, Goblin or Mini Zonker. — Montana Troutfitters, Bozeman.
Yellowstone River, Miles City — Water levels are still very low. The water clarity is good, though. Anglers are catching walleyes, sauger and smallmouth bass. Jigs and minnows seem to be working well. Also, some are having luck with crankbaits. White and silver are good colors. — Red Rock Sporting Goods, Miles City.
Wyoming
Bighorn Lake, Horseshoe Bend — Horseshoe Bend Marina is closed, however, the boat ramp and campgrounds remain open. People are catching sauger and channel cats at the mouth of the canyon and out into the bay by boat. — Horseshoe Bend Marina.
Bighorn River, Thermopolis — Anglers were having trouble with the grass and moss, but conditions are improving. In the morning, streamers work really well until 9:30 a.m. After that, switch to a tandem nymph rig. Late in the morning or early in the evening, BWOs are coming off. — North Fork Anglers, Cody.
Buffalo Bill Reservoir — The bite is slow. One could try running white jig tails with red heads close to the bottom. — Rocky Mountain Discount Sports, Cody.
Clarks Fork — The river is flowing at 118 cfs and is really low. — North Fork Anglers, Cody.
Cody-area lakes — Fishing pressure is light. The water temperatures are fine to fish. Try throwing a Conehead Bugger in black. — North Fork Anglers, Cody.
Lake DeSmet — Kokanee fishing has been good at depths of 40 feet. Pink rubber squids are working well. — The Lake Stop, Buffalo.  
Lower Shoshone — The river is off-color and too dirty to fish as of Monday. — North Fork Anglers, Cody.
North Fork of the Shoshone — The lower one fishes, the more fish they'll find. Most fish are either in the reservoir or heading that way with the low flows. The flows entering the reservoir were 234 cfs on Monday. Dry-droppers will still work. During the middle of the day, try a tandem nymph rig and go a little deeper. — North Fork Anglers, Cody.
South Fork of the Shoshone — Continues to fish well. With the weather cooling down, Parachute Adams and Royals Trudes should work. Also, try BWOs as they are coming off again. — North Fork Anglers, Cody.
Upper and Lower Sunshine Reservoirs — The lakes are still really low. Anglers are bank fishing with worms. — Wea Market, Meeteetse.
Yellowstone National Park — The Firehole has been fishing well over the past week. The cool overnight temps have kept the river in good shape, and there have been quite a few White Millers out with fish on them. Water temps have stayed good below Midway Geyser Basin until about 1 p.m., then after this it's been time to either move upstream or to a different stream. Next week's weather cools down quite a bit and by this time next week temps shouldn't be an issue as we will have some low temps in the 20s. Have White Miller Razor Caddis (16-14), White Miller Iris Caddis (18), Hot Spot Soft Hackles in mint and orange (16) and Micro Beeleys (16). The Madison in the park is producing a few fall run fish. More Hebgen Lake fish are running up the Madison but the run is still in its beginning stages. Anglers are catching a spawner here and there, but no one has gotten into a willing pod of them yet. If you'd like to get some early fishing in with them, go ahead, but don't expect to catch big numbers of runners just yet. The Northeast Corner has been fishing and there have been drake mackerels on Slough, Lamar and Soda Butte. Along with the drake mac's make sure that you are prepared with a few Cream Baetis (22) patterns. The fish, especially on Slough Creek, have been keying in on these bugs as of late. Terrestrials still play a major role on the menu, so have a selection of Ants, Beetles and Hoppers. — Blue Ribbon Flies, West Yellowstone.