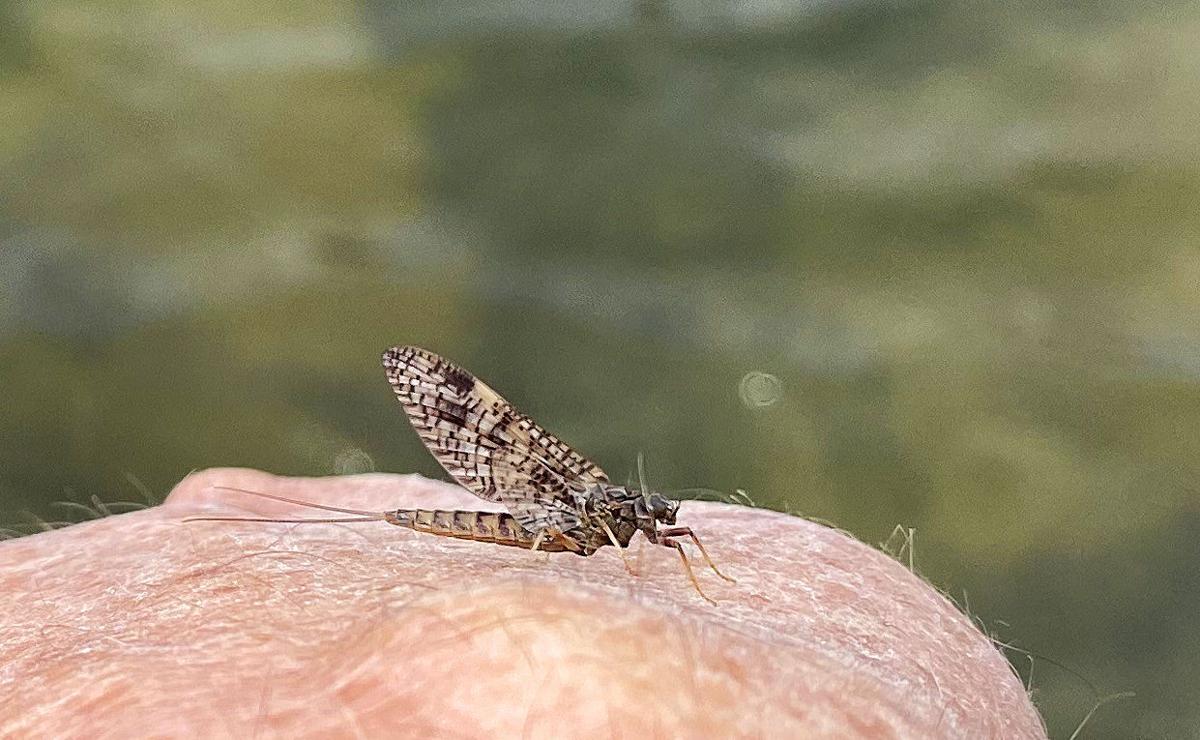 BILLINGS — In honor of Mother's Day, free fishing is available on Saturday and Sunday this year in Montana.
So whether mom wants to take her children fishing, or the youngsters want to treat mom to an outing, or the whole family wants to join in, it should be a wonderful weekend to spend outdoors.
In keeping with the tradition of Mother's Day, look for opportunities to fish the annual caddis hatch on rivers such as the lower Madison, Yellowstone, Beaverhead and Big Hole rivers.
Also, many rivers have been on the rise with the warmer temperatures, so it would be a good idea to monitor flows before venturing out.
Here's the weekly report:
Top picks
Bighorn River — It's been a bit up and down with the extreme weather changes, but overall the Bighorn has been kicking out plenty of big fish. Water temps are still cold, so fish are not spread out yet. Stick with the ones you find because there will usually be more. Carpet Bugs, Soft-hackle Sows, LBF, Quills and Wonder Nymphs are the best patterns for nymphing. Lots of BWOs are showing up, but the fish aren't sold on them yet. We're looking forward to good dry fly fishing any day now. — Bighorn Angler, Fort Smith. 
Canyon Ferry Reservoir — Rainbow trout fishing is good on the north end as fish are cruising the shorelines. Rainbows are being caught from shore between the Outhouse and Kim's Marina using leech flies, beadhead nymphs, San Juan Worms or night crawlers. Boat anglers are having some success for rainbows while trolling cowbells or crankbaits between White Earth and Hole in the Wall. The walleye bite really picked up with the warmer weather. Most walleye were caught around Ponds 1 and 2 on crankbaits. As a reminder, the new walleye regulation is 10 daily, one over 15 inches; possession is twice the daily limit.— FWP, Helena.
Lake Koocanusa — Rainbow fishing is picking up. They are on the surface to 30 feet below the boat. Black and silver or blue and silver plugs are working. A few anglers are using big trolling flies. Black and red or black and brown flies are working. A little bit of yellow in the fly will work, too, but most are using darker colors. The kokanee are still deep and haven't started moving much. Some have had success jigging for them. In the coves, a few cutthroats have been caught using Mepps Rooster Tails. — Koocanusa Resort and Marina, Libby.
Madison River, Lower — Caddis are here! With the recent warm weather we have seen the caddis hatching in full force. Fish are taking notice and you'll probably end up eating a few yourself. Don't be afraid to stay out till dark on this hatch. However the lake has been a bit of a wild card with varying weather and high winds. It seems to be flipping every few days and adding some color to the water. The fishing has been good on these days still, it just changes to mostly a nymph or streamer game. It's that time of year where flows are a bit unpredictable. Double nymph rigs have been the best way to get the numbers, typically consisting of Worms, Crayfish, Zirdle Bugs, soft hackles, Lil Spanker, and Dirty Birds. If the clouds are in and the wind is calm, the blue-winged olives have also been out in full force. Watch the edges of the river for heads coming up in the afternoon. — Montana Troutfitters, Bozeman.
Missouri River, below Holter — The river is fishing well and was flowing at 4,000 cfs on Monday. The water temp is 45 degrees. Streamers are producing. Nick's Perch is a good pattern. Baetis nymphs are working, too. Try Olive Psycho May, Micro May or Green Machines. A 3T Perdigon is a good fly. There is some dry fly activity, but one has to hit it right on a gloomy day with not much wind. The Dearborn River is pumping in some mud, but it doesn't take very long before it blends in. — Montana Fly Goods, Helena.
Montana
Ackley Lake — Anglers are trying for tiger muskies and drawing strikes, but fishing has not taken off. Anglers can still get into some rainbow trout. — Sport Center, Lewistown.
Beaverhead River — From Pipe Organ to Barrett's, flows are going to be bumped which could cause tougher fishing. San Juan Worms would work. Streamers are still a decent bet. The upper section remains closed until the third Saturday in May. On the lower stretches, if one can find access, the fishing has been decent and there is Mother's Day Caddis. Don't forget about Poindexter Slough. — Frontier Anglers, Dillon.
Big Hole River — As of Monday the river was on the rise but should level off by the weekend. San Juan Worms, Pat's Rubber Legs and streamers will work. There could be the chance for some dry fly opportunities with Mother's Day Caddis. — Frontier Anglers, Dillon.
Bighorn Lake, Ok-A-Beh — The smallmouth bass fishing is starting to pick up. Jerk baits and crankbaits are working. Try throwing some paddle tail swimbaits. — Scheels, Billings.
Bitterroot River — Runoff has started. The warm weather caused the Bitterroot to skyrocket. There's always windows of fishing during runoff if we get a cold spell. — Grizzly Hackle Fly Shop, Missoula.
Blackfoot River — The Blackfoot is going way up with the warm weather. Runoff has officially started. Lakes up here are fishing and once small streams open in a couple weekends there will be more options to fish. — Grizzly Hackle Fly Shop, Missoula.
Boulder River — Due to the recent warm temperatures and subsequent rain the Boulder has blown out. The increased flows have made the river virtually unfishable.  With this week's cool down, look for some clearing later in the week. Aquatic worms and large nymphs are your best bet. — Sweetcast Angler, Big Timber.
Clark Canyon Reservoir — A few fish are still cruising the shorelines, but most are going deep and fly fishing is getting tough. — Frontier Anglers, Dillon.
Clark Fork River, Missoula — Runoff has started. This is the last river to come in shape for fishing, and it could be sometime in June. In a couple weekends tributaries will open up and fishing will resume. Until then there are some great lakes around and pike fishing will really get going in them. — Grizzly Hackle Fly Shop, Missoula.
Cooney Reservoir — Water levels continued to rise last week. Water temperatures are ranging from 45 to 51 degrees depending on the location. The walleye and perch bite has been consistently slow. The folks that do catch walleye are only getting one or two and mostly small males. Rapalas remained the best method this week. The trout seem to be working the shoreline looking for food. Shore fishers did well for trout using worms or casting spoons. — Cooney State Park.
Deadman's Basin — Fishing is pretty slow. At Broadview Pond anglers have caught a few fat trout. On the lower Musselshell River in the Melstone area, anglers are catching some big catfish. On the upper Musselshell anglers are also catching some brown trout. — Cozy Corner Bar, Lavina.
Flathead Lake (North) — Anglers were doing well for lake trout last week. Cut plugs on downriggers is a good method. — Snappy's, Kalispell.
Flathead Lake (South) — It was really windy last week, so fishing pressure was light. As waters warm, the warmwater species get more active so there will be access to large lake trout in shallow water in the West Arm of the lake, the Narrows area and the Delta area on the north end. The standard setup is a whole fish below one or two sliding sinkers. — Zimmer Bait and Tackle, Pablo.
Flathead River — The river is getting muddy and is close to blowing out. — Snappy's, Kalispell.
Flathead River, below Kerr Dam — The cold weather stalled runoff. Anglers can still fish as of Monday. Brown trout and rainbow are biting, along with pike. On a warm day on the lower reaches one can catch smallmouth bass. The larger smallmouth generally start to bite when the water first starts warming up. — Zimmer Bait and Tackle, Pablo.
Flathead River sloughs — Fennon Slough will be a prime spot during runoff. It is a good alternative for perch, largemouth bass, pike, crappie, sunfish and the occasional bull trout. A bottom weight with two hooks above it will work the best for sunfish, perch and crappie. Pike respond well to spoons and smelt. A Gary Yamamoto Senko will catch bass. — Zimmer Bait and Tackle, Pablo.
Fort Peck Reservoir, Big Dry Arm — Lake trout are at depths of 20 feet. Walleyes are in 3 to 10 feet of water. Northerns are targeting Rapalas, and anglers are having success at depths of 5 to 15 feet. Fish are being caught at water temperatures of 45 degrees and above. Some big pike are being caught by shore anglers. — Rock Creek Marina.
Fort Peck Reservoir, Crooked Creek — The water is low, but boats can be launched; just exercise caution, trim your motor up and go slow while getting out of the bay. Fishing is good from the bank and from boats. From shore there have been big catfish, northern pike and eating-size walleyes and sauger reeled in. From boats most species are biting, including perch and crappie. A 33.5-inch walleye was boated and released on Saturday. Trolling with worm harnesses or jigging with minnows are good methods. Purple, lime green and silver are good colors. Fish are being found deep and shallow. — Crooked Creek Marina.
Fort Peck Reservoir, dam area —Anglers are catching walleyes, pike and lake trout, along with a few smallmouth bass. Jigs and plastics or jigs and minnows will work for walleyes. Lake trout anglers are pulling crankbaits, jigging and using downriggers. Lake trout are all over the water column. For smallmouth, target the rock piles. Walleye anglers are also picking up some smallmouth. — Lakeridge Lodging & Bait Shop.
Fort Peck Reservoir, Hell Creek — The walleye bite is really slow, but the northern pike bite has kicked on and anglers are doing well in the shallows in the heads of the bays in 2 to 6 feet of water. On bright, calm days fishing is best for northerns. The best walleye bite is toward Fourchette. Anglers could probably still find lake trout at 25 to 30 feet, but nobody is really targeting them. — Hell Creek Marina.
Fresno Reservoir — A jig and salted minnow is starting to produce a few walleyes. Overall action is slow. An occasional crappie is being reeled in. — Roberts Bait & Tackle, Great Falls.
Gallatin River — The river doubled in flows recently. Expect mud and high flows for the foreseeable future. There is a chance if we get cold weather it could come back into shape. If you decide to travel this way don't bother wading, fish right off the bank with your big dark Stoneflies, Worms or a black streamer. — Montana Troutfitters, Bozeman.
Hauser Reservoir — Rainbow action continues to be good at York Bridge. Fly fishing with leech or egg patterns has been working well. Anglers using night crawlers and egg sacks are also picking up a few. Canyon Ferry Dam tailrace is producing some trout while drifting and bouncing night crawlers on the bottom. Lake Helena anglers are finding rainbows with cowbells tipped with spinners and crawlers. Most walleyes are being caught while running perch crankbaits. — FWP, Helena.
Holter Reservoir — Rainbow trout action has been great at the Gates of the Mountains as well as most of the public boat ramps on the lower end of the reservoir. Successful shore anglers are doing well with egg patterns, Woolly Buggers and small beads. Boat anglers are catching some big rainbows while trolling Thomas lures and Kastmasters around the Oxbow Bend. Not many walleyes or perch are being picked up yet. — FWP, Helena.
Kootenai River — The discharge from Libby Dam was 11,000 cfs on Tuesday. In-flows to Lake Koocanusa were 14,000 cfs. The water temperature at Libby Dam was 40 degrees. Runoff has started and daytime temperatures are consistently warmer. Nights have been freezing and snow is still locked up in the Cabinet Mountains. However, recent rains and more showers throughout the week have us wondering if tributaries might bump in flows and add some color to the river. As of Tuesday, conditions were still great. A mix of spring weather is expected throughout the week. Hatches: midge, blue-winged olives, March browns, early caddis and little stoneflies. Patterns: Zebra Midge, Parachute Adams, Purple Haze, Bugmeister, olive Sparkle Dun, purple Chubby, BH Prince, soft SJ Worm, BH Pheasant Tail, BH Rubber Legged Stonefly, big streamers in white, pink and olive, Circus Peanut, black Conehead Buggers — Linehan Outfitting, Troy.
Lake Frances — Fishing is slow. — Roberts Bait & Tackle, Great Falls.
Lake Mary Ronan — The lake continues to produce kokanee. Activity will slow down as the water warms, so anglers will want to take advantage of it now as it can be an all-day activity. When the water warms, action shifts to the early mornings or night. This is usually the time when anglers begin to catch perch. Pink and white Wanna-B will work for kokanee as well as at Ashley and Bitterroot lakes. — Zimmer Bait and Tackle, Pablo.
Madison River, Upper — The upper has been fishing great. The clarity and conditions are near perfect. Hebgen and Quake lakes are still frozen, but should be icing off in the near future. Small and flashy is the name of the game if you decide to nymph: Green Machines, $3 Dips, Purple Deaths, Worms, Shop Vacs, black and brown Rubber Legs and Zebra Midges are all good bets. You can also have some success dead drifting a sculpin under a bobber. It's crucial that your bugs are getting down fast on the upper. If you're not ticking bottom every cast, add some weight. Dry fly fishing has been decent depending on the day. We have had good reports of anglers doing well on BWOs near Raynolds and Three Dollar Bridge when there are some clouds and low winds. There has been some big fish taking streamers; cloudy days have been better. Streamer color has been variable, but typically black, olive and white are our favorites. We have had reports of anglers getting better streamer eats near Lyons Bridge and below. In between the lakes will have some deep snow in spots, but you can get in easily below the dam. The sweet spot seems to be the Three Dollar area with excellent streamer, dry and nymph opportunities. Just watch that weather, wind can be the kiss of death for the dry fly fishing up this way. — Montana Troutfitters, Bozeman.
Marias River — In the Loma area anglers are catching catfish, a few drum and an occasional sturgeon. A few smallmouth bass have also been caught. — Roberts Bait & Tackle, Great Falls.
Martinsdale Reservoir — Bank fishing has slowed down. — Mint Bar, Martinsdale.
Missouri River, Fred Robinson Bridge — Paddlefish season started, but action is slow because the river is down. Northerns, walleyes, catfish and sauger are taking minnows and crawlers. — Roberts Bait & Tackle, Great Falls.
Nelson Reservoir — Fishing is slow. The water levels are low. A few small walleyes are hitting jigs with plastic tails, a chunk of crawler or a minnow. A few smaller northern are striking crankbaits or spoons. When the water temperatures warm, the fish will become more active. — Hardware Hank, Malta.
Noxon Rapids Reservoir — The water is still low and people are having a hard time launching boats. A bass tourney was canceled over the weekend due to low water. We are anticipating reservoir levels to start rising later this month. — Lakeside Motel and Resort.
Pablo Reservoir— The reservoir is producing big largemouth bass. Boating isn't allowed, so it is all shoreline fishing. Northern pike can also be caught from shore. Standard bass baits will work. Try rubber worms. A Gary Yamamoto Senko is a good choice. — Zimmer Bait and Tackle, Pablo.
Rock Creek (East) — The creek did spike this past weekend after warmer temperatures and some rain; it will likely come back down but we have officially entered runoff season. Moderate temperatures this week should size the creek back up for more fishing before it starts to rage with high flows and off-color water. Nymph fishing should go right back to the top of your priority list. Runoff means San Juan Worms in red, brown, pink, wine or purple (8-12). A double Worm setup is tough to beat. Of course, Stonefly nymphs (8), Caddis nymphs (14) and attractor patterns like Psycho Princes in blue or purple, Montana Prince in blue, or the Batman Nymph (10-14) all fish well. Additional patterns to fish include Lightning Bugs, Hotbead Prince Nymphs and Copper Johns in varied colors. Dry fly fishing is less likely in the near future unless flows decrease and become stable. Caddis, March browns and smaller Stimulators in yellow (14) will all fish. Besides nymphing, streamer fishing is a good way to go. Any soft patch of water will hold trout as they adjust to the increase in flows. Sparkle Minnows, Thin Mints, Krystal Flash Buggers in black or olive, as well as Barely Legals, and Dungeons are all proven, consistent patterns. — East Rosebud Fly Shop, Red Lodge.
Rock Creek (West) — Rock Creek went way up from the warm weather. Runoff has started. There are definitely windows of fishing during runoff. — Grizzly Hackle Fly Shop, Missoula.
Spring Creek — The creek is fishing well with streamers, nymphs and spinners. Beadhead Pheasant Tails will work. — Sport Center, Lewistown.
Swan Lake — It continues to produce bigger numbers of lake trout in 50 to 90 feet of water. Green Rattle-D-Zastor or Erie Jigs will work. — Zimmer Bait and Tackle, Pablo.
Stillwater River — Last week's warm temperatures coupled with the weekend rain definitely bumped the Stillwater threefold from the previous week. That being said, the Stillwater is still fishable, especially with cooler temperatures. During pre-runoff, concentrate on Stonefly nymphs and San Juan Worms. These are good targets for trout to focus on in faster and at times, off-color water. Pat's Rubber Legs, Girdle Bugs, Bitch Creeks, Sparkle Stones and Beadhead Halfbacks (8) are your best big and nasty patterns. An excellent dropper could be San Juan Worms in red, tan or wine (8). Caddis Pupa (14), Copper John in red or chartreuse, as well as your standard Prince Nymph, Hare's Ear or Pheasant Tail (8-12) also fish well as a dropper. The particular weight of a Perdigon Euro nymphing fly is especially effective in faster water. Euro nymphing is a specific nymphing technique that allows an angler to put a fly on a trout's head for a short drift when most conventional techniques don't work as well due to faster water and depth. Perdigon flies are fished in a size 14. Once runoff has begun, there can still be some dry fly fishing, especially if you are in the right place at the right time. Recommended dry flies stay consistent with Caddis or March Browns (14). With warmer temperatures and longer days attractor dries like a Purple Haze, Parachute Adams or Royal Wulff (12-14) should start heating up. The best way to fish a streamer during high water is by either focusing on dropping your fly exclusively on "soft" patches of water, or literally dead drifting your streamer off an indicator in current. Standard streamer patterns like Sparkle Minnows, Slump Busters, Grinch, Yuk Bugs or Mini Dungeons should work. — East Rosebud Fly Shop, Columbus.
Tiber Reservoir — Overall, fishing is slow. Smaller walleyes are hitting jigs and minnows. — Roberts Bait & Tackle, Great Falls.
Tongue River Reservoir — Anglers are catching northerns, crappie, perch and bass. The bay areas have been producing. Crankbaits, spinners and live bait are working. — Tongue River Marina.
Yellowstone River, Columbus — The Yellowstone has gotten big and dirty over the last few days. We could see some regression with cooler temps. Your best option will be with big Stonefly nymphs, Worms, and flashy streamers. Patterns would include Wire Worms, San Juan Worms and Gummy Worms; as well as Pat's Rubber Legs (6-10). Although conditions are a little rough right now, stripping Sparkle Minnows and flashy streamers can also catch you a fish of a lifetime. Don't forget to bring your caddis dry fly patterns as we have started to see them hatching. — East Rosebud Fly Shop, Columbus.
Yellowstone River, Huntley — The river has come up and is pretty muddy. Overall, fishing has slowed down. — Huntley Bait and Tackle.
Yellowstone River, Livingston — The Yellowstone has doubled in flow. Looks like runoff is here. If we get some cold weather there is a chance we could have another window, but as of now it is out of commission. When caddis pop, there is still some potential for dry fly action tight to the bank, even in the off-colored water. — Montana Troutfitters, Bozeman.
Yellowstone River, Miles City — Fishing on the Yellowstone has been OK; action may have slowed a bit on the sauger bite. Anglers last week caught some on crankbaits. Also talked to some that caught catfish using cut bait. The water is still clear, but recent rain could affect clarity. — Red Rock Sporting Goods, Miles City.
Wyoming
Bighorn River, Thermopolis — The river has come up a little, but fishing is still mediocre. There is a lot of boat traffic. Nymphs and streamers are working. On warm days there is some dry fly action. The Wind River Canyon is fishing well, but make sure you have a tribal license. — White Horse Country Store & Canyon Sporting Goods, Thermopolis.
Boysen Reservoir — Anglers are catching rainbows like crazy and the walleye bite is starting. Some are using minnows and some are using worms. The sauger and perch bite is slow. — Boysen Marina.
Buffalo Bill Reservoir — Temperatures warmed up. There could be more debris in the lake due to runoff. For bait, use stuff with good scent. For hardware, run something with vibration, or darker color in turbid water. Big spoons tipped with sucker meat for lake trout will work. More people are heading to the reservoir to fish. At Beck Lake, anglers are starting to catch trout with little white jigs and crawlers. Some anglers have also caught some decent catfish at Beck Lake. Dough bait or dead sucker minnows will work. — Rocky Mountain Discount Sports, Cody.
Clarks Fork — It is high and muddy and the flows were 1,480 cfs on Monday. — North Fork Anglers, Cody.
Cody-area lakes — Anglers can do well in boats with extra-long leaders fishing Chironomids deep. — North Fork Anglers, Cody.
Lake DeSmet — A lot of people are fishing with worms, with most fishing from shore. Most action is on trout. — The Lake Stop, Buffalo.  
Lower Shoshone — The flows were 1,308 on Monday but the water clarity is still good enough to fish. Streamers or Woolly Buggers along the edges of the bank would be the best method. — North Fork Anglers, Cody.
North Fork of the Shoshone — The river is blown out and flows were 1,430 cfs on Monday. — North Fork Anglers, Cody.
South Fork of the Shoshone —The flows are trending up and at 384 cfs on Monday. The water could be discolored. The river was flowing at 125 cfs last week. — North Fork Anglers, Cody.
Upper and Lower Sunshine Reservoirs — Lots of anglers were out last weekend, but the cold, rainy weather mixed with warmer weather caused mixed results. The shoreline and access roads could be muddy. — Wea Market, Meeteetse.