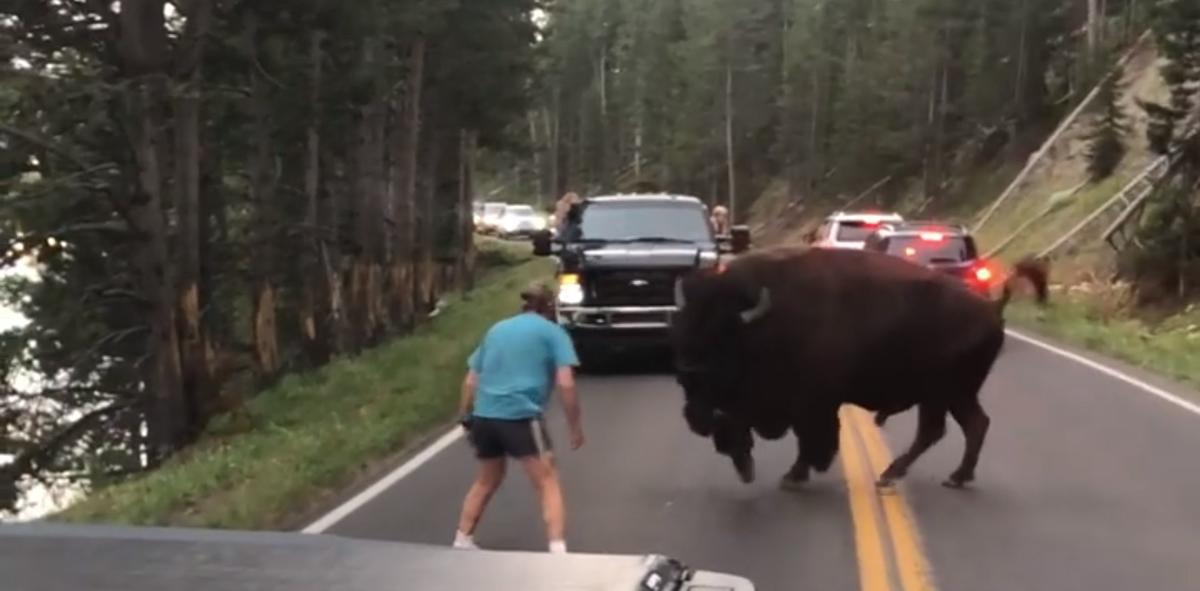 Raymond Reinke, 55, entered not guilty pleas to a handful of federal charges before U.S. District Court Magistrate Judge Mark Carman in Yellowstone County, according to court documents. He remains in custody without bond.
He has now been issued five citations related to alleged crimes in both Yellowstone and Grand Teton National Park. In the latter, the Pendleton, Oregon, man faces charges of being under the influence to a degree that puts others at risk, interference with a government employee and disorderly conduct.
Following his release after posting a $500 bond in the Grand Teton charges, he was later cited in Yellowstone on the afternoon of July 31 for not wearing a seat belt when the car in which he was riding was stopped for a traffic violation.
Later that afternoon, Yellowstone visitors reported to rangers the incident involving Reinke allegedly harassing the bison, and he again was issued citations — this time for open container and intentional disturbing of wildlife.
A video of the bison encounter — in which a man believed to be Reinke is seen waving his arms at a bison walking along the road and eventually charging the man — circulated widely on social media.
Court records said Yellowstone rangers were unaware of Reinke's previous citation in Grand Teton, and of a bail release condition that he obey all laws or be taken back into custody. Reinke later was arrested in Glacier National Park after federal prosecutors filed to revoke his release.
Records for the hearing said a trial on Reinke's charges was set for Aug. 23.
---
When wildlife goes wild - Montana edition
Suspected 'attack' otters killed
WHITEHALL - Two suspected "attack" otters have been killed in the Jefferson River and one carcass has been sent to a state laboratory in Bozeman for a rabies test, a game warden said Thursday.
A Whitehall man, who was not identified, killed two otters after they came at him from a slough while he was cleaning out a beaver dam near his house on the Jefferson, said warden Jim DeBoer of Sheridan.
The otters were suspected of attacking two families on the Jefferson in separate incidents last month. Those and the latest incident all occurred on the same stretch of river, just south of Whitehall, DeBoer said.
A professional trapper was hired to try and catch the otters after four people were bitten in the July 11 incidents, but he failed.
DeBoer said the female otter appeared to have given birth recently and that may explain her aggressiveness.
The four people who were bitten have received shots against both rabies and tetanus.
Lion attacks hiking child
A 16-year-old camp counselor fought a mountain lion with his hands and feet to rescue an injured 6-year-old Missoula boy Friday morning at Marshall Mountain ski area.
The victim, Dante Swallow, received puncture wounds to the neck and scrapes to his back and stomach in the encounter on a road near the top of the Marshall Mountain's chair lift. He was taken to Community Medical Center by ambulance and released after receiving stitches for the puncture wounds, according to a hospital spokesperson.
The young male lion that attacked Swallow was later tracked down and killed by state fish and game wardens and sheriff's deputies.
The boy's father, Dann Swallow, said he was preparing to meet his son at the ski area for a parent-camper picnic when he was notified of the incident. He met the ambulance at Community where he found the boy "amazingly calm," given what happened.
"He remembers it happening," Dann Swallow said. "He turned around, saw the lion coming towards him and it was on top of him before he knew it. … It came out of nowhere. … He's been pretty rational through the whole incident."
Aaron Hall, Swallow's rescuer and a camp counselor at Marshall Mountain's summer day camp, said he was frightened by the attack, but was otherwise uninjured. Hall is in his first year as a summer-camp counselor.
"I was really scared," Hall said. "It's the scariest thing that's ever happened."
Swallow was in the last day of a weeklong summer day camp run by Marshall Mountain, Hall said. Thirty-seven campers and three counselors went on a hike to the top of the chair lift.
There was no warning of the attack, Hall said, other than hearing someone ­ possibly Swallow ­ yell that there was a mountain lion nearby.
When he turned around, Hall said he didn't recognize the animal as a mountain lion, thinking at first it was a dog.
"All I saw was two paws around Dante, and then I saw a mountain lion face," Hall said. "His face. Piercing eyes ­ and his mouth."
The lion had pounced on Swallow from behind, grabbing the child around the neck and head, Hall said, forcing the boy to his knees.
In an adrenaline-charged reaction, Hall said he didn't even remember fighting with the mountain lion.
"I don't remember kicking the animal," said Hall. "I was cussing and everything else. I was just using my hands. I was waving and just getting him off."
The lion backed off a short distance, Hall said, allowing him to scoop up Swallow in his arms and administer first aid to the puncture wounds on Swallow's neck.
As the lion backed off, Hall said he and counselor Theresa Knight commandeered maintenance supervisor Jim Winn's pickup and headed at breakneck speed down the mountain. Winn had been working on some equipment nearby and heard the cries for help.
"I was ready to just run down the face (of the mountain)," Hall said. "I was ready just to boogie down the hill."
The other counselor, Julie Engler, hustled the remaining children to a warming hut and called for help on a two-way radio, while Winn grabbed his .41 Magnum revolver and went to track down the cat.
Fire and medical personnel met the trio halfway down the main Marshall Canyon road, Hall said, where Swallow was transferred to an ambulance for ride to the hospital.
Swallow was surprisingly calm on his way down the mountain, Hall said, attributing the boy's behavior more to shock than anything else.
"He was really calm," Hall said, noting that Swallow cried only once ­ when given an intravenous injection in the ambulance.
Shortly after the incident, Winn said he spotted the cat paralleling the road, heading uphill toward the other campers.
"I tried for a head shot, but there was too much brush," Winn said, describing firing at the lion. Winn was unsure if he had hit the animal, though.
Fish and game wardens, Missoula County sheriff's deputies and three dog handlers with four Walker hounds ­ a breed of lion-hunting dogs ­ arrived in short order and tracked the cat.
The cat was treed and killed within about 30 minutes, sa
id Lt. Mike McMeekin of the Missoula County Sheriff's Department. Upon examining the lion carcass, officers discovered that Winn's bullet had grazed the cat's cheek.
"It went superbly," said McMeekin. "That is one special kid (Aaron Hall)."
Bill Thomas, information officer for Montana Department of Fish, Wildlife and Parks estimated the male lion was 2-3 years old.
"Cats under 2 years of age are usually the ones that end up getting into conflicts with people," Thomas said. When cats are 1 Þ-years-old, they are kicked out of their mother's territory and begin searching for a territory of their own.
"They are in transition, wandering around, so they have a greater likelihood of coming into conflict with people," Thomas said.
Thomas advised hikers, campers and bikers to know what to do if confronted or attacked by a bear or lion. Knowing how to react, Thomas said, is what saved Swallow's life.
Dann Swallow had taken the time to educate both of his sons about the dangers of animals attacks because he and his wife hike frequently with their kids.
"We do a lot of outdoor activities and a lot time hiking," the father said. "I just hope this doesn't have a long-term effect."
Winding down after the stressful day, Hall said he'd rather not run into another mountain lion, at least not under similar circumstances.
"In the zoo," said Hall about any future meeting with the big cats.
Huson woman fends off attacking bear with zucchini
A woman in the Huson area warded off a charging black bear with a garden fresh zucchini early Thursday after the 200-pound bruin attacked her dog and swiped at the woman's leg.
The woman was not seriously injured during the attack, which occurred around midnight behind her home near Sorrel Springs Lane and Roman Creek Road, but she was badly shaken, said Lt. Rich Maricelli of the Missoula County Sheriff's Office. Her 12-year-old border collie, Brin, also appears to be doing fine.
"She was terrified, and understandably so, " Maricelli said. "This could have really been a bad deal. Just imagine what might have happened if that thing had made its way into her house."
That worst-case scenario doesn't require a leap of the imagination, Maricelli said. The woman reported the bear had its head and one paw through the threshold of her back door when she threw the squash at it.
The woman told authorities she had just let her three dogs outside and was standing on a cement patio in her small yard when the bear came racing down a hill. The bear pounced on Brin and began aggressively rolling the dog around on the ground, "growling and acting ferrocious," Maricelli said. The woman yelled and screamed at the bear, and finally kicked the animal in the throat.
The bear then turned on the woman and clawed the outside back portion of her left thigh, tearing her jeans and breaking the skin. The woman was clutching the door jamb and trying to keep the bear out of her house when she reached inside and grabbed the only object on the counter - an 18-inch zucchini that she harvested from her garden.
She threw the vegetable at the bear's head and the animal retreated, running back up the the hill and into the darkness.
Montana Fish, Wildlife and Parks Warden Capt. Jeff Darrah said the bear was likely feeding in a fruit orchard about 25 feet up the hill from the woman's house when she let her dogs out.
"One of the dogs was barking and startled the bear and the scuffle began," Darrah said. "It really could have been worse given the fact that the dog owner was so close to the bear, but she reacted quickly and bravely and was able to scare the bear by hitting it with the zucchini."
Darrah said the apple orchard was fenced off and the ground clean, but the bear still managed to find access to a tree.
Two large floodlights illuminated the woman's small yard, but she did not have time to react when the bear charged down the hill, Maricelli said.
"It happened within a blink of the eye," Maricelli said. "The dog was two feet away from her on the patio and suddenly froze. She looked up and saw this black bear racing toward her."
The bear had not been located as of Thursday afternoon, though wildlife officials were setting a trap in an attempt to catch the animal, Darrah said.
If the bear has been trapped previously it will be euthanized per FWP policy, but if it has never been trapped it will likely be relocated. Officials tag a bear's ear after trapping it.
The woman had a tetanus shot for her scratches Thursday morning, Maricelli said. She also took Brin to the veterinarian, but the elderly dog did not have any obvious injuries.
Maricelli said the woman did not want her name released publicly.
Historically, the Huson area sees a heavy amount of bear activity in the fall, but Darrah said it has been relatively quiet this year.
"We have had a lot of bear activity in other areas, obviously," he said.
In Missoula, wardens have trapped four black bears in or close to town. Three were relocated to remote areas, while a fourth cub was sent to an animal rehabilitation center in Helena to be released next spring.
The conflicts have increased recently because bears are in a period of intense eating before the winter season, said FWP Region 2 wildlife management specialist Jamie Jonkel. Because of a spotty berry season, bears have descended on settled areas in the valleys
Two weeks ago, a small black bear found its way into a tree near downtown Missoula and had to be tranquilized.
Wrangler charges griz to save boy in Flathead
WEST GLACIER - A young woman on a big horse charged out of the pack of grizzly bear stories this summer near Glacier National Park.
In a cloud of dust, the 25-year-old wrangler likely saved a boy's life while demonstrating that skill, quick-thinking and guts sometimes are the best weapons against a head-on charging bear.
On July 30, Erin Bolster of Swan Mountain Outfitters was guiding eight clients on a horse ride on the Flathead National Forest between West Glacier and Hungry Horse.
"It's the shortest ride we offer," she said recently, recalling the incident. "We'd already led two trips that morning. It's always been a very routine hourlong loop, until that day."
The group included a family of six plus a vacationing Illinois man, who'd booked the trip for his 8-year-old son's first horse-riding experience.
The young boy was riding Scout, a steady obedient mount, following directly behind Bolster, who was leading the group on Tonk, a burly 10-year-old white horse of questionable lineage.
Tonk isn't the typical trail mount. Best anyone knows, he's the result of cross-breeding a quarter horse with a Percheron - a draft horse. Bolster is 5-foot-10, yet she relies on her athleticism to climb into the saddle aboard Tonk.
"He was one of the horses we lease from Wyoming and bring in every year," Bolster said, noting that she'd picked him from the stable in May to be hers for the season.
"He's a very large horse - 18 hands high. That intimidates a lot of riders. But I've always loved big horses. He's kind of high-strung and spooky, the largest of our wrangling horses. I like a horse with a lot of spirit, and I was really glad to be on him that day."
Bolster has accumulated a wealth of experience on and around horses of national and even world class. She started riding at 4 years old, became a professional trainer at 15, graduated from high school at 16 in Roanoke, Va., and ran a riding academy for several years.
Seeking a more laid-back lifestyle, she wrangled in Costa Rica and the Dominican Republic before moving to Whitefish three years ago to guide tourists during the summer around Glacier National Park and ski through the winter.
"It's the country, the mountains and the idea of seeing lot of wildlife that appealed to me, ironically enough," she said.
Bolster quickly racked up bear experience, too, although until July 30, it was always at a distance.
"At the peak of the season, we were seeing bears daily," she said. "The wranglers name them so we can let each other know where they are. Usually the bears just keep feeding in the distance or they run away when we come. Just seeing them is a treat for us and our guests."
Because they guide around Glacier Park, bear awareness is part of the preparation wranglers get when hired by Swan Mountain Outfitters.
"We go over a lot of wildlife scenarios in our training," Bolster said. "We learn to watch our horses for signals of possible trouble so we can steer clear."
That's the key, she said: Avoid trouble with a moose or a bear.
"We can't use pepper spray when we're riding because that could blind the horse," she said. "And using a gun would spook the horses and probably produce more danger than safety."
That's how she went to work that day: a young but seasoned pro rider on a new, huge and spirited horse, unarmed in the wilderness with eight dudes.
"It was a pleasant ride until we came around a corner on the trail and my horse stopped firm and wouldn't move," Bolster said. "He never refuses to go, so that caught my attention quick."
But not fast enough to avoid the spike white-tailed deer that burst out of the brush and glanced off Tonk's left front shoulder.
As Tonk spun from the impact, Bolster saw a huge grizzly bear crashing through the forest right at the group in pursuit of the deer. Horses panicked and guests grabbed saddle horns for the ride of their lives.
"No amount of training could keep a horse from running from a 700-pound charging bear," she said.
Seven of the horses sensed the danger, peeled out and galloped back on the trail toward the barn.
But Scout bolted perpendicular to the trail into the timber, packing the 8-year-old boy.
"The deer peeled off and joined the horses sprinting down the trail," Bolster said. "So the bear just continued running right past me. I'm not sure the bear even knew the roles had changed, but now it was chasing a horse instead of a deer."
The grizzly was zeroed in on Scout and the boy - the isolated prey in the woods.
Adding to the drama, the boy's father, an experienced rider, could not convince his horse that it was a good plan to ride to his son's rescue.
"The last thing he saw over his shoulder as his horse ran away was the grizzly chasing his boy," Bolster said.
With the bear on Scout's heels, Tonk's instinct was to flee with the group of horses. But Tonk responded to Bolster's heels in his ribs as she spun the big fella around. They wheeled out of a 360 and bolted into the trees to wedge between the predator and the prey.
"The boy was bent over, feet out of the stirrups, clutching the saddle horn and the horse's neck," she said. "That kept him from hitting a tree limb.
"But all I could think about was the boy falling off in the path of that grizzly.
"I bent down, screamed and yelled, but the bear was growling and snarling and staying very focused on Scout.
"As it tried to circle back toward Scout, I realized I had to get Tonk to square off and face the bear. We had to get the bear to acknowledge us.
"We did. We got its attention - and the bear charged.
"So I charged at the bear."
Did she think twice about that?
"I had no hesitation, honestly," Bolster said. "Nothing in my body was going to let that little boy get hurt by that bear. That wasn't an option."
Tonk was on the same page.
With a ton of horse, boulder-size hooves and a fire-breathing blonde thundering at it, the bear came within about 10 feet before skittering off to the side.
But it quickly angled to make yet another stab at getting to Scout and the boy - who had just fallen to the ground.
"Tonk and I had to go at the bear a third time before we finally hazed him away," she said.
"The boy had landed in some beargrass and was OK. Scout was standing nearby."
Bolster gathered the boy up with her on Tonk, grabbed Scout's lead and trotted down the trail.
"The boy was in shock," she said. "I looked back and could see the bear had continued to go away through he woods, but I had another five or 10 minutes of riding before I got back with the group."
Not until she reunited with her riders - all OK and standing in various stages of confusion with their horses - did she start to shake.
"I looked at Tonk, and he was wet with sweat and shaking, too," she said.
She was especially concerned for the boy's father, who probably suffered the most terror in the ordeal.
"He was fine, and I got my biggest tip of the season," Bolster said. "My biggest hope is that the boy isn't discouraged from riding. This was a one-in-a-million event."
For the next few days, the outfitter shut down the trail rides and Bolster joined other wranglers and a federal grizzly bear expert to ride horses through the area looking for the bear.
"They tracked it for a long way and concluded that it kept going out of the area," she said. "Judging from the tracks and my description of how high the bear came up on Tonk, the grizzly expert estimated it weighed 700 to 750 pounds.
"This was a case of us being in the wrong place as a bear was already in the act of chasing its natural prey. He was probably more persistent because he was really hungry."
Bolster and the other wranglers vowed to have bear spray on their belts to make sure they can defend their guests during breaks on the ground.
"But when you're riding, the horse is your best protection, if you can stay on," she said.
"Some of the horses I've ridden would have absolutely refused to do what Tonk did; others would have thrown me off in the process. Some horses can never overcome their flight-animal instinct to run away."
In those minutes of crisis, the big lug of a mongrel mount proved his mettle in a test few trail horses will face in their careers.
Tonk's mettle moved Bolster. She wasn't about to send him back to Wyoming with the other leased horses.
"Two weeks ago, I closed the deal and bought him," Bolster said as she was wrapping up her 2011 wrangling season.
"After what he did that day, he had to be mine."
Dog-lion fight: Cougar attacking canine killed by ranger in West Glacier
WEST GLACIER – A park ranger shot and killed a mountain lion in Glacier National Park over the weekend, ending the lion's attack on a dog in the employee housing area at West Glacier.
Glacier spokeswoman Denise Germann said the attack began at approximately 5 p.m. Saturday, when a park employee returned to her residence.
"Her two dogs unexpectedly raced out of the car" when she opened the vehicle's door, Germann said. The woman went after the dogs, and while one returned to her quickly, one was engaged by the mountain lion.
"Other housing residents heard the dogs, lion and employee yelling, and ran to offer assistance," Germann said. "A shovel was briefly used unsuccessfully to separate the mountain lion and dog."
The two animals tumbled over an embankment near the Flathead River as they fought.
Another resident arrived armed with bear spray, and also began throwing rocks and logs, to no avail.
The lion had the dog pinned down near the river's edge when the ranger arrived.
The ranger shot the lion, then rescued the dog when the frightened and injured pet jumped in the river.
"After confirming the mountain lion was down and wasn't moving, the park ranger entered the river to bring the dog to safety," Germann said. "Others helped to get the injured dog to the riverbank."
The dog was taken to a veterinarian, where it required "many" stitches, but is expected to make a full recovery, Germann said.
A necropsy will be performed on the mountain lion to determine its health and age.
Germann said mountain lions have been observed in the employee housing area near park headquarters in West Glacier this winter, and one was hazed after being seen near homes and offices.
The area has had signs warning of mountain lion activity posted all winter. Rangers believe more may still be in the area.
Glacier will "continue to implement management actions in the area as appropriate," Germann said, "including posting the area to lion frequenting, educational outreach to employees and visitors, area and/or trail closures, hazing and possible removal."
She offered the following advice to anyone who encounters a mountain lion in Glacier: Make noise. Do not run. Talk calmly, avert your gaze, stand tall, and back away.
"Unlike with bears, if attack seems imminent, act aggressively," she said. "Do not crouch and do not turn away. Lions may be scared away by being struck with rocks, sticks, or by being kicked or hit."
Although primarily nocturnal animals, mountain lions have attacked in broad daylight. They rarely attack humans, but it does happen, with children and small adults most vulnerable.
Germann also reminds people that, while pets are allowed in developed areas of Glacier, they must be kept on a leash no longer than 6 feet, and must at all times be kept under physical restraint, or caged, including while in open-bed pickup trucks.
Pets are not permitted on trails, along lake shores, in the backcountry, or in any building. They are allowed in frontcountry campgrounds and picnic areas, along roads, in parking areas, and in boats on lakes where motorized watercraft are allowed.
Black bear killed in St. Regis yard may go to waste
MISSOULA -- A St. Regis woman who shot a black bear in her yard is upset that the meat is going to waste.
"I can't keep the bear -- I get that," Brandy Taylor said Thursday morning. "But there's hundreds of pounds of meat rotting in my front lawn. If I do this as a hunter in the woods, I go to jail."
Taylor said she and her husband were watching a movie about 1 a.m. Thursday when they heard something crash into their garbage cans. Her husband went to investigate, and the bear charged him.
"We keep a weapon by the dining room window," Taylor said. "I opened the window, and the bear started charging at me. I shot him 10 feet from my window -- trying to come in my window at me."
She said she killed the bear with a single shot to the head from a .22-250 rifle. Taylor measured the distance to the carcass in daylight, and found the bear dropped 7 feet, 9 inches from her house wall.
She called the Mineral County Sheriff's Department, which referred the matter to Montana Fish, Wildlife and Parks game warden Tyler Ramaker. Ramaker told her to leave the carcass alone until he could investigate, which couldn't happen until late Thursday morning.
The Taylors' house is about two blocks from the St. Regis elementary school. Taylor said it was the first time in three years living there that she's had wildlife problems in her yard.
FWP spokeswoman Vivica Crowser said Ramaker is the only game warden working the Interstate 90 corridor area between Missoula and St. Regis. She also said community food banks generally will not accept bear meat because of its potential to carry hazardous parasites.
Montana law allows people to take the meat from road-killed ungulates such as deer, elk, moose and antelope with a special permit available online. But the roadkill law does not include bears.
"I think something needs to be done about that law," Taylor said. "It's collecting flies now. I have animals I can't let outside. The neighbors are upset. I had to lead my kids around it this morning."
Grizzly kills mountain biker in West Glacier area
HELENA – A grizzly bear attacked and killed a 38-year-old mountain biker Wednesday as he was riding along a trail just outside Glacier National Park, Montana authorities said.
Brad Treat and another rider were in the Halfmoon Lakes area of the Flathead National Forest when they apparently surprised the bear, Flathead County Sheriff Chuck Curry said.
The bear knocked Treat off his bike, and the second rider left to look for help, Curry said.
Authorities found Treat's body at the scene, but not the bear. Wildlife and law-enforcement officials were searching for the grizzly Wednesday evening.
Treat was a law-enforcement officer with the U.S. Forest Service.
"Brad was an integral member of our area law enforcement team and a friend to us all," Curry said.
Treat grew up in nearby Kalispell, where was a standout distance runner in high school, his former coach, Paul Jorgenson, told the Flathead Beacon newspaper.
"He was a really good runner but he was also a kind-hearted person who cared about people," Jorgenson told the Beacon.
The second rider, who was not identified, was not injured. Authorities have closed the area, which is about 3 miles away from Glacier's west entrance, for public safety.
Grizzlies in the Lower 48 states have been designated a threatened species since the 1970s, but their numbers are increasing and so are conflicts between humans and bears.
The grizzlies in the Glacier area among about 1,000 bears in the Northern Continental Divide Ecosystem, which also includes the Bob Marshall Wilderness south of the park. At least 700 more grizzlies live in and around Yellowstone National Park, which is roughly 360 miles south of Glacier.
Six people have been fatally mauled by bears in the Northern Rockies since 2010, but those deaths were mainly in the Yellowstone area. Glacier officials say there are usually one or two non-lethal encounters between bears and humans each year inside the park.
Before Wednesday, there had been 10 bear-related human deaths in Glacier since the park was created in 1910. The last was in 1998, when three bears killed and partially ate a park vendor employee while he was hiking.
In the most well-known Glacier attacks, bears killed two people in different parts of the park in a single night in 1967. Those attacks became the subject of a 1969 book by Jack Olsen titled "Night of the Grizzlies," and later a documentary by the same name.
Human, bear conflicts on the rise in Northern Rockies
HELENA – Grizzly bears have rebounded from widespread extermination across the Northern Rockies over the past several decades. But conflicts with humans have been on the rise, and the death of a Montana man on Wednesday brings to at least seven the number of people fatally mauled by bears in the region since 2010.
An estimated 1,000 grizzlies live in and around Glacier National Park, and at least 700 in and around Yellowstone National Park. The last time a bear killed someone in Glacier was 1998, when three bears killed and partially ate a park vendor employee while he was hiking.
Here's a look at recent fatal bear attacks in the Northern Rockies:
June 17, 2010 – Erwin Evert, 70, a field botanist from Park Ridge, Illinois, is killed by a male grizzly bear in Wyoming, about 7 miles east of Yellowstone National Park. Researchers had recently captured and released the bear.
July 28, 2010 – Kevin Kammer, 48, of Grand Rapids, Michigan, is killed when a female grizzly with three cubs pulls him from his tent in the middle of the night at the Soda Butte Campground where Kammer was sleeping alone near Cooke City. Two others in the campground were injured in separate attacks.
July 7, 2011– Brian Matayoshi, 57, of Torrance, California, is killed after attempting to run from a female grizzly that he and his wife encountered while hiking the Wapiti Lake Trail in Yellowstone National Park.
August, 2011 – John Wallace, 59, of Chassell, Michigan, is killed by a grizzly while hiking alone on the Mary Mountain Trail in Yellowstone National Park. A female grizzly is later captured and killed after DNA evidence links it to the deaths of both Matayoshi and Wallace.
Sept. 4, 2014 – Adam Stewart, 31, of Virgin, Utah, is killed by a bear while alone conducting research for an ecological consulting firm in northwest Wyoming's Bridger-Teton National Forest. Authorities are unable to say conclusively whether a black bear or grizzly bear was responsible.
August 7, 2015 – Lance Crosby, 48, of Billings is killed by a female grizzly with cub while hiking alone and off-trail near the Elephant Back Loop Trail in Yellowstone National Park. The female grizzly was later killed.
June 29, 2016 – Brad Treat, 38, of West Glacier is killed by a grizzly while mountain biking with a friend just east of Glacier National Park.
Weekend bear attack injures Glacier Park employee
WEST GLACIER — The first bear attack inside Glacier National Park this year has left a park employee hospitalized.
Glacier spokesman Tim Rains said the woman was picking huckleberries near Red Rock Falls west of Many Glacier early Saturday evening when she surprised what is believed to be a grizzly bear and two cubs.
The woman, who was carrying bear spray but was unable to deploy it, suffered injuries to the back of her legs and her hands.
The park employee's hiking companion, and two other hikers, heard the attack and helped the victim walk most of the way back to the trailhead. Rains said park rangers met the party about three-quarters of a mile from the trailhead.
The victim was taken to Blackfeet Community Hospital in Browning, where she spent Saturday night before being transferred to Kalispell Regional Medical Center. Rains said she remains hospitalized, and is being monitored for potential infections.
The incident has been determined to be a "rapid non-predatory attack," Rains said, meaning park officials believe the bear reacted in self-defense.
It has not been confirmed that the bear was a grizzly, but Rains said rangers believe that to be the case. Witnesses reported seeing a grizzly and two cubs leaving the vicinity shortly after the attack.
There has been an increase of bear sightings during berry season, Rains said. People are allowed to pick huckleberries in the park, but are limited to one quart.
The last bear attack inside the park happened Sept. 29, 2015, when a Wisconsin man said he was "grabbed and shaken" by a grizzly while hiking off trail and alone near Mount Henkel in the Many Glacier Valley.
The man said he surprised a grizzly sow and her two cubs, and was able to deploy his bear spray.
He suffered puncture wounds to his legs and injuries to a hand. He hiked out to Many Glacier and drove himself to a hospital in Cut Bank, and reported the attack the next day.
Two months ago a bicyclist was killed by a grizzly bear just outside the park's border, near West Glacier. Brad Treat, a law enforcement officer with the U.S. Forest Service, was mauled to death after he and his bike collided with the bear on a trail with limited sight distances.
The last lethal bear attack inside the park occurred in 1998.
The latest attack occurred about a quarter of a mile off the Swiftcurrent Pass Trail, which was closed after the incident but reopened on Monday.
Whitefish Police kill mountain lion in residential yard
WHITEFISH – Police here shot and killed a mountain lion in a residential neighborhood late Sunday night when the animal showed little interest in leaving a yard, even as more vehicles and humans arrived on the scene.
A family returning to their Sixth Street home found the mountain lion, an adult female, in their yard and called 911 from their driveway at approximately 10:30 p.m., saying they were afraid to get out of their vehicle and go into their house.
Whitefish Police Chief Bill Dial said responding officers "hollered at the cat," which turned and meandered down a trail for a bit.
"Then she turned around, walked back up the trail and treed herself," Dial said. "Usually, if you see a mountain lion, they're gone, but this one had no fear.
"It's always a judgment call on our part, when we're dealing with a mountain lion or bear. This one was so close to so many residents, and the biggest factor was the obvious habituation to people. It was just not afraid."
It was the third time in about three years his officers have killed mountain lions in Whitefish, Dial said. In the first incident, the mountain lion had killed and eaten a pet.
"And about a year and a half ago, there was a mountain lion looking in people's windows, which is totally out of character for them," Dial said. "It's nothing we relish having to do, but mountain lions can be dangerous. There have been numerous incidents in the United States where they have attacked people."
His department receives lots of reports of mountain lion sightings in town, Dial said, but usually the animals move off quickly.
"A lot of times it's young ones that den up under decks of vacation homes," the chief said, "but they're gone by the time we get there."
Just two weeks ago, Dial added, officers responded to a report of a grizzly bear that had been under a cherry tree in a yard, and left the yard and began approaching a man who was walking his dog on the street.
Officers scared off the grizzly, Dial said, and Montana Fish, Wildlife and Parks then successfully trapped and relocated the bear.
The mountain lion that was killed Sunday night weighed approximately 100 pounds.
Two Montana hunters injured in separate bear attacks
BILLINGS - Bear attacks left two Montana hunters injured over the weekend in separate encounters.
The first incident occurred on Saturday when a man hunting near in the Cabin Creek area of Gallatin County was calling for elk. He received minor injuries from a bear assumed to be a grizzly, said a Montana Fish Wildlife and Parks news release.
The second attack was Sunday morning. A bear believed to be a female grizzly with two cubs mauled a man bow hunting elk on the north side of Tim Miner basin north of Gardiner, the release said.
Both hunters were treated at local hospitals and released.
Sow bear attacks man twice in one day; he escapes, drives himself to Ennis hospital
BUTTE -- A 50-year-old Bozeman man escaped a mauling by the same sow bear — possibly a grizzly — twice on Saturday morning on the North Fork of Bear Creek. Still, he was able to drive himself about 17 miles to the Ennis hospital, authorities said.
While scouting possible hunting locations 3 miles down the trail, the unidentified man encountered a sow and her cub — suspected to be grizzlies, said Madison County Sheriff Roger Thompson. The first incident occurred at about 7:15 or 7:30 a.m.
Even though he yelled, used bear spray and rolled into a ball to play dead, the bear chewed on the man and jumped on him.
"(The man) did everything he was supposed to do," said Thompson. "He got a small fracture in his left forearm when the bear jumped on him."
Finally, the bear took off, and the man continued to make his way back to the trailhead.
But the bear wasn't done with him.
"Out of nowhere, the bear attacked him again and did the same thing to him," added Thompson. The man was still 2½ miles from the trailhead.
The man's strategy clearly worked in his favor.
"She just seemed to lose interest because he was playing dead. Then she just wandered off. Bears can be that way when they have their babies with them."
Bleeding profusely, the man eventually reached the trailhead and then drove himself about 17 miles to the Madison Valley Medical Center in Ennis, said Thompson. Along the way, he was able to get cellphone coverage, so he called the Madison County sheriff's office to report his encounters.
"There was a lot of blood in his vehicle," added Thompson, who joined the man and Ennis Police Chief John Moore at the hospital.
"He's probably going to be released today after they fix him up," said Thompson Sunday. "It's like being struck by lightning twice in the same day; you don't get attacked by the same bear in one day."
The Montana Department of Fish, Wildlife and Parks will determine what, if anything, will happen to the bear.
The hunter's name has not been released.
"I think he did an excellent job under the circumstances, but he ran into a bear who wasn't happy with his presence — and he lived to tell about it," added Thompson. "I think he should go out and buy a lottery ticket now."
Survivor of grizzly attack tells harrowing tale; see video
A Bozeman man attacked twice by a sow grizzly early Saturday sprayed the heck out of the charging bear, but it wasn't enough.
Curling up in a ball and playing dead — while the bear jumped on, chewed, and bit him — however, probably saved his life.
Todd Orr, 50, survived the attacks — bleeding profusely and bitten repeatedly on his head, back and arms. He actually walked 3 miles out to his vehicle and drove 17 miles to the Ennis hospital to get medical help.
On Sunday, he posted his harrowing tale on Facebook.
He was released from the Ennis hospital after "eight hours of stitching to put me back together," he wrote.
Orr had been out scouting for hunting locations Saturday on the North Fork of Bear Creek in the Madison Range, east of Ennis, when he encountered the sow and her two cubs about 7:15 or 7:30 a.m.
Orr, calm after the second attack — his face blood-spattered and a serious, gaping wound above his right ear — recorded a video, which he later posted on his Facebook page, only minutes after the attack. Standing in an open field near his vehicle, he tells the camera in a cool, understated manner:
"Life sucks in bear country. I just had a grizzly with two cubs come at me from about 80 yards. And, uh, I sprayed the s— out of her with bear spray, and then I went on my face and protected the back of my neck.
"She got my head good. I don't know what's under my hat. My ear, my arm; pieces of stuff hanging out, I don't know what's going on in there. And then my shoulder she ripped up — think my arm's broke.
"But legs are good, internal organs are good, eyes are good. I just walked out 3 miles. Now I gotta go to the hospital."
During the first attack, he yelled, deployed bear spray as the sow charged him from about 25 feet, and rolled into a ball to play dead. The bear repeatedly chewed and jumped on him as he tried to protect his head.
"He did everything he was supposed to do," said Madison County Sheriff Roger Thompson.
Finally the bear took off, and Orr, stunned, "half hiked and jogged" his way back to the trailhead, he said on Facebook.
But the bear wasn't done with him. Five or 10 minutes later, she charged him again, he wrote.
"Out of nowhere, the bear attacked him again and did the same thing to him," said Thompson. Orr was still 2 ½ miles from the trailhead. "He got a small fracture in his left forearm when the bear jumped on him."
Orr's strategy clearly worked in his favor.
"She just seemed to lose interest because he was playing dead," said Thompson. "Then she just wandered off. Bears can be that way when they have their babies with them."
Bleeding profusely, Orr eventually reached the trailhead then drove himself to the Madison Valley Medical Center in Ennis, said Thompson. Along the way, he was able to get cell phone coverage, so he called the Madison County sheriff's office to report his encounters.
"There was a lot of blood in his vehicle," added Thompson, who saw Orr at the hospital.
"It's like being struck by lightning twice in the same day; you don't get attacked by the same bear in one day," Thompson said.
The Montana Department of Fish, Wildlife and Parks will determine what, if anything, will happen to the bear, authorities said.
"I think he did an excellent job under the circumstances, but he ran into a bear who wasn't happy with his presence — and he lived to tell about it," added Thompson. "I think he should go out and buy a lottery ticket now."
Demonstrating a strong presence of mind by stopping to record his injuries — even with a hint of humor — Orr posted other details on his Facebook page Sunday evening.
Though Orr is poised in his Facebook account, his blood-soaked clothing, face, and arm tell another story.
"So be safe out there," he says at the end of his video. "Bear spray doesn't always work, but it's better than nothing."
Grizzly attacks hiker near Whitefish
WHITEFISH – A grizzly bear attacked after a man and his daughter hiking on a road 3½ miles northeast of Whitefish unknowingly walked between the sow and her two cubs Sunday.
The grizzly charged past the daughter, who was leading two dogs on leashes, and attacked her father.
The incident occurred on F.H. Stoltze Land and Lumber property between Wisconsin Avenue and Haskill Basin Road, according to John Fraley, a spokesman for Montana Fish, Wildlife and Parks.
The man was able to deploy bear spray during the attack, which sent the grizzly running away, but not before he suffered bites to the head, shoulder and wrist. He was transported to Kalispell Regional Medical Center with injuries that were not life-threatening, Fraley said.
FWP investigators found a deer carcass 35 yards off the road that the bears had been feeding on.
The grizzly charged out of the forest from one side of the road, and the cubs crossed the road from the other side during the attack.
The sow first charged the daughter and dogs, but then attacked the man.
FWP and F.H. Stoltze posted signs closing the area where the attack occurred, Fraley said, which includes Stoltze land in Haskill Basin, west of Haskill Creek Road, and Haskill Basin Road east to Wisconsin Avenue.
FWP removed the deer carcass Monday morning and set up trail cameras to monitor the site and area.
The agency is not presently trying to trap the bears, Fraley said, and monitoring the trail cameras will determine future FWP actions.
FWP's Wildlife Human Attack Response Team, made up of wardens and biologists, is investigating, and the agency has consulted with the U.S. Fish and Wildlife Service's grizzly bear coordinator in planning its courses of action.
Elk hunter mauled by grizzly bear near Choteau
GREAT FALLS (AP) — Montana wildlife officials say an elk hunter was mauled by a female grizzly bear that was protecting her two cubs.
Fish, Wildlife and Parks Warden Capt. Dave Holland said the man was seriously injured in the attack at about 9 a.m. Sunday on private property near Choteau. The injured man was taken by private vehicle to the clinic in Choteau and then flown by helicopter to Benefis Health System in Great Falls. His name, age and hometown have not been released.
Holland says an initial investigation indicates it was a surprise encounter, with the bear defending her cubs.
The man did not fire any shots at the bear, which ran off after the attack.
State officials were set to visit the site on Monday.
Bull moose rattles camper
BILLINGS – When Scott Lindell was rattled awake at 1:30 on the morning of Nov. 17, his first thought was that the wind was blowing really hard.
At the time he was sleeping in his pop-up camper at a Colorado campground while on a deer hunting trip.
"I didn't realize how light those campers were," said Lindell, a 63-year-old Billings resident. "I was being shook around."
After rousting himself from sleep and stepping outside, instead of encountering gale-force winds Lindell found a large bull moose doing battle with his sleeping chambers as another bull watched. He later discovered antler holes poking through the camper's fabric right around the pillow where his head had been resting as well as a busted taillight on his pickup.
"Maybe I was snoring or the odor wasn't right," Lindell said.
The bull didn't stop trying to dislodge the camper from Lindell's pickup until he yelled at his nephew, Ryan Cienfuegos, who turned on his lights. Between the two yelling men and the lights, the bull moose finally wandered away.
"I think they were after me," Lindell joked. "I've never had anything like that happen to me."
Lindell grew up in Colorado. He had returned to hunt mule deer with family and friends during the state's fourth season in the Red Feather Lake area, west of Fort Collins along the Poudre River. He reported the bull attack to the state's division of wildlife, but Lindell said they had never heard of any similar incidents.
"Nobody would believe my story," he said.
Bull moose are known to be aggressive during the fall mating season, typically in the months of September and October. Female moose, called cows, are well-known for attacking hikers, especially if the momma moose is protective of a calf. But a bull moose tangling with a truck camper in November?
"For some reason, I was in his space, and he didn't like me," Lindell said.
FWP: Lion, 3 kittens killed after killing 2 dogs near Missoula school bus stop
One adult lion and her three kittens had to be killed by a Fish, Wildlife and Parks game warden on Monday after the lions killed two dogs in the Grant Creek neighborhood in Missoula.
According to FWP wildlife management specialist Jamie Jonkel, the adult killed a 35-pound dog on Sunday. Wardens then decided that, due to safety concerns, she had to be removed. Wardens killed two of the kittens on Monday, then tried waiting for the adult and kitten at the spot where the dog's body had been cached.
However, they got a call from a distressed family that the lions had attacked and killed a second dog, and a game warden was able to kill the lions while they were feeding. Jonkel said the mountain lions had to be removed for safety reasons. Both instances happened near a school bus stop for young children, but Jonkel said the children were safe.
"It's sad," Jonkel said. "Unfortunately, with the colder temperatures, she must have gotten a little desperate trying to feed three kittens. She would have been safe if she had just kept to hunting deer and elk."
Grant Creek residents interviewed Tuesday were appreciative to FWP for their swift action after the first dog's death, though still a little uneasy about being out after dark or in the woods near where the attack took place. 
Gail Maehl, who has a small cockapoo, said the dog usually roams behind their house, which has no fence. She's now keeping a careful watch for predators when the dog is outside. 
"What's most disconcerting is not that (the lions) are out there, it's that they're so aggressive," Maehl said. 
Though she lives a bit up from the wooded area around Grant Creek where the attacks happened, Maehl said she and plenty of people go walking in that spot and let their dogs run off the leash. 
"Going forward I'm not necessarily afraid," she said. "Just aware."
Jonkel said that mountain lions can't be safely trapped and relocated like bears once they start associating human enclaves with food.
"There have been mishaps in the past with trapping lions," he said. "We trap and relocate bears, but not mountain lions. They behave completely differently from bears."
FWP Region 2 manager Mike Thompson said there are quite a few mountain lions living in the Missoula Valley, and they usually avoid humans and dogs.
"The family was pretty concerned about it," he said of the second family who lost a dog. "There's quite a few around. They are very common. What's uncommon is for them to show themselves and for them to get used to living around humans."
FWP wardens removed a mountain lion in the Rattlesnake in 2015 after it ate a dog.
Margie Costa thought since so many people in Grant Creek are out jogging or walking in the morning or evening in the dark when mountain lions are out, they're in just as much danger.
"Pets and people, yeah, it's a concern," Costa said. "We're kind of in their habitat so we have to be conscientious."
Mountain lion takes swipe at boy outside Dillon
BUTTE – A mountain lion took a swipe at a 6-year-old boy outside of Dillon last Friday.
Two boys were playing in the back yard of a residence on Medicine Lodge Road southwest of Dillon last Friday when a male mountain lion took a swipe at one boy's leg. The boy had on pants and was not injured. The lion left a small red mark on the boy's leg, said Fish, Wildlife and Parks Warden Captain Adam Pankratz.
Both boys ran into the house and alerted the child's father, who found the mountain lion hiding in a barn and killed it. Pankratz said the mountain lion looked emaciated. That could be due to the time of year. The end of the winter season is when wild animals have gone through their fat layers, said Pankratz. The cat also could have been sick. FWP sent the mountain lion to a veterinarian for a necropsy to determine if the animal was ill.
Pankratz said he wasn't sure if the mountain lion's attack was predatory or if the boy approached the lion out of curiosity. Pankratz said it's not uncommon for mountain lions to be in that area.
Beaverhead County Sheriff Frank Kluesner said mountain lion tracks were spotted in a drainage on the east side of Dillon a couple of weeks ago. He said there have been no more sightings since then.
Pankratz said that if you encounter a mountain lion, throw rocks or sticks at it, appear large and make a lot of noise while keeping small children close. Usually, the noise and commotion will cause the mountain lion to run away.
Rattlesnake man kills habituated black bear, authorities warn of 2nd in area
A homeowner in the upper Rattlesnake neighborhood shot and killed a cinnamon-phase black bear on his porch Thursday night.
Authorities said they suspect the bear had become habituated to human food, and warned that a second bear exhibiting similar behavior has been reported in the area.
As happens every spring in the Rattlesnake, "droves of bears" began coming into the valley about a week and a half ago after a winter of hibernation, said Jamie Jonkel, an FWP wildlife management specialist.
FWP recently reminded residents that they should take down bird feeders; keep garbage inside closed garages, secured sheds or bear-resistant trash cans; keep their pet food inside, clean up chicken and livestock feed and remove all odorous substances that can attract bears.
Nevertheless, FWP began receiving reports of that cinnamon-phase bear entering garages and tipping garbage cans in search of food. Several people tried to frighten it off, but it would come right up to their homes, leaning on their doors and slobbering, a behavior that indicates it has been fed by humans.
"Someone's been throwing hot dogs or slices of bread to this guy," Jonkel said.
​Then last night, a resident of the upper Rattlesnake who preferred to remain anonymous had a run-in with the bear, Jonkel said. He spotted it in his backyard, attempting to roll his bear-resistant garbage can. He tried hollering at the bear, but the animal came up to his porch. The man, who had his small dog with him, shot and killed the bear.
Since there's another bear in the area exhibiting similar behavior, authorities remind residents that it's illegal to feed any wildlife or leave out attractants. Garbage, for instance, should be secured and not placed out until 5 a.m. the day of pick-up.
Once bears have become habituated to human food, they'll likely end up pursuing more, which may place them into contact with humans – and, ultimately, result in their being killed.
Newcomers fed bears in the Rattlesnake neighborhood several years ago, Jonkel said.
"You get new folks in there and they think it's pretty cute to drink cocktails on the back porch and throw hard candy and Wonder Bread" out for the wildlife, Jonkel said. "Now we have another bear exhibiting similar behavior."
Anyone with information about residents intentionally feeding bears is asked to contact the Montana Fish, Wildlife and Parks at 406-542-5500 or use the anonymous tip line, 1-800-TIP-MONT.
For more information on laws in the "bear-buffer zones" including the Rattlesnake, go to missoulabears.org.
Game wardens deal with lion, grizzly incidents in northwest Montana
State game wardens had to deal with a rare mountain lion attack and a grizzly bear relocation in northwest Montana last week.
A firewood cutter reported getting attacked by a mountain lion near Libby on Saturday. Montana Fish, Wildlife and Parks Region 1 spokesman John Fraley said the man was placing a choker on a log when he was struck from the side and knocked into a tree.
"He said he swung at the animal with his arm, striking it, and it ran off," Fraley said of the man. "He got up and ran to his truck and saw a mountain lion walking back towards the vehicle. He scared the lion off with his truck."
The man was cutting wood near Boundary Mountain north of Libby when the incident happened. FWP game wardens and U.S. Forest Service law officers reported he received scratches on the side of his face and stomach but did not seek medical attention. Lion-tracking dogs picked up a scent of the mountain lion, but failed to catch it after several hours' pursuit. A trail camera also failed to capture images of the lion.
"Mountain lion attacks are really rare," Fraley said. "The last record in our region that I can find is from 2007 when a mountain lion attacked a hunter in the Swan Valley."
In a separate incident, FWP game wardens relocated a three-year-old male grizzly bear captured in the Deep Creek drainage near Fortine on May 23. They reported the bear was very habituated to human activity, having been spotted feeding in yards and pastures near barns and houses. While there was no evidence of the bear getting into garbage or other unnatural attractants, neighbors were concerned about how much time the bear was spending near their homes.
Fraley said the grizzly had been captured once before in August 2016 on Whitefish's Dakota Avenue where it was feeding on fruit trees. It was fitted with a GPS radio collar and released near Frozen Lake on the U.S.-Canadian border. It moved briefly into Alberta's Waterton Lakes National Park before traveling south into Glacier National Park's Bowman Creek area.
After emerging from a den near Glacier's Boulder Pass, the grizzly needed just 12 hours to travel from the North Fork of the Flathead River, over the Whitefish Range and into the Deep Creek area — about 30 air-miles to the west.
"When talking with landowners, one of the reasons he might have been in some of the pastures was because he was feeding on ground squirrels that landowners had been shooting," Fraley said. "Based on his level of habituation, sightings, and concerns by the residents, he was captured and translocated."
The grizzly was placed in a remote part of the Spotted Bear Creek drainage on May 24.
FWP wardens have also responded to bear problems in the Eureka, Whitefish, Columbia Falls and Ferndale areas this spring. Fraley asked residents to remember to secure attractants such as garbage, pet food, livestock feed and bird seed, and protect fruit trees, livestock and poultry with electric fencing.
Woman attacked by moose near Butte
BUTTE — A local woman faced an angry moose — and broke her wrist in the process — on Little Basin Creek Road, south of Butte, last Sunday.
Regan Dean, state game warden, said the woman was out with her dogs about 9 a.m. when she came face to face with a moose. Details on exactly what happened weren't available, and the victim refused to be interviewed by the newspaper. But, she broke her wrist during the encounter, said Dean.
Dean said the victim did not see a calf, but a calf could have been nearby. When Fish, Wildlife and Parks brought a team to the area on Wednesday, they found a cow moose, an older calf, and a bull moose with another cow moose.
Dean said moose will turn aggressive if they feel threatened.
FWP — at the scene Wednesday — tried tranquilize the moose with a dart and relocate it. But the team couldn't get close enough.
"They were too spooky; we couldn't get within range," said game warden Shane Yaskus.
But the team of game wardens and other FWP workers chased the moose off. Yaskus said the area is rich with moose habitat — water, green grass and willows.
"Water's the main thing. It's really marshy; it's luscious for moose in that area," said Yaskus.
Dean said moose were in the Little Basin Creek Road area last year. The rural area features open spaces with homes scattered throughout.
Mountain lion kills goat kids, yearling on Gisselbeck ranch
A little over a week ago, Evelyn Gisselbeck woke to the terrified bleating of a goat. When she went outside, she found a yearling dead in its pen. Two days later she and Eugene, her husband, would find four kids dead.
One was left with its shoulder eaten, evidence of a lion attack.
The Department of Agriculture sent out a trapper, Ted North, who set a lion trap after the second attacks, but the Gisselbecks are worried that the lion might come back.
Eugene Gisselbeck, 91, and his 88-year-old wife Evelyn have lived up Butler Creek Road for 43 years. In those four decades, mountain lions have attacked their goats three times.  
Eighteen years ago, North killed a mountain lion and cubs in the same area after they took a Gisselbeck goat. This week, North left two chickens as bait for the lion, if it comes back.
Jamie Jonkel, wildlife management specialist at Montana Fish, Wildlife and Parks, said Missoula and its outlying areas have about 25 mountain lions at any given time.
"There's very little tolerance when lions are too comfortable," Jonkel said, "and the animal is removed."
When captured, the lion is killed, not relocated.
For the Gisselbecks, the goats are more than just livestock. They've been raising them since 1968, when they had "five children and got tired of feeding them powdered milk," Eugene said.
Goats were cheaper than cows, and more and more came in until the Gisselbecks had some 300 at the peak of their ranching, their herd consisting of Toggenburgs, Lamanchas and Alpine goats.
Now they're down to 36, "give or take," according to Eugene after the lion attacks. A year and a half ago, a lion took a goat but the trappers "got the lion before we knew the goat was gone," Eugene said, chuckling.
Evelyn was milking a big white Lamancha goat named Sunshine and listening to Montana Public Radio when interviewed Friday morning. Classical music "calms the goats," she said. "They get wild when they hear the other stuff."
When they moved to their 13.76-acre homestead from Missoula, they only had two nanny goats and three kids. "There wasn't a thing up here," Evelyn said.
A friend had a CAT D4 tractor and leveled a road, a space for their trailer, and dug a root cellar, and the Gisselbecks have been there ever since.
Eugene, who sometimes uses a motorized wheelchair, recognizes that living where they do can make life difficult. The site is five miles from town as the crow flies but 12.5 by road. It doesn't make things easy. "It's hard to get things done up here sometimes," he said.
Three more goat kids killed at Gisselbeck ranch
Three more goat kids were killed by a mountain lion at the Gisselbeck ranch just northwest of Missoula this weekend.
The goats were at the end of the Butler Creek Road property, close to the large trap set last week by U.S. Department of Agriculture trapper Ted North, after a lion killed a yearling goat and four kids in two separate attacks.
Of the goats killed this weekend, "one was partly eaten, the others were dead in their pen," Eugene Gisselbeck said Monday. "North moved the trap and placed the dead one as bait."
"There's supposed to be some place that uses dogs in Missoula," Gisselbeck said, "but there's too many people" to use them in the Butler Creek area where the Gisselbecks reside.
This winter, Montana Fish, Wildlife and Parks used dogs to track down a lion, which then was killed, near Rattlesnake Elementary School, said Jamie Jonkel, FWP wildlife management specialist.
But he said using any kind of dogs to locate the lion killing the Gisselbecks' goats would be very difficult or impossible because of the number of property owners near the ranch.
"The best way to get very, very irate people is to have a dog running a deer or a lion through their backyard," Jonkel said.
Otter bites tuber near Townsend
A tuber floating the Missouri River about a half mile upstream of York's Island Fishing Access Site south of Townsend on Saturday evening was bitten by a river otter.
The incident happened in about the same location as a similar incident last year, said Montana Fish, Wildlife and Parks Region 3 Warden Sgt. Justin Hawkaluk.
The floaters saw an animal swimming toward them and then the otter punctured the tube and then bit the swimmer in the water. The wound was minor and didn't require stitches, according to FWP.
"These incidents, while not common, do occur from time to time with animals that are either sick or protecting their young," said FWP spokesperson Andrea Jones. "In the case of any wild animal, it's best to give them safe distance."
Signs notifying recreationists of an aggressive otter in the area were posted at the Toston and York's Island fishing access sites.
Officials do not have reason to believe the animal was rabid and the signage will be the extent of FWP's response, said spokesman Greg Lemon.
"If for some reason it happens again or gets out of hand we'll address it, but for right now we just want folks to be aware that there's likely an otter protecting its den, and to be cautious," he said.
Otters range across western and central Montana dwelling in rivers and lakes. A member of the weasel family and preying mostly on fish, they reach about 20 pounds and 47 inches in length.
Bear spray halts grizzly mauling near Ennis
A grizzly bear mauled a bow hunter in southwestern Montana, slashing a 16-inch cut in his head that required 90 stitches to close.
"I could hear bones crunching, just like you read about," said Tom Sommer, as he recovered in a Montana hospital on Tuesday afternoon.
Sommer said he and a hunting partner were looking for an elk they had been calling Monday morning when his partner spotted a grizzly bear feeding on an elk carcass in the southern end of the Gravelly Range, just north of the Idaho border.
"The bear just flat-out charged us," Sommer said. He said it closed the 30-foot distance in 3 or 4 seconds.
His hunting partner deployed his bear spray, which slowed the bear's charge. Sommer said he grabbed his canister so quickly that he couldn't release the safety and he couldn't afford to look down as the bear closed in. He ran around a tree twice and dropped his bear spray in the process.
Sommer then grabbed his pistol and turned to confront the bear.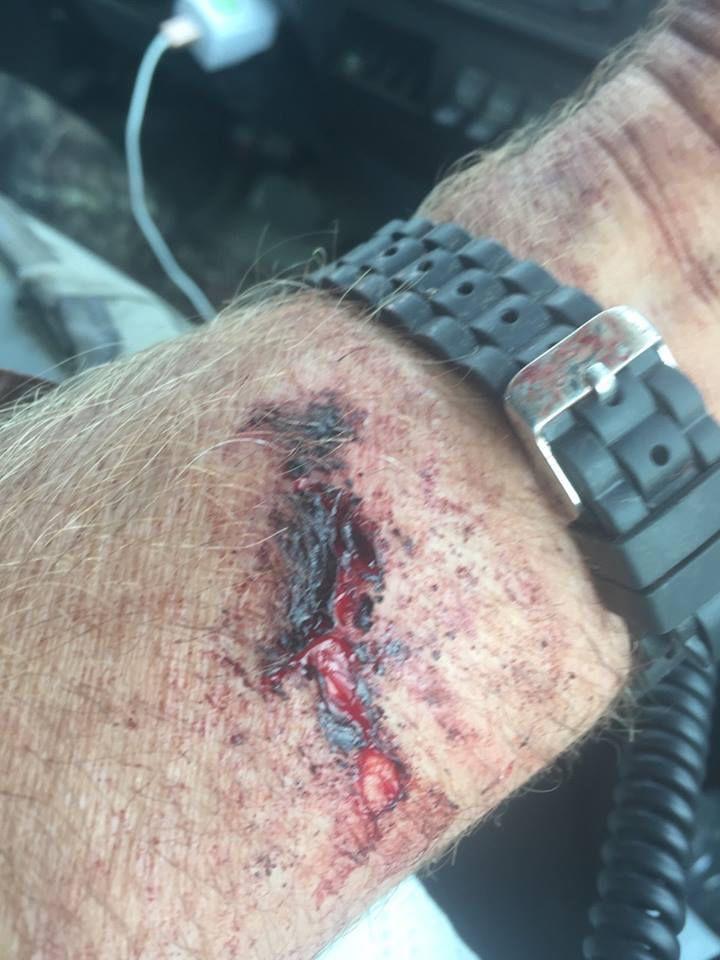 "It bit my thigh, ran his claws through my wrist and proceeded to attack my head," Sommer recalled Tuesday.
He still had his pistol in his hand and was going to shoot the bear in the neck when it swatted his arm down, Sommer said.
"Just like that it stopped. He stopped biting me, he got up and started to run away," said Sommer, who splits his time among Idaho, Missouri and Florida.
His hunting partner had been able to deploy the rest of his bear spray, ending the attack Sommer estimated lasted about 25 seconds.
"It could have been a lot worse," he said.
Sommer reportedly shot his pistol into the air as the bear retreated, but did not hit the animal, Montana Fish, Wildlife & Parks spokesman Greg Lemon said.
After the mauling, Sommer found his bear spray canister. His hunting partner had some blood coagulation powder and they made a turban, stopping the bleeding after about 15 minutes.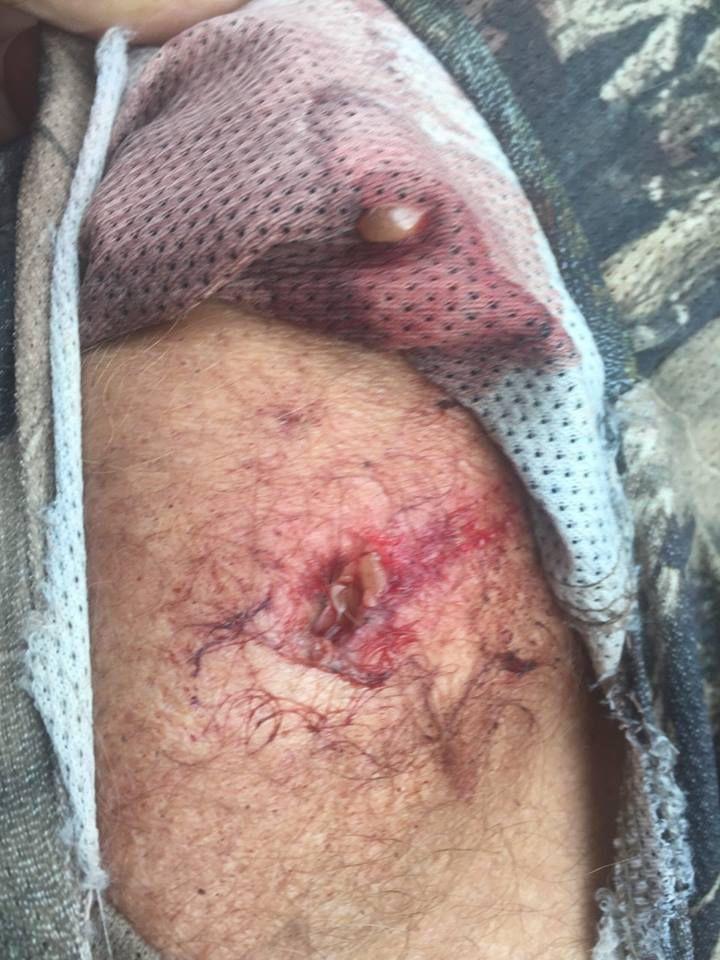 They walked a mile back to their spike camp and rode mules another 4 miles out to their base camp, followed by a 2-hour ride in a pickup truck to get to the hospital in Ennis.
"Through it all I was very conscious, very level headed and low key about it," said Sommer. "Besides some scars, it doesn't appear that I will have any problems."
"I've been a hunter my whole life," said Sommer, 57. "I have no grievance against the bear. He was just doing what bears do. But I would have shot him just the same."
The incident was reported as self-defense and authorities were still looking into it Tuesday, Lemon said.
FWP does not anticipate any "management action" related to the grizzly but the Forest Service is posting warning signs in the area, he added.
Woman mauled by grizzly bear near Gardiner
A woman was mauled by a grizzly bear on a private ranch in the Tom Miner area north of Gardiner early Saturday, according to the Montana Department of Fish, Wildlife and Parks.
The female victim, who is from the Gardiner area, and two companions were near the carcass of a domestic cow when the incident occurred, the news release said.
When the bear made contact, the victim laid on her stomach to protect her vital organs. She was bitten on her legs and back.
Her companions used bear spray to scare off the bear and stop the attack.
The victim is being treated for her injuries.
This is the second mauling in southwest Montana in a little over a week. On Monday, Sept. 5, an archery hunter was mauled by a grizzly in the south end of the Gravelly Range.
While these incidents were relatively far from each other, both involved bears feeding on carcasses. In both cases, bear spray played an important role, according to FWP.
"These events should serve as a stark reminder that Montana is bear country. Hunters and others working and playing in bear country should be especially alert for grizzlies, carry bear spray, and know how to use it," the release said.
Gardiner is located at the northern border of Yellowstone National Park.
Be the first to know
Get local news delivered to your inbox!