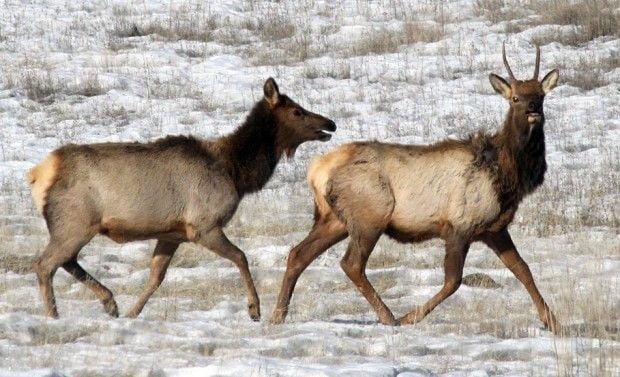 With temperatures set to plunge below zero this weekend, Montana Fish, Wildlife and Parks Bitterroot-based biologist Rebecca Mowry is bracing for a crowd at the Darby check station.
Montana's general big game rifle season is set to open Saturday, Oct. 24, at first light.
The colder than normal temperatures and a good chance for some tracking snow could help hunters find game.
"I have a feeling the weather being so nasty will get animals moving this weekend," Mowry said. "This will be the coldest opening day that I've experienced in the seven years that I've been here. It will probably mean lots more hunters will be out."
In popular hunting areas like the East Fork of the Bitterroot, Mowry said hunters should expect to see a lot of hunter orange this weekend.
For the first year in maybe two decades, the state didn't complete a spring aerial elk survey due to concerns over the coronavirus pandemic. Mowry spent a good deal of time trying to get a count from the ground, which she said was not nearly as productive.
"We did OK on the north side of the valley, but the south side is harder to find places where you can drive and see elk," she said.
From what Mowry did see, elk calf numbers looked good in the East Fork.
"I saw between 25 to 30 calves per 100 cows, which is what we like to see," Mowry said. "In terms of overall numbers, we don't have those this year. I'm hoping we can get back in the air next spring and get a good count."
Other than the loss of some shoulder seasons, Mowry said there aren't many changes to elk hunting regulations in the Bitterroot.
The biggest change for mule deer hunters came in HD 270 with the addition of 15 tags that allow hunters to harvest buck deer with three points or fewer on one side. The hunting district has long been managed as a trophy buck deer hunting area with 45 highly-competitive permits drawn each year.
Mowry said the addition of the 15 permits was an effort to reduce the risk of chronic wasting disease showing up in the hunting district.
By releasing an additional 15 buck deer permits in HD 270, Mowry hopes to reduce the number of older buck deer to slow the potential spread of the disease.
"We know that bucks have the highest risk of transmission and carrying CWD," she said. "They interact a lot with other deer and move the furthest. We want the people with these new tags to harvest the biggest, baddest three-point deer they can find."
"If people show up with 15 spike bucks, we're probably not going to keep this in place," Mowry said. "It's experimental. We'll see how it works this year."
CWD is a 100% fatal disease that infects members of the deer family, including elk, moose, mule and white-tailed deer. The first case in free-ranging deer in Montana was detected in 2017.
So far, there have been no known cases of CWD detected in the Bitterroot Valley. The closest was a confirmed case last year in the Ruby Valley in southwest Montana.
"We've sent out some suspect cases, but we don't have any confirmed reports," Mowry said. "That doesn't mean that it's not here. The odds are that it is here and we just haven't detected it yet."
Hunters can help slow the spread of the deadly disease by ensuring carcasses end in the landfill.
"It's extremely important that hunters not dump carcasses on forest or private lands," Mowry said. "If an animal has CWD, the prions that cause the disease can last for years in the ground. If another deer sniffs a carcass that's been dumped, it can get the disease. It's really important that hunters not dump carcasses, especially if those animals came from out of the area."