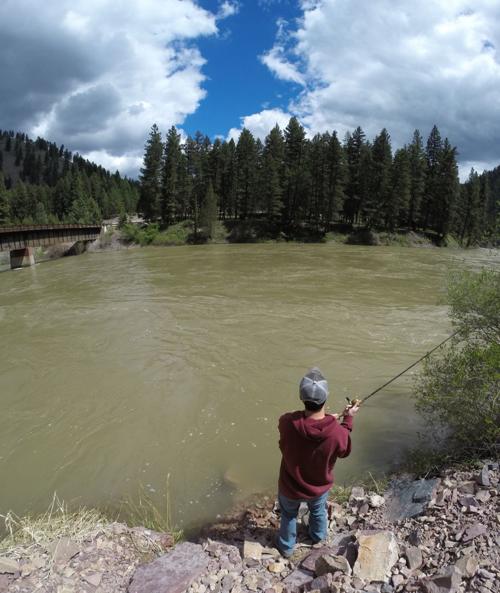 High runoff has most rivers blown out for anglers. 
Flows have actually come down some on the Missouri River below Holter and on the Bighorn River, but recent 90-degree temperatures have spiked flows on other streams. Runoff traditionally starts to subside in mid to late June, so look for fishing on rivers and streams to improve by July.
Until then hot spots include the Beaverhead River, where fishing remains steady. Cooney Reservoir is another top spot, along with Tongue River Reservoir.
In Western Montana check out the St. Regis or Thompson rivers for some early salmonfly action. Most fish are biting subsurface flies, but a red Chernobyl recently landed a large trout. The best fishing is from Henderson to St. Regis, and underneath the bridges in St. Regis.
Or try out the lakes in Glacier National Park. Lake McDonald, Bowman Lake, Avalanche Lake, St. Mary Lake, Lake Sherburne, and both Two Medicine Lakes are popular spots in the park.
The mouths and creek inlets have been providing a fair amount of success for anglers. The rain and warmer temperatures have created dangerous conditions on the creeks, so use caution.
The salmon fishing at Lake Koocanusa has picked up due to an increase in water temperature, and the rainbow bite remains steady, as well. Lake Mary Ronan, a short drive west of Flathead Lake, is also fishing well for salmon.
Top picks
Beaverhead River — Fishing is fantastic. Trout are hitting a lot of different patterns so take an assortment of flies. The prime area of the river is upstream of Grasshopper Creek, as below that point the river clarity is pretty low. Trout are hitting various caddis nymphs in green and pink, San Juan Worms, Yellow Sally nymphs, Pheasant Tail Nymphs, various PMD nymphs, pink or gray Sowbugs, or a Ray Charles pattern. To fish these bugs effectively use a nymph rig where the weight or split shot is on the bottom. Streamer fishing has been really productive for large predatory brown trout. Anything olive is going to produce the best. — Frontier Anglers, Dillon.
Cooney Reservoir — Fishing has been excellent this past week. Walleye are being caught trolling No. 6 or No. 7 rainbow trout- or perch-pattern crankbaits in about 10 feet of water. Others are doing well for walleye trolling crawlers or leeches on a harness. From shore anglers have been doing well in the Red Lodge Creek/Willow Creek areas with some being taken at the dam. Trout have been hitting trolled crawlers or leeches with cowbells. From shore present a crawler on the west end of the reservoir. — Boyd Store and Trading Post.
Glacier National Park (East) — The fishing is still good in the lakes, but the creeks have risen and are dangerous. Anglers should stick to the inlets and mouths of the lakes and use Egg Sucking Leeches, Royal Coachmen, or red San Juan Worms. Fish were also biting a Parachute Adams. Lake Sherburne, St. Mary Lake, and the Two Medicine Lakes are some popular waters to fish on the east side of the park. The area around Rising Sun Campground has been a hot spot on St. Mary Lake. On Lake Sherburne use a red and white Bunny Leech or an olive Sculpin to target northern pike. — Arend's Fly Shop, East Glacier.
Glacier National Park (West) — Since both of the major rivers around the west side of the park are blown out, the best fishing in the area will be in the lakes. Anglers can use grey or green mayfly patterns on the surface, along with orange/green Leech or Bugger patterns to fish below the surface. The optimum size for flies is 14 to 16. Lake McDonald, Bowman Lake, and Avalanche Lake are three popular places to fish. — Glacier Raft Company, West Glacier.
Lake Koocanusa — The kokanee fishing is picking up as the water temperature has climbed. Stick to the inlets of the lake and try jigging with a pink or red Swedish Pimple tipped with maggots or corn. For anglers wishing to troll, use a Beer Can flasher with a Kokanee Killer. The rainbow fishing is about the same as last week, so try trolling with a black and silver/black and brown trolling fly about 30 feet below the surface. — Koocanusa Resort and Marina, Libby.
Missouri River, below Holter — The river is coming down and the flow was 8,540 cfs on Monday. The water temps are 56 degrees. Try Wire Worms, or a big San Juan Worm. Tailwater Scuds or hotbead Scuds are also working. Streamers will also work. Try a Thin Mint. — Montana Fly Goods, Helena.
St. Regis River — The St. Regis is giving anglers great fishing conditions. Anglers are fishing subsurface with San Juan Worms and Rubberleg Stonefly Nymphs, but a large trout was caught using a red Chernobyl. Fish the river from Henderson to St. Regis, or under the bridges in St. Regis. — Joe Cantrell Outfitting, St. Regis.
Thompson River — Salmonflies are hatching along the river and anglers are having success using a size 8 Chubby Chernobyl in a red, orange, or purple pattern. — Northern Rockies Outfitter, Kalispell.
Tongue River Reservoir — Fishing was pretty good over the weekend for walleye. Fish between 10 to 20 feet of water and look for the edge of the weeds and drag a red or chartreuse jig tipped with a minnow, leech or half a crawler. For crappie, anglers are using worm harnesses or tube jigs trolled around 1 mph in 20 to 30 feet of water to catch their limits. For bass, shore anglers are getting into them fishing structure and throwing Rapalas or jigs. — Tongue River Marina.
Yellowstone National Park — The Firehole is high but fishing well with PMDs and White Miller Caddis. The best fishing has occurred when cloud cover arrives. Swing soft hackles when fish aren't rising, or if they're too hard to take on top. PMD Sparkle Duns, various small soft hackles, White Miller Iris Caddis, White Miller Razor Caddis and Fluttering White Millers are good choices. Small streamers are good flies when trout aren't rising. Soon, the Firehole should shape up for more predictable dry fly fishing. The Madison in the park is pretty well stained because of the Gibbon. Nymphing rubber legs and fishing streamers could hook brown trout. No reports of PMDs yet. The first dry fly opportunities will probably be blind-fishing with salmonfly dries. — Blue Ribbon Flies, West Yellowstone.
Eastern Montana
Ackley Lake — Trolling for tiger muskies with a No. 7 or No. 9 lure is working well. From shore, bright spinners are producing rainbows. — Don's, Lewistown.
Bighorn River — The flows have decreased to 12,500 cfs. The water temp has risen to 55 degrees. With the huge influx of water into Bighorn Lake, water clarity is down to 3-4 feet, but still quite fishable. Soap Creek remains muddy, but with the current flows it is having minimal effect. Nymphing has been good and streamer fishing remains excellent. Patterns will pretty much remain the same with the continued high waters. Any crustacean pattern, such as Firebead Soft Hackle Ray Charles (12-16) or Firebead Soft Hackle Sowbug, in either pink or tan, are working. Trail these behind a wire San Juan Worm (8-10) in either red or orange. Streamer fishing has been phenomenal as emerald shiner minnows are still being washed over the spillway into the river. White Zonkers with pearl or silver bodies and either white or ghost Cousin It's are the top patterns. — Bighorn Fly and Tackle Shop, Fort Smith. 
Bighorn Lake, Ok-A-Beh — A lot of smallmouth bass have been caught reservoir wide. Water levels are still low. — Ok-A-Beh Marina.
Boulder River — Runoff is extreme. — East Rosebud Fly Shop, Billings.
Canyon Ferry Reservoir — Rainbow trout continue to be caught throughout the reservoir. Fewer shoreline anglers were out this past week, but some anglers are having success at traditional locations using spinners, worms and PowerBait. Boat anglers are having success for trout trolling cowbells and crankbaits throughout the reservoir. Walleye are being caught primarily on the south half of the reservoir trolling crankbaits, worm harnesses, and Lindy Rigs in 10 to 30 feet of water. Worms and leeches are both working well on harnesses. Yellow perch are being caught while trolling for walleye. Bow fishing for carp continues to be excellent throughout the reservoir. — FWP, Helena.
Deadman's Basin — Due to the heat the fish have moved deeper. People have been catching a few trout. Anglers are using worms from the bank and boat. The best fishing would be early in the morning. — Cozy Corner Bar, Lavina.
Fort Peck Reservoir, Big Dry Arm — The walleye bite is slow. Bottom bouncers with worms is starting to pick up a few fish. The water temp is 65 degrees and walleye are 20 to 40 feet deep. Northern pike fishing is good on most methods. Not many bass were boated, but anglers weren't targeting them either. The lake trout are moving deeper as the water warms and are at least 60 feet deep. The Montana PikeMasters tourney is Friday, Saturday and Sunday, based out of Rock Creek Marina. — Rock Creek Marina.
Fort Peck Reservoir, Crooked Creek — Fishing off the bank is still productive for big northern pike using smelt. From boats, anglers are catching a lot of fish but they are fairly small. The biggest walleye caught was between 6 to 7 pounds. A lot of crappie, perch and small walleye were boated. Bottom bouncers and worm harnesses tipped with worms or leeches is the ticket. The water temp was 72 degrees over the weekend. The water is starting to clear up, but still stained. Clearer water begins at Lost Creek. — Crooked Creek Marina.
Fort Peck Reservoir, dam area — The weather has warmed up with lake trout about 100 feet deep. However, they are still active off the face of the dam. Fishing was slow for walleye over the weekend. The best method for walleye is to vertical jig with minnows or pull crawlers with spinners in 8 to 20 feet of water. The northerns are plentiful. For pike try pulling crankbaits or jigging. The water temps are 58 degrees on the main lake and 70 degrees in the bays. — Lakeridge Motel and Tackle.
Fort Peck Reservoir, Fourchette Bay — Anglers are catching lots of small walleye and big northerns. Bottom bounce or use jigs with a worm or leech. — Westside Sports, Malta. 
Fort Peck Reservoir, Hell Creek — A few big walleye and northerns were caught, along with a few smallmouth. Jigging with minnows is the best for walleye. Snow Creek through Timber Creek is a good stretch. Bright pink, bright blue or bright green are good colors. The water temps are 67 degrees on the surface and 64 degrees 10 feet down. — Hell Creek Marina.
Fresno Reservoir — Action was dead all spring, but fishing just started picking up as water temps warmed. Most action is on jigs and a leech or crawler. The Fresno Walleye Challenge is Saturday and Sunday. There are 100 teams entered. — Stromberg Sinclair, Havre.
Gallatin River — The Taylor Fork and West Fork are pumping dirty water into the river. The river below these rivers is probably better left alone. Above the Taylor Fork and up into Yellowstone Park the river has a little better color. The current is swift even in the park section, which has the fish holding in the seams with slower water. The most consistent method has been double nymphs down deep. Stonefly, caddis, mayfly nymphs and San Juans will produce. Some trout are being caught on streamers in the lower river. Fishing a dark fly in the foot of soft water off the bank can get trout moving. — Montana Troutfitters, Bozeman.
Hauser Reservoir — Rainbow fishing is slow from shore with a few being caught at the Causeway Bridge and Riverside while using night crawlers. Good rainbow action for boat anglers is happening around Black Sandy and Devil's Elbow while trolling cowbells or gold crankbaits. Walleye are being caught in the Causeway while using jigs and leeches or worms. Perch fishing is slow. — FWP, Helena.
Hebgen Lake — Fishing has cooled ever so slightly. Many anglers are still catching multiple fish. Hot spots seem to be near the Narrows, Trappers and trolling north of Firehole Ranch. Try using Needlefish and Rapalas and spoons and spinners with pink or chartreuse. Bait anglers are still doing well with night crawlers from the shore and fly fishing is still productive at the tail end of the midge hatch. Clear, cold water still needs caution from all anglers. There is twice as much water coming into the lake as the outflow so shorelines are changing daily. Hebgen is about 2 feet below full pool and the water temp is 51 degrees. — Kirkwood Marina.
Holter Reservoir — A few rainbows are being caught from shore at Departure Point while using worms or marshmallows. Boat anglers are finding rainbows while trolling perch-pattern crankbaits or cowbells in the lower reservoir and in the canyon around Gates of the Mountains. Walleye action is improving while using jigs and leeches in 10 to 20 feet of water. The best walleye action is happening in the lower reservoir and in the canyon around Gates of the Mountains. Perch action is good around the docks, Oxbow Bend and by the clay banks while using a jig and worm in 8 to 10 feet of water. — FWP, Helena.
Lake Frances — Fishing is slow. Fishing pressure is light. Water levels are low and the water is dirty. — Scheels, Great Falls.
Madison River, Lower — The water is looking about perfect for this time of year. Water temps are there and the fish are taking a medium-sized fly (Zirdle, Woolly Bugger) followed by a flashy nymph or a crayfish. Or trail a rubber legs. A big Prince Nymph with a Hare's Ear behind it has also been picking up quite a few fish in the slower buckets and pools. Dry flies are getting a little more predictable. We're seeing PMDs midmorning or early afternoon. It's caddis in the evenings until sunset. During midday try a Yellow Sally. Fishing a two-fly rig such as a Yellow Humpy with a PMD Emerger or Pheasant Tail behind it along the banks has been productive. Try throwing streamers when the pressure changes. Higher water is still pushing fish to the banks and that's also where you'll find the dries. — Montana Troutfitters, Bozeman.
Madison River, Upper — The river is flowing high and is difficult to wade. Exercise caution. It is still fishable above the West Fork, which is pumping mud into the river and causing low visibility near Ennis. Up high Beaver and Camp Creek are also cranking some mud into Quake Lake and the water coming out is pretty dirty. The best bet is to go high, up near Three Dollar and Raynolds Pass. Nymphing will be the most consistent producer but streamer fishing is a good option for picking up fish. There have been a few baetis on the cooler, cloudy days and the occasional March Brown. On sunny days, look for green and brown caddis. A good rig would be running rubber legs and a worm deep under an indicator. A Three Dollar Dip is also a good trailer pattern behind the bigger rubber legs. A Zirdle Bug will also pick up a few fish under the indicator. For streamers, the darker flies have been producing on the dark days and white has been a good option in the sun as well as a Sparkle Minnow. However, with streamer fishing there are no rules. Don't be afraid to try dark flies on bright days and bright on dark. Keep changing until finding the color the fish are looking for. — Montana Troutfitters, Bozeman.
Martinsdale Reservoir — The lake is full. Try cowbells and two-way spinners with a crawler. — Ray's Sport and Western Wear, Harlowton.
Missouri River, Fred Robinson Bridge — The flow was below 16,000 cfs as of Monday and the water temps are about 63 degrees. Paddlefish action is OK, but everything else has slowed. — Don's, Lewistown.
Nelson Reservoir — Fishing well for walleye and smallmouth, with the occasional crappie or northern reeled in. Pull bottom bouncers and worm harnesses or use a jig and a leech. Crankbaits will work in windy conditions. — Westside Sports, Malta.
Rock Creek — Spring runoff is in full bloom. — East Rosebud Fly Shop, Billings.
Spring Creek — It is high and slightly off-color. Flashy red, chartreuse, and copper beadhead nymphs are working. Anglers may need a little extra split shot. — Don's, Lewistown.
Stillwater River — Running high at 7,500 cfs and off-color throughout. Anglers need to seek other options. The volume, speed and temperature of the water can be hazardous. Use caution near the banks. — Stillwater Anglers, Columbus.
Tiber Reservoir — Action is slow. The water is starting to warm up. Anglers should first locate and then vertical jig for fish. — Scheels, Great Falls.
Yellowstone River, Columbus — It remains blown out. The river is unfishable. It is flowing at a level that is hazardous. Use caution if near the banks. — Stillwater Anglers, Columbus.
Yellowstone River, Huntley — It is blown out. For catfish, try backed-up feeder creeks with a go-to bait of cut bait. — TeamMinnowBucket.com.
Yellowstone River, Livingston — It's absolutely cranking now hitting nearly 30,000 cfs during the heat of the last couple days. Stay away from this river for now, but it's shaping up to be quite a summer once it does begin to clear. — Montana Troutfitters, Bozeman.
Western Montana
Big Hole River — It was running at more than 7,000 cfs on Monday at Maiden Rock so fishing has been a little slow. However, salmonflies are expected by this weekend. For the skilled rower and dedicated angler, we recommend rubber legs, Prince Nymphs and caddis larvae in green and pink. — Frontier Anglers, Dillon.
Bitterroot River — The water is still high and moving fast, fishing is not recommended. On Monday the river was flowing at 5,490 cfs in Darby and the West Fork of the Bitterroot was measured at 1,470 cfs. — FreeStone Fly Shop, Hamilton.
Blackfoot Reservation — Duck Lake near Babb, Four Horns Lake between Heart Butte and Piegan, and Mitten Lake west of Heart Butte have been fishing well. On all three lakes use a Parachute Adams, Hare's Ear, or a Damselfly Nymph. At Four Horns Lake walleye have been biting on black/olive Leeches. Anglers wishing to troll can use an orange Bottom Bouncer tipped with a worm. A popular spot for walleye is near the dam. — Arend's Fly Shop, East Glacier.
Blackfoot River — The water is fast, brown, and has zero clarity. Conditions are expected to improve in a couple weeks. The river was flowing above 7,000 cfs. — Blackfoot Angler and Supplies, Ovando.
Clark Fork River, Missoula — The river remains blown out around Missoula, and with hot weather and rain expected conditions aren't likely to improve. However, the upper river above Drummond could be clearing out. — Blackfoot River Outfitters, Missoula.
Clark Fork River, St. Regis — On June 6 the river was measured at 31,600 cfs creating unfishable conditions. — Joe Cantrell Outfitting, St. Regis.
Flathead Lake — The Flathead River is still pushing dirty water into the lake and forming a mud line around the delta where lake trout and northern pike have been preying on smaller fish. Anglers are having success trolling and jigging at depths above 80 feet. Jigging is providing more success than trolling to target lake trout. Anglers are using lead jigs or squid jigs 3/8 to 1/2 ounces with cut bait. Use a fish finder to find the optimum depth to jig. Northern pike are striking on bass lures and ChatterBait in the sloughs of the river. — Snappy's Sport Senter, Kalispell.
Flathead River, North of Flathead Lake — The main fork of the river is not fishable and likely won't be until the end of June. — Northern Rockies Outfitter, Kalispell.
Georgetown Lake — The south and east shores of Georgetown Lake are closed until July 1, but anglers have been using Bugger, Leech, and Damselfly Nymph patterns to fish the north and west shorelines. A size 8 to 10 fly is recommended for all three varieties. Try using olive and red Buggers, black Leeches, and olive Damselfly Nymphs. The rainbow and brook trout have been hanging close to shore, about 70 to 100 feet from the bank. — Flint Creek Outdoors, Phillipsburg.
Lake Mary Ronan — The fishing has been pretty good and anglers are bringing in a handful of salmon. Cut off the treble hook from a Swedish Pimple and place a Glo Hook 4 to 8 inches below the Swedish Pimple. Bait the Glo Hook with a worm/shrimp/corn or a maggot/shrimp/corn combination. Crawdads can also be used in place of shrimp, and each piece of bait should be about the size of a kernel of corn. Perch are also being caught in the salmon holes using red/green jigs baited with a worm. Anglers are jigging at depths of 18 to 27 feet. Most salmon are being caught in the early mornings. — Camp Tuffit, Proctor.
Middle Fork of the Flathead River — The Middle Fork of the Flathead is blown out and was measured at 15,400 cfs. Conditions will remain the same for a few weeks. — Glacier Raft Company, West Glacier.
North Fork of the Flathead River — The North Fork is flowing faster than the nearby Middle Fork at 16,200 cfs. Fishing conditions are poor. — Glacier Raft Company, West Glacier.
Noxon Reservoir — The bass fishing is great. The water is about 58 degrees and there is 12 feet of clarity. Baby bass and fire-tiger patterns are working well, along with the wacky worm technique. Anglers have been successful throughout the reservoir, but stick to the gravel beds and sand beds to target smallmouth bass, and fish along weed beds or wood structures to find largemouth bass. — Lakeside Motel and Resort, Trout Creek.
Rock Creek — Despite running high and slightly off-color, some fish are hitting on salmon flies in the back eddies of the lower section of Rock Creek. Set up a Salmonfly with a Double Bead Stonefly Nymph or a San Juan Worm to fish the back eddies. — Blackfoot River Outfitters, Missoula.
South Fork of the Flathead River — Conditions on the river have not improved. The river reached its highest point of the season on Saturday at 16,000 cfs. — Spotted Bear Ranch, Flathead National Forest.
Seeley Lake — Anglers have been catching a few northern pike out of Seeley and nearby Salmon Lake using a black GSB. The best fishing will be along the weeds. — Rovero's, Seeley Lake.
Swan Lake — The lake is higher than usual and muddy. Some people are catching fish but it is not consistent. Conditions are expected to improve soon. — Swan Lake Trading Post, Swan Lake.
Swan River — With a current flow of 4,990 cfs the river is blown out and not fishable. — Bigfork Anglers Fly Shop, Bigfork.
Wyoming
Bighorn River, Thermopolis — It is at 6,800 cfs and not fishing well due to high water. — North Fork Anglers, Cody.
Boysen Reservoir — Water levels are rising. Fishing is slow for walleye and crappie. Trout action is decent. — Boysen Lake Marina.
Buffalo Bill Reservoir — Water levels are down. It is extremely hard to get boats in as the ramps are out of the water. — Pryor Creek Bait Co., Laurel.
Clarks Fork — It is rolling at 9,320 cfs as of Monday. — North Fork Anglers, Cody.
Cody-area lakes — Luce Reservoir, Hogan Reservoir and East and West Newton Lakes are all fishing well. Callibaetis, damsel nymphs, leeches and Buggers would all work. — North Fork Anglers, Cody.
Lake DeSmet — Anglers are catching walleye in the Monument area using worms. Pink PowerBait is working for trout. — The Lake Stop, Buffalo.  
Lower Shoshone — The flow was 6,218 cfs on Monday. It is muddy and fishing would be tough. — North Fork Anglers, Cody.