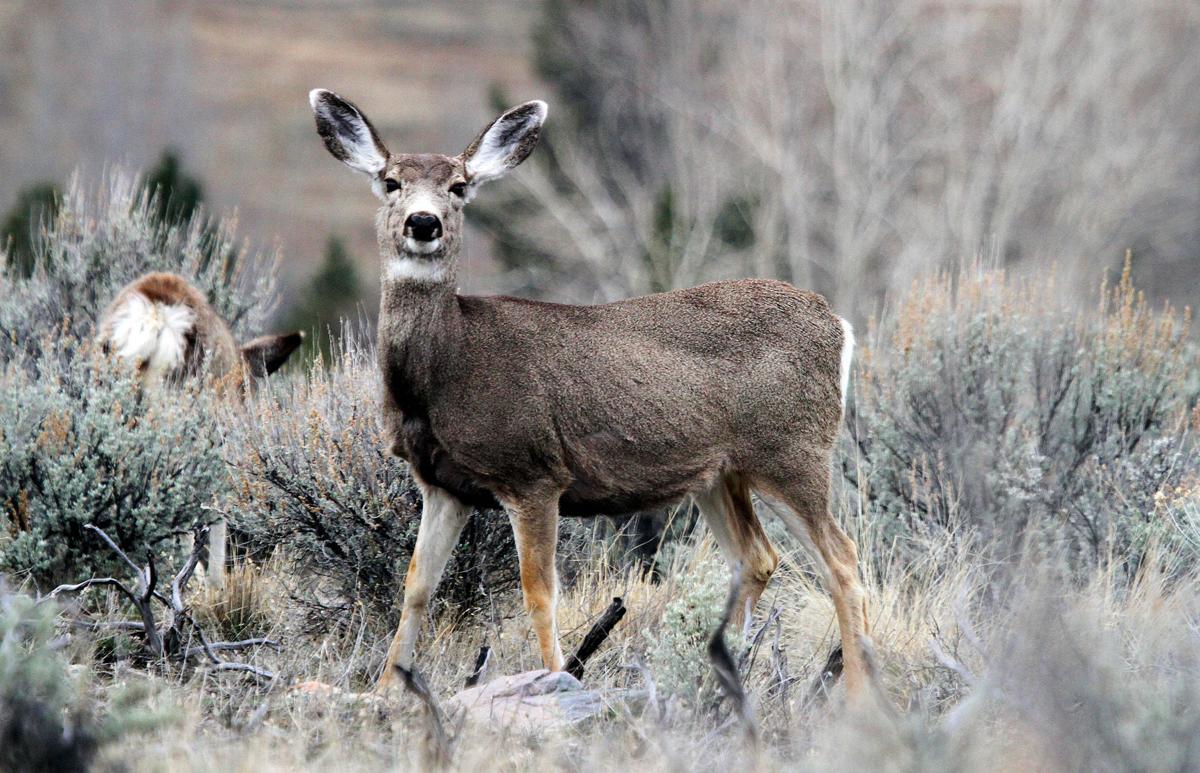 Dasher, Dancer, and many of their white-tail deer pals can find easy pickings in local neighborhoods.
Attracted by folks handing out day-old crackers, bread, and corn, the number of deer is often more than an area can support. To feed a wild animal on a snowy day is a natural impulse, but tragically often kills more deer by starvation, disease, and vehicular collisions than it saves. Add to that far-reaching negative impacts on the entire herd, our forests, and public safety, and this is a bigger issue than most people realize.
Let's start with the food. For thousands of years, deer have had a digestive system designed for winter forage – fibrous twigs, buds and grasses. Their rumen (stomach) has millions of specialized micro-organisms, enzymes and a specific pH to digest woody browse, and can't tolerate radical changes in diet.
When left to eat naturally, deer slowly transition to the food available that season. Give them processed grains and within six hours, the rumen becomes acidic and microbes needed for digestion are destroyed. These products create an overload of indigestible sugars and starches, and many deer die from acute acidosis within three days with a full stomach.
If they survive, the transition back to a natural diet takes one to four weeks during which they continue to starve, unable to digest the change back to a normal diet. If an animal is strong enough or hasn't eaten many Corn Flakes or Cheezits, they get lethargic and clumsy, making them easy targets for predators and traffic. The worst pattern is people who feed bread one day, apples the next, and then nothing. Wild animals simply can't adjust.
Remember that deer are designed for times of accumulating fat and lean times for living off of it. They can lose 20 to 30 percent of their body weight over the winter, and can actually go up to a month without eating. Trying to help sick or weak deer survive a harsh winter does no one any favors, interfering with the health of the herd.
Stick with me, and remember a deer's natural life. Your big herd around the feeding station is now eating junk food, affecting migration to normal wintering grounds and appropriate nutrition. Why migrate when the "good" stuff is here? So the herd strays into residential landscaping and munches on "deer-resistant" plants, overgrazes native species, and destroys essential tree cover and forage for years to come.
Everyone wants more of a good thing, so the strong bucks in the herd shoulder away fawns and gobble most of the food. Bucks are resource guarding, which is fighting over a concentration of food when natural grazing would keep peace amongst the ranks and lower aggression towards other deer, pets and even people. Deer can also use up precious energy fighting for handouts, going away hungry and ultimately starving. If you're a hunter, this decreases the number of animals to harvest. If you're not, it's just plain sad.
What might look like a Disney movie with deer moseying up to homes, dogs, cars and people, now looks more like The Nightmare on Elm Street. Get a lot of animals at crowded feeding sites, and diseases and parasites can spread quickly. Deer are often loaded with fleas and ticks, and Lyme disease is transmitted by ticks to people and dogs. Demodectic mange from mites spreads quickly resulting in hair loss and skin lesions, when deer need their warm winter coats the most. Bovine tuberculosis affects both deer and cattle, and deer wasting disease is a lengthy and painful way to go.
If disease doesn't get them, predators can, pouncing right next to feeding stations. Concentrated deer maintain a limited number of escape trails, but need extensive trails to stay safe. Big lazy herds are prime pickings for increased predation by mountain lions, which creates safety threats to dogs, cats, and children waiting for the school bus before dawn – a time when the cats come a'hunting. What happens when lions become a threat to public safety? You got it. The casualty count increases and now it's not only the deer we were trying to "save."
Providing free food also attracts ravens, magpies, eagles, raccoons, rabbits, rats, mice, and other scavengers who compete for the handouts or eat the remains of wildlife who have died. Conflicts between these uninvited guests range from property damage to injuries to people or pets, and could have been avoided.
The Nightmare on Elm Street continues with the impact on residents. Dog owners need to keep Fido from getting gored or kicked by does protecting yearlings and from bucks in rut. Dogs can't be allowed to harass wildlife, but it's easy (and fun) when deer that are fed hang out in big numbers. So the pooch is locked inside because the balance of nature was disrupted down the street.
Deer feeding sites can increase fatalities of both people and wildlife, since deer are less afraid of vehicles and sick from this poor diet, making them easy targets for accidental death or injury. Comet and Cupid don't care if your truck has been totaled and you have whiplash, so feeding them is causing more casualties including human ones.
Still want to help deer during a harsh winter? Do it nature's way. Plant forage in small fields with big game or four-season wildlife seed mixes from your local feed store, that contain rye, wheat, millet, vetch, clover, peas, and turnips. Drop some trees on your lot so deer can reach the tender tips and buds on top. Provide shelter and windbreaks by planting trees, but protect young ones from being browsed by deer until they're mature. Let some sun in your woods so native browse plants can grow, and you can watch wildlife to your heart's content in future years.
The Montana Code 87-6-216 states that people may not provide supplemental feed to deer, elk, bears or mountain lions, because it often results in an artificial concentration of animals that could transmit disease or constitutes a threat to public safety. Wildlife lovers don't want these amazing creatures to be injured, improperly nourished or harassed. Neighbors don't want their landscape trashed, their dogs threatened by predators, or to know that they've crippled a wild animal that will now suffer a slow death because of a collision with their vehicle. So stop with winter feeding. Please.
Becky Lovejoy has a master's degree in education and has been involved with animal shelters, therapy dog programs, the Oregon Zoo, and Guide Dogs for the Blind.
Be the first to know
Get local news delivered to your inbox!