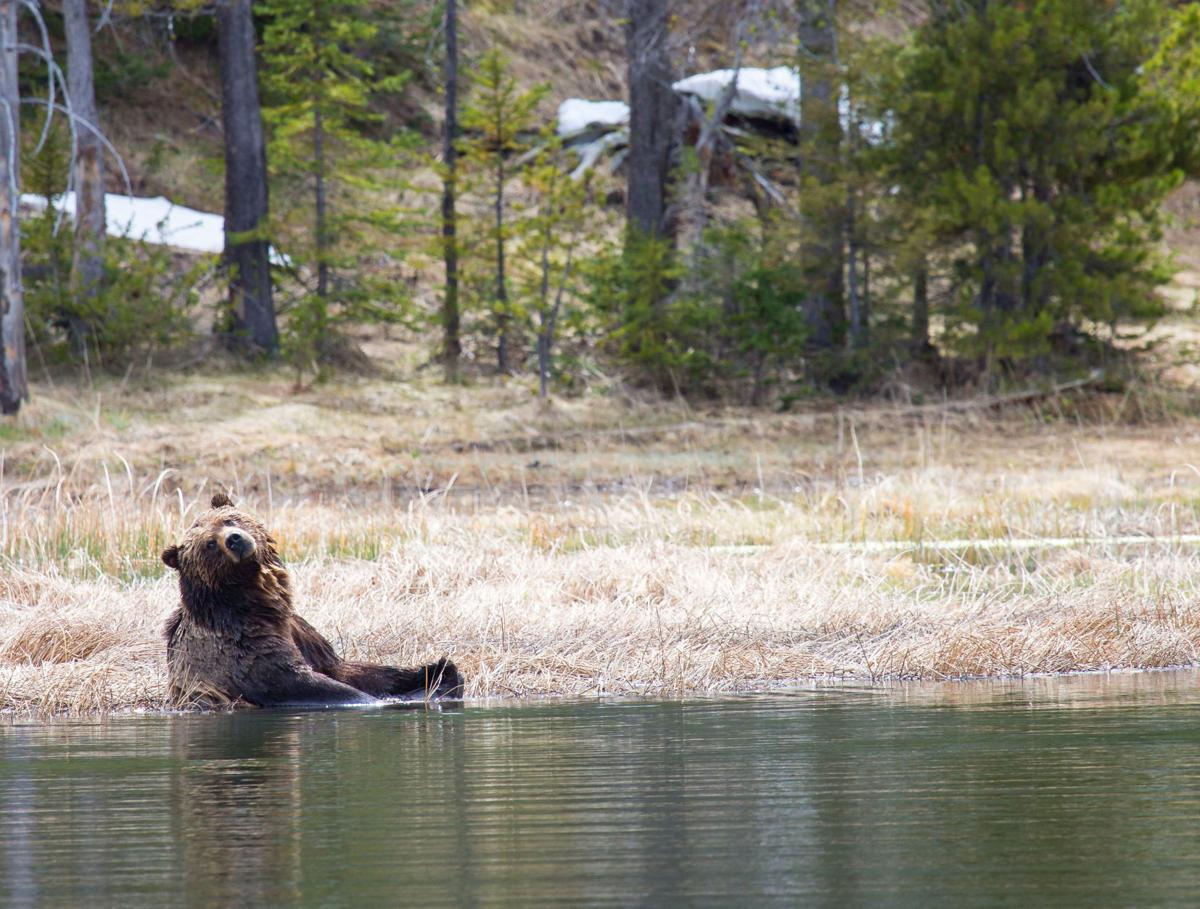 Bears need baths too, but not to wash dirt from between their hairy toes. Instead, taking a dip in a cool pool of water helps the large, furry mammals reduce their body temperature.
"Grizzly bears are big, heat sensitive animals," said Ryan Long, associate professor of Wildlife Sciences at the University of Idaho. "They need a way to deal with that to go about their business."
Turns out, a cool dip in a pool of mountain spring water is the perfect solution during hot summer days. As the climate warms, temperature-controlling plunges may be especially important for females with cubs and those that are pregnant. That's because when pregnant or lactating, female bears generate more heat.
"As long as they have access to cool water, they're expected to do just fine," Long said. "Without those bathtubs, they would be in bad shape."
Long said his colleagues at the Interagency Grizzly Bear Study Team in Montana were most interested in how flexible bears are in overcoming environmental challenges such as warmer temperatures.
"Nobody ever knew why they used these bathtubs. It's pretty smart on their part," he said.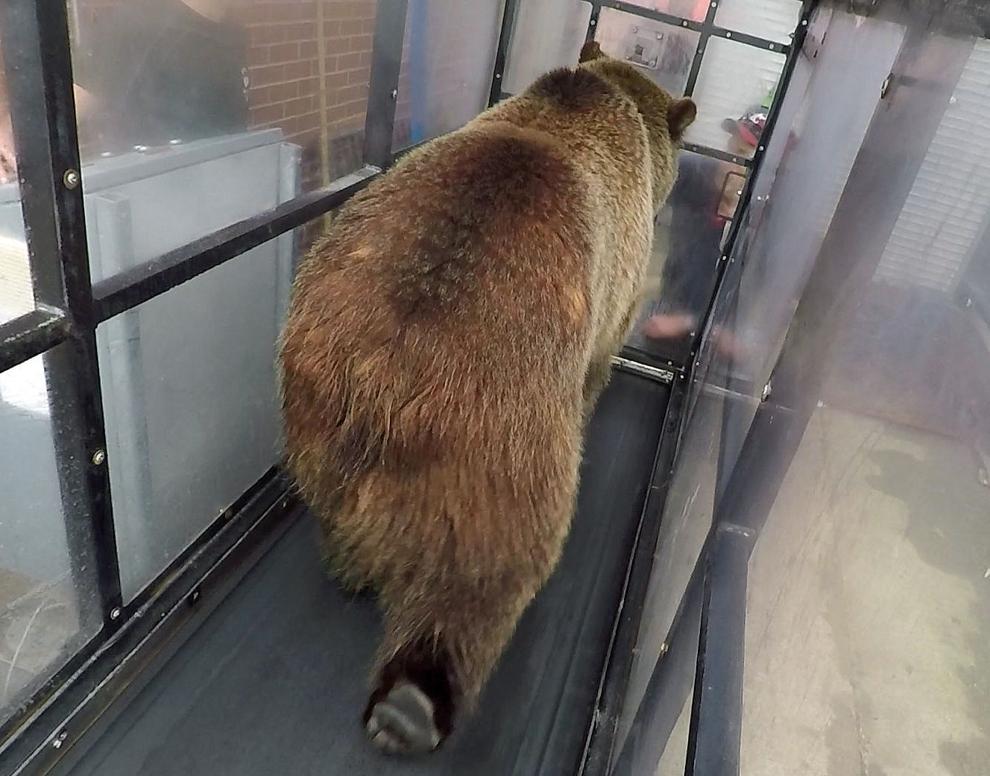 Research
Long and graduate student Savannah Rogers recently co-authored research based on their study which used five captive female bears at the Washington State University Bear Research, Education, and Conservation Center to answer their questions. Two of the bears were from Yellowstone National Park.
The work involved a couple of unusual scenarios. One part of the study required shaving a 2-inch square clump of hair off the grizzlies to measure the amount and density of their fur.
"I wouldn't try to do it while they were awake," Long joked.
Instead, the animals were anesthetized for their bear haircut, or is that a bearcut?
"Their fur is super dense, that's why they do so well in the cold," Long said.
The animals also walked on treadmills to measure their oxygen consumption. Here's how you get a bear to walk on a treadmill. Charles Robbins, a professor of Biological Sciences at Washington State University, trains them to stay on the treadmill by constantly feeding them honey water.
"It's the most farcical thing you've ever seen," Long said.
Computer models were then used to predict the potential effects of a changing climate on female grizzlies with cubs versus those without cubs.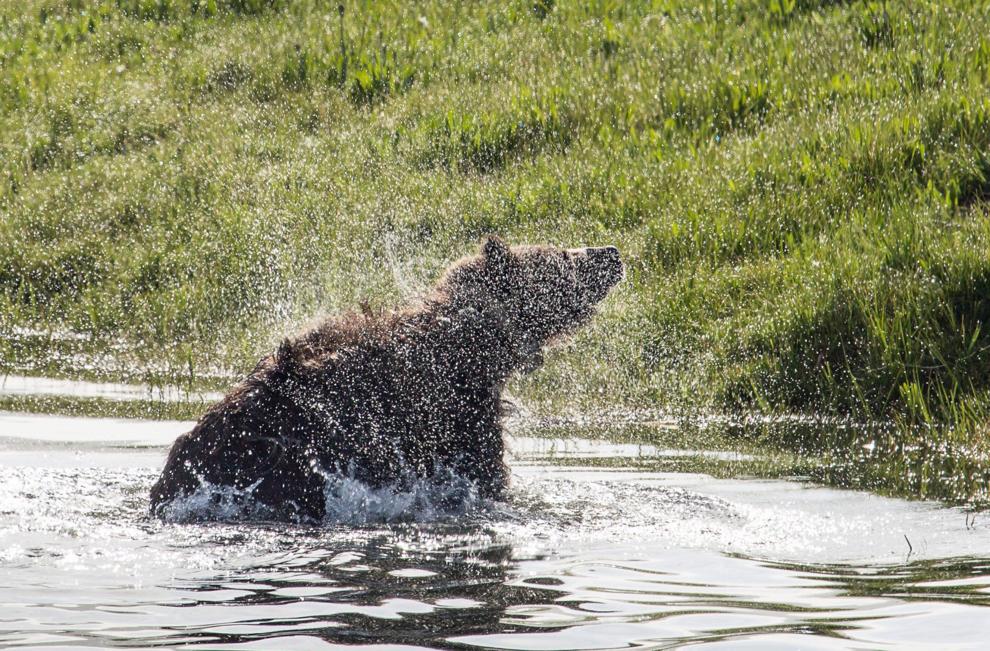 Heat
The questions surrounding a warmer climate and its effects on bears are many. If pregnant or lactating females get too hot, it could affect the amount of energy they devote to milk production or reproduction. Bears may also become more nocturnal during hotter periods, forcing them to forage and feed when the air temperature is cooler.
Grizzly bears have slow reproductive histories — females don't reproduce until about 4 to 9 years old, and then only every 2.6 to 5.6 years, and they have small litters. Thus a hotter climate could affect bear populations. If bears need to be near cool water from mid-June to late September, it could affect where they spend time in places like Yellowstone National Park as the climate warms.
However, the scientists noted the most common factor affecting grizzly bear location in Yellowstone is elevation, specifically higher elevations, and distance from roads. Both are areas where there are fewer humans. High country in the summer also contains two important protein-rich food sources: whitebark pine nuts and cutworm moths.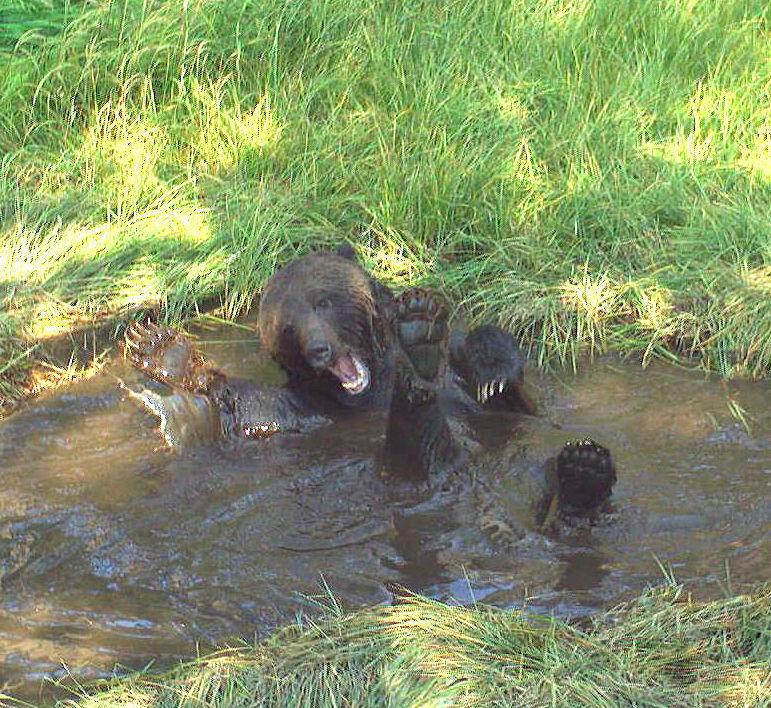 Beartubs
Yellowstone National Park bear biologist Kerry Gunther stumbled onto bear bathtubs about 20 years ago. A bear had dropped its research collar so he went in search of its location. The transceiver guided him to a remote pool. The collar was on the bottom. Looking around the area, it was clear the site was a well-known bear bathing pool based on the number of tracks and trails.
In 2015, National Geographic magazine published photos and video of grizzly and black bears using the same pool in the Yellowstone backcountry. The images were taken using high-resolution camera traps.
"Bears came to the pool, soaked, bathed, and cooled off," Gunther wrote in a "Yellowstone Science" article. "Females brought their cubs to play at the pool. Even adult bears were observed playing with sticks pulled up from the bottom of the pool. Interestingly, bears also scent-marked along the edge of the pool, rubbing their necks and cheeks on the ground and lush grasses surrounding the pool.
"Since discovering the bear bathtub, several other collars have been retrieved from small, cold ponds. The park likely has many such places visited by bears to bathe, soak, play and scent mark."
In a 2010 study conducted in the Bitteroot Valley, researcher Michael Sawaya found black bears using puddles and pools, as well. "Bear use steadily increased over summer, peaking in late summer when ambient temperatures were high and fat layers were thick," he wrote.
Long and Rogers published their bear bathtub findings in "Functional Ecology," a journal of the British Ecological Society. The work included the help of researchers from Washington State University, the University of Wisconsin-Madison and U.S. Geological Survey.