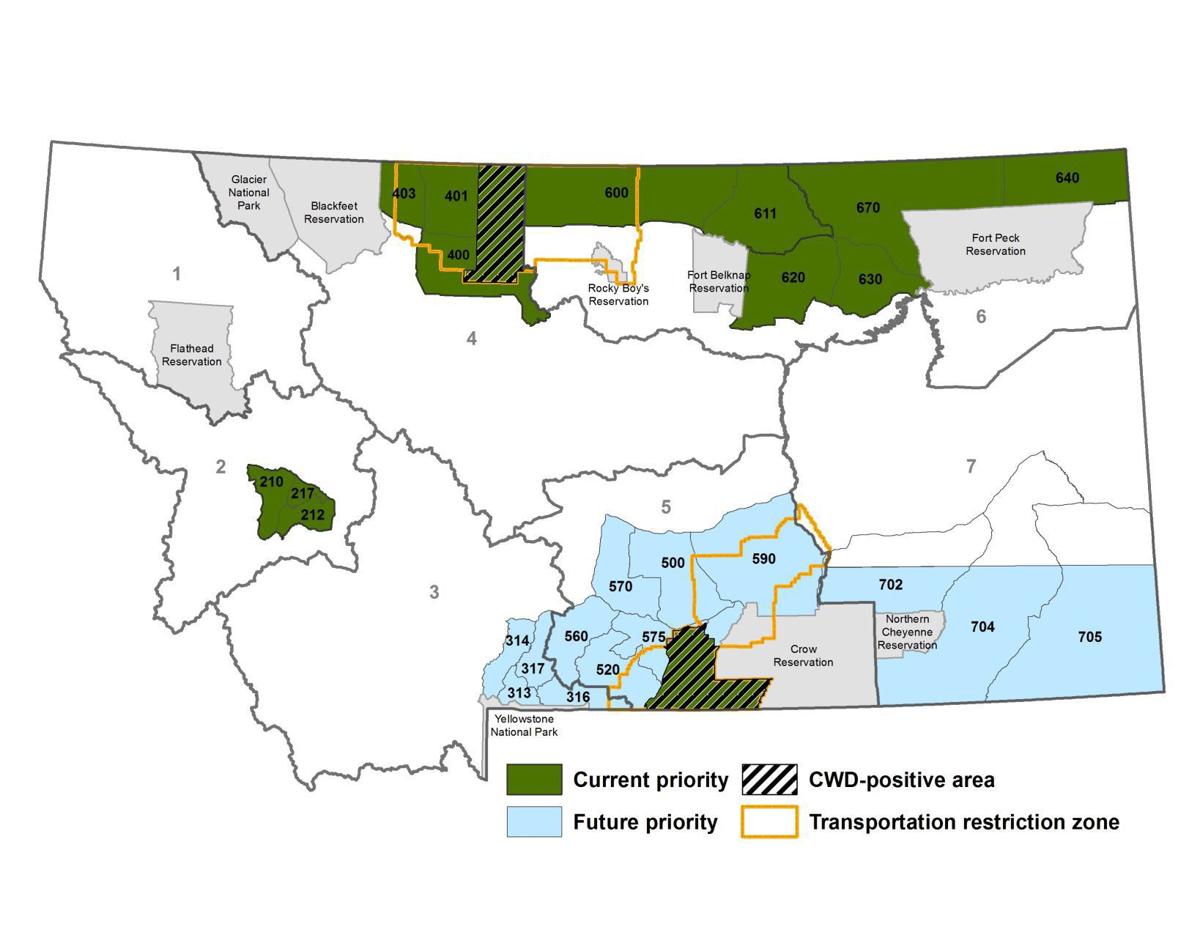 Bad news about chronic wasting disease in Montana deer populations piled up during the last week of the 2018 hunting season.
Three mule deer shot along the Canadian border in Blaine County tested positive for CWD, which causes fatal brain damage in susceptible animals. That makes the third CWD incident detected in Montana this season since the state Department of Fish, Wildlife & Parks set up an extensive monitoring network. The other two confirmed cases occurred in Liberty County and in Carbon County along the Wyoming border.
On Wednesday, National Park Service biologists announced that a road-killed mule deer tested positive for CWD in Grand Teton National Park.
"The presence of CWD in the area is not surprising as it was detected in Star Valley and near Pinedale (Wyoming) in 2017," FWP spokeswoman Joleen Tadej wrote in an email on Wednesday. Wyoming's Game and Fish Department maintains extensive elk feeding grounds in the basin just south of Grand Teton and elsewhere.
In September, a federal judge ordered the cancellation of a long-term permit for elk feeding grounds in Wyoming's Bridger-Teton National Forest, ruling the Wyoming Game and Fish Department and U.S. Forest Service didn't do enough to analyze the risk of the disease spreading to surrounding wildlife populations. Wyoming maintains 21 state-operated feeding grounds.
CWD is transmitted by proteins called prions that can move from an infected animal to the soil it dies on and back to another victim. It affects elk, mule and white-tailed deer and moose. It may be related to bovine spongiform encephalopathy, also known as mad cow disease, which in turn has shown links to Creutzfeldt-Jakob Disease in humans. However, no confirmed links have been shown to date between CWD in wildlife and human infection. There is no treatment or cure for any of these diseases.
The disease is endemic to North America, and has been detected in South Korea and parts of Northern Europe.
Members of the U.S. House and Senate have introduced bills to support more research into CWD. The measures direct the National Academy of Sciences to  study how CWD is transmitted in wild, captive, and farmed deer in the United States. The bill also calls for a review of the best practices and standards for managing CWD in both captive and wild deer, to result in a report of findings and recommendations.
"Misinformation about CWD and how we should deal with it as a hunting community is almost as rampant as the disease itself, and we need definitive research to chart an ambitious path toward recovery. In the meantime, sportsmen and women are prepared to do our part, and that includes advocating for necessary funding and demanding updates to management practices that have failed our wild deer and elk herds in the past," Fosburgh wrote.
To prevent the spread of CWD to other portions of Montana, the brain and spinal column of deer, elk or moose harvested within either CWD-positive area cannot be transported outside of the associated transport restriction zone, or TRZ, which includes Toole, Liberty and Hill counties, and with this latest detection has been expanded to include Blaine and Phillips counties.
Hunters are reminded not to leave this expanded TRZ with whole deer, elk or moose carcasses from either CWD-positive area but should consider processing the animal within the TRZ or only removing quarters and deboned meat with no spinal column or head attached.
"Hunters also need to be aware that because of this new detection of CWD, FWP is relying on collecting more samples from the area to determine disease prevalence among the deer population and its potential distribution," Tadej said. "This information is critical for FWP in developing a plan for managing the disease."
FWP would like hunters who harvest deer, elk or moose within the priority surveillance area, which includes the Hi-Line from the Blackfeet Reservation to the North Dakota border and HDs 210, 212 and 217 in western Montana, to submit the animals for CWD testing.
This can be done by visiting surveillance-area check stations, which are open on weekends, or by contacting or visiting the FWP regional office in Great Falls at 406-454-5840, Glasgow at 406-228-3700, Havre at 406-265-6177, Missoula at 406-542-5500, or Billings at 406-247-2940 during the week.
Be the first to know
Get local news delivered to your inbox!