Are outdoor recreationists selfish by nature?
I had time to ponder this thought as I drove the four hours back and forth to downhill ski last week. Unable to find any buddies who could find the time off or were otherwise engaged, I decided to make the trek anyway. Alone. It made me feel guilty.
Then I thought of all of the other times I've gone hunting, fishing or hiking by myself and wondered if it doesn't say something about the activities I'm involved in. Maybe having someone else along isn't always a necessity, and at times can even hamper enjoyment of an activity.
That sounds pretty harsh when I write it down, an indictment of my character. In reality, though, I have to confess it is true.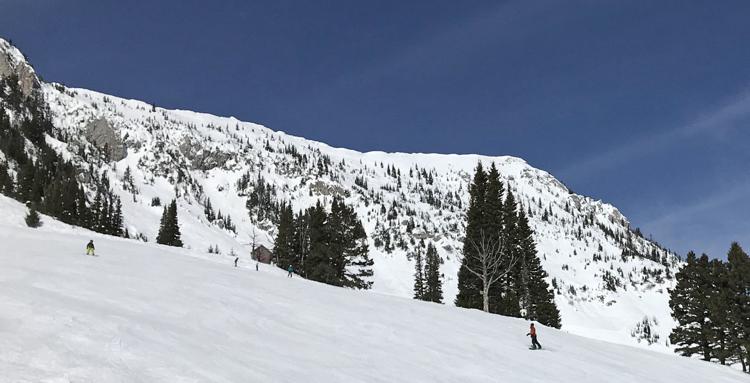 Insight
For example, if I'm hunting with a buddy and we split up and plan to meet somewhere ahead, there's almost always a miscommunication. I end up waiting while they trek somewhere else. Or they end up waiting for me at the place they thought I meant. In both of our defenses, "Meet me at the log pile after the second clearing" isn't very definitive. It may be open to discussion what constitutes a clearing. And log piles can look an awful lot alike.
I've made the same mistakes skiing. Sometimes blazing ahead while my ski buddy takes a different turn, or standing at an intersection of trails trying to figure out which way my ski partner had turned.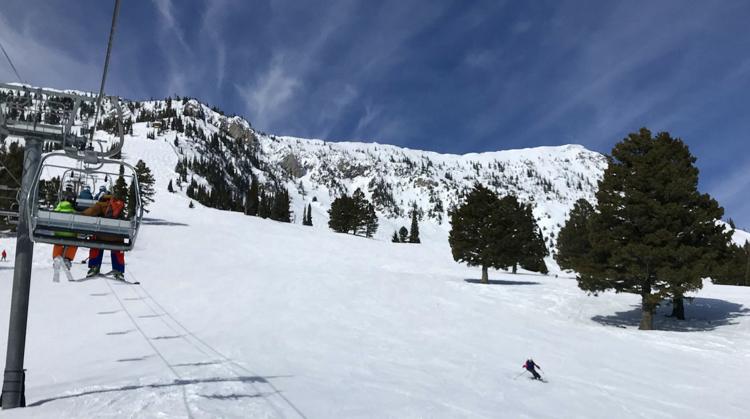 Speeding
Last weekend when downhill skiing I had no one to wait for or to discuss where to ski. I simply went where I wanted to go, which was pretty much across the mountain while avoiding all of the moguls. I was quickly tired because there were no lift lines, and I was never waiting for anyone, only skiing. It was great until I was tired, and then I wanted to be more social.
One thing about being solo while downhill skiing is that you often pair up with other "singles" on the chair lift. (It's a way to increase uphill traffic, so chairs don't go up half full, and lift lines decrease more quickly. People even used to yell "Single!" in line, which was always somewhat embarrassing.) For me, however, this was my chance to be semi-social.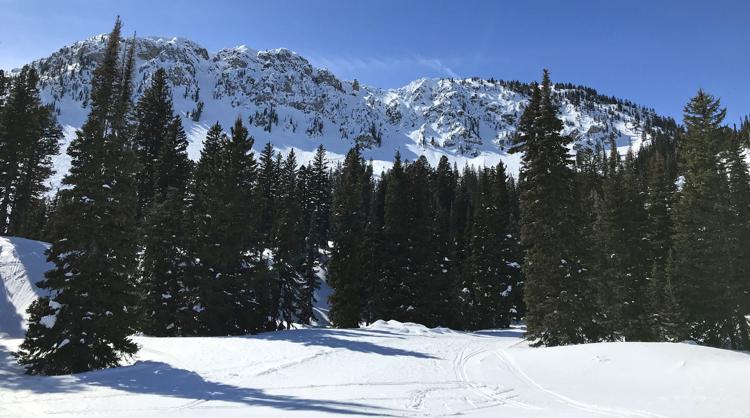 Query
Being the inquisitive type, I posed my question about selfishness to one of my chair partners. He was a middle-aged father and husband who trades out days on the slopes for watching his child when his wife, a musician, has gigs.
Seems like a fair trade, right? But didn't he have a bit of unease about indulging himself in this solitary way on a beautiful, blue-sky day? Nope, he said, because he couldn't find anyone else who skied at his level. Some friends were too hardcore, others not into the slopes he liked. Plus, he had lift tickets he had purchased in advance that he had to use up, and the ski season was drawing to an end. Sometimes you just have to go when you can.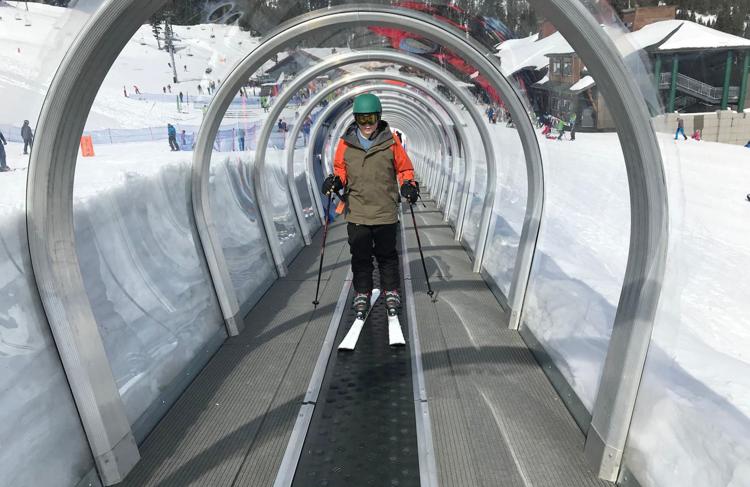 Child ride
What I didn't realize about being solo on the slopes was that if there is a young class of ski school students, adults may be asked to ride up with a child. I wasn't sure I wanted that responsibility for someone else's child after recently watching a video of a youngster hanging from a chair after he slid off while loading.
The children, however, proved to be pretty insightful to my contemplation about selfishness. After all, most youngsters are pretty selfish. One child told me that he was a much "gooder" skier than anyone else in his class. Judging by some of his other stories, though, he may have been puffing himself up for me because he said he couldn't see his mom anymore, and he didn't like living with his dad. Children say the darndest things. For some reason I felt guilty, even though he wasn't my kid.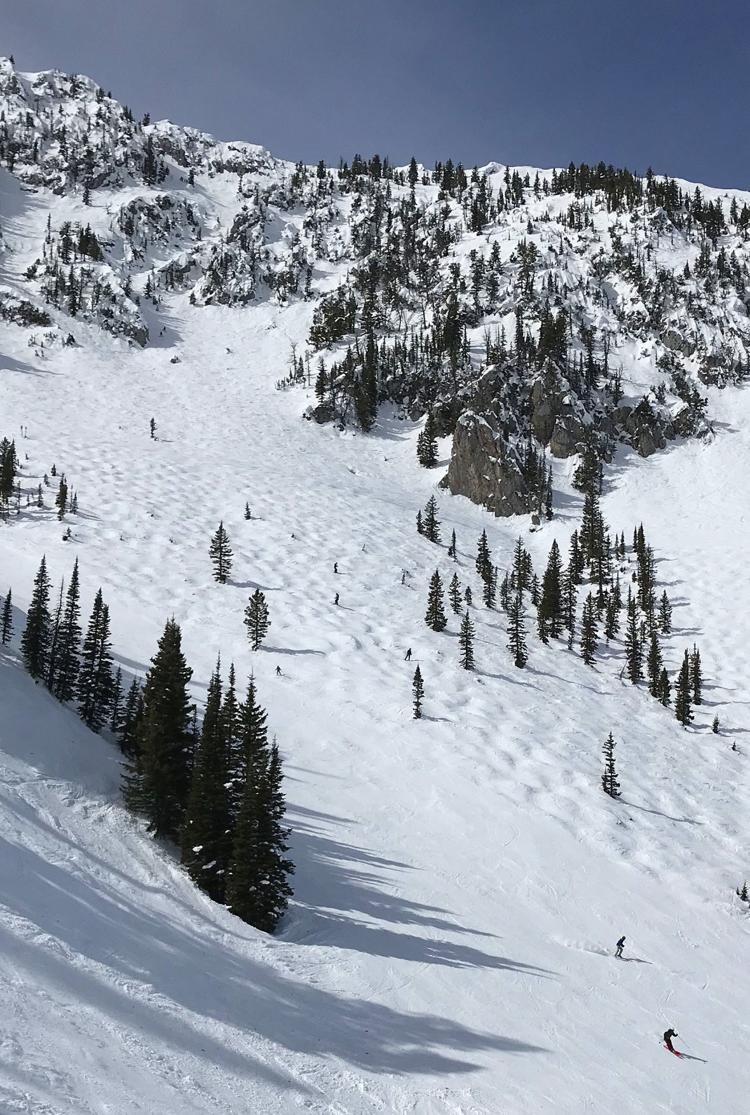 Education
One problem riding up with someone you don't know is trying not to be too inquisitive or talkative, or your lift mates will think you're odd — that perhaps you are skiing alone because you have no friends. That was the feeling I got from one of my fellow solo skiers until I hit on a favorite topic: What was a good place to eat? Then she opened up, confessing to be a "foodie" and providing several levels of dining options based on cost as well as suggestions about how casual a place might be. She obviously had pegged me as the casual type, although I'm not sure why. Maybe it was the weathered white athletic tape on the top of my goggles.
Another lift mate educated me about the difficulties of beer brewing, and how the hours made it hard for family guys like him. He advocated a Colorado brewery's time schedule of closing by 7 each night. He was skiing with a friend, obviously not the selfish type.
Chi-town
His buddy, however … well, you decide. He couldn't believe people were limited to three beers at Montana breweries. In Chicago, he confessed, he had sometimes stayed at bars until 3 a.m. and then found something to do until the next bar opened at 4 a.m. But there's a reason people party that hard in Chicago, he said, intimating that it was the only way anyone could stand the city.
Looking up at the ski hill's snowy crags, chutes and blue sky overhead, I felt sorry for him having to go back to Chicago after exposure to such beauty, fresh air and vast views of the surrounding country. Then I thought: "If I feel sorry for him, that's kind of unselfish for selfish ol' me."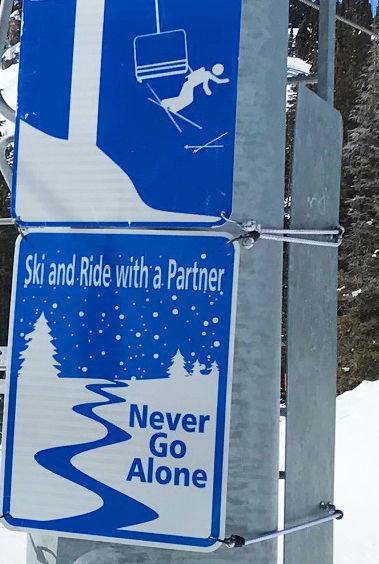 Drive time
I also felt guilty about the long drive I had made until I met someone who woke up at 4 a.m. to drive from Gillette, Wyoming, to ski for one day. He wasn't alone, but still ... that seems pretty extreme.
Pushing off from the chair at the top of the mountain I wished my fellow chairlift riders well and made my last run down the mountain — a long, winding route from top to bottom. I went the whole way without fear of misplacing any friends or family along the way or struggling to find them in the colorful ski-coat crowd at the base lodge.
Is it selfish to be selfish about outdoor adventures? Or is it OK to indulge oneself every now and then as long as you don't make a habit out of it? I guess that's up to each individual to decide. I can tell you for certain, though, that the ski industry does not condone such selfishness. One of the signs posted to a chairlift tower read: "Ski and ride with a partner. Never go alone." It was right below another sign that showed someone falling off a lift. The more I thought about the sign, I formulated the idea that maybe it was selfish of them to suggest I not ski alone. That way they could sell another ticket.