Teton Valley, Idaho, resident and archery hunter Mark Eagan put in nearly 60 miles traipsing through the Teton Mountains this summer scouting for a quarry he would have the opportunity to hunt come August.
The target, the nonnative and unwanted mountain goats that inhabit the range, proved difficult to find. It was exactly what he was advised of after he applied for the license through a Wyoming Game and Fish Department lottery.
"They called every single applicant," Eagan said, "and warned them that they expected extremely low success, like 3%."
It would be an "extreme" hunt, he was told, and he'd be targeting an animal that may or may not range out of Grand Teton National Park, where there was no hunting permitted. All indications were that Eagan faced long odds in the pursuit of his first-ever mountain goat. Three empty-handed scouting trips in July seemed to corroborate the grim prospects, although he did stumble onto goat hair tufts and scat.
"Then, on the 2nd of August, actually going out hunting, we came upon the goats," Eagan said.
There was a herd of 14 goats, including a couple of billies, he said. Other bowhunters were in the area, too, including a couple of folks who successfully struck goats with arrows but then watched the injured animals tumble off a cliff. Eagan thought better about letting his own arrow fly.
"After hearing about these people and their goats falling off the mountain, I was pretty discouraged," he said. "I could have gone down and shot them, but we waited and spent the night out there."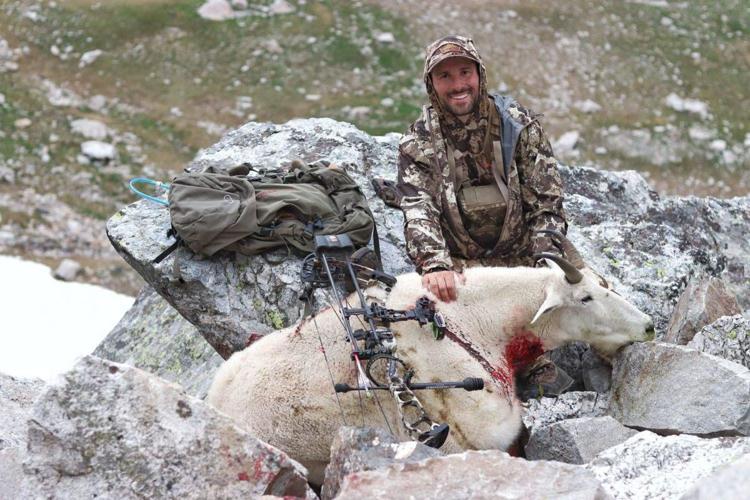 A new hunt
Wyoming Game and Fish has authorized goat hunting on the west slope of the Tetons for years, but in limited numbers. New in 2019 is a much more intensive hunt that's designed to drive down the mountain goat population, estimated at between 100 and 150 animals. The agency considered but thought better of allowing goat hunters to pursue Teton goats using unlimited over-the-counter licenses.
Capped at 48 people who won the license lottery, the hunt is in step with Grand Teton National Park's planned eradication of the Teton goats, which migrated up from the introduced Palisades herd in the Snake River Range in the early 2000s and have multiplied ever since. Goats are considered a scourge in the Tetons because they have the potential to spread diseases and outcompete a native herd of bighorn sheep that faces an array of pressures and is falling in number.
A final version of a federal planning document that would authorize the National Park Service to relocate mountain goats away from their Tetons haunts and shoot them from aircraft is due out in October, park spokeswoman Denise Germann said.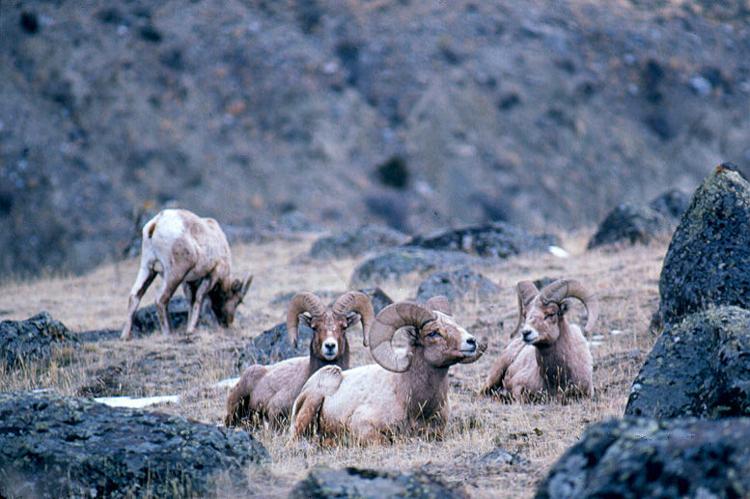 To attract hunters likely facing long odds of shooting a goat, Game and Fish won approval from the Wyoming Legislature to make an exception to the usual provision that limits mountain goat hunters to one opportunity in a lifetime.
"The expectation is it was going to be really difficult, with really low success," Game and Fish regional wildlife coordinator Doug McWhirter said.
"It was like, 'Buyer beware,'" he said, "and everybody was just like, 'I'm good with this.'"
Unexpectedly, hunters are having success — and a handful didn't even wait until the rifle season opened.
"You don't check that many archery mountain goat hunters," McWhirter said, "and to have five of them be successful off the bat, I think was a surprise to all of us. "
McWhirter and his colleagues expected perhaps 10 to 15 goats would be killed over the course of the 2 1/2-month season. Instead, hunters had already thinned the herd by 17 animals, harvesting 10 billies and seven nannies. Most are coming out of the high reaches of the Caribou-Targhee National Forest, west of Cascade Canyon. Hunters have been spending just shy of four days in the field before killing a goat, McWhirter said, and they've been seeing an average of 13 goats but as many as 40.
You have free articles remaining.
Register for more free articles
Stay logged in to skip the surveys

Luck in the field
One of those successful hunters was Jackson resident Stephen Rosso, who, unlike Eagan, did come upon some goats during his summertime scouting forays on the west slope. 
Rosso was attracted to the hunt partly because it was geared toward helping the native sheep.
"It's going to be a bummer when goats are not in the Tetons," he said, "but this is the right biological decision being made."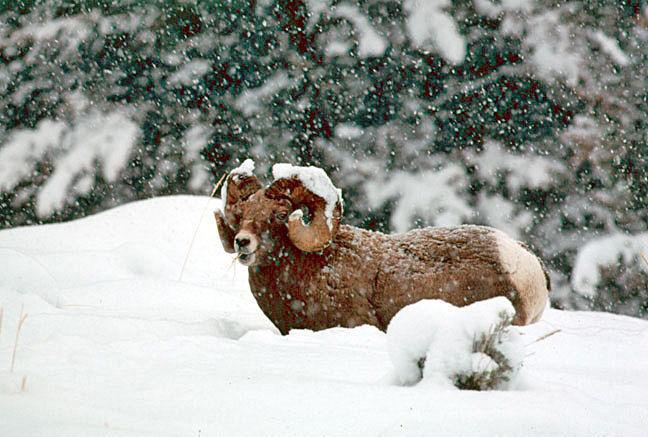 Hunting the flanks of the high Tetons north of Table Mountain, Rosso also hiked in on Aug. 2 and spent the night in the field. He found a solo mature billy that he'd spotted earlier in the summer, and then spent eight hours playing "cat and mouse" with the sure-footed alpine animal before closing within 11 yards and letting loose an arrow from his bow.
It was a clean kill, and the goat didn't go tumbling down the mountain.
"I got lucky as heck," Rosso said. "That's kind of what they're known for — the death jump."
After another "12 to 14 hours" of "leapfrogging" his gear and goat meat out of the Tetons, which occupied a sleepless night, Rosso finished an unforgettable hunt around 10 a.m. the next day.
Meanwhile, after a night in the field Aug. 3, Eagan also found himself in good position for a shot at a mature nanny 20 yards away.
"I let an arrow off and hit right where you want to hit," he said.
It was a "fatal shot," he said.
But when he immediately started moving downhill to dissuade the goats from approaching the cliff that claimed several other goats, his mortally wounded animal broke from the herd and headed toward the precipice. As the dying nanny lost bodily function she started rolling down a narrow chute and then disappeared from sight.
"It's going down, and I think I lost it," Eagan said. "I literally think that goat is gone, and I'm kind of bumming."
After descending around 200 yards, the Victor resident's three-man hunting party spotted the goat's carcass lying right at the edge of a cliff. Then, as "slowly as you can imagine," the animal's remains started moving again toward the edge when Eagan's friend, Joe Serre, bombed the mountainside to grab the goat.
"He ran down and grabbed it right before it was going to go over," Eagan said. "Joe saved the day."
For Eagan, helping the Tetons' imperiled resident sheep herd was also part of the allure of embarking on his first-ever mountain goat hunt.
"There's a selfishness to it, and I did get the opportunity to hunt a trophy animal on the backside of the Tetons," Eagan said. "But it's not only that. I'm really helping conservation. ... And there's a bit of a feel-good emotion about that, too."