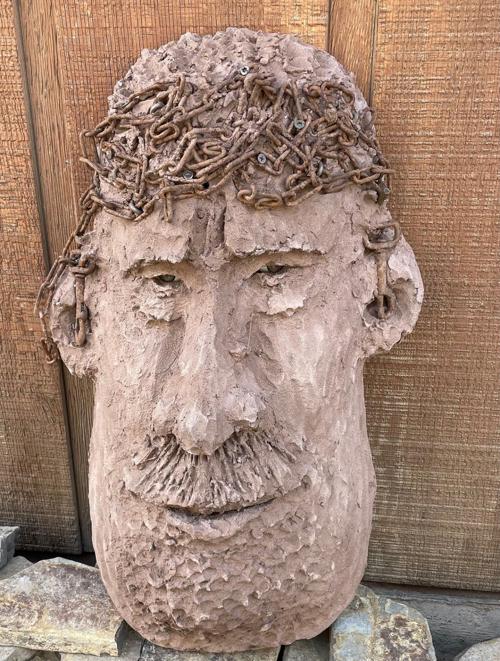 So I was re-hanging some of my concrete sculptures in the gallery and had just gone back to get something from my desk when I heard a crash. Rushing back, I found that "Lady Sings the Blues" had not settled onto her hanger after all and had fallen to the floor, and while she was not damaged, "Turn Up the Volume," who had been leaning against a nearby shelf, was in pieces. Lots of pieces.
I had made him hollow, thinking it would make him easier to deal with, but that turned out to be a mistake. So now what? Seeing no hope of fixing him, I threw him in the trash can.
Then someone who really likes my concrete characters encouraged me to try fixing him after all. I reluctantly agreed and encouraged myself by posting my slow progress on Facebook. That was when a private message arrived asking me not only to continue the repair job, but to consider donating the final piece to someone they knew who has considerable challenges in life. What had started out as simply repairing a sculpture now had a real, personal purpose — embodying healing.
I thought about that with each step. About half-way through, "Turn Up the Volume" had to stand up for me to work on him — supported by a bucket, but still — just as each of us has to stand up for ourselves for our own healing. Some of his pieces were not fitting back together, so I chose not to use all of them, just as we all have to leave some parts of ourselves behind as we heal and grow. To fix his outside, his "insides" needed to be fixed as well, and I found ways to hide some of his scars.
His hair consisted of looped steel chain and one link had ultimately held the two sides of his head together, just as we sometimes find that we are held together — kept from falling apart — by something small but strong enough. And I used metal weights and chopsticks to maneuver the pieces and fit them back together — support systems large and small, whatever was necessary.
Success! And more than success really, because I learned a lot about "turning lemons into lemonade" and the process of healing. "Turn Up the Volume," having been healed himself, continues to support the process not only for the person he now lives with, but for you and me as well. Right?
Valley Women's Voices is a Sunday feature in the Ravalli Republic. Send submissions to OnMyMindMFT@gmail.com